Will Ruto's new 'marketing manager' deliver?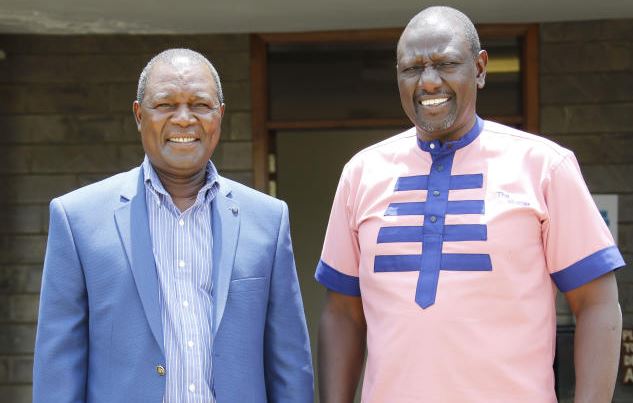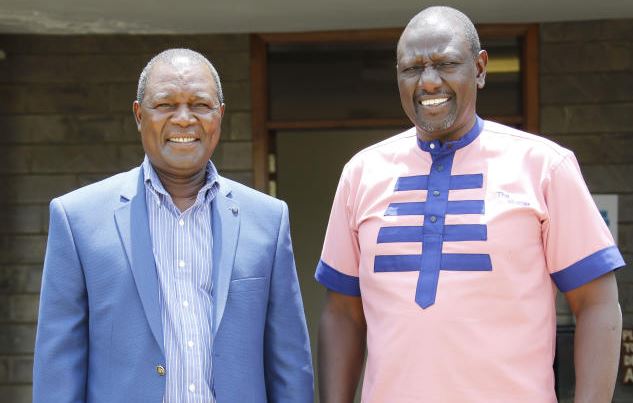 Ruto told us Ndungu is on board to create a new economic model.
EDITORIAL: After tough contest, Museveni needs to give Uganda hope
This week, President Yoweri Museveni took oath office for a new term that will stretch his tenure to an unbroken 40 years.
What should have been a day of celebration, was however, overcast by the chief celebrant's foul mood, and the absence of the leaders of the major political formations in the country. Robert Kyagulanyi, the runner-up in the January 14 elections, escaped a security dragnet that was supposed to keep him confined at his residence.
With representatives of the major Western powers in attendance, a combative Museveni used the occasion to lecture the West for its insistence on democratic transitions in Africa. The rest of his speech was mainly a repetition of what he has said over the years.
In some sense, Museveni's disposition at Kololo reflected the mood of the nation. Ugandans feel insecure and are uncertain about the future. The rancour from the bloody electoral contest is still fresh and the nation is at its most divided since his ascent to the helm 35 years ago. The economy is drowning in debt, youth unemployment is high and the geopolitical situation uncertain.
Ugandans yearn for a message of hope and healing. President Museveni's immediate challenge is to reunite the country after a bruising contest. The pan-African ideals and historical anecdotes that occupied a significant portion of his inauguration speech have little relevance to a population that is grappling with immediate existential challenges.
The president is right in his observation that Uganda's economy is performing below potential. But a lot of Uganda's potential is lost to corruption. Corruption has been a recurring theme in his speeches over the decades, but a consistent move towards empowering and demanding accountability from the institutions mandated to lead the fight has been lacking.
From their pulpits, religious leaders called on the president to set the stage for reconciliation by freeing the hundreds of young opposition supporters in detention. He should listen.
The Covid-19 pandemic has deepened the fissures in an economy that was already on its knees. The huge sums going to debt repayment are a recipe for chaos, since they take money away from services.
The lukewarm reception of his address is a sign that the Ugandan leader has more work to do at home, even as he pursues regional and continental priorities. Regional integration sounds hollow amid discordant political systems and a bend towards militarism.
What Uganda needs at this time is more political and economic convergence with neighbours, an expansion of basic liberties and a predictable system for change of government. It is not an easy undertaking because it involves dismantling the entrenched system he has built over the decades.
President Museveni does not want lectures about democracy but he can only avoid them by creating a system where citizens feel the democracy. Nearly 40 percent of voters in the last elections rebuked his leadership. Sixty percent is an absolute majority. But 40 percent is also too significant to be brushed aside. Museveni has told Ugandans to go back to work but needs to embrace a more conciliatory tone to make his ambitions feasible.
Things falling apart in Nigeria — the centre cannot hold
A recent BBC report revealed that two-thirds of Nigeria is under some kind of strife.
In the northern states, jihadist attacks have become frequent and blatant. Almost at will, jihadists kidnap school girls to exploit as sex slaves. Beheadings, shootings, car bombings and burning of houses leave displaced and traumatised communities. In the middle states, clashes between Fulani herdsmen and farmers leave tens of dead and injured.
The delta states are agitating for their independence, and their attacks on soldiers and government installations are frequent and deadly. Still in the south, agitation for an independent state of Biafra has been revived. In large cities like Lagos, criminal gangs are rampant, often kidnapping people for ransom. Nigeria is a messy, chaotic, corrupt and, as famed Nigerian writer Okey Ndibe described it, "an ill-formed organism."
In Things Fall Apart, Chinua Achebe writes about the disintegration of the African traditional society under colonial pressures. The title of the book is borrowed from the poem The Second Coming by WB Yeats. The poem is a frightening vision of a society in the process of disintegration. Yeats writes in part: "Things fall apart; the centre cannot hold; Mere anarchy is loosed upon the world, The ceremony of innocence is drowned; The best lack all conviction, while the worst Are full of passionate intensity."
It is uncanny that Yeats' vision of a society in apocalyptic throes, which Achebe used as a metaphor for the fragmentation of African traditional society in the late 19th century, would come to describe the current state of Nigeria! With the country engulfed in all of the strife, can the centre hold?
The brightest Nigerians lack conviction that the centre will hold, and take every chance to emigrate. The youth, brought up on the staple of false nationalist rituals like Independence Day ceremonies, singing the anthem, and waving the flag, are drowning in the chaos of corruption and misgovernment that has robbed them of a future. They, too, are looking towards Europe or America for salvation.
And the violent deeds of the worst — the jihadists, the separatists, criminal gangs, the ethnic warriors — get increasingly depraved. Should Nigeria collapse, the tsunami this would cause would ripple across the world. Millions of Nigerian refugees. Instances of genocide.
Skyrocketing oil prices. A humanitarian crisis the world has not seen since the end of World War II. There would also be a heavier insidious cost; the total annihilation of the self-esteem of Africans. If the most intellectually and artistically gifted, and the most industrious African country can fail, what hope do we have for smaller less-endowed African countries that simmer with the same kinds of strife that now threaten to tear Nigeria apart?
This column has warned many times that we Africans must urgently begin a ruthless introspection, and ask: Are we going in the right direction? Otherwise, we will soon find ourselves caught in the widening gyre of apocalyptic chaos while chanting hackneyed pan-African platitudes.
Tee Ngugi is a Nairobi-based political commentator
Blaming women for whatever slights imagined is beyond petty
It is the 21st Century of the Common Era, literally we are living a good 2,000 years at least into documenting our histories. But there is one story, a bit repetitive, that doesn't want to find a conclusion yet.
Before Tanzania's President Samia Suluhu was sworn in in March, I didn't spend a lot of time thinking about it. Life was what it was, a bit more difficult and unfair if you are woman but one coped with it as best one could.
As President Samia took the oath of office it didn't occur to me to prepare for the backlash that I should have known was coming. There were so many things I considered more important than her gender, to be honest: A peaceful transition of power in unprecedented times. The ongoing global crisis of the Covid-19 pandemic. The economy.
So it has hit me by surprise how much things are falling apart at the interpersonal level. I have never in my life heard someone's gender discussed in conjunction with their politics so frequently. It is becoming a phenomenon and I don't like it.
Here is what I have picked up on: Male hysteria is actually quite off-putting. For the most part we've been fine and life is moving on: Work, school, market prices for all kinds of things, the rainy season and all its ills. These occupy the majority of us and expend our energies. But there are people, overwhelmingly men, who have time to care about President Samia's gender and what it is apparently doing to them.
Tribalism
I was a bit blasé recently when I said that we are a patriarchal society. I meant it, but I didn't think of the intense fear of change that underlies our conservatism. Sustained fear brings out the worst in us.
In previous administrations it was tribalism that was used to bring people down: "He's like this because he's from such and such place, so and so people." Yes, I hate to break it to you but Tanzanians do indulge in such talk where there is little of note to say.
We can be surprisingly petty for what I consider to be a rather sophisticated and balanced polity. I was expecting a lot on this front with the current regime, maybe something ludicrous about a Zanzibari invasion of the mainland, but sadly no. We're stuck on the woman thing.
How bad is it, you ask? Well. Men who would never have found the courage to do so before are now feeling personally attacked and unduly dominated by women all over the place.
Want a decent bit of service from your provider? You get push-back because women should stay in their lane. Need to pay for a thing?
You might anger your vendor because, lo and behold, you are a woman!
Go out with friends or family? Be careful if your waitron is male because, who knows what indignities he might feel you have committed upon him.
Life has become an interesting little mosaic of social traps just waiting for a woman to step into one.
Beware if you are a feminist: Declaring so in public just helps people sharpen their misogyny.
I mean, a part of me wants to understand, but most of me is just tired. Women have historically been the biggest minority of all societies, but we've also been part of the power matrix for as long as it has existed. We are in the Bible, we are in Chinese history, we are all the Mother Elephants that have been and ever shall be.
Heck, just the other day I had an exquisite argument with a friend about which of the Elizabeths was best and why Europe will not be as interesting without Merkel in charge of Germany. It was a discussion on par with that about the geopolitics of cocoa production, though perhaps not as explosive as which James Bond is the best James Bond. In other words, serious.
Male ego
It takes a lot to come down from that level of participation in the conversations about humanity to dealing with a bruised male ego because you wanted to buy your own drink at a counter. How is this even an issue in 2021?
Also, this is Tanzania. If I said I expected any other East African country to explore gender balance in its political sphere, I would be lying. We have been going back and forth on this for a long time now, and we have finally committed. Because we can.
There is little point to this rant other than to let sexists of the region know that their misbehaviour has been noted with great displeasure.
Making women in general pay for whatever slights you have imagined because of a slight change in regime is beyond petty. Such a childish lack of character that has no place in today's world. It deserves an upbraiding. And then we move on.
There are more important things to do, still. Covid, the economy, the state of education all come to mind.
And while we are at it, the correct answer is Elizabeth II.
Elsie Eyakuze is a consultant and blogger for The Mikocheni Report: E-mail: [email protected]