Why Pastor Ng'ang'a went mad with church Bishops
Pastor James Ng'ang'a of Neno Evangelism is a man of troubled life even in his marriage,social and investments.
In a video shared online, the controversial pastor is heard abusing and angrily lecturing bishops as church followers keenly listen.
Pastor Ng'ang'a called for his wife and himself to be accorded total respect and asked those opposed to him to pack up and leave. Sources say,the pastor was bitter after word started spreading within the church that his marriage was hitting rocks due to his immoralities.
To complicate matters worse were claims the wife was planning to file a divorce and she was a sugarmummy.
It is said one of the Bishops had raised the matter with his colleagues claiming the rumour was causing discomfort among church members,a church member told your favourite Weekly Citizen.He is blaming a section of the pastors allied to Reverend Paul Mwangi based in Karatina who did not agree with the controversial pastor teachings and leads a splinter group. The two also differed over sh4.5 million loan.
"I want to talk to the bishops who are in my church. If you are not going to respect my wife, I will kick you out of my ministry.This time around  I will show you my power. If you are not going to respect my wife, just leave my church and find another church," he said.
He reminded the bishops of how he had single-handedly transformed their lives only for them to treat him and his wife with disrespect.
In 2015, Pastor Ng'ang'a was in court over
Also,he faced a civil case after his estranged wife claimed, he was abusive and adulterous drunk.
In a child support case filed on September 2  at the Milimani Children's Court in Nairobi, Loise Murugi Maina accused him of assaulting her physically and not providing for their child.
Murugi, was then seeking Sh535,000 monthly in child upkeep for their then one-year-old daughter. In court papers,she described Ng'ang'a as a man of means renowned for his lavish lifestyle and who would not have any problem coming up with the amount she is seeking.
Nga'ng'a on the other hand accused Murugi of deserting their matrimonial home without notice and denying him access to his daughter whom he fears will not be brought up "with proper moral values."
The two were married on June 30, 2012.
"In church, I took the position of an apostle's wife, helping him with the service and managing church affairs. It is at this time that I started to experience a change in his attitude towards me."
She claims that she was surprised when she found out who the real Ng'ang'a was.
"He was a drunkard and very abusive towards me, to the extent of insulting my parents. I also later learnt that he was adulterous, sleeping with staff and even bringing married women to our matrimonial bed," Murugi claims in the court documents.
She took issue with the pastor's alleged behaviour of texting and calling other women while in the house, which she claims caused her emotional pain. In addition, she alleges that whenever she confronted Ng'ang'a with her concerns, he would become very hostile and occasionally threaten her. She claims that the pastor would later try to calm her by apologising and blaming his behaviour and attitude on alcohol and the devil.
According to Murugi, the marriage hit rocks when they were traveling to China for her sister's graduation. Ng'ang'a insulted her on the plane, and later on abandoned her and her mother at the airport.
She then claimed, Ng'ang'a later sent her a message bragging he had done shopping worth Sh3 million and that he did not care about the graduation. Five days after the graduation, Ng'ang'a reportedly called her to apologise for the ill-treatment towards.
Murugi claims that one day, she found him drinking and they disagreed, resulting in a brawl. She said that after the incident, she received a text message threatening her not to go back home.
"True to his word, he had changed the door locks to deny me access into the house. I was forced to go back with our child to my mother's house," said Murugi.
Murugi adds that when they later met over the incident, Ng'ang'a reportedly got drunk and beat her. She claims that she left the house and drove off with her then six months old daughter's clothes in the family car. She then surrendered the car to police officers who had been sent by Ng'ang'a to collect it.
Pastor Ng'ang'a then responded that, Murugi deserted their matrimonial home and took off with their daughter. Ng'ang'a asked the court to grant him custody of the baby, saying it is in the interest of the child because she has been denied fatherly love, care, control and supervision.
"I have exhausted all avenues to try to resolve this matter. I pray that I be allowed to take care of the child without any interference from Murugi," reads the evangelist's affidavit.
But Murugi in her papers is of the view that Ng'ang'a is not competent to be granted custody.
"He is an abusive man, a drunkard and a man who lacks good moral grounding as he has no respect for any one, not even my own mother. He mistreats his children and even brings women to his house. This has resulted in his children being stressed and adopting a 'don't-care' attitude that I would not wish for my child," s Murugi stated in her suit.
Ng'ang'a had married Murugi after his first wife, with whom he had four children, passed on. The two tied the knot in a colourful ceremony at the Windsor Golf Club in 2012. The wedding was attended by among others, the then Vice President Kalonzo Musyoka.
Comments
comments
Father, son jailed for 20 and 15 years respectively for raping neighbour: The Standard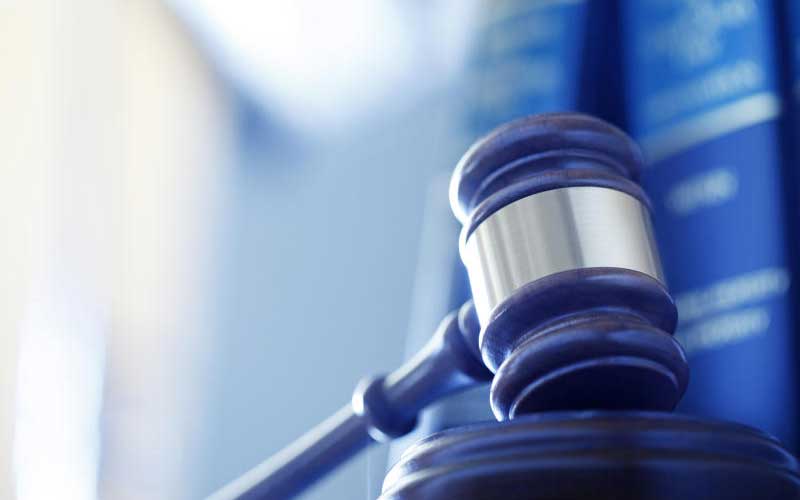 Rift ValleyCourt rules prosecution had submitted enough evidence against the two
A man and his son have been handed 20 and 15 years-jail terms respectively for raping a woman in Kuresoi North in 2018.
John Chirchir, 58 and his son Vincent Lang'at, 28 were found guilty of raping the 28-year-old woman from Telowa village.
According to the court, the two jointly violated the woman who was their neighbour against her will on June 27, 2018.
SEE ALSO: COVID-19: Nakuru MCAs risk lives to meet over Sh14,500 allowance
The two were arrested on the same day and produced before court on the following day for plea taking.
While delivering his judgement, Molo Resident Magistrate Emmanuel Soita said the prosecution led by John Limo had submitted enough evidence against the two.
The Magistrate noted that five witnesses were called on testifies against the suspects.
The same court also handed a ten-year jail term to Samuel Kiprono who is accused of defiling a nine-year-old girl at Keringet area in Kuresoi South.
Comments
comments
Sudan says three jailed Bashir aides have virus
Sudanese authorities said Wednesday that three former senior aides to ousted president Omar al-Bashir have caught the novel coronavirus in prison.
Former officials Ali Othman Taha, Ahmed Mohamed Haroun and Abdulreheem Mohamed Hussein have been held in Khartoum's Kober prison since Bashir's military ouster in April 2019 following mass protests against his rule.
All three are awaiting trial in Sudan for corruption and other offences.
Haroun and Hussein, who held top government positions under Bashir, are wanted by the International Criminal Court over their role in the Darfur conflict.
On Wednesday, Sudan's public prosecution said the three men had tested positive for Covid-19, which has so far infected 4,146 people and killed 184 in the country.
Haroun has been in an isolation centre in northern Khartoum since late April, the statement said.
Prison authorities tested the others on May 20 and transferred Hussein to a hospital in Omdurman, Khartoum's twin city, and Taha to an isolation centre in central Khartoum, according to the statement.
Taha served as vice president under Bashir between 1998-2013, and was previously Sudan's foreign minister.
Hussein served in several positions including defence and interior minister. He was also assigned governor of Khartoum before Bashir's ouster.
Haroun served as minister of state for the interior, minister of state for humanitarian affairs, and governor of the conflict-ridden South Kordofan.
All three were members of Bashir's now-defunct National Congress Party.
The Hague-based ICC charged Bashir and others — including Haroun and Hussein — with war crimes and crimes against humanity in the Darfur conflict which erupted in 2003.
The fighting started when ethnic minority rebels took up arms against Bashir's Arab-dominated government, accusing it of political and economic marginalisation of their region.
The United Nations estimates around 300,000 people were killed and 2.5 million others displaced in the conflict.
Human rights groups say Khartoum targeted suspected pro-rebel ethnic groups with a scorched earth policy, raping, killing, looting and burning villages.
In February, Sudan's transitional authorities, who took power in August, agreed that Bashir and his aides should stand trial before the ICC.
Comments
comments
Covid-19 team wants schools to reopen in September
Schools, colleges and universities may remain shut beyond June 4 if a preliminary report by a committee formed to advise Education Cabinet Secretary George Magoha is adopted.
Additionally, national exams scheduled for November will be administered in February 2021, according to the report by the Covid-19 Education Response Committee chaired by Kenya Institute of Curriculum Development Council chairperson Sara Ruto.
Although the Nation could not independently verify the highlights of the report, sources on the committee said Prof Magoha has been advised to start putting in place mechanisms to prepare for the reopening of schools in September.
The CS had set June 4 as the tentative opening date, pending the advice of the committee and the Ministry of Health.
That seems unlikely, considering the rising number of coronavirus infections. Kenya has 1,618 cases, with 147 reported Thursday.
"The final decision on when to reopen schools rests with the minister and the President, but we have presented our views," the source said.
Members of the committee are understood to have spent the better part of Thursday in a meeting "tying the loose ends of our report".
Prof Magoha is expected to present his recommendations to President Uhuru Kenyatta, who announced the closure of learning institutions on March 15.
BOOST FUNDING
Mr Kenyatta last week hinted at adopting measures to open up the country's economy.
The night-time curfew and restriction on movement from and into Nairobi, Mombasa, Kwale, Kilifi and Mandera counties expire on June 6.
Dr Ruto's committee recommends that the Education ministry change the academic calendar to start in September and provide the requisite resources to run schools smoothly.
The team has also asked the CS to enhance funding for schools. Schools had not received all the State funding by the time they closed.
Many are struggling to pay auxiliary staff and teachers hired by boards of management.
Private schools have also been hit by the prolonged closure, as they depend on fees to pay staff, rent and loans.
The task force says money due should be released in full in September.
The committee has also come up with rules for reopening schools in compliance with World Health Organisation guidelines on managing Covid-19.
It advises the ministry to ensure social distancing and high levels of hygiene are observed in schools.
SAFEY GUIDELINES
The source said education stakeholders should be involved in executing the back-to-school programmes.
Teachers' unions protested their exclusion from the committee. More than 3,000 people and institutions submitted their views to the team.
The recommendations came a day after the Kenya National Union of Teachers, University Academic Staff Union, Kenya Human Rights Commission, Kenya Medical Practitioners, Pharmacists and Doctors Union, Forum for African Women Educationalists-Kenya and Elimu Tuitakayo Network said schools should remain closed until September.
They also proposed that national exams be postponed to the first quarter of 2021.
The organisations recommended an elaborate and solid plan on safety in schools by the Directorate of Occupational Safety and Health be put in place before schools reopen.
Comments
comments