Why Kenya Is Losing Out To Rwanda On Conference Hosting
Failure by local hotels to adopt sustainable tourism policies and failure by the government to incentivise and market the country as a meetings destination are the major reasons behind the shift, investors were told on Tuesday.
"A look at our MICE (meetings, incentives, conferences and events) calendar shows that right now we have more international conferences heading to Rwanda than to Kenya because the international community sees Rwanda selling itself as a green destination," Kezy Mukiri, founder of Zuri Events and convener of the MICE Summit said.
This is backed by data by the International Conference and Convention Association (ICCA), an organisation that analyses trends on global conventions, which shows Kenya hosted 17 global conferences last year compared to 21 held by Rwanda.
The report further ranked Rwanda as the third most-preferred destination in East Africa for international conferences last year, with Kenya placing fourth in a tie with Egypt and Ethiopia.
The trend follows the growing reputation of Rwandan hotels after the government in 2014 set up a convention bureau to market the private sector as a meetings, events and conferences hub.
The agency was directly involved in organising several high-profile events including the World Economic Forum (WEF), the Global African Investment Summit, the African Union Summit (AU) and the Africa Hotel Investment Forum (AHIF) in 2016.
Ms Mukiri reckons there is need for the Kenyan government to move fast and establish a similar agency that has been in the pipeline since last year in order to match strides made by Rwanda.
Kenya's efforts to grow its MICE industry have however been boosted by the upcoming Global MICE Summit to be held in Nairobi this November.
The event will help local players in the hospitality and tourism industry to learn from their international counterparts in leading MICE Destinations such
Police in hot pursuit of gang that car-jacked a Ruaka resident – KBC
Kiambu based detectives are pursuing a dangerous and armed criminal gang that car-jacked a Ruaka resident on Friday, before disappearing with his Toyota Premio as he drove to his residence.
According to the Directorate of Criminal Investigations(DCI), the victim had pulled over by the apartment's gate at Ruaka One River Apartments, unaware that a gang of three assailants was laying in wait for him.
As the gates opened, the driver's window was suddenly smashed with an iron rod, before two shots were fired in the air from a pistol in an attempt to subdue him.
However, he managed to force his way into the parking lot, but before he could jump out of the car and scamper to safety, the trio caught up with him and roughed him up before grabbing his car keys and phone.
Get breaking news on your Mobile as-it-happens. SMS 'NEWS' to 20153

On receiving the report, DCI detectives based at Kiambaa launched a manhunt for the suspects.
The vehicle was found abandoned in Kagongo village, having been vandalized.
Detectives believe that the three suspects are part of a larger criminal syndicate operating within Kiambu County.
They have been targeting taxi drivers while posing as customers, only to turn against them at isolated places, then vandalize their vehicles.
" Some members of the syndicate have previously been arrested and arraigned in court." Said the DCI
The DCI has cautioned Kenyans on this trend of crime.
Tell Us What You Think
Nyandarua County Assembly Speaker impeached for third time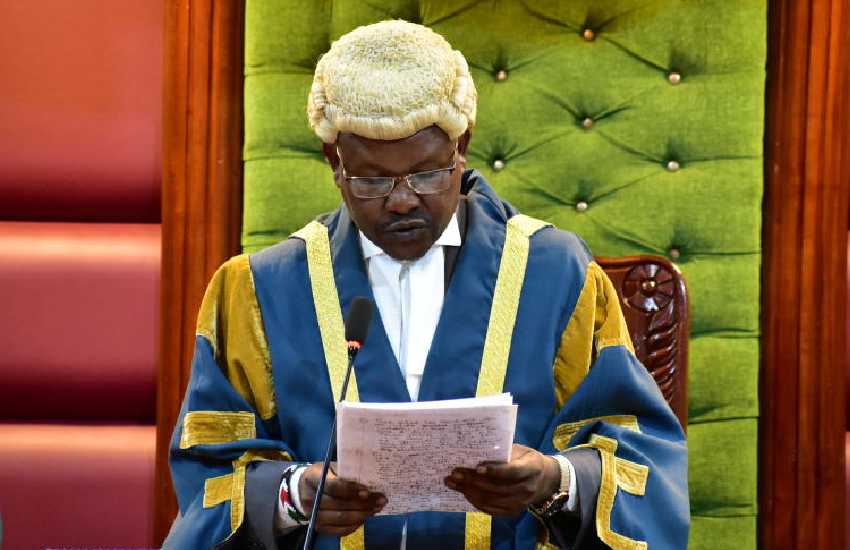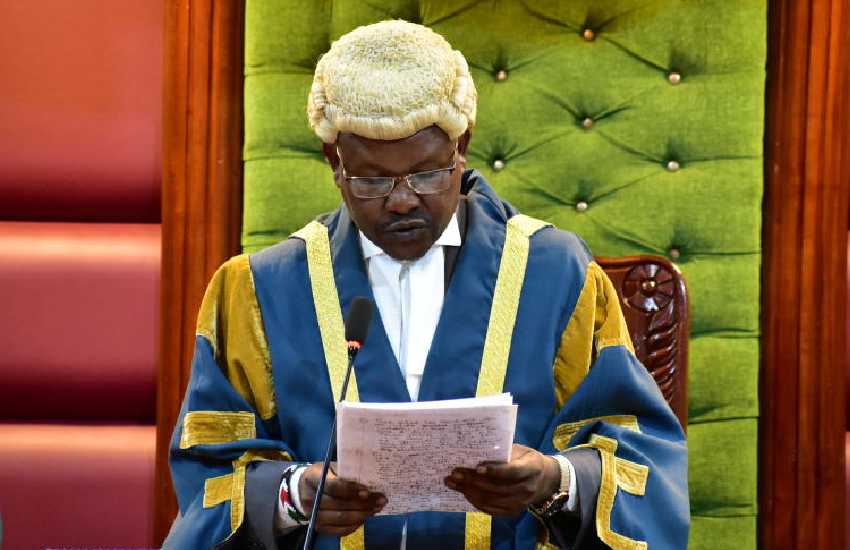 The special sitting was held despite a court order that reinstated the speaker.
Nyandarua County Assembly Speaker Ndegwa Wahome has been impeached for the third time.
Wahome was voted out over gross misconduct, abuse of office and nepotism in a special sitting held on Saturday.
31 out of the 38 ward representatives supported the impeachment motion while six opposed and one abstained.
The special sitting was held despite an order by Nakuru High Court Judge Hillary Chemitei reinstating Wahome until a case he had filed against his removal was heard and determined.
Reading out the charges, the mover of the motion, Majority Leader Edinard Kingori, accused Wahome of favouritism in assembly functions.
Kingori claimed that Wahome also failed to account for monies meant for the construction of Nyandarua County Assembly offices.
Nyandarua County Assembly Leader of Majority Edinard Kingori displays a notice of impeachment motion against speaker Ndegwa Wahome.
The Majority Leader alleged that the embattled speaker colluded with some MCAs and undermined Governor Francis Kimemia's leadership.
"The speaker has outrightly shown that he is unable to hold office. That is why we want him out. All he keeps asking from the executive is for more money yet he cannot account for the ones he has been allocated. We cannot allow this anymore. He has been discriminating against some of us in county assembly functions while favouring others. Is this fair?" posed Kingori.
Take a quick survey and help us improve our website!
Take a survey
Responding to the allegations, Wahome, who defended himself via zoom, said the impeachment was merely a political act.
"We know whose hand is behind this. My hands are clean and everyone can attest that I have run this assembly professionally since I took over eight years ago," said Wahome.
Wahome said that his demand for accountability and firm stand against corruption in the county was the root cause of his predicament. 
The speaker was represented by lawyers, Martin Waichungo and Mathea Gikunju.
Will retiring governors be kingmakers in 2022 contest?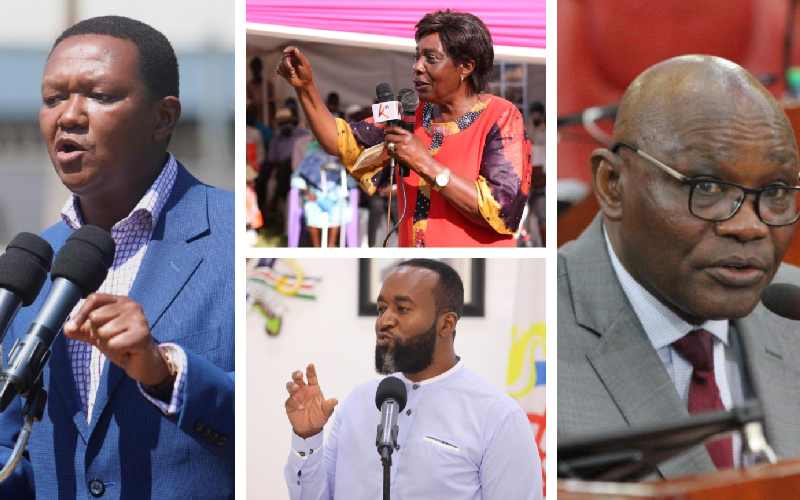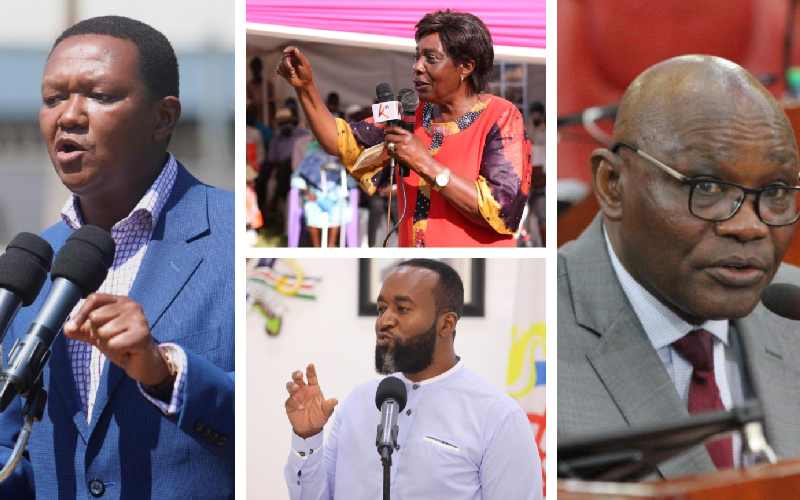 Key political players eyeing to succeed President Uhuru Kenyatta are wooing retiring county bosses, hoping to ride on political influence for votes.