White rhinos vaccinated as anthrax hits park
Kenya Wildlife Service (KWS) has launched a campaign to vaccinate white rhinos at Lake Nakuru National Park following an outbreak of anthrax that has killed 10 buffaloes.
The park has 14 white rhinos and 66 black rhinos.
The last anthrax case at the park was reported in 2015 while the latest case was reported on March 29 when two carcasses of buffaloes were found by KWS rangers on patrol in the 188 square kilometer park.
KWS assistant director in charge of Central Rift Valley region Aggrey Maumo said they have launched aerial and ground surveillance at the park to find carcasses of buffaloes.
"We don't want those endangered species to be infected and in the last three days we have been vaccinating the white rhinos," said Mr Maumo.
The park suffers overpopulation with 5,000 buffaloes against a capacity of 1,000.
A team of 15, among them three KWS veterinary officers and four scientists, are combing the park to deal with the disease.
"Before they started the operation they were also treated as it is a risky operation as they are directly involved in the disposal of the carcasses," said Mr Maumo.
"So far we have managed the situation and all the carcasses that have been found have been disposed through burning."
The official said that the current hot and dry weather has also affected the wild animals.
"Some animals have succumbed, and to mitigate the current situation we are supplying water to the animals and drilling boreholes," said Mr Maumo.
Comments
comments
New home for hand-reared orphaned elephant calves: The Standard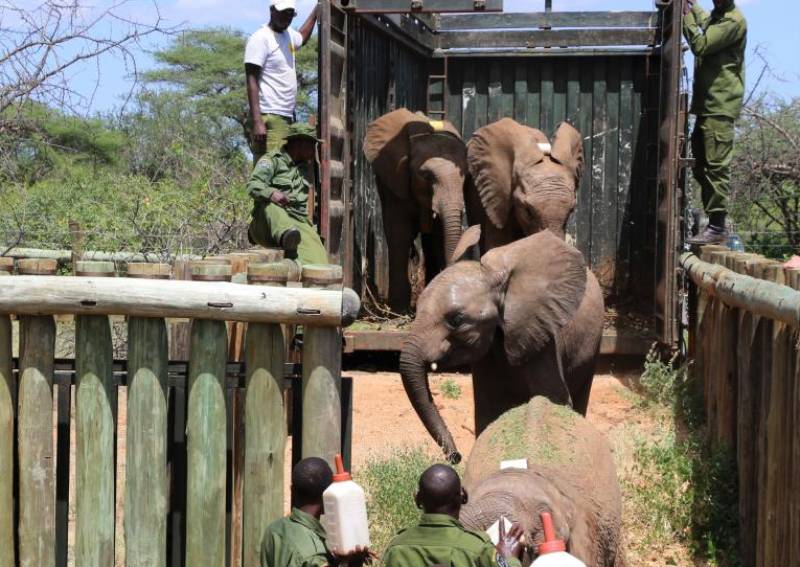 Four orphaned elephant calves are re-introduced to the wild of Sera Community Sanctuary in Laikipia from Reteti Community Sanctuary in Samburu County. [Jayne Rose Gacheri, Standard]
Rift ValleyLoisaba, Baawa, Lchurai and Nadasoit were rescued at young ages, weaned successfully and are now ready to live on their own in the wild.
Four rescued orphaned elephant calves have been re-introduced to their natural environment after a successful weaning process by the Reteti Community Sanctuary.
The calves were released into their new home at Sera Wildlife Conservancy in Laikipia County.
The four – Loisaba, Baawa, Lchurai and Nadasoit – were moved to Sera after the Kenya Wildlife Service (KWS) scientists approved the sanctuary as a suitable "home" for the hand-reared calves.
This is due to Sera's proximity to Reteti. Considered too was its perfect security as the sanctuary has a perimeter fence that keeps at bay large predators such as lions.
SEE ALSO: KWS driver collapses, dies in line of duty
Other preferences that made Sera Rhino Sanctuary an ideal home for the young elephants were that it has an enhanced security team comprising KWS rangers and community scouts, in addition to minimal human activity. The elephant population in the sanctuary is also not a large one.
Reteti manager Moses Lenaipa said the translocation process was agreed on after KWS scientists completed an ecological assessment of the area and determined that the conditions were optimal for the reintroduction.
Perfect sanctuary
Lenaipa said the recent rains have provided a variety of forage as well as surface water and full waterholes for the four elephants. The calves were released in perfect health.
"This brings to 10 the number of calves that have been successfully released from Reteti, and we are proud and thrilled to share this widely, being the only community-owned and managed elephant sanctuary in Kenya," he said.
SEE ALSO: Residents living near forest accuse rangers of brutality
The manager said this is the third release of hand-reared elephants into the Sera Sanctuary since Reteti was established in 2016. Sera is also a community-run sanctuary. The two are part of the larger Namunyak Wildlife Conservancy.
"Barely three and a half years since launching Reteti, we feel proud of what the sanctuary has achieved in the rescue and release of orphaned elephant calves," said Lenaipa, adding that the establishment would continue to build partnerships with stakeholders in conservation.
Loisaba, Baawa, Lchurai and Nadasoit were selected for this latest release because of their age. They are aged between three and four years and have been weaned off their special milk formula.
"They have also gained valuable experience in the bush guided by their handlers, and were in great physical condition at the time of release," said Lenaipa.
He said in the build-up to the release, the calves were familiarised with their travel crate and fitted with GPS tracking collars. This process, he said, was carried out in partnership with KWS personnel who developed the post-release monitoring strategy.
SEE ALSO: Conservationist fears for life after group invades property
"This will enable the monitoring and documentation of the elephants' health, safety and integration," said Lenaipa.
"KWS is proud of its veterinary team that has worked in partnership with Reteti to ensure the calves were rescued most humanely and professionally, given the required medical care and nurtured with the highest animal welfare standard," said Simon Gitau, Assistant Director of Mountain Conservation Area.
According to Antony Wandera, Senior Research and Monitoring officer, Northern Rangelands Trust, the four elephants will be monitored closely for learning purposes.
"The close follow-up will help us to continuously improve the welfare of the elephants and the rewilding process," said the officer.
Bawa, now three and a half years old, was rescued from Nga'bolo after he was found abandoned and stuck in the mud at four months old. "It took a long time for handlers and KWS vet team to wean him back to health," said Lenaipa.
SEE ALSO: Shinyalu locals suffer at the hand of rogue forest officers
Loisaba, three years and four months old now, was found wondering by Loisaba Conservancy rangers at eight months. He was orphaned by the tough drought at the time, but endured to regain strength and be finally released to the wild.
Lchurai, another victim of the drought, was rescued at the Lchurai (after which he is named) area of Laikipia, stressed and traumatised at nine months old. However, the professional handling at the sanctuary made him fit for the wild release, aged three years and seven months old.
Close monitoring
Lastly, Nadasoit was the youngest to arrive at the sanctuary at only three weeks old. He was found in a community well at Naunyak Community Conservancy.
"She had taken a lot of water and was sick with pneumonia, but she proved to be a tough girl and found her way to good health by the time of release at three years and two months old," said Lenaipa.
SEE ALSO: MP wants frequent jumbo attacks halted
The two earlier releases saw Warges, Lingwezi and Sosian reintroduced to the wild in May 2019 while Shaba, Pokot and Mpala were released in November 2019.
"Their release was quite successful as they are currently spending time with wild herds in the area and living without any human contact at all," said Naomi Leshonguro, one of the longest-serving handlers at Reteti Elephant Sanctuary and the first woman elephant handler in Kenya.
David Daballen, head of field operations at the Save the Elephants organization, says data on elephants in the wild released in 2019 shows orphaned jumbos are increasingly integrating with wild ones.
"The data shows their range overlaps with wild elephants with whom they share water points and are often in close contact," says Daballen, adding that the organisation is pleased with the progress of the orphans.
"We look forward to watching them grow to mature males and females and eventually feed on the fenced environment of Sera Rhino Sanctuary to be truly wild."
Comments
comments
Soaring number of sick drivers puts Busia in tight spot: The Standard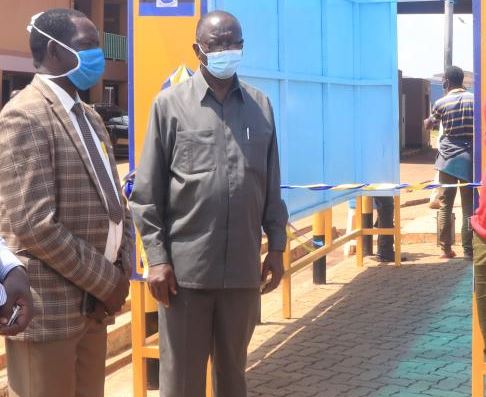 Busia Deputy Governor Moses Mulomi in countersuit (centre) at the Busia One Stop Border Post. [Ignatius Odanga/Standard]
WesternThe facilities have bed capacities of 42 and 200, respectively. Another 50 beds have been added at Alupe that had a 71-bed capacity.
So far, Governor Sospeter Ojaamong's administration has identified Agricultural Training Centre (ATC) and St Monica Chakol as additional centres.
The facilities have bed capacities of 42 and 200, respectively. Another 50 beds have been added at Alupe that had a 71-bed capacity.
The county has been engaging the national government over possibility of converting the Kenya Medical Training Institute in Busia into another isolation facility to handle rising numbers.
But chief officer-in-charge of Health and Sanitation Isaac Omeri indicated that only asymptomatic patients would be accommodated at the ATC. On top of the preventive measures put in place by the county government, five hotels have been identified in Busia town where truck drivers can put up and six others in Malaba border town.
SEE ALSO: Why partnerships in technology are key in fighting pandemic
Dr Omeri said the hotels were specifically for truck drivers to help minimise scenerios where they mingle freely with locals. 
By yesterday, Busia had recorded 178 positive cases, all of them truck drivers.
"We expect the number to go up in coming days. That is why we have decided to get alternative places for patients to be held as they get medication," said Omeri.
The county has mounted disinfectant booths and spray tunnels in strategic places, particularly at the Busia and Malaba border posts, for use by clearing agents and truck drivers.
It has also erected water tanks and provided soap for locals to wash hands regularly.
SEE ALSO: What if Kenyans knew Covid-19 was coming?
Food vendors
Following complaints from a section of locals that some food vendors were hawking food to truckers, the county has launched sensitisation programme aimed at educating the sellers not to have close contact with drivers.
"It is a matter of great concern because some drivers mingle with locals before even knowing their status. We are telling our people and specifically those selling food and fruits to avoid getting into close contact with truckers to avoid contracting the virus," said Omeri.
The Ministry of Health in March identified truck drivers as a weak link in the fight against coronavirus.
For the last three weeks, Busia town and Malaba have been chaotic due to trailer snarl-up.
SEE ALSO: How coronavirus slashed trips to ATMs to an all-time low in April
Uganda has so far returned at least 50 Kenyan truck drivers who tested positive. The county by Thursday had tested more than 7,000 truck drivers.
On Tuesday, Governor Ojaamong and County Commissioner Joseph Kanyiri announced that a driver without a certificate to show they are Covid-19 free would not enter the county.
They said drivers would bear the cost of fumigating their trucks. The response team established that some drivers had no certificates.
Shortage of reagents, personal protective equipment, ventilators, face masks and fewer health care providers have remained the biggest challenges in the fight against coronavirus in the county, said Omeri.
Yesterday, he said the department was keen on paying the heath care providers their subsistence allowances.
SEE ALSO: Sacco relaxes loan terms for members as virus looms
This is after some frontline workers lamented that their morale was low since the county was yet to pay them their allowances.
The affected cadres include doctors, nurses, public health officers and laboratory technologists.
Comments
comments
Woman claims baby swapped with a dead one in hospital: The Standard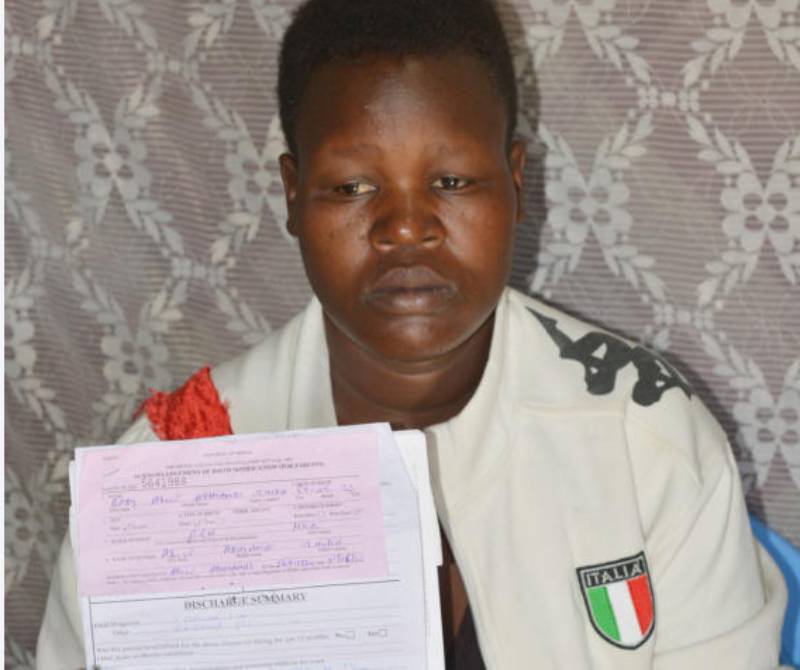 Rift ValleyBut medical superintendent says child was born pre-term and promises to conduct DNA to establish the truth.
A woman has accused Nakuru Level Five Hospital of swapping her newborn with a dead one.
Alice Adhiambo (pictured), 31, said she checked into the facility on May 21 and was admitted after medics reported that she had high blood pressure, thereby placing her and her unborn baby in danger.
"I remained at the hospital until May 29 when I delivered at around 4pm through caesarean section. My baby boy weighed 2.6 kilogrammes at birth and was feeding normally. I spent the day with him on Saturday and Sunday," said Adhiambo.
SEE ALSO: Standing out as tough times push more to side hustles
Details on the Newborn Unit Exit Form indicated that "the child was born pre-term at 31 weeks and 5 days as compared to 40 weeks for a normal delivery."
Adhiambo explained that on Sunday evening, she went to breastfeed her child at 6pm and left the nursery at around 7:30pm hoping to check on the baby again by 9pm.
"At 9pm, I left my bed heading to the nursery. There I met two nurses who asked me where the name tag on my child had gone yet I had left it intact. My baby too was not in his bed," she said.
The distressed mother said the nurses then broke the news to her that her child had died after which she demanded to see the body.
Unique hair
SEE ALSO: Dortmund's Sancho, Akanji fined for getting haircuts without face masks
"My child had unique hair close to the forehead. I was shown an already wrapped baby whose body colour had turned almost green. The dead child had a birth mark on the face while mine had none. The body was too cold to have died minutes earlier," said Adhiambo.
Her attempts to get an explanation on the circumstances under which her baby died were futile as none of the nurses had answers to her queries.
But the hospital's medical superintendent Dr Joseph Mburu has denied Adhiambo's claims.
"There was nothing like a baby swap. The document in our possession clearly show that the child was born pre-term," Dr Mburu said.
The situation became more complicated the following day as Adhiambo was paying her bill when it emerged that she had been given a different file as a record for her child.
SEE ALSO: Keter turn guns to Diamond League debut
On the Discharge Summary Form given to Adhiambo, her patient number was recorded as 792173 but at the hospital billing records the number had been assigned to a different patient.
"At the accountant's desk, the patient number on the form gave the record of a patient named John Ng'ang'a. That was neither me nor my son," she said.
Dr Mburu admitted that there were some errors on the records but the inpatient number belonged to Adhiambo.
"If the child was not hers, we shall have a DNA conducted to establish the truth of the matter," said Dr Mburu.
More discrepancies emerged between the birth notification and a burial permit issued to allow the hospital to dispose of the body.
SEE ALSO: Covid-19: A wake-up call to save the Earth
In the two documents seen by The Standard, the Birth Notification issued on June 1 indicates that the child was born dead on May 29 while the burial permit indicated the child died aged one day.
Adhiambo who works as a security guard in Nakuru town said the torment has been hard for her to bear adding that her husband is still held up in Mombasa due to cessation of movement because of the Covid-19 pandemic.
Comments
comments