Where the jobs are : The Standard
You stand a higher chance of landing a job in the food industry, with the latest official data showing that the sub-sector churned out the most jobs in four years to 2018.
However, data from the Kenya National Bureau of Statistics (KNBS) sounded a warning bell to those engaged in the manufacture of vegetable and animal oils and fats, as this sub-sector shed a staggering 12,743 jobs in the period under review.
The 2018 Statistical Abstract shows that the number of workers engaged in the manufacture of food products increased by 13,431 between 2014 and 2018, a boon for President Uhuru Kenyatta's ambition to ensure food security and nutrition for all Kenyans by 2022.
SEE ALSO :From banks to farms, economy bleeding jobs
Those with an eye for plumbing, heat and air-conditioning installation can be hopeful if past performance in job creation is anything to go by. This area experienced job growth of 52 per cent, with the number of Kenyans eking a living from the sub-sector increasing from 3,129 in 2014 to 4,753.
Other economic activities that had an impressive performance in job creation were in warehousing and storage, which experienced a 47 per cent growth in job creation, and data processing, web hosting and related activities, which employed an additional 2,502 people as Kenya strives to live up to the challenge of being Africa's Silicon Savannah.
Other top creators were water collection, treatment and supply, specialised construction activities, general public administration activities, and manufacture of clothes.
For More of This and Other Stories, Grab Your Copy of the Standard Newspaper.
But the new data also revealed that there was a job heamorrhage in the manufacturing sector, with at least 15,000 jobs being lost in the last four years to 2018.
Extension officers who support crop and animal production have reduced, a situation that has contributed to the poor productivity in farming and livestock rearing.
SEE ALSO :Kenyans mock ex-MP Mary Wambui's appointment
In what is a worrying trend, only agriculture and manufacturing, which are at the heart of the president's Big Four Agenda, have experienced negative growth in jobs.
Moreover, most of the jobs are being created at the expense of these critical sectors, with millions of shillings leaving farms and factories to low-volume employers such as IT. This pace of transition seems to have picked up since 2009.
The job losses touched 18 manufacturing sub-sectors in what has been blamed on the increased cost of production, including the high cost of electricity, punitive taxes, bureaucracy and high cost of credit, a big blow to one of Uhuru's Big Four Agenda.
The affected sub-sectors include textile, manufacturing, fish, vegetable and fruit processing that have been identified as part of Uhuru's job creation ambition under the Big Four Agenda. Manufacturing is expected to create one million jobs by the time the president leaves office in two years.
Current figures could even be worse given that the other affected sub-sector, sugar manufacturing, for example, has seen even more job losses owing to the closure of Mumias Sugar, once the country's biggest sugar miller. Other sugar millers like Chemelil and Nzoia are struggling financially.
SEE ALSO :Job scam alert! EABL denies mass recruitment
The government would like to create at least a million new manufacturing jobs. But this is quite ambitious given that in the last four years to 2018, only 20,136 new jobs were created and as many lost in what is turning into a zero-sum game.
The shining star is the manufacture of food, which increased by 68 per cent in the period under review.
With the economy going through some turbulence, President Kenyatta's government has switched gears in the hope of turbo-charging the business investment.
Jobs have also declined in processing and preserving of fruits and vegetables. Processing and preserving of fish, another Big Four item, has experienced a decline in the number of jobs created.
Other job losers include the manufacture of cocoa, chocolate and sugar confectionery; distilling, rectifying and blending of spirits; manufacture of tobacco products; and sawmilling and planing of wood.
SEE ALSO :Sakaja: I will block Mary Wambui's appointment
Manufacture of wood, soap detergents, refined petroleum, plastic products and ceramics also declined.
Growth of jobs in sectors such as plumbing confirms employers' fears that while there is increased demand in such sectors, there are no skills to match it.
"Whilst there is an increasing and significant demand for skilled workers in Kenya, there is a mismatch between the skills needed by industry and skills taught in higher institutions of learning," said Phylis Wakiaga, the CEO of Kenya Association of Manufacturers.
Ms Wakiaga noted that labour productivity was essential for manufacturing competitiveness.
"Lack of relevant skills and competencies can be detrimental to the industry in terms of production and wastage," she said.
The government has tried to cure this problem by promoting the growth of technical and vocational training centres.
Lately, high-ranking government officials have spent the better part of the working days trying to figure out how they can put money into people's pockets, burning the midnight oil as they sought to end a cash crisis that has snuffed life out of several businesses and left scores jobless.
The president's wrath has travelled through the government circles, culminating in an ultimatum by acting Treasury CS Ukur Yatani to State corporations and county governments to pay suppliers close to Sh137 billion by December 1.
Fifteen counties risk not receiving their conditional grants should they fail to pay suppliers, while 53 State corporations will not get their allocations for the current financial year should they fail to settle their pending bills.
"Cases of individuals and firms experiencing unmet financial obligations, including failure to repay loans, are widespread all over the country," Mr Yatani said.
Bad loans as a fraction of total loans have increased from a low of 4.7 per cent in December 2012 to 12.5 per cent currently.

Do not miss out on the latest news. Join the Standard Digital Telegram channel HERE.
Related Topics
IMF Expects Kenyan Economic Expansion to slow Down As Pandemic Persists
NAIROBI, Kenya, May 18-The International Monetary Fund has revised Kenya's economic expansion to 6.3 percent from the earlier projection of 7.6 percent.
In a statement, IMF said this is being influenced by the third wave of the coronavirus pandemic that has continued to slow down the country's economic activities.
"The economic recovery should be sustained, although the persistence of the pandemic suggests the pickup envisioned in 2021 will be slightly less strong than anticipated. IMF staff now project the economy to expand by 6.3 percent in 2021," reads IMF's statement.
"The coronavirus shock has unfortunately also reversed some of the poverty reduction gains Kenya achieved in recent years and debt remains elevated," it added.
However, IMF maintained that Kenya's prospects are strong, and in the medium-term growth is expected to settle at its potential of just above 6 percent.
This follows a recent staff team from the International Monetary Fund (IMF) led by Mary Goodman who conducted a virtual mission to Kenya from April 29 to May 14, 2021, to discuss progress on reforms and the authorities' policy priorities within the context of the first review of Kenya's economic program supported by the IMF's EFF and ECF arrangements.
Various sectors of the economy such as transport, schooling, hospitality, and tourism have been on and off since the outbreak of the coronavirus pandemic in March 2020.
At the same time, several companies layed off their employees while some preferred to put the rest on pay cuts or unpaid leave.
Kenya's economy shrank by 5.7 percent in the second three months of 2020.
Narok girls beat the odds to score university grades – KBC
The 100 percent transition from primary to secondary policy imposed by the Ministry of Education has bore fruits as evidenced in the just-released Kenya Certificate of Secondary Education (KCSE).
Many teenage mothers and poor performers in the primary examination, scored well in secondary education, giving hope to many learners with a disadvantaged background.
In Narok County, a number of teenage mothers, some of whom were forced to sit for the exam while breastfeeding, have scored good marks that will comfortably land them in public universities.
In the list of most improved candidates in the Country are two students from Olderkesi Secondary School, Narok West Sub-county, who were recognized by Cabinet Secretary (CS) of Education, Professor George Magoha, in his speech while announcing the year 2020 exam results.
Get breaking news on your Mobile as-it-happens. SMS 'NEWS' to 20153

The two are Charity Kipees from Oldekesi Primary school who scored a C+ (plus) grade despite having scored 151 marks in KCPE and Sadera Shalvin, attained a B- (Minus) although he scored 168 marks in KCPE.
When we visited Ms. Kipees at her home in Melili, Narok North Sub-county, she was all smiles that despite the bitter education journey she faced, she had emerged victorious.
Ms. Kipees sat for KCPE in the year 2016 but was forced to remain at home for one year because no secondary school was willing to accommodate her with such low marks.
"I was willing to continue with my secondary education but no secondary school could absorb me because of the low marks. This made me remain at home, as I helped my parents with their day-to-day activities," she said.
Luckily, in a family gathering, one of the family members who was also a Board of Management (BOM) Committee member at Olderkesi Secondary School promised to secure her a chance at the school.
This meant that Ms. Kipees would travel about 200 kilometers from her home to the school that is located near the Kenya Tanzania border.
"Tears of joy freely flew my eyes as I joined high school one year after sitting for KCPE,"  she said, adding that this motivated her to burn the midnight oil so that she could pass her exams.
Ms. Kipees who hails from Melili area in Narok North Sub-county said she received the good news that her name had been mentioned by the Cabinet Secretary through her uncle who called to congratulate her.
"I was confident I had done my best to pass the exam, but I did not expect to be named among the most improved children in the Country by the CS himself. This was very exciting and humbling," she continued.
Another success story is of Susan Mpatian, a mother of three who managed to beat all odds to score a B-(minus) of 59 points.
Despite having been married off at a tender age of 15 years back in the year 2017, she did not give up on her education because she was confident that she could score a good grade that would earn her, her childhood passion of becoming a teacher.
Ms. Mpatian was admitted to Olderkesi Secondary School after she was expelled from Ole Tipis Girls School for falling pregnant while in form one.
But while in Olderkesi, she fell pregnant a second time, forcing her to remain at home for a whole year to tender her young children.
At home, her single mother forced her to get married as she concluded that she could not continue with her education despite the fact that she was a bright girl.
Nevertheless, she kept pressing her husband to give her a chance to go back to school so that she could achieve her dream of becoming a teacher. Her husband yielded to her cry and gave her a chance to go back to school.
The School Principal also gave her a chance to continue with her studies after she told him how she had a passion for becoming a teacher.
However, during the Covid-19 school closure period, Ms. Mpatian fell pregnant again and gave birth to her third-born child.
This did not deter her from sitting for her exam where she scored a B- (minus) grade that will comfortably give her a chance of joining university to pursue the teaching profession.
She asked girls not to give up on education despite the hiccups they face as they too have a talent that can only be utilized if they gain an education.
Olderkesi high school Principal Lemara Seno lauded the candidates for their good performance despite challenges like poor road network to the school and lack of enough classrooms.
"We constantly kept encouraging the candidates, especially the girls, to keep them in school despite the challenges they face," said Seno.
The School has admitted many students who had been rejected by other schools due to their poor performance in primary education and teenage pregnancies.
Female Genital Mutilation (FGM), early marriages, teenage pregnancies and Moranism are examples of challenges faced by the pastoralists' community.
According to statistics from the Department of Health, 15, 542 teenage girls in Narok County became pregnant in the year 2020 when schools were closed because of the Covid-19 pandemic.
The pillars that will deliver trade dividends within EAC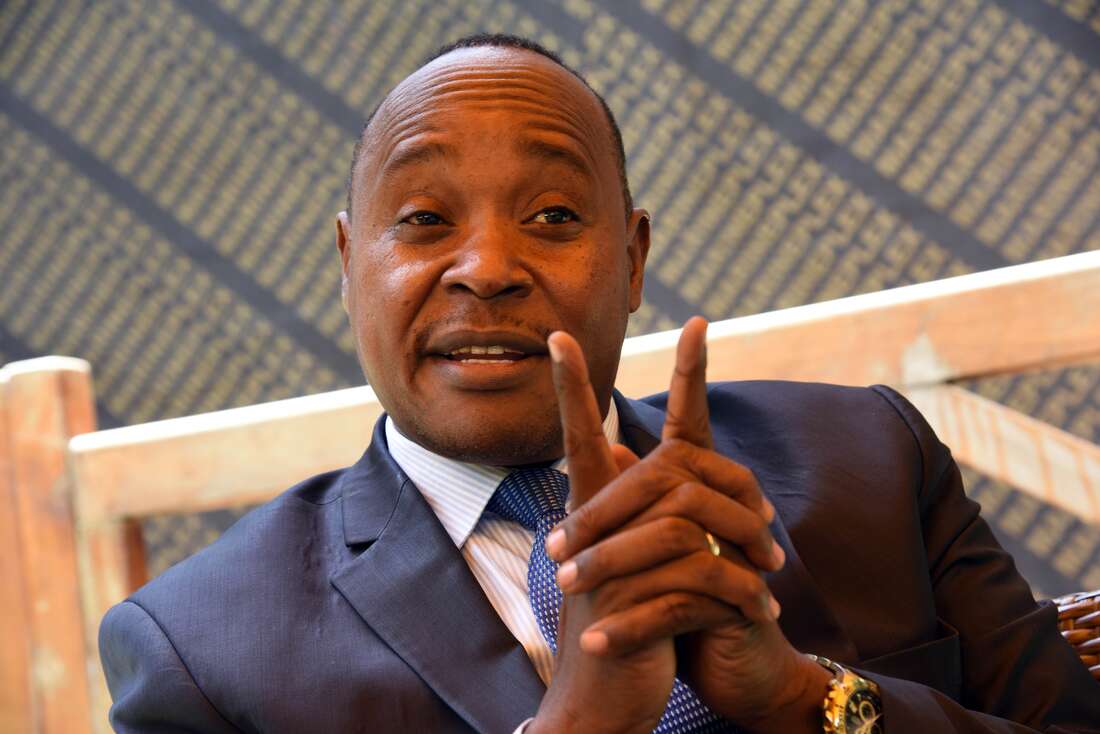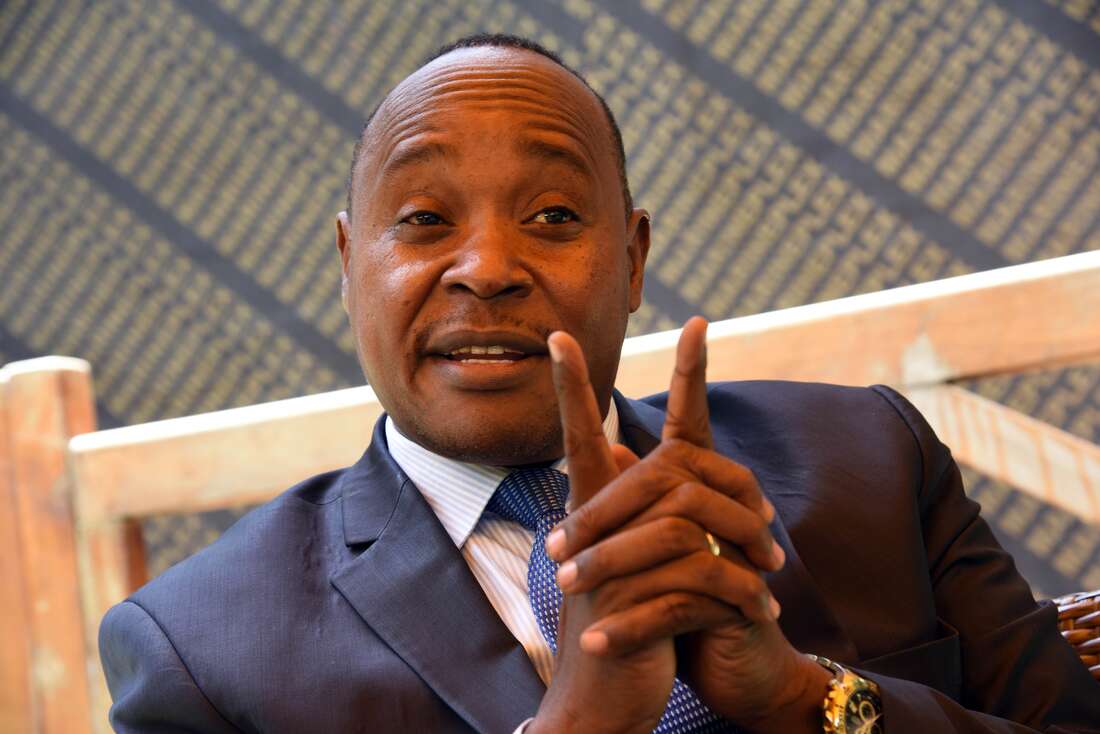 The pillars that will deliver trade dividends within EAC
Tuesday May 18 2021

Peter Mutuku Mathuki took over as the secretary-general of the six-nation East African Community (EAC) bloc on April 25, pledging to deliver a "stronger and more formidable" trading bloc at the end of his five-year term. Dr Mathuki (right) is not new to regional integration issues.
He served in the East African Legislative Assembly (EALA) for five years to 2017 before taking reins as chief executive of East African Business Council (EABC) — the regional business lobby for private sector — from October 2018 until his latest appointment. He spoke to Business Daily.
HOW HAS YOUR EXPERIENCE AT THE LEGISLATIVE ARM OF THE EAC AND LATER AS A CHAMPION OF PRIVATE SECTOR INTERESTS PREPARED YOU FOR YOUR NEW ROLE?
I have gained experience and a sound understanding of regional politics and its effects on regional integration, business and individual countries.
Having worked in different capacities under the umbrella of the EAC, I am well aware of the opportunities that are available for exploitation, as well as the challenges that the Community and individual partner States face.
I will use my experience, and valued partnerships that I have picked along the way to work towards creating a more integrated and stronger Community that is able to withstand the challenges to come.
ONE OF THE BIGGEST THREATS TO REGIONAL INTEGRATION IS ON-AND-OFF DISPUTES AMONG MEMBER STATES WHO SOMETIMES RESORT TO ERECTING TARIFF AND NON-TARIFF BARRIERS (NTBs). HOW ARE YOU GOING TO ADDRESS THIS CHALLENGE?
My preferred approach would be to prioritise the full operationalisation of the EAC Elimination of Non-Tariff Barriers (NTBs) Act, 2017 and the establishment and full operationalisation of the EAC Committee on
Trade Remedies to handle persistent trade disputes in the region. I will also focus on strengthening the capacity of the National and Regional Monitoring Committees on the resolution of NTBs to identify and resolve any imposed NTBs.
The removal of NTBs is expected to drive intra-regional trade to at least 30 percent in the short-term from the current 15 percent. My target is to have it grow to more than 50 percent by the end of my tenure.
WE HAVE LARGELY SEEN INDIVIDUAL MEMBER STATES ENGAGE TO RESOLVE DISPUTES BETWEEN THEM, WITH LITTLE INVOLVEMENT FROM THE EAC SECRETARIAT. HOW DO YOU PLAN TO HANDLE THIS?
My aim is to strengthen the Secretariat to better support Partner States in trade negotiations and in operationalising mechanisms to unlock disputes among themselves. The EAC Elimination of NTBs Act, 2017, shall facilitate the resolution of persistent NTB and force Partner States to refrain from imposing new ones.
The mechanisms to report and resolve NTBs, as stipulated in the NTBs Act 2017, include compensation where the Council (of Ministers) finds that the imposing Partner State caused unnecessary trade loss to the affected Partner States as shall be determined by the Committee on Trade Remedies. It is my goal that this Committee is established and empowered to deliver on its mandate.
My other key area of focus on this is to strengthen the available dialogue with Partner States through their established National Monitoring Committees and the Regional Monitoring Committee on the resolution of non-tariff barriers — where such exist — and other inconsistent laws that frustrate intraregional trade and investments.
KENYA, BEING THE ONLY LOWER MIDDLE-INCOME COUNTRY IN THE BLOC, HAS RECENTLY FOUND ITSELF ISOLATED WHEN NEGOTIATING FOR INTERNATIONAL TRADE TREATIES WHERE ITS EXPORTS WERE FACING INCREASED TARIFFS IN ABSENCE OF A DEAL. CASE IN POINT WAS THE RECENT POST-BREXIT DEAL WITH THE UK AND BEFORE THAT IT WAS WITH THE EU BACK IN 2016. WHAT IS THE LONG-TERM SOLUTION TO THIS?
The EAC has an obligation to implement all the provisions of the EAC Treaty, its protocols as well as decisions and directives from the EAC policy organs.
In terms of the EPAs (economic partnership agreements), the EAC Summit has provided guidance whereby partner States that are ready to implement the agreement should go ahead and do so.
Therefore, it is expected that within the confines of the EAC Treaty, we have solutions to fast-movers like Kenya.
On a sustainable basis, however, all EAC economies will be assisted to grow to middle-income status through harmonised economic policies.
When each of the EAC partner States has something to sell to the new negotiated markets on a competitive basis, negotiation and implementation of trade preferences will be a very welcome idea to all the partner states.
WHAT PRACTICAL SOLUTIONS ARE YOU BRINGING ON BOARD TO UNLOCK THE LONG-STANDING STALEMATE AMONG EAC MEMBERS OVER THE COMMON EXTERNAL TARIFF (CET) FOR THE BLOC?
The finalisation and comprehensive review of the common external tariff and its uniform application in the bloc is long overdue. One of my priorities is to work with the Secretariat and partner States to fast-track the process by the end of this year. We will do this by ensuring that all member states focus on its conclusion for the purpose of promoting local industries and products in each of the partner states.
Despite a legal framework for standards in place, there have been cases where goods from one member State has been subjected to double testing and standardisation, and that means increased cost of doing business.
The Standardisation, Quality assurance, Metrology and Testing Act 2006 provides a framework for mutual recognition of test certificates and product certification marks. There is a need for capacity building in all the partner States to adopt and implement the mechanisms in place to enhance intra-EAC trade. It is also necessary to deliberately engage with the private sector, development partners and regulatory authorities, including national standards bodies. This will help to, among others, adopt risk-based standards development and conformity assessment to address the issues of unnecessary costs and burden to the traders in this area.
HOW DO YOU PLAN TO RESOLVE THE PERSISTENT RECURRENT BUDGET CHALLENGES at THE SECRETARIAT?
This is an issue which has affected the performance of the Secretariat in the past. Going forward, we plan to address this by encouraging partner States to make their remittances on time and coming up with sustainable solutions to those that may be facing challenges in doing the same. We shall also revisit the alternative financial mechanism once proposed so as to enable EAC to collect its own expenditure money from taxes on imported goods.
WHAT LEGACY WOULD YOU LIKE TO LEAVE BEHIND?
The focus of the EAC has been and continues to be regional integration among partner States. It is my goal that by the time my tenure draws to a close, we will have a stronger, more formidable Community that benefits all its citizens politically and from a business perspective.
The Community is also expanding, Somalia has applied to join the bloc and we are fast-tracking deliberations with the hope of reaching a conclusion later in the year. The DRC is also in the process to join the Community. Our plan is to work to create an EAC that becomes a global player of repute while meeting the needs of its citizens.