Where all 32 teams stand going into Week 3 – Sports – Pulselive.co.ke
[ad_1]

After two weeks of NFL football, we have a few answers and a ton of questions.
Patrick Mahomes and the Chiefs look like they're for real, but do they have what it takes to bring down the Patriots and Jaguars and take over as the top team in the AFC? Ryan Fitzpatrick isn't a one-game wonder, but can he keep his hot streak going to a point where the Buccaneers let him stay in as the starter once Jameis Winston returns from suspension? The Bills are bad, but will they win a game this season?
We'll learn the answers to these questions as we watch the rest of the season play out, but in the meantime, we've once again ranked every team in the league to give ourselves a better sense of how the season looks so far.
Check out where all 32 NFL teams stand heading into Week 3.
32. Buffalo Bills
Record: 0-2
Last week: 32nd
Week 2 result: Lost to Chargers, 31-20
Week 3 opponent: at Minnesota Vikings
One thing to know: Things have gotten so bad in Buffalo that cornerback Vontae Davis quit and retired at halftime in Week 2. The Bills have been outscored by 55 points in two games.
31. Arizona Cardinals
Record: 0-2
Last week: 31st
Week 2 result: Lost to the Rams, 34-0
Week 3 opponent: vs. Chicago Bears
One thing to know: Through two games, the Cardinals have scored just six points. How long will Arizona wait before seeing what they have in rookie Josh Rosen?
30. New York Giants
Record: 0-2
Last week: 24th
Week 2 result: Lost to the Cowboys, 20-13
Week 3 opponent: at Houston Texans
One thing to know: The Giants used the offseason to upgrade their offensive line, but it hasn't appeared to help. Eli Manning has been sacked eight times in two games, rookie running back Saquon Barkley is averaging just 6.4 yards per reception, and there's not nearly enough time to get Odell Beckham Jr. the ball.
29. Detroit Lions
Record: 0-2
Last week: 28th
Week 2 result: Lost to the 49ers, 30-27
Week 3 opponent: vs. New England Patriots
One thing to know: Detroit put up a good fight against the Niners, but in a division with the Vikings, Packers, and Bears leading the way, it's tough to think they'll be anywhere near the playoff hunt this year. Matt Patricia has another tough task this week as he prepares to take on his mentor Bill Belichick.
28. Cleveland Browns
Record: 0-1-1
Last week: 23rd
Week 2 result: Lost to the Saints, 21-18
Week 3 opponent: vs. New York Jets
One thing to know: The Browns got oh-so-close again. After getting a field goal blocked by the Steelers in overtime in Week 1, the Browns missed a field goal to tie the game at the end of regulation. The result: 18 straight games without a win and kicker Zane Gonzalez was cut from the team.
27. New York Jets
Record: 1-1
Last week: 19th
Week 2 result: Lost to the Dolphins, 20-12
Week 3 opponent: at Cleveland Browns
One thing to know: Sam Darnold had Jets fans jumping for joy after his impressive debut against the Lions, but fell a bit flat in Week 2. With games against the Browns, Jaguars, and Broncos coming up, we should learn a lot about the young quarterback in the next three weeks.
26. Indianapolis Colts
Record: 1-1
Last week: 29th
Week 2 result: Beat the Redskins, 21-9
Week 3 opponent: at Philadelphia Eagles
One thing to know: A beautiful sign for the Colts: Andrew Luck struggled in Week 2, and it was the defense that carried the team to a win. Rookie linebacker Darius Leonard was a standout, recording 18 tackles and a sack against the 'Skins.
25. Dallas Cowboys
Record: 1-1
Last week: 30th
Week 2 result: Beat the Giants, 20-13
Week 3 opponent: at Seattle Seahawks
One thing to know: Dan Prescott and the Cowboys did enough to get the win over the Giants on Sunday night, but their offense was shockingly stagnant beyond an opening, 64-yard touchdown pass to Tavon Austin. Dallas will need a bit more consistency if they hope to contend this year.
24. Oakland Raiders
Record: 0-2
Last week: 26th
Week 2 result: Lost to the Broncos, 20-19
Week 3 opponent: at Miami Dolphins
One thing to know: After blowing a game to the Broncos on Sunday, Jon Gruden said the team needs to figure out a way to get more pressure on the quarterback. We hope he meant it tongue-in-cheek because the Raiders just traded a guy who's pretty good at that.
23. Seattle Seahawks
Record: 0-2
Last week: 21st
Week 2 result: Lost to the Bears, 24-17
Week 3 opponent: vs. Dallas Cowboys
One thing to know: The Seahawks offensive line issues might be worse than advertised heading into the season, with quarterback Russell Wilson getting sacked five times in the first half of their "Monday Night Football" matchup against the Bears.
22. Houston Texans
Record: 0-2
Last week: 18th
Week 2 result: Lost to the Titans, 20-17
Week 3 opponent: vs. New York Giants
One thing to know: Texans quarterback Deshaun Watson had an Aaron Rodgers-esque message for fans and analysts worrying about the Texans' 0-2 start: "If you're one of the guys, one of the people, one of the fans hitting the panic button, then that's on ya'll. Don't hop on the train later on down the season."
21. Tennessee Titans
Record: 1-1
Last week: 27th
Week 2 result: Beat the Texans, 20-17
Week 3 opponent: at Jacksonville Jaguars
One thing to know: While it's still early in the season, the Titans have a lot riding on Sunday's matchup against the Jaguars. With a win, they'll jump for a tie for the division lead, but with a loss, they'll be two games back behind a Jacksonville team that looks to be one of the best in the AFC. Tennessee needs to keep pace if they hope to make it back to the postseason.
As things stand, the Titans will be riding backup Blaine Gabbert who did enough to win on Sunday, with Marcus Mariota still nursing an elbow injury.
20. Washington Redskins
Record: 1-1
Last week: 14th
Week 2 result: Lost to the Colts, 21-9
Week 3 opponent: vs. Green Bay Packers
One thing to know: The Redskins running backs averaged just 1.3 yards per carry in Week 2. By our math, that is not good. Maybe they'll get on track in Week 3 against the Packers, who have allowed 4.6 yards per carry so far, the eighth-highest mark in the league.
19. Baltimore Ravens
Record: 1-1
Last week: 13th
Week 2 result: Lost to the Bengals, 34-23
Week 3 opponent: vs. Denver Broncos
One thing to know: Baltimore is a tough team to get a read on after two games. They ran up the score on the Bills, who may be one of the worst teams in the league, and then got bullied by the Bengals, who are undefeated.
18. Miami Dolphins
Record: 2-0
Last week: 25th
Week 2 result: Beat the Jets, 20-12
Week 3 opponent: vs. Oakland Raiders
One thing to know: The Dolphins are atop the AFC East. Who saw that coming? A soft schedule that includes talented, but unproven teams like the Raiders, Lions, Bengals, Bears, and Jets could allow Miami to beef up its record over the next seven weeks.
17. Cincinnati Bengals
Record: 2-0
Last week: 22nd
Week 2 result: Beat the Ravens, 34-23
Week 3 opponent: at Carolina Panthers
One thing to know: The Bengals are undefeated to start 2018, having won both their games by a score of 34-23. After bringing head coach Marvin Lewis back despite years lacking any playoff success, could this be the year that Cincinnati finally makes a postseason splash?
16. Pittsburgh Steelers
Record: 0-1-1
Last week: 12th
Week 2 result: Lost to the Chiefs, 42-37
Week 3 opponent: at Tampa Bay Buccaneers
One thing to know: Things are threatening to unravel for the Steelers. Le'Veon Bell is still holding out, and now Antonio Brown seems to be growing unhappy. During a quiet game, Brown appeared to sulk on the field and didn't talk to media afterward. Then, on Monday, Brown tweeted the Steelers should trade him after a former PR employee for the team said Brown wouldn't be good without Ben Roethlisberger.
15. Los Angeles Chargers
Record: 1-1
Last week: 16th
Week 2 result: Beat the Bills, 31-20
Week 3 opponent: at Los Angeles Rams
One thing to know: Running backs Melvin Gordon and Austin Ekeler have worked together as a phenomenal 1-2 punch for the Chargers so far this season. They'll need to show up during Los Angeles' difficult upcoming stretch against the Rams, 49ers, and Raiders to keep the Chargers from falling out of contention early like they did last year.
14. Denver Broncos
Record: 2-0
Last week: 17th
Week 2 result: Beat the Raiders, 20-19
Week 3 opponent: at Baltimore Ravens
One thing to know: Case Keenum hasn't blown anyone away in the first two weeks, but he's played well when it matters. After leading a go-ahead touchdown drive in the fourth quarter of Week 1, Keenum got the Broncos down the field into field goal range to kick the game-winner to beat the Raiders. Keenum is now 12-1 in his last 13 regular season starts.
13. New Orleans Saints
Record: 1-1
Last week: 11th
Week 2 result: Beat the Browns, 21-18
Week 3 opponent: at Atlanta Falcons
One thing to know: After coming into the season as potential Super Bowl contenders, the Saints were just a few made kicks away from gifting Cleveland its first win in two years and falling to 0-2 to start the year. New Orleans made an impressive turnaround last season after losing their first two of the season, going 11-3 the rest of the way, but they'll have to get their act together quick if they hope to make it back to the postseason.
12. Chicago Bears
Record: 1-1
Last week: 10th
Week 2 result: Beat the Seahawks, 24-17
Week 3 opponent: at Arizona Cardinals
One thing to know: The Khalil Mack trade is already paying off. Mack has been an absolute force when he's been on the field, registering two sacks, two forced fumbles, and an interception in limited playing time on the field. Even when he's not recording the sacks or hits himself, his pressure is opening up holes for other Bears defenders.
11. San Francisco 49ers
Record: 1-1
Last week: 15th
Week 2 result: Beat the Lions, 30-27
Week 3 opponent: at Kansas City Chiefs
One thing to know: Jimmy Garoppolo vs. Patrick Mahomes is the most enthralling matchup between young quarterbacks in recent memory. Garoppolo has looked comfortable under center despite the absence of his favorite target, Marquise Goodwin, due to injury — when he's back we could see the 49ers offense open up even more.
10. Carolina Panthers
Record: 1-1
Last week: 6th
Week 2 result: Lost to the Falcons, 31-24
Week 3 opponent: vs. Cincinnati Bengals
One thing to know: Panthers coach Ron Rivera blasted his team for its run defense after a critical loss to the Falcons. Rivera called the run defense "terrible" after the Panthers allowed a 107-yard rushing game to Tevin Coleman, the first 100-yard rushing game they've given up in over a year.
9. Tampa Bay Buccaneers
Record: 2-0
Last week: 20th
Week 2 result: Beat the Eagles, 27-21
Week 3 opponent: vs. Pittsburgh Steelers
One thing to know: Ryan Fitzpatrick is one of the hottest quarterbacks in football right now, and even if he can't keep this pace up, it feels like Jameis Winston might be waiting a while before he gets the starting job back.
8. Atlanta Falcons
Record: 1-1
Last week: 9th
Week 2 result: Beat the Panthers, 31-24
Week 3 opponent: vs. New Orleans Saints
One thing to know: Matt Ryan and the Falcons alleviated some concerns about their offense after a low-scoring Week 1. Ryan threw two touchdowns by air and added two of his own by rushing. There's hope that the team can take off in Year 2 of Steve Sarkisian's offense like they did in 2016 in Year 2 of Kyle Shanahan's offense.
7. Green Bay Packers
Record: 1-0-1
Last week: 7th
Week 2 result: Tied the Vikings, 29-29
Week 3 opponent: at Washington Redskins
One thing to know: Aaron Rodgers didn't look like his usual, mobile self on Sunday, but he still did enough to put the Packers in a position to win, before a controversial call gifted the Vikings the game-tying score. Even an 80%-healthy Rodgers is still one of the best quarterbacks in football.
6. New England Patriots
Record: 1-1
Last week: 2nd
Week 2 result: Lost to the Jaguars, 31-20
Week 3 opponent: at Detroit Lions
One thing to know: Just a day after being suffocated by the Jacksonville Jaguars, the Patriots made a big move for Josh Gordon, the talented, but oft-unavailable wide receiver. If Gordon is healthy in New England, he could become a massive weapon for Tom Brady and a Patriots offense that needs some pop.
5. Philadelphia Eagles
Record: 1-1
Last week: 4th
Week 2 result: Lost to the Buccaneers, 27-21
Week 3 opponent: vs. Indianapolis Colts
One thing to know: The Eagles offense certainly wasn't inspiring in their loss to the Buccaneers, but with starting quarterback Carson Wentz set to return next Sunday, Philadelphia has reason to believe they can go on a hot streak in the coming weeks.
4. Jacksonville Jaguars
Record: 2-0
Last week: 8th
Week 2 result: Beat the Patriots, 31-20
Week 3 opponent: vs. Tennessee Titans
One thing to know: Blake Bortles is proving that last season was no fluke. Bortles and the Jags shredded the Patriots in Week 2, with Bortles completing 64% of his passes for 377 yards, 4 touchdowns, and an interception. Jaguars offensive coordinator Nathaniel Hackett told the MMQB's Albert Breer that he expects Bortles to keep improving now that the team around him is finally stable.
3. Minnesota Vikings
Record: 1-0-1
Last week: 2nd
Week 2 result: Tied the Packers, 29-29
Week 3 opponent: vs. Buffalo Bills
One thing to know: The Vikings got bailed out thanks to a controversial penalty against Packers linebacker Clay Matthews to save a tie. That tie could have huge implications down the stretch if Green Bay and Minnesota are battling it out for the top spot in the NFC North.
2. Kansas City Chiefs
Record: 2-0
Last week: 5th
Week 2 result: Beat the Steelers, 42-37
Week 3 opponent: vs. San Francisco 49ers
One thing to know: Patrick Mahomes is on pace to be the greatest quarterback ever. In two games, Mahomes has thrown 10 touchdowns, no interceptions, completed 69% of his passes, and posted a 143 passer rating. Even the Steelers were impressed with Mahomes, with linebacker Bud Dupree saying the defense thought they could fool him, and Mahomes figured it out every time. The Chiefs look to be a dynamic offensive team.
1. Los Angeles Rams
Record: 2-0
Last week: 1st
Week 2 result: Beat the Cardinals, 34-0
Week 3 opponent: vs. Los Angeles Chargers
One thing to know: Two games into the 2018 NFL season, and we've yet to see a weak spot in the Rams roster. While the road to the Super Bowl in a difficult one in the NFC, it looks as though Los Angeles are the early favorites to represent the conference.
Now check out the best players to add to your fantasy team off the waiver wire


[ad_2]
Public officers above 58 years and with pre-existing conditions told to work from home: The Standard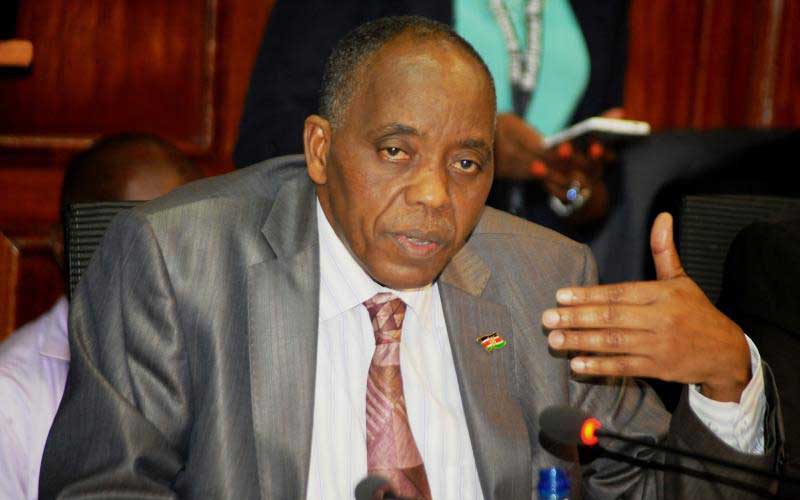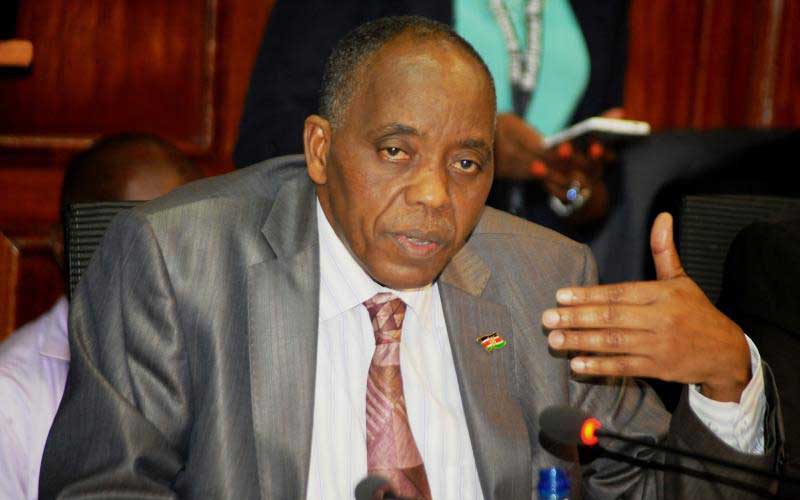 Head of Public Service Joseph Kinyua. [File, Standard]
In a document from Head of Public Service, Joseph Kinyua new measure have been outlined to curb the bulging spread of covid-19. Public officers with underlying health conditions and those who are over 58 years -a group that experts have classified as most vulnerable to the virus will be required to execute their duties from home.
However, the new rule excluded personnel in the security sector and other critical and essential services.
"All State and public officers with pre-existing medical conditions and/or aged 58 years and above serving in CSG5 (job group 'S') and below or their equivalents should forthwith work from home," read the document," read the document.
To ensure that those working from home deliver, the Public Service directs that there be clear assignments and targets tasked for the period designated and a clear reporting line to monitor and review work done.
SEE ALSO: Thinking inside the cardboard box for post-lockdown work stations
Others measures outlined in the document include the provision of personal protective equipment to staff, provision of sanitizers and access to washing facilities fitted with soap and water, temperature checks for all staff and clients entering public offices regular fumigation of office premises and vehicles and minimizing of visitors except by prior appointments.
Officers who contract the virus and come back to work after quarantine or isolation period will be required to follow specific directives such as obtaining clearance from the isolation facility certified by the designated persons indicating that the public officer is free and safe from Covid-19. The officer will also be required to stay away from duty station for a period of seven days after the date of medical certification.
"The period a public officer spends in quarantine or isolation due to Covid-19, shall be treated as sick leave and shall be subject to the Provisions of the Human Resource Policy and procedures Manual for the Public Service(May,2016)," read the document.
The service has also made discrimination and stigmatization an offence and has guaranteed those affected with the virus to receive adequate access to mental health and psychosocial supported offered by the government.
The new directives targeting the Public Services come at a time when Kenyans have increasingly shown lack of strict observance of the issued guidelines even as the number of positive Covid-19 cases skyrocket to 13,771 and leaving 238 dead as of today.
SEE ALSO: Working from home could be blessing in disguise for persons with disabilities
Principal Secretaries/ Accounting Officers will be personally responsible for effective enforcement and compliance of the current guidelines and any future directives issued to mitigate the spread of Covid-19.
Uhuru convenes summit to review rising Covid-19 cases: The Standard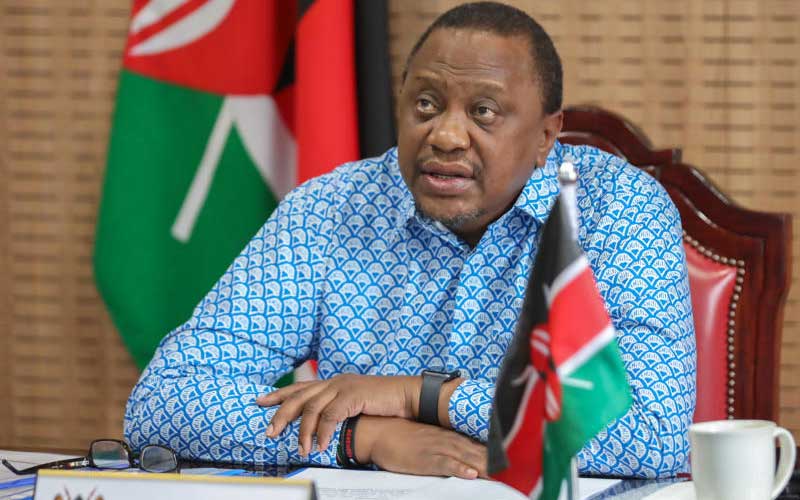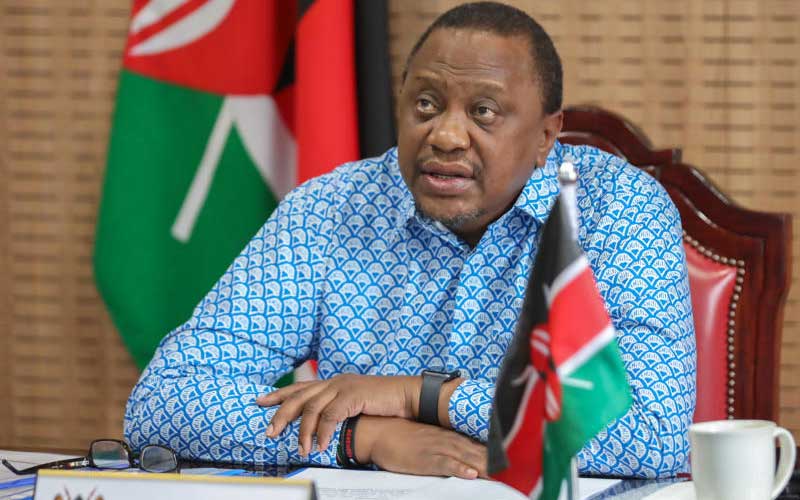 President Uhuru Kenyatta (pictured) will on Friday, July 24, meet governors following the ballooning Covid-19 infections in recent days.
The session will among other things review the efficacy of the containment measures in place and review the impact of the phased easing of the restrictions, State House said in a statement.
This story is being updated.
SEE ALSO: Sakaja resigns from Covid-19 Senate committee, in court tomorrow
Drastic life changes affecting mental health
Kenya has been ranked 6th among African countries with the highest cases of depression, this has triggered anxiety by the World Health Organization (WHO), with 1.9 million people suffering from a form of mental conditions such as depression, substance abuse.
Globally, one in four people is affected by mental or neurological disorders at some point in their lives, this is according to the WHO.
Currently, around 450 million people suffer from such conditions, placing mental disorders among the leading causes of ill-health and disability worldwide.
The pandemic has also been known to cause significant distress, mostly affecting the state of one's mental well-being.
Get breaking news on your Mobile as-it-happens. SMS 'NEWS' to 20153

With the spread of the COVID-19 pandemic attributed to the novel Coronavirus disease, millions have been affected globally with over 14 million infections and half a million deaths as to date. This has brought about uncertainty coupled with difficult situations, including job loss and the risk of contracting the deadly virus.
In Kenya the first Coronavirus case was reported in Nairobi by the Ministry of Health on the 12th March 2020.  It was not until the government put in place precautionary measures including a curfew and lockdown (the latter having being lifted) due to an increase in the number of infections that people began feeling its effect both economically and socially.
A study by Dr. Habil Otanga,  a Lecturer at the University of Nairobi, Department of Psychology says  that such measures can in turn lead to surge in mental related illnesses including depression, feelings of confusion, anger and fear, and even substance abuse. It also brings with it a sense of boredom, loneliness, anger, isolation and frustration. In the post-quarantine/isolation period, loss of employment due to the depressed economy and the stigma around the disease are also likely to lead to mental health problems.
The Kenya National Bureau of Statistics (KNBS) states that at least 300,000 Kenyans have lost their jobs due to the Coronavirus pandemic between the period of January and March this year.
KNBC noted that the number of employed Kenyans plunged to 17.8 million as of March from 18.1 million people as compared to last year in December. The Report states that the unemployment rate in Kenya stands at 13.7 per cent as of March this year while it stood 12.4 per cent in December 2019.
Mama T (not her real name) is among millions of Kenyans who have been affected by containment measures put in place to curb the spread of the virus, either by losing their source of income or having to work under tough guidelines put in place by the MOH.
As young mother and an event organizer, she has found it hard to explain to her children why they cannot go to school or socialize freely with their peers as before.
"Sometimes it gets difficult as they do not understand what is happening due to their age, this at times becomes hard on me as they often think I am punishing them,"
Her contract was put on hold as no event or public gatherings can take place due to the pandemic. This has brought other challenges along with it, as she has to find means of fending for her family expenditures that including rent and food.
"I often wake up in the middle of the night with worries about my next move as the pandemic does not exhibit any signs of easing up," she says. She adds that she has been forced to sort for manual jobs to keep her family afloat.
Ms. Mary Wahome, a Counseling Psychologist and Programs Director at 'The Reason to Hope,' in Karen, Nairobi says that such kind of drastic life changes have an adverse effect on one's mental status including their family members and if not addressed early can lead to depression among other issues.
"We have had cases of people indulging in substance abuse to deal with the uncertainty and stress brought about by the pandemic, this in turn leads to dependence and also domestic abuse,"
Sam Njoroge , a waiter at a local hotel in Kiambu, has found himself indulging in substance abuse due to challenges he is facing after the hotel he was working in was closed down as it has not yet met the standards required by the MOH to open.
"My day starts at 6am where I go to a local pub, here I can get a drink for as little as Sh30, It makes me suppress the frustration I feel." he says.
Sam is among the many who have found themselves in the same predicament and resulted to substance abuse finding ways to beat strict measures put in place by the government on the sale of alcohol so as to cope.
Mary says, situations like Sam's are dangerous and if not addressed early can lead to serious complications, including addiction and dependency, violent behavior and also early death due to health complications.
She has, however, lauded the government for encouraging mental wellness and also launching the Psychological First Aid (PFA) guide in the wake of the virus putting emphasis on the three action principal of look, listen and link. "When we follow this it will be easy to identify an individual in distress and also offer assistance".
Mary has urged anyone feeling the weight of the virus taking a toll on them not to hesitate but look for someone to talk to.
"You should not only seek help from a specialist but also talk to a friend, let them know what you are undergoing and how you feel, this will help ease their emotional stress and also find ways of dealing with the situation they are facing," She added
Mary continued to stress on the need to perform frequent body exercises as a form of stress relief, reading and also taking advantage of this unfortunate COVID-19 period to engage in hobbies and talent development.
"Let people take this as an opportunity to kip fit, get in touch with one's inner self and  also engage in   reading that would  help expand their knowledge.