Welcome to College. Your Parents Are in the Tents Next Door. – Opinion – Pulselive.co.ke
TIANJIN, China — When Yang Zheyu arrived at Tianjin University this fall for the start of his first year, he had all the essentials. Winter coat. Dictionary. Four pairs of shoes. Toothpaste.
And a few hundred yards from his dormitory, in a cobalt-blue tent set up on the floor of a gymnasium, he had his mother at his beck and call, ready to bring him bowls of instant noodles, buy him soap and scrub the floor of his new room.
"I feel safer when she's here," said Yang, 18, from a central Chinese town more than 700 miles away. "I've never been away from home before."
Yang's mother, Ding Hongyan, a farmer, was one of more than 1,000 parents of the class of 2022 who camped out in tents this month to watch over their children as they settled into college.
The parents came bearing bags of sunflower seeds, Hello Kitty backpacks stuffed with toilet paper and unsolicited advice on a variety of topics: the acceptable price of steamed dumplings ($1.50), the most lucrative college majors (engineering was a favorite) and the appropriateness of dating (best to be avoided while studying).
Since 2012, Tianjin University, about two hours southeast of Beijing, has offered the "tents of love" for free with the aim of making it easier for poor families to take part in the move-in tradition.
But the phenomenon, which has spread to several universities across China, has prompted debate about whether parents are coddling the generation of only children born after China's one-child policy was adopted in 1979, and undermining their independence. The policy was abolished beginning in 2016.
Older generations of Chinese, who suffered through extreme poverty and the chaos of the Cultural Revolution of the 1960s and 1970s, have criticized parents who make long, arduous journeys to live in the tents, saying they are raising children unaccustomed to hardship, or "little emperors," as they are derisively called.
Younger Chinese, who grew up in China's boom years, say they are decidedly self-sufficient.
"I will learn to take care of myself," Yang said. "I'm not worried about anything."
The debate over the tents, which has also played out online, reflects the rapid pace of change in China and the relative novelty of the college experience and its various rituals.
Many young people in China today are the first in their families to go to college. The government has opened hundreds of universities in recent years, and enrollment has surged, reaching 37.8 million students last year, up more than 20 percent since 2010.
At Tianjin University, parents said they had signed up for the tents because they were nervous about sending their children long distances and couldn't afford accommodations in big cities. Many come from rural areas, where they work as farmers, teachers and construction workers.
Many families were lost amid the lakes and willow trees of Tianjin, one of China's oldest universities, with more than 17,000 undergraduate students. The city of Tianjin, which overlooks the Bohai Sea, is a cosmopolitan port city, dotted with skyscrapers as well as churches and villas built by foreign powers that ruled the city in the late 1800s and early 1900s.
Qi Hongyu, a kindergarten administrator from the eastern province of Jiangsu, said he had made the journey to Tianjin because he was proud of his daughter and wanted to see what the university looked like. "She is realizing my dream," he said.
Qi, who grew up working on farms, said his daughter and her classmates had more comfortable lives than previous generations. But he said he hoped they would grow more independent by living farther from home.
"They grew up in greenhouses," he said. "They have never experienced real life. They have always been studying."
As dusk fell, hundreds of parents, blankets and pillows in hand, filed into a gym to stake out their territory, jostling for spots near the bleachers. They washed their faces and brushed their teeth in nearby locker rooms.
The gym echoed with a cacophony of dialects from across China, and many parents struggled to understand one another.
As they prepared to sleep, the parents talked about the best breakfast places and where to buy cheap bedding for their children's dorms. They compared their children's scores on the college entrance exam and discussed how to encourage them to go into high-paying industries.
Yang Luping, an English teacher from rural China, reminded her daughter that soon she would have to learn to do her own laundry now that she was in college. "I already know how," her daughter, Lu Yizhuo, interrupted.
Yang is a self-described "tiger mom" who worked for years to ensure that her daughter got into a good university. When her daughter was young, she bought her Barbie dolls to encourage her studies. She sent her to boarding school and washed her clothes every weekend when she came home.
Yang refers to her daughter as a "gift sent to me by the heavens." She said it was important that her daughter began the school year with a sense of support from her family.
"I want to be next to her to make sure she is safe and happy," Yang said. "I always tell her that I wish that even in the next life we can be mother and daughter again."
For many parents, having a front-row seat at move-in provided an opportunity to set a few rules.
Ding, the farmer, said she worried about how her son, Yang Zheyu, would fare in a city with so many skyscrapers and distractions. He came down with fevers frequently as a child. And he sometimes seemed addicted to his cellphone, she said, playing games and devouring sci-fi novels.
After the more than 36-hour journey by train and bus from their hometown in Hubei province to the tents in Tianjin, Ding offered some advice. No video games. No lazy friends. And no romantic relationships.
Yang, with thick black frames, a bright yellow T-shirt that said "RESURRECTION" and a faint mustache, looked skeptical. "That's not necessary," he said.
They agreed to disagree, and promised to stay in touch regularly by phone and by WeChat, a popular messaging app. So long as it did not interfere with his studies.
This article originally appeared in The New York Times.
Covid-19 deaths, hospitalizations soar among youth in Americas – KBC
Hospitalizations and deaths of younger people are surging as the COVID-19 pandemic accelerates across Latin America and the Caribbean, Pan American Health Organization (PAHO) Director Carissa Etienne said on Wednesday.
"Adults of all ages – including young people – are becoming seriously ill. Many of them are dying," Etienne said at her daily press briefing as quoted in a PAHO release.
In Brazil, mortality rates doubled among those younger than 39, quadrupled among those in their 40s, and tripled for those in their 50s, between December 2020 and March 2021, she said.
"For much of the pandemic, our hospitals were filled with elderly COVID patients, many of whom had pre-existing conditions that made them more susceptible to severe disease," Etienne said. "But look around intensive care units across our region today. You'll see they're filled not only with elderly patients, but also with younger people."
Get breaking news on your Mobile as-it-happens. SMS 'NEWS' to 20153

Etienne urged hospitals in the region to increase the size of intensive care units (ICU) in anticipation that the trend will continue, while warning that expansion of ICUs cannot continue indefinitely.
As a result, she urged nations to double down on prevention measures such as lockdowns and facemasks.
Tell Us What You Think
Uhuru wa biashara, Suluhu ya vikwazo: How Kenya-Tanzania trade will be streamlined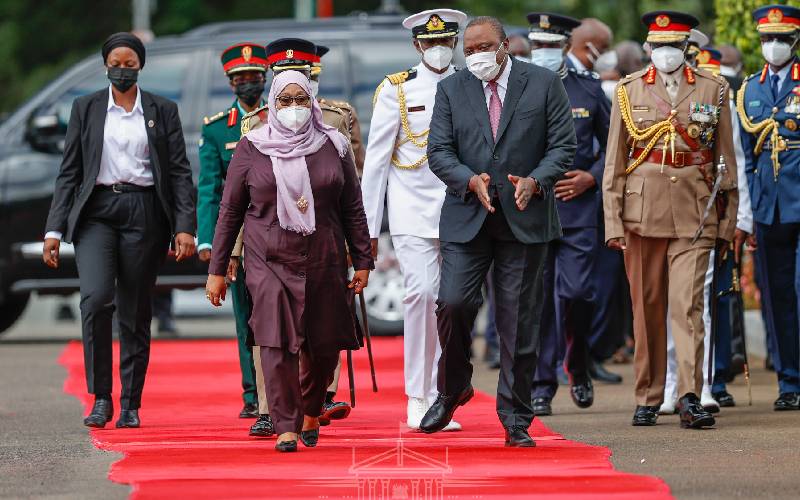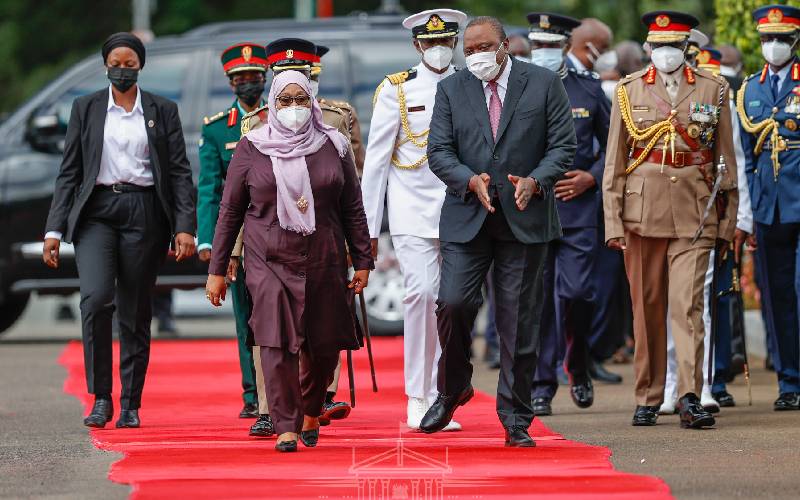 President Uhuru Kenyatta with his Tanzania counterpart Samia Suluhu, who is on a two-day state visit in Kenya.[PSCU]
President Uhuru Kenyatta says ministers from both Kenya and Tanzania should resolve all non-tariff barriers and other restrictions affecting the two countries within four months.
Uhuru, on Wednesday said going forward, there will be no business visa or work permits for Tanzanian wishing to do business in the country.
"You are free to come and trade here in Kenya, there will be no business visas or work permits as long as you abide by the laws of the land," he said.
Uhuru was speaking during the Kenya-Tanzania Investment Forum at Serena hotel. The forum was in line with President Samia Suluhu's two-day state visit.
Kenya has about 513 companies doing business in Tanzania compared to Tanzania's 30 in Nairobi.
Uhuru said in the next two weeks, concerned ministers from both sides should clear all the traffic jams at the Taveta and Namanga border points.
Uhuru said they should pay a special focus to the issuance of Covid-19 certificates to ease the movement of  transit cargo.
"I direct that all the maize lying at the border be cleared in two weeks. We cannot subject businesses to more suffering," Uhuru said.
Take a quick survey and help us improve our website!
Take a survey
Uhuru urged the ministers to move swiftly and ensure the ease of doing business at the border pointswas decisively tackled.
"It is not about wearing suits and meeting over tea.Get to the ground and understand what is affecting those traders. Don't just sit in those offices. If you need to consult, do it and get the work done," he said.
Uhuru's sentiments came shortly after the Kenya Business Community nsaid it was ready to trade with the Tanzanian business community.
Led by the Kenya National Chamber of Commerce (KNCC), the community proposed the formulation of a Joint Business Council that will support the two countries.
KNCC President Fred Ngatia said the council would play a key role in addressing issues that bedevil  Nairobi-Dar trade,
The community said there should be policy forums and investment-focused events that will target small-scale enterprises.
"We are going to focus more on economic projects by identifying favourable financing institutions that will help us settle some of the commercial disputes affecting our community," Ngatia said.
He said this will be made possible through the Public-Private Partnerships offered by the government.
As a result, KNCC in partnership with the Tanzania Chamber of Commerce will host a trade and investment exhibition in Dar es Salaam this August aiming to help SMEs unlock their potential.
So far Trade and Agriculture ministers from the two sides have had a breakfast meeting and agreed to initiate bilateral discussion before the end of the month.
Trade CS Betty Maina said the discussions aim to iron out all issues that have been hampering trade between the two countries.
This includes issues surrounding maize import.
President Samia Suluhu said her government was ready to serve as a bridge to pave way for businesses between the two countries to thrive.
"It is not about competing and complicating things, but about developing business relationships to allow both parties to explore opportunities," she said.
Suluhu said while Tanzania is rich with natural resources and tourist attractions, Kenya is thriving in the ICT world and thus the need for exchange of skills on research and development.
"Muna bahati sana maanake upande mmoja mnao Uhuru wa kufanya biashara na upande mwingine Suluhu la kuondoa vikwazo," Suluhu said.
Kenya and Tanzania agree to iron out trade barriers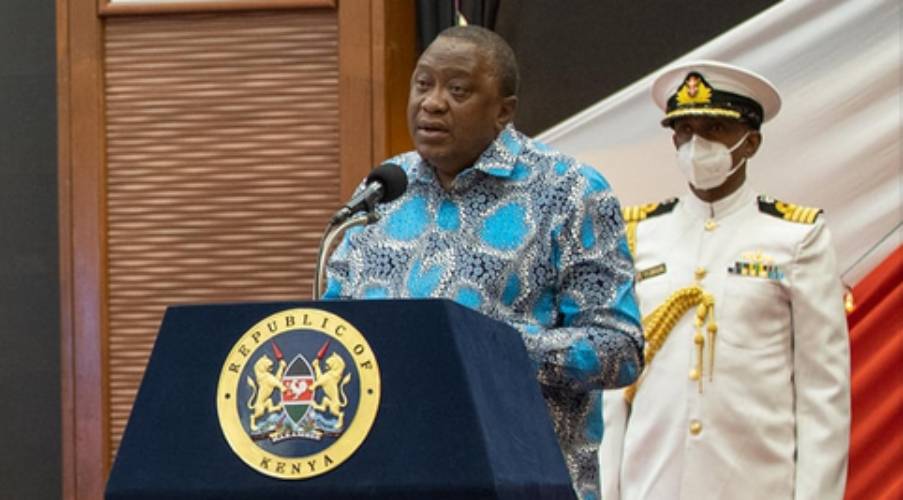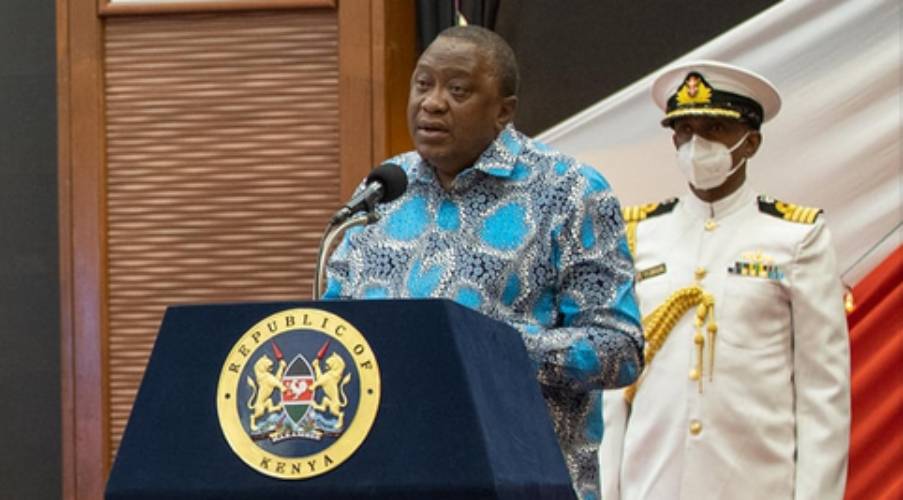 President Uhuru Kenyatta (PHOTO: PSCU)
NAIROBI, KENYA: A business forum held on Wednesday between Kenya and Tanzania agreed to iron out challenges constraining business between the neighbouring countries.
President Uhuru Kenyatta and Tanzania counterpart Samia Suluhu Hassan during the forum noted that trade opportunities between the two countries have not been fully exploited. Trade volume between the two countries was valued at Sh60.4 billion in 2012 and Sh47.5b, Sh45.6billion and Sh47.5 billion in 2016, 2017 and 2018 respectively.In 2020, President Uhuru Kenyatta noted that the volume was valued at Sh50 billion.
"Trade between the two countries has thrived over the past due to robust private sector, entrepreneurial citizen among other factors, however from the volumes we have not exploited the opportunities to full capacity," he said.
"There is an urgent need for cooperation between the two countries to iron out issues hindering the growth of trade," he added.
He noted that the economies need to drop unhealthy competition which he said work against investment in the two neighbouring countries.
The President also directed responsible government officials to meet within this week or the week after to iron out issues around the Covid-19 certificate. He also directed CS Agriculture and Livestock Peter Munya to allow maize to be cleared at the border.
Reading from the same script, his counterpart Suluhu Hassan noted that real development between the two countries can get better if they develop together.
"We need to work on a conducive environment by creating efficient courts, harmonize tax regimes, work on the investment climate and better legislation," she said. She noted that Kenya can benefit from Tanzania's rich mineral sector while Tanzania can borrow from Kenya's thriving technology sector.
Take a quick survey and help us improve our website!
Take a survey
The private sector represented by the East African Business Council noted the decline in intra EAC trade is due to several barriers to trade, investment and movement of persons. Intra-EAC trade currently stands at below 20 per cent vis a vis SADC at 48 per cent and European Union at 70 per cent.
"There's a need to embrace digitalization particularly in moving goods and services across the EA region and harmonizing the tax regimes, we need to also strengthen the East African Secretariat," said Nick Nesbit, Chairman of East African Business Council.
He also underscored the need to promote value addition in manufacturing and diversification of our products and the elimination of Non-Tariff Barriers, which will go a long way towards increasing intra-EAC trade from the current below 20 per cent.
Ministers from the two countries are expected to meet before the end of the month to iron out issues affecting trade between the two countries.