Villagers run for dear life as meteorites fall : The Standard
Witnesses say the meteorites lit up the sky in a reddish brilliance before landing in three different spots, sending villagers scampering for safety.
A chilly evening was disrupted by a terrifying sound like gunfire followed by a blast in Kombuini village, Kirinyaga County.
A meteorite dropped from the sky, tore through the roof of Mary Wamburu's house and landed on the concrete floor forming a crater, then fragmented into pieces at around 8pm on Friday.
A similar occurrence in the neighbouring Gatuto and Kimicha areas frightened the locals.
Witnesses say the meteorites lit up the sky in a reddish brilliance before landing in three different spots, sending villagers scampering for safety.
In Kimicha, a meteorite fell along the Kerugoya-Kaguma road and in Gatuto, it fell on someone's farm, forming a crater.
Ms Wamburu said she was in the kitchen preparing supper when the meteorite fell in the main house where her mother was.
"We heard a sound like three gunshots followed by a loud thud in the house. We remained silent for a while, stupefied and too shocked to do anything. No one was injured," she said.
For More of This and Other Stories, Grab Your Copy of the Standard Newspaper.   Read Now »
Francis Njenga said he was outside his house when he saw a brilliant object drop from the sky at a terrific speed, followed by what sounded like gunfire and a loud thud.
Other residents said they thought the world was coming to an end and started praying.
Some villagers locked themselves in their houses while others ventured outside to search for the objects.
A Nairobi based geologist, Vickson Kihima, said the rocks are meteorites, which are debris originating from the outer space.
"They survive their passage through the atmosphere to reach the earth's surface at a high speed," he said.
He explained that a meteorite has a fusion crust and an aerodynamic shape, characteristic of the rocks that fell in Kirinyaga.
Another expert, Wachira Kibanya, also said the small rocks were meteorites.
He warned that the fragments the villagers collected could be radio-active or harbour microorganisms that could be detrimental to health.
Do not miss out on the latest news. Join the Standard Digital Telegram channel HERE.
Related Topics
meteoriteKirinyaga
Comments
comments
MCAs blame Atwoli, Oparanya for Wetang'ula woes and Luhya division: The Standard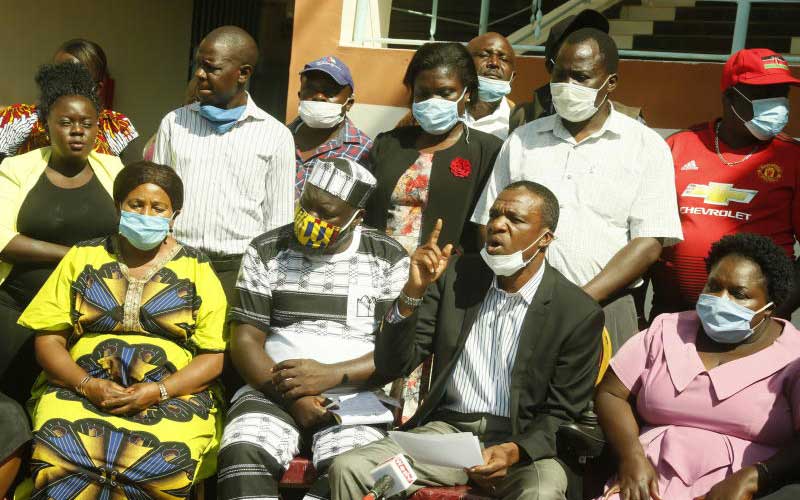 Kakamega County Assembly ward reps address the press at a Kakamega hotel, June 2. [Benjamin Sakwa, Standard]
WesternReps says anyone seeking support of the Luhya must go through Mudavadi and Wetang'ula
Political temperatures in Western Kenya have heightened following the staged coup to oust Senator Moses Wetang'ula from Ford Kenya party leadership position.
Local leaders led by over 15 ANC Kakamega County Assembly ward reps yesterday pointed an accusing finger at the Central Organisation of Trade Unions (Cotu-K) Secretary General Francis Atwoli and ODM leader Raila Odinga over the Wetang'ula party woes. 
The MCAs led by the Assembly's Minority leader, David Ndakwa, accused Raila of using Mr Atwoli and Governor Wycliffe Oparanya to destabilise the leadership of Ford Kenya and ANC parties so as to benefit from the Luhya vote in the 2022 elections.
Four days ago, a coup in Ford Kenya saw Wetang'ula replaced by Kanduyi MP Wafula Wamunyinyi as the acting party leader.
SEE ALSO: Nairobi's new cycle lanes, walkways prompt 'Uhuru and Raila' night visit
The ward reps have vowed that anyone seeking the support of the Luhya community must first go through Musalia Mudavadi and Wetang'ula and not Atwoli or Governor Oparanya.
"Some people have taken our previous kindness for our weakness. We have helped them achieve their political ambitions using our innocent support in times of need at the ballot. They are now having illegal gatherings at Atwoli's home in Kajiado to fight our own sons," said Ndakwa.
He added: "Some of our leaders have succumbed to the political machinations and intimidations by our adversaries by accepting to participate in illegal gatherings serving the interests of other people. We therefore say no to these levels of deceit and conmanship."
Ndakwa said ANC was solidly standing with Wetang'ula at a time when 'dark forces' attempted to stage a premature coup against him, adding that an enemy or the problem of Ford Kenya is also an enemy of ANC party.
"Any individual, community, parties or organisations willing to support or work with the Mulembe nation must channel such negotiations through Mudavadi and Wetang'ula our undisputed leaders," said Ndakwa.
SEE ALSO: Msajili wa vyama asema Wetangula angali kinara wa Ford Kenya
Butsotso South MCA Walter Andati said other groupings led by Atwoli have no mandate of the community and therefore cannot speak on behalf of the community.
"They are telling us that they are strategising to be in the 2022 government but for us we want to form the next government and not to join others. Time for political auction is over. Other tribes have their kingpins and are always respected. We demand respect for Mudavadi and Wetang'ula," said Mr. Andati.
"We are not cohabiting with the government or forming a coalition with them as we are not part of them. We are only cooperating with the President Uhuru Kenyatta's government over national issues like Covid-19, revival of economy and floods," said Farouk Machanje, the Isukha South Ward Rep.
Kholera ward MCA Godliver Omondi and Kakamega ANC Youth leader Emmanuel Buchichi asked ODM Secretary General Edwin Sifuna to stop insulting Mudavadi since they are not equals. The two reminded him to stick to ODM party affairs.
Mr Sifuna on Sunday castigated Mudavadi for linking Raila to the woes facing Wetang'ula, terming Mudavadi as a perennially programmed leader, a professional mourner, fence sitter and one who sees the ghosts of ODM everywhere.
SEE ALSO: Kamar succeeds Kindiki as Senate deputy speaker
At the same time, Bishop George Mechumo has called on Atwoli to stop creating divisions in the Luhya community but instead unite them.
Bishop Mechumo of the Anglican Church of Kenya (ACK) Diocese of Bungoma faulted a move by Atwoli to take a section of Luhya leaders to his home in Kajiado where they planned matters affecting the community without the input of other leaders.
Mechumo said Atwoli should involve all and sundry stakeholders in Western Kenya to drive the common agenda of the community in clinching the Presidency which has been elusive from Independence.
"If he did proper consultations with other respected leaders we would have told him that from 1963 we have not lead the country and its high time to lead," said Mechumo.
Comments
comments
President issues Executive Order on restructuring government
President Uhuru Kenyatta has issued an executive order that has seen him abolish the Presidency and instead put the office of the deputy President under the office of the president.
The new order also adds Nairobi Metropolitan Service as a public office adding it to to the Executive Office of the President.
One of the function of the Executive Office of the President is implementation of the Deed of Transfer of Functions executed between the National Government and  Nairobi City County  Government.
The order reads:
Get breaking news on your Mobile as-it-happens. SMS 'NEWS' to 20153

"IN EXERCISE of the powers conferred by Article 132 (3) (b) of the Constitution, as read with all other enabling Laws, I, UHURU KENYATTA, President and Commander-in-Chief of the Kenya Defence Forces, order and direct:
"THAT the Government shall be organized as set out in this Order; (ii) THAT this Order contains portfolio responsibilities and changes made in the structure of Government; (iii) THAT this Order assigns functions and institutions among Ministries and State Departments; and (iv) THAT this Order supersedes Executive Order No. 1 of 2018 (Revised) issued in July 2018."
Click here to see the order–>Executive Order No. 1 of 2020 formatted final Updated
Tell Us What You Think
Comments
comments
After failed bid to become a nun, now I rescue girls: The Standard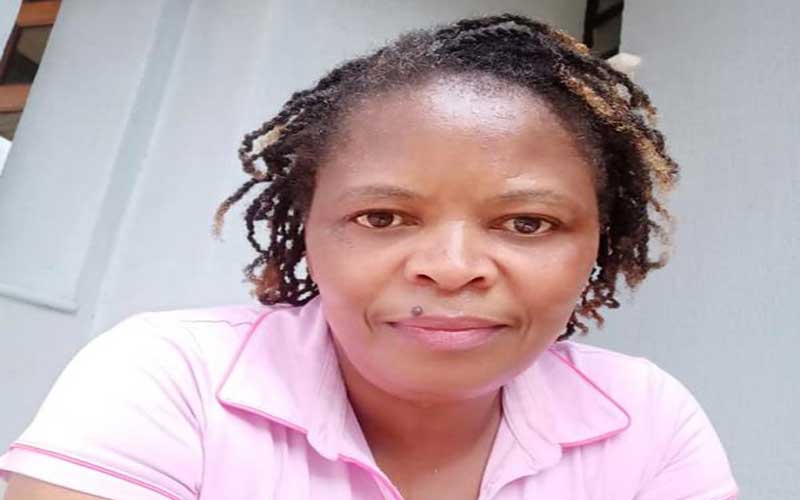 NairobiSeeing the violence meted on women as she grew up, Wangari sought to become a nun to avoid marriage, now her eyes are set on helping vulnerable girls
Growing up in Ndunyu Chege, Muranga County, Wangari (pictured) says she witnessed untold gender-based violence meted on women in her village.
"What was happening in the village was like a competition to see man could beat their wives more severely; I remember one time when a man chopped his wife's arm from the shoulder!" she says.
Wangari says such incidents made her hate the institution of marriage. In Class Six when a group of nuns visited her school to speak to students, she made up her mind to become one of them. This was a decision made to avoid the institution of marriage and the violence she had come to associate it with.
SEE ALSO: The unseen victims of coronavirus
"When the nuns visited and told us about the vocation, I got a way out of what I thought was bad and I started wearing gowns synonymous with how nuns dress," she recalls.
Her father, a teacher in a local school, supported her choice and changed how he looked at girls and their place in society. He encouraged Wangari to follow her heart.
She would make the first false start into sisterhood when after her O-Level education at St Francis Girls School Mangu, she joined Little Sisters of the Poor, a religious community.
"The sisters run a home for the old people and this is where I was taken and I was given a job of looking after an 89-year-old man," Wangari says.
After a few days, she quit and joined Ursuline Sisters but, in her mind, it was still about escaping the institution of marriage. Her superiors realised this and gave her a two-month break to go and reflect on whether this was what she really wanted.
SEE ALSO: Government offers lifeline to victims of gender based violence during this Covid-19 period
"Two senior sisters in the community sat me down and asked me if I had really made the right decision and I tried to convince them that indeed I had but they decided that I had to go and think over it before I could come back," she says.
She never went back.
On the same day she left, she went to live with a lady whose husband was a military officer to avoid going back home. While in the house, she recalls the husband meting out violence on his wife to the point of burning her with a hot iron despite the fact that she was pregnant.
That very day, she left the house and went back home to her parents. 
"I told them that I was no longer going to be a nun, so my dad took me to college where I studied for a diploma in marketing," she says.
SEE ALSO: How I became a mother of two by the age of 16
She got her first job, starting off as at the front office desk at the Kenya Accountants and Secretaries National Examinations Board (Kasneb), she would work at the institution for 14 years before she left and started a magazine focusing on gender-based violence.
The journey to saving girls from early marriages would start in earnest when she was called to the Nairobi Women's Hospital's Gender Recovery Centre to do a story about a 13-year-old girl who had been defiled by a teacher and gotten pregnant.
She recalls: "We were told that the teacher had bribed the girl's father with Sh3,000 and I asked to be given the girl to care for after she had left hospital."
From this experience, Wangari says she realised she did not have to wait until girls got themselves into these sticky situations before they were rescued. She says prevention is better than cure.
The 52-year-old has since then been involved in gender-based violence recoveries through the organization, Woman's Hope.
She has been rescuing girls from early marriages and pregnancies and putting them back in school. Through the organisation, she has rescued more than 500 girls.
How does she do this?
Using local chiefs and the Nyumba Kumi committees, she gets to know vulnerable girls who she picks and takes through a programme at the centre she runs in Karen. Social workers also help in identifying these girls.
After rescuing the first girl, she started an initiative called 'Sweat It out for a Needy Cause' where the fitness enthusiast would, together with her friends, donate Sh500 whenever they ran. From the funds they collected, they bought hygiene effects for vulnerable girls.
"We realised that these vulnerable girls were prone to getting early pregnancies and (into) marriages because of promises for small things like sanitary towels; we then started training the girls we rescued at a house we had rented which could care for 30 girls before moving to the current bigger centre in Hardy, Karen," says Wangari.
The girls are taken through a three-month training every year during school holidays in April, August and December, where they learn some basic skills. They meet counselors and mentors who speak to them. As part of the initiative, she came up with a 'Dignity Pack', which contains sanitary towels, panties, soap and petroleum jelly because in giving sanitary towels, some girls would come saying they have no panties which still exposes them to predators. 
Wangari says that through the initiative, girls have learn skills while other have gone back to complete their formal education. "When I get a girl who should be in school, I ensure that they first get back to school because I have experienced that in waiting we could lose the girl to early marriage of pregnancy," she says.
Currently, the centre is making face masks for sale to as a means of sustaining the girls and some of the families they support. She has also roped in her zumba class to help in feeding the vulnerable, especially in Gataka, during these difficult times, which have left families struggling.
When we caught up with her earlier this month, it was at an event at Tone La Maji Centre in Nakimurunya, Kajiado County, putting a smile on the faces of 33 boys.
Comments
comments