Vera Sidika kaa kando! Meet Jaye Love, the woman whose big behind caused a stir at Kotoka airport
Jackline aka Jaye Love is the woman who recently caused a stir at Kotoka International airport in Ghana with her mammoth behind.
The lady, who resides in the US is in Ghana for the Year of Return.
Also read;
Eudoxie Yao, born in Ivory Coast has for the longest time claimed she's the woman with the biggest butt in the whole of West Africa so will Jaye Love 'unseat her?' after coming back to Africa?
Below are photos of Jaye Love
Also read;
Also read;
Comments
comments
Lilian Muli threatens to expose female stalker giving her sleepless nights!
Lilian Muli has been having a tough time thanks to her stalker that continues to appear everywhere she goes.
About a week ago, the mother of 2 revealed that some unknown person has taken a photo of her car; and as far as she was concerned the photo was to be used to portray her in a negative way.
Even with the post, the same stalker continues to trail Lilian Muli; and who now the news anchor seems quite worried as she has no idea what the stalker wants from her. It is not clear whether the person being sent the videos is a friend of Muli or the husband; but all we know is that Lilian has been restless since she learnt about her stalker.
In a detailed post shared by Ms Muli, she went on to narrate her story; probably hoping that if anything happened to her, then the police would know where to start.
Hello instafam. I would like to get your opinion on something. I am seeking the opinion of a public court. Last week I told you guys about someone that took a video of my car while I was having a meal at one of my favorite restaurants and then proceeded to send it to someone close to me. She was alluding to the fact that I was doing something wrong. I am still trying to figure out whether it is wrong to eat.
Female stalker
Thanks to the post we also learn that the stalker is actually female; which shows why Ms Muli seems quite tensed up. However, on her post Ms Muli went on to seek the advice from her followers on whether to expose the lady. The anchor wrote;
Yesterday the same woman happened to spot my car again took a video and sent it to the very same person again. Still with malicious intent. Now don't get me wrong what people do with their phones is their business however is it right for someone to infringe on my personal privacy in this way? Isn't this criminal? I would also like to expose the person here because this is the second time they are doing this and I am extremely offended. I also would not like this person to continue doing this to innocent people. Share your thoughts. Nimsongeshe mbele ama? I am seriously very disturbed.
Comments
comments
"Mend your relationships with your baby daddies!" Zari Hassan mocks bitter baby mamas
Zari Hassan recently left many assuming that her new a Bentley was a gift from her baby daddy, Diamond Platnumz. This is after she went on to thank the Tz singer for the top up, a statement that brought nothing but confusion.
With the new car, it was evident that Zari had managed to make her back to the Tandale empire; right after Miss Tanasha Donna walked out leaving behind the Prado her baby Daddy had purchased for her on her birthday.
Gossip tabloids have since been reporting the possibility of the star getting back with Zari; but thanks to a live session done by mama Tee, turns out that the Bentley was never bought by Diamond Platnumz – but herself.
We are not sure why she went back on her story; yet it was clear to see that the 'Top Up' meant the Bentley; mostly since her cars are normally rentals!
Make peace with your baby daddy
On her IG live, Zari went on to tell off everyone hating on her to make peace with their baby daddies; and probably they would get the same – that is if they can afford. The mother of 5 said;
Asante Baba Tee (Tiffah for the Top Up. Ikikuhusu/to whom it may concern. Mambo ya top imeleta balaa. Top up ni mchango. Sio ati kanilipia zote ama kaninunulia. It's a contribution/ mchango. Kwani kuna ubaya gani? Mnatokwa makamusi yanin? Luga ndo tatizo, ama akili zenu ndogo. Isiumizwe na maisha ya mtu. We all have 24hours, use them wisely or mend your baby daddy relationships uhongwe at aka vitz,"
Comments
comments
Mediamax Seals One Floor After Staffer Tests Positive For COVID-19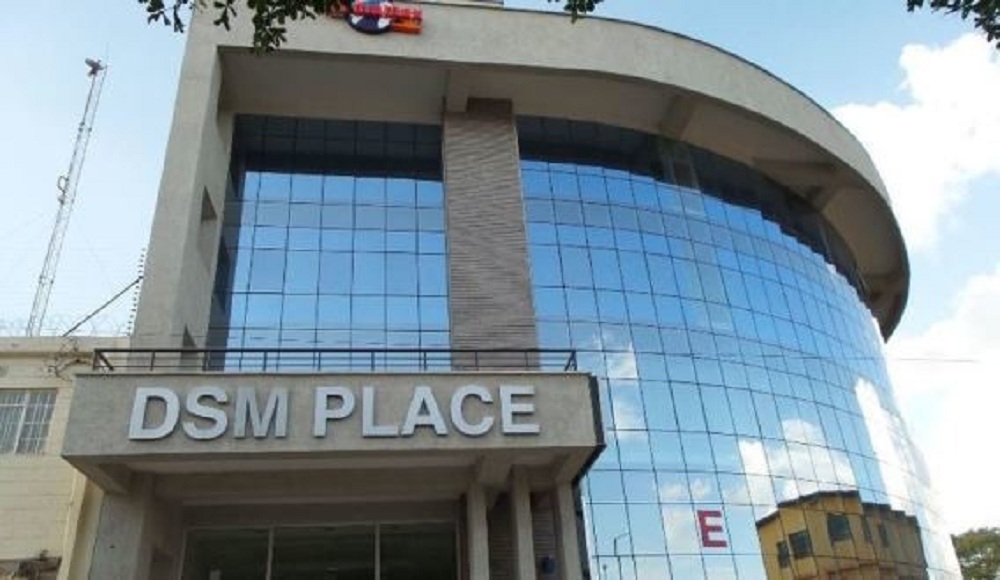 Mediamax, the media stable owned by the Kenyatta Family on Thursday locked down the third floor at DSM Place, the company's headquarters for fumigation after one of its employees tested positive for COVID-19.
In a memo to all employees, Acting Chief Executive Ken Ngaruiya revealed that the unidentified employee works in the Finance Department. Ngaruiya revealed that the employee showed mild symptoms of the disease before being taken in for treatment.
Ngaruiya stated that all employees who worked with the patient have been advised to self isolate for 14 days while contact tracing to track down all persons who came into contact with the patient has began.
"Please be informed that one employee in the Finance Department has tested positive for COVID-19 after exhibiting mild symptoms. The employee has already self-isolated in accordance with home-based care guidelines," the memo dated July 12 read.
Conversely, the company has started making plans to facilitate its employees to work in shifts after projecting that it might not be feasible to maintain normal working procedures due to the need to maintain social distancing.
The company has also enlisted the services of a medical services provider tasked with handling all matters COVID-19 including medication and guidance regarding quarantine.
By the same token, the media house has tightened the belt on movement in and out of DSM Place to protect its other employees from contracting the virus.
"At this point in time our priority is to make sure that your wellbeing is taken care of. We encourage you that you be positive and calm as it has a bearing on your immunity. Lets work together to make sure that we contain COVID-19 the best way we can," Ngaruiya wrote in the memo.
The development at Mediamax comes at a day when Kenya reported the highest number of COVID-19 cases.
Health Cabinet Secretary Mutahi Kagwe announced that Kenya's virus cases stand at 10,294 with 2,496 recoveries.
Twelve more people have died bringing the total number of fatalities to 197.
Meanwhile the number of cases are expected to keep rising after the lifting of inter-county movement restrictions.
editor [at] businesstoday.co.ke
Comments
comments