Uhuru rolls out Sh53.7b eight-point economic stimulus programme: The Standard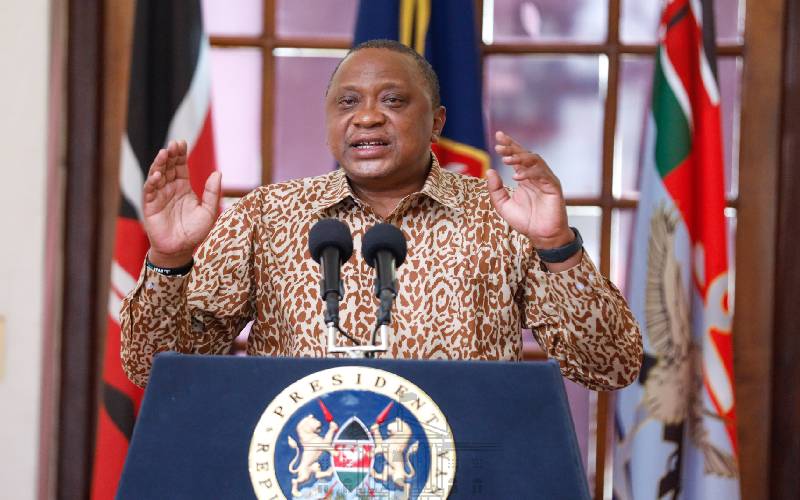 Business
Uhuru also launches Kazi Mtaani Initiative that will see youth engaged in a Sh10 billion national hygiene programme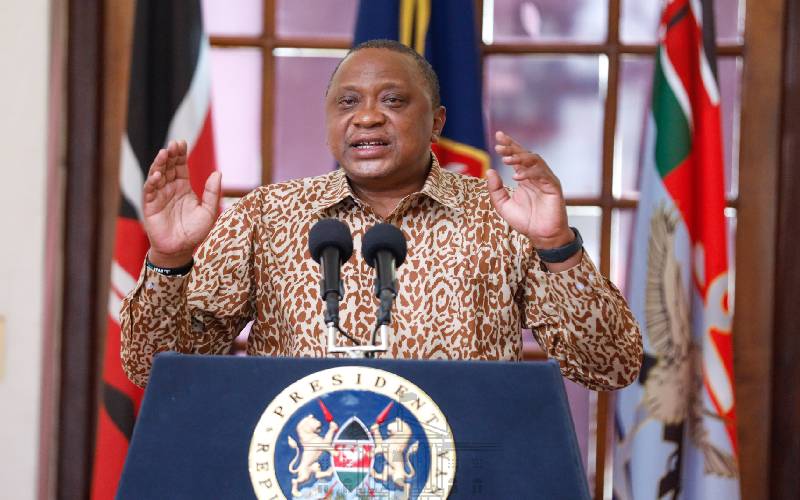 President Uhuru Kenyatta (pictured) has unveiled a Sh53.7billion eight-point economic stimulus package to alleviate the effects of the country's economy from the coronavirus pandemic.
Speaking during his address to the nation at State House Nairobi, Uhuru said the funds will be divided among key sectors such as infrastructure, education, SMEs, health, agriculture, tourism, environment and manufacturing to cushion the economy against coronavirus.
1. To address the challenges brought about by the ongoing rains and floods, Sh5 billion has been set aside to hire local labour for rehabilitation to access roads and footbridges.
SEE ALSO: 'I'm trapped inside with my fiancé who I don't love anymore during lockdown'
2. Sh6.5 billion allocated to the Ministry of Education. This will be used to hire 10,000 teachers and 1,000 ICT interns to support digital learning and acquisition of Sh250,000 locally fabricated desks.
3. Sh10 billion to fast-track payment of outstanding VAT refunds and other pending payments to SMEs. Another Sh3 billion will be used as seed capital for SME Credit Guarantee Scheme.
4. 5,000 additional healthcare workers with diploma and certificate level qualifications will be hired on a one-year contract. Sh1.7 billion will be set aside for the expansion of bed capacity in public hospitals.
5. Sh3 billion will be directed to the supply of farm inputs through e-vouchers, targeting 200,000 small scale farmers. Sh1.5 billion to assist flower and horticulture producers to access international markets.
6. Soft loans will be issued to hotels and related establishments through Tourism Finance Corporation (TFC). Sh2 billion to support the Hotel industry; Sh1 billion to engage 5,500 community scouts and Sh1 billion for 160 community conservancies.
SEE ALSO: Uhuru rolls out Sh53.7b eight-point economic stimulus programme
7. Sh850 million will go to the rehabilitation of wells, water pans and underground tanks in the Arid and Semi-Arid areas. Sh1 billion for flood control measures and, Sh540 million for the Greening Kenya Campaign.
8. To enforce the 'Buy Kenya Build Kenya' push, the Government will direct Sh600m to the purchase of locally manufactured vehicles.
Uhuru also urged Kenyans to comply with measures put in place by the Ministry of Health to flatten the curve of infections.
"It is true that the rate of infections may indeed surge upwards if we fail to comply with the protocols issued by the ministry of health," he said.
Sh250m weekly disbursement
SEE ALSO: Virus-hit Hertz declares bankruptcy
He said the government has been disbursing Sh250 million weekly to help vulnerable families that have been affected by the virus and flooding in various parts of the country.
 "The pandemic has had a negative impact on Kenya's economy with many people stripped of their dignity and thrown into financial ruin, unable to feed their families or afford rent."
President Uhuru said the government opted to send the money directly to the vulnerable families due to loss of more than half of relief resources sent to families affected by calamities, in the past, to brokers and logisticians.
"Through this process, we have managed to bypass brokers and cartels that used to dominate the sector," said President Uhuru.
Secondly, the government has been able to catalyse local economies through the money sent to the families by injecting Sh250 million weekly into the local economy.
"Money in the hands of a family restores dignity for it give people power to make economic choices in their local spaces and not depend on lining up, waiting for food relief – This helps us build the economy from the bottom up," said President Uhuru.
Kazi Mtaani Initiative
Uhuru said the Government will engage the youth in the Sh10 billion national hygiene programme.
The programme will see most jobless youth engaged in restoring public hygiene standards.
"So far, 26,000 young people have been involved in the programme. Following approval of the budget, that number is expected to rise to 200,000."
Comments
comments
Chandaria Capital joins Sh250m game funding
Chandaria Capital joins Sh250m game funding
Wednesday, June 3, 2020 0:01

By JAMES KARIUKI
Kenya's Chandaria Capital has joined equity investors in raising Sh250 million that will enable game developer Carry1st to launch commercial operations in Kenya and across Africa.
Without revealing the amount raised by the Kenyan firm, it said the fundraising round led by CRE Venture Capital included Perivoli Innovations, Lateral Capital, Transsion's Future Hub and Kam Kronenberg III, among others, now brings the total seed capital raised to Sh400 million.
Chandaria Capital has stakes in automaker Mobius, cooking fuel vendor Koko Networks, real estate app Doorsteps, beermaker Savanah Brands and job search site Lynk, among others.
Carry1st said they would use the funds to hire staff, improve the platform as well as invest in the development of new games and mobile apps.
Launched last year, Carry1st saw its Carry1st Trivia free-to-play Android game top the ranks in Nigeria and Kenya and was named the Best Media and Entertainment Solutions in last year AppsAfrica Award fete held in South Africa.
"Social gaming is the largest and fastest-growing form of mobile media entertainment, grossing more than three times all other app categories combined. Our mission is to bring this world of interactive content to Africa," said Carry1st chief executive Cordel Robbin-Coker.
Comments
comments
Food inflation down but Covid keeps prices high
Food inflation down but Covid keeps prices high
Wednesday, June 3, 2020 0:01

By CHARLES MWANIKI
Food inflation was lower by a percentage point in May than the previous month as favourable weather reduced the cost of some food items. However, supply chain disruptions meant that Kenyans were unable to benefit fully from the improved production.
Official numbers show the cost of food items in the inflation basket went up by 10.6 per cent last month, compared to 11.6 per cent in March and April, and a high of 14.8 percent in February.
The growth in food prices, however, remains high relative to that of other items on the inflation basket, where food carries the highest weight of 32.9 percent.
Overall inflation last month stood at 5.47 percent, compared to 5.62 percent in April.
"Despite the favourable weather conditions the prices of some food items remained elevated because of the supply disruptions arising from the Covid-19 containment measures," Central Bank of Kenya said in its latest weekly bulletin.
Data from the Kenya National Bureau of Statistics (KNBS) on inflation for May showed that onions, tomatoes and beans recorded the biggest price increase per kilogramme year-on-year, while potatoes, carrots and spinach had the biggest drop.
The price of a kilo of onions rose by 21.8 percent last month compared to May 2019, tomatoes went up by 15.9 per cent while a kilo of beans was 10.9 per cent costlier.
On the other hand, carrots saw a price drop of 22.5 percent, spinach by 16.8 percent and Irish potatoes by 10.5 percent year-on-year.
The sharp rise in food inflation in recent months has, however, contrasted with that of the other categories of measuring the cost of living.
Last month, fuel inflation stood at three per cent, while non-food-non-fuel (core) inflation was 1.8 per cent, respectively reflecting low global crude prices and muted demand-side pressure in an economy where purchasing power has been eroded by the income losses associated with the Covid-19 disruption.
As a result, private sector players, banks and analysts expect Kenya's inflation to remain within the preferred CBK target of five percent plus or minus 2.5 percentage points for the rest of the year.
Respondents polled in CBK's market perceptions survey of March expect inflation at between 6.0 and 6.3 percent this year.
Banks and microfinance banking institutions projected 6.1 percent in the next year, while non-bank firms see it at 6.3 percent.
Comments
comments
Anglican Church suffers setback in city land suit against NLC
Anglican Church suffers setback in city land suit against NLC
Wednesday, June 3, 2020 0:01

By JOSEPH WANGUI
A court has dismissed an application to overturn a decision of the National Land Commission (NLC) to revoke title deed held by the Anglican Church of Kenya (ACK) for a piece of 'public' land in Langa'ta.
Justice Elija Obaga found that before the church's title was revoked in July 2017, the commission had invited the church for a hearing and to give its views on the land dispute but did not appear.
The NLC revoked the title for the plot measuring one-and-half acres occupied by ACK church of Good Shepard following a claim filed by the Kenya National Highways Authority (KeNHA).
While rejecting the application by the Church Commissioners of Kenya, Justice Obaga also noted that there is a pending dispute between KeNHA and the church involving the same piece of land.
He directed the church to pursue its interest on the parcel of land in the case that is pending determination at the Environment and Land Court where the issue of the legality of title can be ventilated. On the pending case, the church has an order of temporary injunction against KeNHA until hearing and determination of the suit.
In its application, the church narrated that it was issued with an allotment letter for the property by the Commissioner of Land on February 7, 1983.
The land in Lang'ata next to Civil Servants Estate, measures 0.76 hectares.
As the plots in the area had not been properly surveyed, the Commissioner of Land issued the church with a fresh letter of allotment in 1984 but the acreage was reduced to 0.60 hectares.
The church accepted the allotment a letter dated January 27, 1984, after which the requisite fees was paid. It went on to put up a church known as ACK Church of Good Shepard.
It was issued with a title to the property on July 13, 2013, under registration LR No.Nairobi/Block 72/2256 and it constructed a sanctuary, Sunday school, office block and a nursery school.
But in July 2017 NLC directed the Chief Land Registrar to revoke the title on grounds that the land was public property.
The church contended that it was not served with any complaint by KeNHA despite the NLC claiming that it invited the affected parties through national dailies to give their views during the review process of the grants in question.
According to the church, it should have been notified through physical service as NLC was aware of its location.
Comments
comments