Ugandan critics oppose Nile river power plant plan
A plan by South Africa's Bonang Power and Energy to develop a 360 megawatt (MW) power plant on Uganda's River Nile has met resistance from critics who say the project will destroy the popular tourist attraction of Murchison Falls.
Located on the Nile between the Ugandan lakes Kyoga and Albert, the Murchison Falls also lend their name to a 3,900 square km national park, one of Uganda's biggest, where visitors can view lions, hippos, elephants, buffalos and giraffes.
On July 7 Uganda's state-run energy sector regulator Electricity Regulatory Authority (ERA) published a notice indicating Bonang had applied for a permit for a feasibility study on a 360 megawatt (MW) power project on Murchison Falls.
The announcement has since stoked outrage from private tourism operators, nature enthusiasts and even the government's own wildlife protection agency.
ERA spokesman Julius Wandera told Reuters a definitive decision on the project had not been taken and a review of the application would take public criticism into consideration.
"It's just total madness that anybody would think of destroying such an iconic place," Amos Wekesa, a Ugandan tour operator and one of the critics championing a public campaign against the project told Reuters.
"It's just unacceptable to even start discussing the destruction of the most powerful water falls in Uganda for the sake of 360 MW."
The government of President Yoweri Museveni has increased efforts to expand the country's energy generating capacity to help fuel an industrialization drive.
Earlier this year a 183 MW dam on the same river, built with a Chinese loan, was commissioned. Another with 600 MW capacity, also China-financed, is due for commissioning later this year.
Authorities have also been courting private investors such as Bonang to help take up some of the projects so the government would not have to directly fund them, often requiring borrowing that is ballooning the country's public debt.
Founded in 2014 by South African entrepreneur Ernest Moloi, Bonang specialises in renewable energy projects in Africa.
Bashir Hangi, a spokesman for state-run Uganda Wildlife Authority told Reuters the destruction of the waterfalls would take away the park's cachet and ruin its beauty.
Comments
comments
Interior PS Karanja Kibicho hints at reopening of the economy: The Standard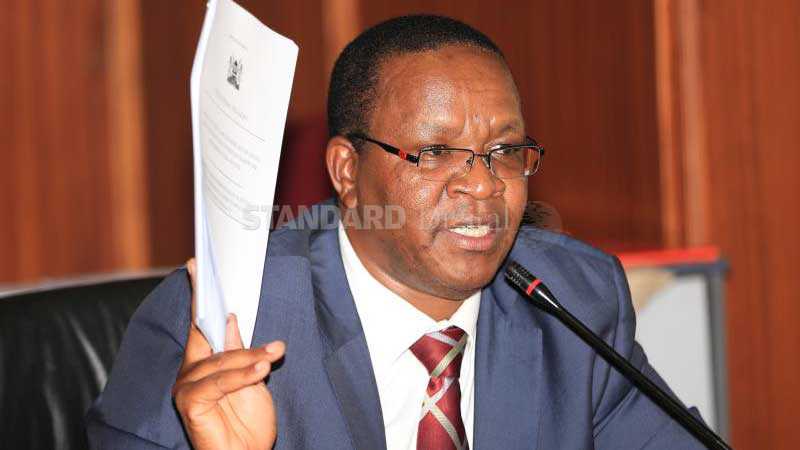 Interior Principal Secretary Karanja Kibicho. [File, Standard]
NairobiOn Saturday June 6, President Uhuru Kenyatta is expected to give a way forward in regard to cessation of movement in the affected counties
Interior Permanent Secretary Karanja Kibicho has hinted on a likely phased re-opening of the country even as Kenyans await eagerly on the new measures set to be announced on Saturday.
In an interview with Radio Citizen, Kibicho said the government had found itself in a difficult position since recorded Covid-19 cases in the country are on the rise but noted high-level discussions were ongoing.
"We cannot lock-down forever, the government makes its money from taxes, currently people are not at work, personally I think we can re-open but under strict guidelines," Kibicho said.
According to the PS, some restrictions may be lifted although the government will not be relaxing the requirements on face-masks and social distancing.
SEE ALSO: COVID-19: The interruption of customs
"Companies willing to re-open will need to ensure guidelines on face-masks and social distancing are adhered to because the new coronavirus is still here with us," he added.
Kibicho urged Kenyans to remain vigilant and not to expect a sudden normalcy saying the re-opening of the economy was a very delicate balance requiring the participation of everyone.
On Saturday June 6, President Uhuru Kenyatta is expected to give a way forward in regard to cessation of movement in the affected counties. The previous containment order directive affecting Nairobi, Mombasa and Kwale counties will elapse on Saturday.
The daily dusk-to-dawn curfew which had been extended by a further 21 days will also be lapsing on June 6.
On Monday during Madaraka Day celebrations held at State house, President Uhuru Kenyatta hinted at the reopening of places of worship.
SEE ALSO: Kenya Power employees turn Covid-19 positive
While delivering his speech, the President said he shared the heavy hearts of all those who can no longer worship as they used to.
"I direct the Ministry of Interior and the Ministry of Health to continue and hasten their engagement with religious leaders; with the objective of developing protocols that will be adopted to guide a more participatory way of worship while guaranteeing the safety of worshipers," he said.
During his seventh national address on the progress made in containing the virus in the country, the president noted that every Kenyan would have to take responsibility to prevent the spread of the highly infections virus.
"We will not continue with the lock-down and the curfew, I have told health officials and my ministers that they should start telling Kenyans that we cannot be under a curfew or lock-down forever," he said.
Comments
comments
54 COVID-19 patients discharged raising cleared cases to 553 » Capital News
NAIROBI, Kenya June 3 – Fifty-four COVID-19 patients have been discharged after recovering form the virus, representing the highest single-day recovery rate recorded yet since the first patient was discharged on April 1.
The total recovery toll now stands at 553 representing a 25 per cent recovery rate against the global average of 48 per cent.
Health Chief Administrative Secretary Rashid Aman on Wednesday attributed the high number of recoveries to the commitment and diligence of health workers on the frontline in the war against the pandemic.
"This recovery is attributed to the diligent and committed work of health workers operating in enabled health systems, this shows that with good management, this disease when clinically manifested is curable and not a death sentence," he asserted when he addressed the press during a regular status update on COVID-19.
Aman reiterated government's commitment to combat the spread of the virus while urging the public to maintain adherence to COVID-19 containment measures in order to support government efforts to flatten the infection curve.
"We must wear masks at all times to protect ourselves and our loved ones and avoid the risk of being infected or infecting others," the Health CAS added.
He however raised concern over the violation of social distancing guidelines by some restaurants warning that the actions pose a huge risk in the fight against the virus.
"The only measure that has been relaxed is the measure that allowed operation of restaurants and eateries based on strict adherence to the social and physical distancing guidelines," he said.
Out of the 2,112 samples analysed in 24 hours leading to Wednesday, Aman noted that 123 tested positive for the virus bringing total number of infections to 2,216.
The cases are distributed in Nairobi(44), Mombasa (34), Uasin Gishu (12), Kiambu (3), Kajiado (3), Nyeri (3) , Kilifi (2), Garissa (1) and Laikipia(1).
The country's death toll now stands at 74 after 3 more patients succumbed to the virus, two of them from Nairobi, the third was reported in Nyeri.
"The youngest one is a 12-year-old boy while the other two are 41 years and 71 years ofage. Our heartfelt condolences to their families and friends," Aman noted.
Comments
comments
OKUDO: Region's energy sector is just ripe for women, youth
Kenya country manager for SpringRock Group, Ogutu Okudo, spoke to James Kahongeh on how the region can better tap its renewable energy sources and how to get more young people and women into the sector.
Women only make up 19 per cent in the energy sphere. In what practical ways can their involvement be enhanced to close the gap?
There's one woman for every five men in engineering classes in majority of universities in East Africa. But addressing the gender disparity in the energy sphere is more than just looking at numbers in the workplace. We must approach it from a systematic social understanding.
One way to address this is to demystify STEM courses early. This will increase the number of girls who later pursue STEM in their undergraduate studies and join these careers. Women must also mentor other women at the workplace and not play small. They must compete for more involving duties, seek promotions and demand higher pay. Men must also be equally involved in this endeavour.
Why is it necessary to have more women and youth in the energy space?
East Africa is currently going through an exciting period of industrial and technological revolution. The region is witnessing massive infrastructural development with pipelines, superhighways, ports, and railways being built. This has created a huge demand for specialised technical skills. Having the right skills will allow women and youth to contribute and benefit from this transformational change in the region.
So far, Women in Energy and Extractives (WEX) has offered training to informal sector entrepreneurs and empowered nearly 100,000 girls in Kenyan schools through our STEM outreach campaign.
East Africa enjoys plenty of sunshine and wind. What keeps the region from fully exploiting its massive clean energy potential?
For government institutions to make viable business case studies to exploit these resources, findings from research are integral. In East Africa, however, governments spend less than one per cent of their annual budgets on research and development. Energy dockets are politicised. Other challenges include barriers in technical, technological, economic capacity and institutional weaknesses.
What then do governments need to do to tap into renewable energy sources?
Support policies. We need a legislative environment that promotes tapping into the vast natural energy sources in rural areas across the region and connect them to the grid. We need to create entry incentives and to break barriers to allow renewable energy technologies to enter the market.
East Africa relies heavily on oil imports to power its industries. What measures can governments take to be self-sufficient?
The current East African energy boom where countries are developing their oil and gas resources will help to create the option for domestic consumption. Additionally, investments in renewable energy sources is becoming a more affordable option that allows regional governments to diversify their energy mix and to power industries with cleaner energy sources.
Is the cost of power in the region competitive enough to attract foreign investment?
We're hardly competitive. Multi-national corporations prefer Ethiopia to East African countries, for instance, partly because of the cost of power here. In Ethiopia, the cost of power per kWh is $0.03. The same goes for $0.1 in Uganda and at $0.15 in Kenya. This ultimately pushes away potential investors.
It is imperative to continue to invest in alternative sources of power like large-scale renewable energy projects to boost supply to the national grid. Renewable energy is cheaper to generate and results in a significant reduction in the cost of power. The phasing out and shutting down of thermal power plants, which are powered by diesel engines, is welcome as they are more expensive in the long run.
Why has the cost of power remained high in a region that's investing heavily in energy production?
The factors of production that go into generation play a big role in determining the cost of power. Taxes and levies on petroleum products, for instance, impact the cost of power generation directly. It's, therefore, important to have progressive and non-extortionist tax policies. Billing has been a major cause of customer dissatisfaction. Kenyan consumers are charged for transmission, distribution and operational losses, which constitute approximately 18 per cent of power generated annually. This has to be relooked.
BIO

Current position: Country manager, SpringRock Group.

Gender consultant at Kenya's Ministry of Petroleum and Mining.

Education: BA (International Relations), United States International University.

MSc (Oil and gas), University of Aberdeen, Scotland.

Founded Women in Energy and Extractives (WEX) Africa in 2012, a social enterprise that seeks to bridge the gender gap in the oil, gas, mining and alternative energy sectors.

Recognition: Forbes' Top 30 under 30 people in Africa for promoting gender inclusivity in energy.
Comments
comments