Uber takes tuk tuks on board its platform in Mombasa
Sunday, September 23, 2018 22:00

By EUNICE MURATHE
Taxi hailing firm Uber has introduced its latest product, uberPOA in Mombasa bringing into its platform the three-wheeled vehicles popularly known as Tuk tuks.
Loic Amado, the General Manager Uber East Africa, said his company is committed to providing solutions that fit the needs of riders and drivers across the cities.
"Tuk tuks are a popular mode of transport across Kenya, and we are determined to launch localised products such as uberPOA to meet local needs," Mr Amado said.
uberPOA is currently only available within Mombasa Island (Town), Nyali, Mkomani, Kongowea, Kisauni, Bamburi and is priced with a base fare of Sh10, Sh15 per kilometre, and a minimum fare of Sh50.
Popular routes such as Posta to Nyali will cost at least Sh170, Posta to Bamburi (Sh280), Likoni ferry to Tudor from Sh270, Kongowea to City Mall from Sh130 and Bamburi to Pirates from Sh50.
uberPOA, which means cool in Swahili, will be running alongside uberX but operate under the same "strict safety measures" applied across Uber.
Dar es Salaam was the first city in East Africa to operate uberPOa.
With the platform, riders will still be able to see all driver details, such as their name, photo, and license plate number and whether other users have had a good experience with the drivers.
"With uberPOA, riders will still receive the same seamless door-to-door Uber experience they are used to. We believe users will be excited to have another reliable and affordable option tailored to move through the traffic on short trips around town," said Mr Amado.
All Uber driver-partners, whether using uberPOA or uberX, must go through screening and must submit a certificate of good conduct from the police.
Drivers will also need to submit their national identification, driver's licence, NTSA vehicle inspection report and proof of PSV car insurance.
Uber will also use telematics technology in its app to monitor driving behaviour of driver-partners and encourage them to exercise caution as they drive with the Uber app.
"At Uber, we believe in choice for riders and driver-partners. Riders should be allowed more choice in the way they move around their cities, and driver-partners should have more choice in how they make a living," he said.
" In the spirit of building globally and living locally, uberPOA is another product that resonates with local riders in Mombasa."
There are more than 10,000 tuk tuks registered in Mombasa.
Kenyans abroad sent home Sh32bn in April – CBK
NAIROBI, Kenya, May 18- Kenyans living abroad sent home Sh32 billion (USD 299.3 million) in April 2021, a new data show.
Data by the Central Bank of Kenya reveals that the inflows represent a 43.7 percent increase from remittance sent in April 2020 and 2.9 percent rise in March 2021.
"Remittance inflows increased to USD 299.3 million in April 2021, from USD 208.2 million in April 2020, representing a 43.7 percent increase and 2.9 percent higher than the remittances in March 2021," said CBK in its weekly bulletin.
The cumulative inflows in the 12 months to March 2021 totalled USD 3,308 million compared to USD 2,801 million in the same period in 2020, an 18.1 percent increase.
The United States continues to be the largest source of remittances into Kenya, accounting for 57.2 percent of remittances in April 2021.
Diaspora inflows have remained Kenya's largest source of foreign exchange since 2015.
In 2020, Kenyans abroad sent home Sh341 billion defying the pandemic odds.
Afreximbank Closes Record US$1.3 billion bond
African Export-Import Bank (Afreximbank) has announced it successfully closed a US$1.3 billion dual tenor bond issuance, the Bank's largest-ever transaction in the international debt capital markets.
Afreximbank printed a US$600 million 5-year note at a spread of T+185bps and a US$700 million 10-year note at a spread of T+220bps, after achieving a final order book of US$4.5 billion.
The Initial Pricing Thoughts (IPTS) were announced at T+220bps area and T+250bps area for the 5-year and 10-year tranches, respectively. Backed by strong demand, the combined books peaked at US$5 billion, with a slight skew towards the 5-year tranche, seeing pricing set at T+185 bps to a re-offer yield of 2.634% and T+220bps to a re-offer yield of 3.798%, respectively. The 10-year tranche was finally priced at only a 5bps New Issue Premium (NIP), while the 5 year was priced flat to fair value.
Afreximbank Advisors
Afreximbank Advisory and Capital Markets (ACMA) acted as Sole Financial Advisors on the transaction, while Afreximbank partners in arranging the transaction were HSBC Bank plc as Sole Coordinator and Joint Lead Manager/Book Runner as well as MUFG, Emirates NBD Bank PJSC, Commerzbank and Standard Chartered Bank as Joint Lead Managers and Book Runners.
The transaction is a major milestone for Afreximbank, marking the second time that the Bank has accessed the 144A US market and is the Bank's largest transaction in the debt capital markets to date. It fulfils a number of key objectives of the Bank's Liability Management strategy, which include diversification of the liability book by geography, investor type and tenor as well as reducing cost of funds.
Speaking after the closing, Mr Denys Denya, Afreximbank's Executive Vice President responsible for Treasury, said: "This landmark deal confirms continuing investor deep confidence in Afreximbank's mission and credit story, and achieving competitive pricing for both tranches is testament to the strength of support from investors from all key financial markets across the global.  Importantly, the success of this transaction enables the Bank to continue to play a major role in the development of intra-African trade as well as trade between Africa and the rest of the world.
Prior to pricing the transaction, Afreximbank met with both new and existing investors during well-attended virtual roadshows covering the Africa, Gulf countries, Europe, Asia and USA. The Bank received overwhelmingly strong feedback, noting confidence in Afreximbank's credit profile and strategy. Investors also complimented the Bank in helping its member countries adjust to the shocks caused by the COVID-19 pandemic, through its Pandemic Trade Impact Facility (PATIMFA).
Ahmed Ali Muktar sworn in as third governor of Wajir county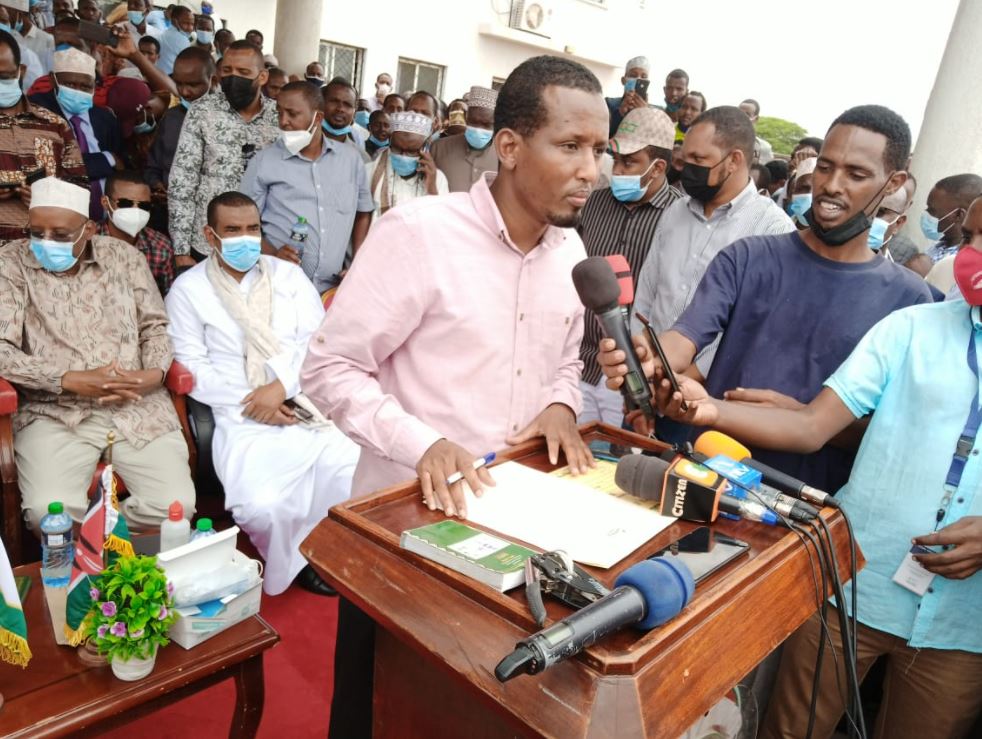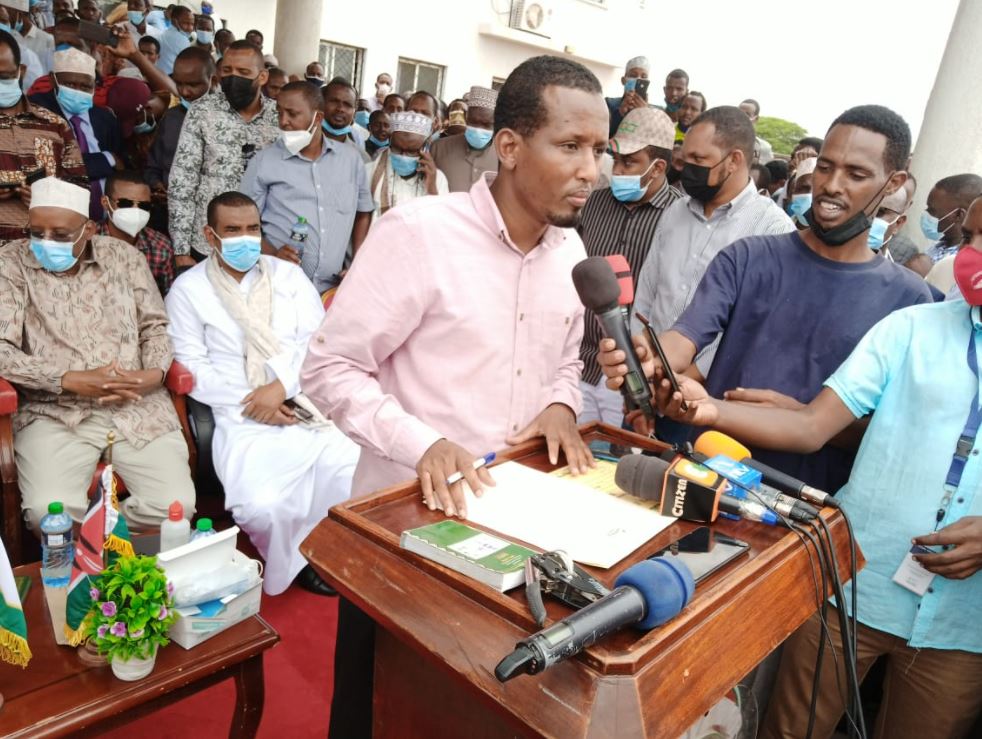 Ahmed Ali Muktar sworn in as third governor of Wajir county
Tuesday May 18 2021

Mr Ahmed Ali Muktar was on Tuesday sworn in as the third governor of Wajir County after the Senate gazetted the impeachment of former county boss Mohamed Abdi Mohamud.
The swearing in ceremony took place at the Wajir County headquarters.
In his first speech after taking oath of office, Mr Muktar said he will prioritise water, health and education sectors in his administration.
"My pledge of service is premised on objectivity and professionalism. I appeal for your support," he said.
The new governor also pledged to uphold the unity of Wajir people and help resolve the health crisis in the county. Healthcare workers have been on strike for the last one week.
"I will meet the health workers today with a view of addressing their issues. I will desist from nepotism and skewed allocation of resources which erodes people's confidence," he said.
On Monday, 25 senators voted for the governor's ouster after he was found guilty of gross violation of the Constitution.
Two opposed the motion and four abstained.
Nyamira Senator Okongo Omogeni, who chaired the special committee that investigated the governor, abstained from the vote.
Others who skipped the vote were senators Ochilo Ayacko, James Orengo and Mutula Kilonzo. Senators Samson Cherargey and Kipchumba Murkomen voted to save the governor.
"The net effect of the vote is that Mr Muhamud has been impeached and he ceases to hold office," Senate Speaker Kenneth Lusaka ruled after the vote.
A special committee of the Senate, which upheld his impeachment by the Members of County Assembly (MCA), recommended Mr Mahamud's removal from office for endangering the health of the people of Wajir.
The MCAs, through witness Hussein Dahir Abdirahman argued the health sector is in deplorable condition despite being allocated a total of Sh2.4 billion since 2018, equivalent to 22 percent of the budget.
Mr Mahamud was found guilty of gross violation of the Constitution, County Governments Act, Public Procurement and Asset Disposal Act and the Public Finance Management Act.