TSC changes school heads hiring process
Regional directors at the Teachers Service Commission will now have power to deploy primary and secondary schools heads, their deputies, senior teachers and other administrators.
However, recruitment and promotion of administrators in extra-county and national schools will be conducted by TSC from its headquarters.
In circular to directors of education, TSC boss Nancy Macharia announced that the commission has developed guidelines to enable the officers to effectively perform the function.
PROMOTE EFFICIENCY
"The guidelines should be read together with the Commission's policy on appointment and deployment of institutional administrators, career progression guidelines, the code of regulation and other regulations governing the teaching service," said Ms Macharia in the circular.
She added that the aim of the change was to promote efficiency in the appointment and deployment of administrators to public schools.
In the new regulations, county directors will identify the available administrative vacancies. These will then be advertised by the head office, which will also short list candidates and send the lists to respective counties.
The regional directors will be expected to conduct interviews for selected candidates in collaboration with the respective county directors. The regional directors will then appoint and deploy successful candidates.
According to the guidelines, a single-stream school (primary or secondary) will be required to have one head teacher or principal, a deputy and senior teachers.
A primary school with 10 streams and a maximum of 4,000 pupils will have one head teacher, two deputies and eight senior teachers. A secondary school with 12 streams and a maximum of 2,100 students will have one principal, two deputies and nine senior teachers.
A teacher in primary school will be required to have a maximum of 35 lessons while one in secondary school will be required to handle 27 lessons per week.
Meanwhile, teachers in private schools have protested against failure by their employers to pay them salaries since March following the closure of schools due to the Covid-19 pandemic.
SUFFERING
Kenya National Union of Private Schools Teachers (KNUPST) Secretary-General Dan Khasiani said teachers in most private schools are suffering since the institutions stopped remitting salaries.
"By the time schools open (in September), these teachers shall have gone for six months without a salary," he added.
He regretted that a majority of private schools had turned their backs on their own teachers despite them producing top students in the country.
Mr Khasiani asked the government to urgently provide a stimulus package for the teachers. Already private schools have appealed to the government to provide them with grants in order to sustain the wage bill of their teaching and non-teaching staff. The owners of the schools are seeking about Sh7 billion for this purpose.
Comments
comments
Sakaja in trouble for breaking curfew rules he helped craft: The Standard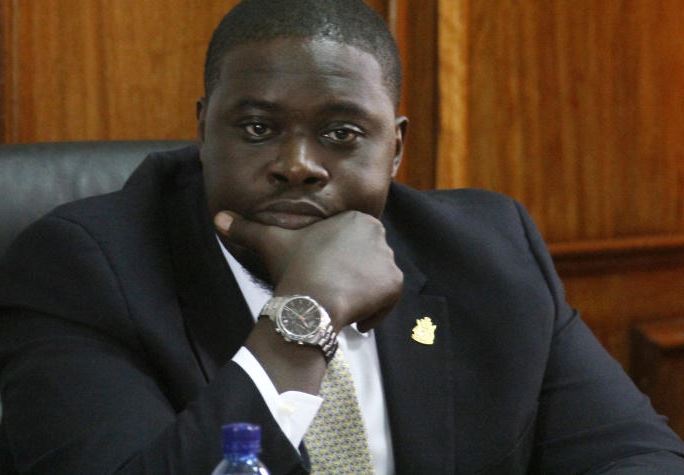 Police were last evening looking for Nairobi Senator Johnson Sakaja (pictured) for detention and processing, accusing him of flouting Covid-19 pandemic rules. 
Senator Sakaja, who chairs a Senate committee exploring responses to the Covid-19 pandemic, was on Friday night arrested at a bar in Nairobi's Kilimani on claims of violating the government's curfew orders, but later released.
Yesterday, police camped outside Sakaja's house to arrest him after top government officials questioned why the Senator was released even after breaking the law.
According to the police, Sakaja threatened to have all police officers from Kilimani Police Division transferred within 24 hours.
The Senator has denied having been arrested, tweeting: "Never been arrested. Won't be. Show me an OB Number."
Ironically, Sakaja chairs the Senate ad hoc committee on Covid-19 pandemic in Kenya.
The committee is mandated to oversight actions and measures taken by the national and county governments in addressing the spread and effects of the Covid-19 pandemic in the country.
The curfew hours were extended to between 9pm to 4am as part of regulation to contain the spread of Covid-19.
Police said they received information that a bar, Ladies Lounge, which is off Dennis Pritt Road, was still operating at around 1.10am and that when they went there, they found Sakaja in group of 10 people, who were drinking.
According to the police and witnesses, the Senator was advised to leave, but he declined, prompting the team leader to call her bosses, who also failed to convince the lawmaker to leave.
Later, Adan Hassan, the Deputy Sub-county Commander – Kilimani, was dispatched to the bar with a reinforcement.
Police said Sakaja and his acquaintances refused to leave and dared the officers to handcuff them. According to the police, Sakaja also told those present not to leave as ordered.
Later, six of the people in the group left. Sakaja and three others remained. The other three however refused to give their names when asked for processing, police said.
The three were driven to Kilimani police station, where the Senator was asked to agree to be granted free bond, but he refused to leave, denying that he was drunk and questioning why he was being humiliated.
It is then that the Senator is said to have threatened to transfer all the officers involved in his arrest within 24 hours. 
A video that has gone viral on social media captures Sakaja refusing to leave the police station. "You know me for 10 years, but these police officers have known me today, but they say I'm drunk. Am I drunk?" Sakaja asked his unidentified friend. 
The Standard tried to reach Sakaja yesterday to verify the video clip and the claims made against him by police, but he could not be reached.
Talked to his friends
The officers looking for the Senator said they had talked to his friends and colleagues, who had promised to trace and take him to the police station.
Questions now linger on whether the Senator went against the very rules that he helped formulate as the chair of Senate's Covid-19 committee, and whether police applied double standard by releasing him.
In the UK, Prime Minister Boris Johnson's most senior adviser came under fire for breaking travel regulations put in place during coronavirus lockdown, ignoring the Covid-19 rules that he had helped craft, after he drove 418km from London to Durham, during a lockdown.
He denied breaking any law.
Comments
comments
Forget coronavirus, 'boys will have to be cut': The Standard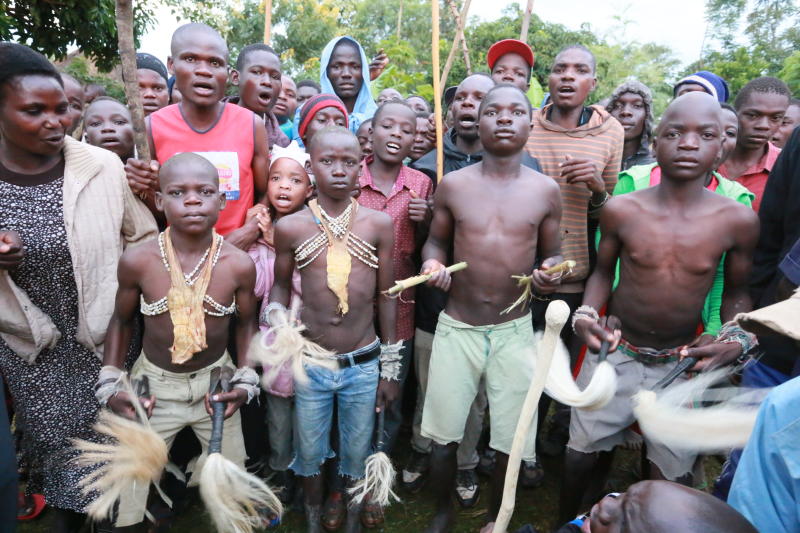 Bukusu initiates during circumcision rituals in 2018. This year's ceremonies have been postponed due to Covid-19. [File, Standard]
An association of men who conduct circumcisions in Bungoma has vowed to defy elders who have postponed this year's circumcision ceremony in the wake of Covid-19 pandemic.
Every even year a new set is ushered in among the Bukusu, Tachoni, Batura and Sabaot through circumcision.
Worried that the ceremony could violate the social distancing and other measures announced by the government to curb the spread of Covid-19, elders have postponed this year's event.
The postponement has not gone down well with the men who make boys men, as they have vowed to go ahead with the cut regardless of the elders' directive.
SEE ALSO: Low turnout as churches reopen amid stringent Covid-19 regulations
The elders from the four communities that hold the practice in high esteem reached a consensus and postponed this year's circumcision season, noting that the ceremonies that go with it attract huge crowds that might fuel the spread of Covid-19.
They also considered that the Ministry of Health had banned public gatherings as a way of curbing the spread of the virus.
More than 10,000 boys had been lined up to face the knife. These would have attracted a bigger crowd of relatives and friends eager to witness the transition from childhood to adulthood.
Bukusu Council of Elders chairman Richard Walukano defended the postponement, saying it was not the first time a circumcision ceremony was put off. He urged the circumcisers to heed the directive.
"Shortly before World War (II), we postponed circumcision in 1938 and instead held it in 1939, 1940 and 1942. We also cancelled the ceremonies in 1960s," said Walukano.
SEE ALSO: Gloomy year ahead under Covid-19 cloud
According to Walukano, whenever there is war and a serious pandemic like Covid-19, circumcision must be halted as per the Bukusu traditions, because such occurrences are considered bad omen.
But the men who carry out the cut are determined to go all the way despite the threat posed by Covid-19.
"We shall go ahead and have our boys face the knife. The elders did not consult us when they arrived at the decision to postpone this year's circumcision and their decision is null and void," said Joseph Sinino Omukongolo, the chairman of Bungoma Circumcisers Association.
Omukongolo said the circumcisers would not give parents an excuse to have the procedure performed in hospitals.
"We realised that many people are now circumcising their teenage boys in hospitals and this is against the Bukusu traditions. Anyone who is circumcised in the hospital in our culture is considered a coward. Such a person cannot sit on the same table where serious decisions are made," he said.
SEE ALSO: Let's fight pandemic, not the front-line heroes
According to Omukongolo, rituals to prepare the circumcisers for the ceremonies had already been conducted.
"We had already taken more than 500 circumcisers (Bakhebi) to the shrines to appease the gods and we had already performed the required rituals ('Chingembe') ahead of the circumcision exercise. If they (the elders) stop us, a bad omen will befall us," he said.
A traditional circumciser (Omukhebi) is believed to have inborn talent. They believe one's prowess in circumcising is bestowed upon them by some powerful magical powers called "kumusambwa."
On the eve of circumcision, the circumcisers meet at night to sharpen their knives and subsequently bless them in a ceremony known as 'khubita chingembe.'
They also take a local brew (kamalwa), slaughter a red cock and smear its blood on the knives as a sign that they are ready to undertake the rite.
This year, the knives may have nothing to cut if the elders have their way.
Comments
comments
Low turnout as churches reopen amid stringent Covid-19 regulations: The Standard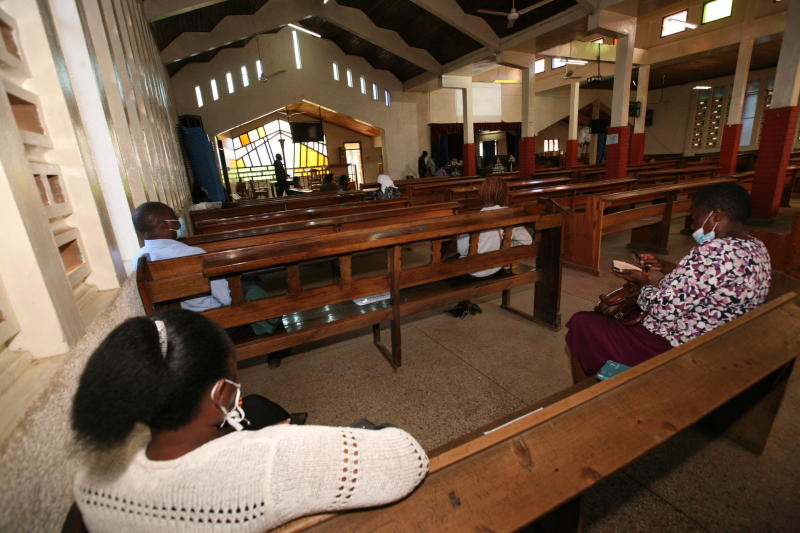 A poorly attended Kisumu Central SDA church service. [Denish Ochieng, Standard]
A number of churches opened for service on Saturday, under a new dispensation where congregants had to observe strict health guidelines to curb spread of coronavirus.
The Sunday Standard sampled a number of Seventh-Day Adventist (SDA) churches in Kisumu and Kisii and the attendance was low.
At Kisumu Central SDA church, the old norm where the facility would host up to 1,500 members was not the case, with only 100 allowed to worship per session.
Unlike in the past, faithful had to stream in one by one and had to go through thorough screening. Contrary to the norm of a services running from 9 am to 1pm, the mass was strictly one hour per session.
SEE ALSO: Explore every option in view of rising coronavirus infections
According to Pastor Henry Akatch, they had no alternative but to obey the authorities word.
''We have marked all the benches and number them to observe social distancing,'' explained Akatch.
The first session, which started at 8am only attracted about 51 people. The second service attracted 98 people.
At churches such as Roho Israel, Roho Msanda, Roho Nineve social distancing was observed, with some recording very low turn out.
At Roho Israel Church in the informal settlement in Nyalenda and another at Nyamasaria only nine out of the usual 50 to 100 turned up.
SEE ALSO: Gloomy year ahead under Covid-19 cloud
A faithful James Omollo, said they were expecting more to attend but only nine faithful out of the usual 50 or so.
Sources revealed that some people were still cagey to attend prayers. In Kisii, the more than 400 churches under the Seventh-Day Adventist Church South Kenya Conference did not hold services.
Acting Conference President Lenard Aencha said the churches had to meet all Covid-19 requirements before being reopened.
Speaking to Sunday Standard on the telephone yesterday, Aencha said while it was expected that SDA churches were to resume, it did not happen since they wanted to make sure their congregants were safe.
Aencha said the church leadership will meet on Monday to review whether churches had complied with government directives before they can resume services.
SEE ALSO: Let's fight pandemic, not the front-line heroes
Comments
comments