Trump visits border amid US shutdown wall row
US President Donald Trump has threatened again to declare a national emergency to fund a border wall without Congress's approval.
"I have the absolute right to declare a national emergency," he told reporters.
The White House has denied reports it is looking at diverting funds set aside for reconstruction projects.
A political row over funding the wall has left the US government partially shutdown for 20 days, leaving about 800,000 federal employees without pay.
Get breaking news on your Mobile as-it-happens. SMS 'NEWS' to 22163

President Trump has refused to sign legislation to fund and reopen the government if it does not include $5.7bn (£4.5bn) for a physical barrier along the US-Mexico border.
But budget talks have come to a standstill as Democrats – who control the House of Representatives – refuse to give him the money.
Republican leaders insist the party stands behind the president, although some Republican lawmakers have spoken out in favour of ending the shutdown.
How could Trump pay for the wall without Congress?
On Thursday, Mr Trump visited a border patrol station in McAllen, in the Rio Grande Valley of Texas.
He said that if Congress did not approve funding for the wall, he would "probably… I would almost say definitely" declare a national emergency to bypass lawmakers.
But such a move is likely to face legal challenges.
The money would also have to come from funds allocated by Congress for other purposes – which some Republicans would also oppose.
But one of his supporters, Republican Senator Lindsey Graham, said he could not "see a pathway forward" and urged President Trump to declare a national emergency.
Analysts say such a move would provide political cover to reopen government while allowing Mr Trump to argue he had done all he could to fulfil one of his main campaign promises.
The BBC's David Willis in Washington says that, with no further talks with the Democrats planned, declaring an emergency now seems the most likely option for the president.
NBC News reported on Thursday that Mr Trump had been briefed on one plan that would involve diverting funding allocated to reconstruction projects in disaster areas, including Puerto Rico, to pay for the wall.
But White House Press Secretary Sarah Sanders later denied the reports. "The NBC story is totally false, fake news, but doesn't mean the president won't talk to them at some point," she said.
How did Trump make his case for the wall?
Mr Trump spoke at McAllen station, behind a display of weapons and cash said to have been seized by the border patrol.
He was joined by border patrol agents, and relatives of people killed by illegal immigrants.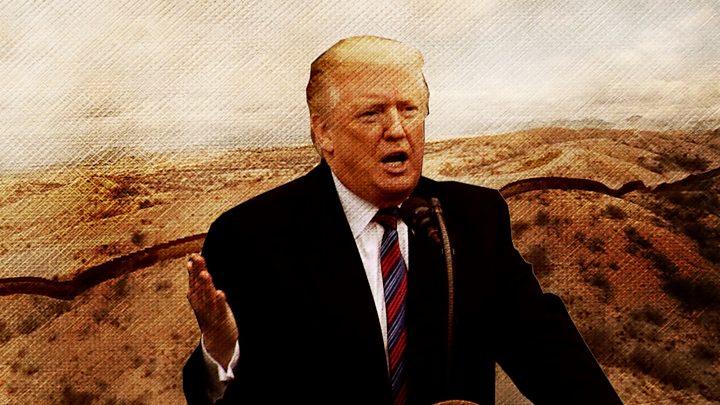 "If we don't have a barrier… you're not going to be able to solve this problem," he said, adding that people faced "hard work", "gruelling problems" and "a lot of death" without it.
Mr Trump added: "They say a wall is medieval… There are some things that work."
Has Trump changed his pledge on funding the wall?
Mr Trump made the border wall a key campaign promise – and pledged to make Mexico pay for it.
However, speaking on Thursday, Mr Trump claimed he never meant that Mexico would make a one-time payment.
"When I said Mexico would pay for the wall in front of thousands and thousands of people… obviously I never meant Mexico would write a cheque," he said.
However, this is contradicted by an archived campaign memo from 2016, where Mr Trump outlined how he planned to "compel Mexico to make a one-time payment" of $5-10bn (£4bn-£8bn) for the wall.
Mr Trump said on Thursday that, instead of a direct payment, Mexico would be "paying for the wall indirectly, many, many times over", under a new trade deal between the US, Mexico and Canada.
Economists have disputed this and critics say that any savings incurred due to the deal would go directly to private businesses rather than flow into US Treasury.
How is the shutdown progressing?
Partial shutdowns occur when Congress cannot agree a budget by a certain deadline or the president refuses to sign it.
This shutdown, which began on 22 December, has closed 25% of the government. Of the 800,000 federal employees affected, about 350,000 are furloughed – a kind of temporary lay off – and the rest are working without pay.
Shutdown negotiations failed on Wednesday when Mr Trump walked out of a meeting with Democratic leaders.
The president called the meeting "a total waste of time" after top Democrats Nancy Pelosi and Chuck Schumer refused to budge on agreeing to legislation that includes funding for a wall.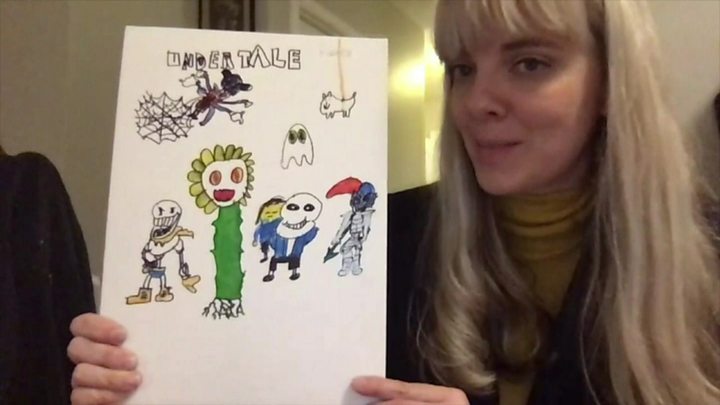 The first pay day since the shutdown falls on Friday and will pass without workers getting salaries. They include prison guards, airport security screening staff, and members of the FBI.
This weekend the shutdown will become the longest in US history.
Comments
comments
KenGen Soars In New Ranking Of Top 250 Companies In Africa
The Kenya Electricity Generating Company (KenGen) has found some even more good news after improving by 41 positions in this years Africa's Top 250 companies.
The power-producing company has been ranked at position 193 improving its position from 231 last year. This year's Top 250 Companies survey highlights the overall carnage in African share valuations in the last few years and even more so in March 2020. The survey ranks African or Africa-focused companies listed on public securities exchanges according to their market valuation, also known as "market capitalisation".
KenGen is the largest power producing company in Kenya, producing about 69% of the electricity consumed in the country. It relies on various sources to generate electricity ranging from hydro, geothermal, thermal and wind.
The state-owned firm produces 85% of Kenya's Geothermal power used in the country. The firm has an installed capacity of 823 MW having grown by 165MW since last year. According to the KenGen's MD and CEO Ms.Rebecca Miano, Kenya has an estimated potential of more than 10,000 megawatts of electricity from geothermal sources.
To view the full ranking of the Top 250 Companies, click here.
Comments
comments
Equity withdraws proposed Kshs 9.5b dividend payout to shareholders
The Board of Directors of Equity Group Holdings Plc has withdrawn its recommendation of a Ksh. 9.5 billion dividend payout to its shareholders.
In a statement Tuesday, the board says by withdrawing the recommendation for a dividend payout it is exercising financial prudence so as to conserve cash to enable the Group to respond appropriately to the unfolding crisis in terms of supporting its customers, and to be able to direct cash resources to potential opportunities that may arise as economies in which Equity Group Holdings operates begin to recover.
" With this approach, the Group leadership and management can focus on strategically positioning the business, in order to protect and preserve its customer base through loan accommodations and rescheduling/restructuring to enable them to go through the prevailing turbulence while at the same time preserving cash to shore up the financial revival and growth of its customers' businesses post the COVID-19 crisis. The Board continues to evaluate the potential impact of the pandemic on the Group and to formulate and implement strategic plans to mitigate any effects, and will, in the usual manner ensure that it keeps the shareholders and other stakeholders informed." Said the statement.
The statement noted that the COVID-19 global health pandemic has led to a great lockdown which has induced a complex and multi-faceted global crisis of health, economic, and social challenges of an unprecedented magnitude.
Get breaking news on your Mobile as-it-happens. SMS 'NEWS' to 20153

"The pandemic's effects have created a significant drop in the global GDP, and a substantial loss of employment leading to an economic recession which economists are projecting will evolve into a global depression worse than the Great Depression of the 1930's." Said the statement
Noting that the global economic outlook has worsened considerably since the beginning of the year.
"The United Kingdom has entered a severe recession last experienced in the 17th Century, while the United States unemployment rate is expected to reach 25% by the end of 2020 with 39.6 million people already unemployed. The most recent global growth projections from the International Monetary Fund (IMF) have revised the global economic outlook to below the 2.9% achieved in 2019 from an initial projection of 3.3% to -3.0% (negative 3.0%) of GDP growth rate, which they feel is optimistic." Added the statement.
They said that they are exercising caution after the IMF also projected that if the pandemic fades in the second half of 2020 and if policy actions taken around the world are effective in preventing widespread bankruptcies, extended job losses, and system-wide financial strains, global growth could rebound to 5.8% in 2021.
"The Equity Group Holdings Board took a conservative approach that recognizes the emerging unquantified risk of the pandemic and opted to preserve capital in the face of the prevailing uncertainty," said Dr. James Mwangi, the Group CEO and Managing Director. He added that, "A strong capital and liquidity position gives us the strength and capacity to cushion our business and accommodate and walk with our customers during these challenging times".
The board is encouraging its customers to seek opportunities to innovate amid the pandemic, and to keep looking for growth possibilities in order to preserve cash and capital.
"If the economic crisis mutates into a financial crisis, Equity Group will be well placed to weather the challenge with a strong capital base, strong liquidity and an agile balance sheet that improves its leverage, and would allow the financial services group to shield and accommodate its customers throughout this period of uncertainty," said Dr. Mwangi.
He added, "However, should the crisis not play out as anticipated, the Board will explore various options and make suitable recommendations that will enhance shareholder value."
Comments
comments
WHO stops hydroxychloroquine trials over safety concerns » Capital News
Geneva, Switzerland, May 26 – The WHO suspended trials of the drug that Donald Trump has promoted as a coronavirus defence, fuelling concerns about the US president's handling of the pandemic that has killed nearly 100,000 Americans.
Trump has led the push for hydroxychloroquine as a potential shield or treatment for the virus, which has infected nearly 5.5 million people and killed 345,000 around the world, saying he took a course of the drug as a preventative measure.
Brazilian President Jair Bolsonaro has also heavily promoted hydroxychloroquine while the virus has exploded across nation, which this week became the second most infected in the world after the United States.
But the World Health Organization said Monday it was halting testing of the drug for COVID-19 after studies questioned its safety, including one published Friday that found it actually increased the risk of death.
The WHO "has implemented a temporary pause… while the safety data is reviewed", its chief Tedros Adhanom Ghebreyesus said, referring to the hydroxychloroquine arm of a global trial of various possible treatments.
Trump announced last week he was taking the drug, explaining he had decided to take after receiving letters from a doctor and other people advocating it.
"I think it's good. I've heard a lot of good stories," Trump told reporters then, as he declared it safe. 
Trump dismissed the opinions then of his own government's experts who had warned of the serious risks associated with hydroxychloroquine, with the Food and Drug Administration highlighting reported poisonings and heart problems.
Trump has been heavily criticised for his handling of the virus, after initially downplaying the threat and then repeatedly rejecting scientific analysis.
The United States has by far the world's highest coronavirus death toll, reaching 98,218 on Monday, with more than 1.6 million confirmed infections.
Despite the WHO suspension, Brazil's health ministry said Monday it would keep recommending hydroxychloroquine for COVID-19.
"We're remaining calm and there will be no change," health ministry official Mayra Pinheiro told a news conference.
Bolsonaro is a staunch opponent of lockdown measures and like Trump has played down the threat of the virus, even as Latin America has emerged as the new global virus hotspot.
Brazil has reported nearly 375,000 cases, widely considered to be far fewer than the real number because of a lack of testing, and more than 23,000 deaths.
Chile also is in the grip of a virus surge, with a record of nearly 5,000 infections in 24 hours on Monday.
– 'Thrilled to break the isolation' –
While South America and parts of Africa and Asia are only just beginning to feel the full force of the pandemic, many European nations are easing lockdowns as their outbreaks are brought under control.
In hard-hit Spain, Madrid and Barcelona on Monday emerged from one of the world's strictest lockdowns, with parks and cafe terraces open for the first time in more than two months.
Elsewhere, gyms and swimming pools reopened in Germany, Iceland, Italy and Spain.
And slowing infection rates in Greece allowed restaurants to resume business a week ahead of schedule — but only for outdoor service.
"I'm thrilled to break the isolation of recent months and reconnect with friends," said pensioner Giorgos Karavatsanis. 
"The cafe in Greece has a social dimension, it's where the heart of the district beats."
Despite the encouraging numbers, experts have warned that the virus could hit back with a devastating second wave if governments and citizens are careless, especially in the absence of a vaccine.
The latest reminder of the threat came from Sweden, where the COVID-19 death toll crossed 4,000 — a much higher figure than its neighbours.
The Scandinavian nation has gained international attention — and criticism — for not enforcing stay-at-home measures like other European countries.
– 'What will happen if I die' –
The extended lockdowns, however, have started to bite globally, with businesses and citizens wearying of confinement and suffering immense economic pain.
Unprecedented emergency stimulus measures have been introduced, as governments try to provide relief to their economies,  with the airline and hospitality sectors hit particularly hard because of travel bans.
Lufthansa became the latest major global company to be rescued, as the German government agreed a 9 billion euros ($9.8 billion) bailout for one of the world's biggest airlines.
But analysts have warned that the pandemic's economic toll will be even more painful for countries far poorer than Western nations.
In the Maldives, a dream destination for well-heeled honeymooners, tens of thousands of impoverished foreign labourers have been left stranded, jobless and ostracised as the tiny nation shut all resorts to stop the virus.
"We need money to survive. We need our work," said Zakir Hossain, who managed to send about 80 percent of his $180 a month wage to his wife and four children in Bangladesh before the outbreak.
"I heard that if a Bangladeshi worker dies here, they don't send his body back and he is buried here," he said. "I am worried what will happen if I die."
Comments
comments