Trump asks about conditions in area near one of his golf courses while surveying Hurricane Florence damage in North Carolina
When President Donald Trump arrived in North Carolina on Wednesday to survey the damage from Hurricane Florence, he seemed to be particularly interested in the conditions near one of his golf courses.
During a briefing on damage from the storm, Trump asked a local official how conditions were at Lake Norman, the location of a Trump National Golf Club.

Trump at one point also told a storm victim to "have a good time" as he handed him a packaged meal.

Florence has led to at least 37 deaths, 27 of which occurred in North Carolina.
When President Donald Trump arrived in North Carolina on Wednesday to survey the damage from Hurricane Florence, he seemed to be particularly interested in the conditions near one of his golf courses.
During a briefing at Marine Corps Air Station Cherry Point, Trump asked Lynn Good, chairman and CEO of Duke Energy, how things were near Lake Norman.
Good told Trump things were "good," adding, "but still 10 or 12 inches of rain."
"I love that area. I can't tell you why, but I love that area," Trump said in response.
There is a Trump National Golf Club on the shores of Lake Norman, which might explain the president's affinity for the area.
Since entering the White House, Trump has spent at least 199 days at his properties, including 154 days at golf properties, according to an analysis from NBC News.
The president was often critical of his predecessor, former President Barack Obama, for playing golf.
During Wednesday's briefing, Trump thanked federal and local officials for their efforts to prepare for and address Hurricane Florence, and expressed his sympathies to those who lost loved ones.
"To the families who have lost loved ones, America grieves with you, and our hearts break for you," Trump said. "And to all those impacted by this terrible storm, our entire American family is with you and ready to help. And you will recover."
During his visit to North Carolina on Wednesday, Trump at one point also told a storm victim to " target="_blank"have a good time" as he handed him a packaged meal. The president made similar comments last year while addressing victims of Hurricane Maria in Puerto Rico, a storm over which Trump continues to face criticism in terms of his response.
At another point on Wednesday, a child asked the president for a hug, and he obliged.
Florence has led to at least 37 deaths, 27 of which occurred in North Carolina. Thousands of people remain in shelters and hundreds of thousands remain without power.
Flooding from the monster storm wreaked havoc across the Carolinas and the damage is extensive. North Carolina Gov. Roy Cooper on Wednesday said, " target="_blank"We are a state that is hurting."
Kenya and Tanzania agree to iron out trade barriers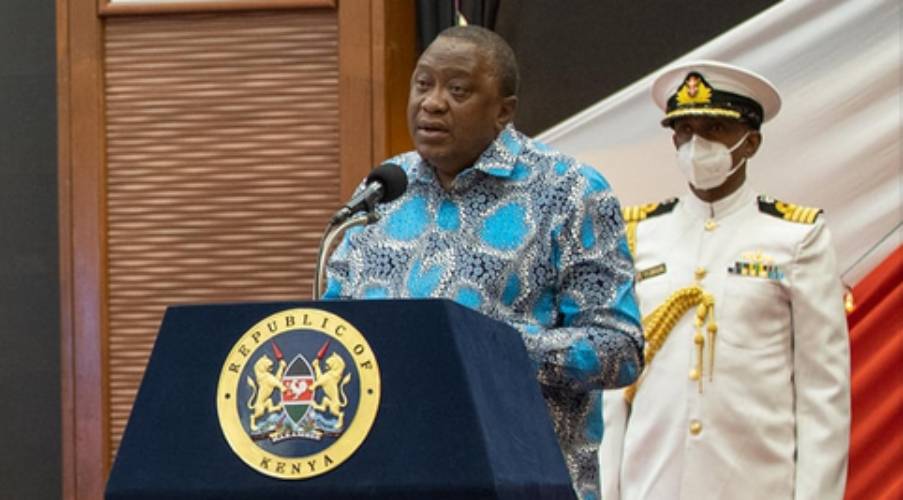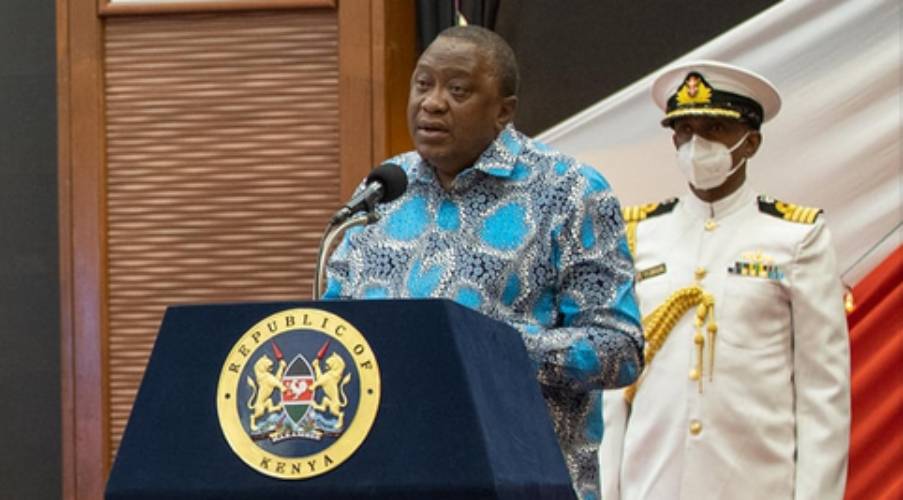 President Uhuru Kenyatta (PHOTO: PSCU)
NAIROBI, KENYA: A business forum held on Wednesday between Kenya and Tanzania agreed to iron out challenges constraining business between the neighbouring countries.
President Uhuru Kenyatta and Tanzania counterpart Samia Suluhu Hassan during the forum noted that trade opportunities between the two countries have not been fully exploited. Trade volume between the two countries was valued at Sh60.4 billion in 2012 and Sh47.5b, Sh45.6billion and Sh47.5 billion in 2016, 2017 and 2018 respectively.In 2020, President Uhuru Kenyatta noted that the volume was valued at Sh50 billion.
"Trade between the two countries has thrived over the past due to robust private sector, entrepreneurial citizen among other factors, however from the volumes we have not exploited the opportunities to full capacity," he said.
"There is an urgent need for cooperation between the two countries to iron out issues hindering the growth of trade," he added.
He noted that the economies need to drop unhealthy competition which he said work against investment in the two neighbouring countries.
The President also directed responsible government officials to meet within this week or the week after to iron out issues around the Covid-19 certificate. He also directed CS Agriculture and Livestock Peter Munya to allow maize to be cleared at the border.
Reading from the same script, his counterpart Suluhu Hassan noted that real development between the two countries can get better if they develop together.
"We need to work on a conducive environment by creating efficient courts, harmonize tax regimes, work on the investment climate and better legislation," she said. She noted that Kenya can benefit from Tanzania's rich mineral sector while Tanzania can borrow from Kenya's thriving technology sector.
Take a quick survey and help us improve our website!
Take a survey
The private sector represented by the East African Business Council noted the decline in intra EAC trade is due to several barriers to trade, investment and movement of persons. Intra-EAC trade currently stands at below 20 per cent vis a vis SADC at 48 per cent and European Union at 70 per cent.
"There's a need to embrace digitalization particularly in moving goods and services across the EA region and harmonizing the tax regimes, we need to also strengthen the East African Secretariat," said Nick Nesbit, Chairman of East African Business Council.
He also underscored the need to promote value addition in manufacturing and diversification of our products and the elimination of Non-Tariff Barriers, which will go a long way towards increasing intra-EAC trade from the current below 20 per cent.
Ministers from the two countries are expected to meet before the end of the month to iron out issues affecting trade between the two countries.
Delayed Sh70 billion to counties hampering COVID war: Wambora » Capital News
NAIROBI, Kenya, May 5- The Council of Governors has decried their inability to fight the COVID-19 pandeic due to lack of finances from the national government.
The Council's Chairperson Martin Wambora said the National Treasury is yet to release Sh70.2 billion owed to the counties, despite the clock ticking to the end of the financial year on June 30.
"Last week I reported that the total outstanding amount owed to County Governments is Sh70.2 billion. Despite having only one month left to the end of the financial year, the National Treasury is yet to disburse this outstanding amount to Counties," he told a news conference on Tuesday.
He said the delay has "compromised response measures towards the COVID-19 pandemic and service delivery to members of the public."
Some counties are yet to pay staff salaries for more than three months.
On the shortage of HIV and AIDS commodities, Wambora said Counties with high stock are now considering redistributing them to those with low stocks.
He said the Council of Governors will engage the Ministry of Health to fast-track the release of the pending products for HIV/AIDS stuck at the Mombasa port.
Further, he said, County Governments will prioritize a long-term solution in financing HIV, TB and Malaria response through domestic financing and increased Government resources to the programs.
Wambora further welcomed President Uhuru Kenyatta's decision to lift a lockdown on five Counties declared disease zones in March, saying it will allow businesses to thrive.
Nairobi, Kiambu, Kajiado, Machakos and Nakuru were on a partial lockdown until May 1 when President Kenyatta revised the night curfew to start at 10 pm to 4 am from the earlier 8pm.
He however, urged Kenyans to remain cautious since the threat of COVID-19 was still real.
On waste management, Wambora decried an influx of medical waste, particularly used PPE kits which are disposed in the dumpsites.
He noted that "this is hazardous waste should be treated in hospitals and disposed in a safer manner in order to prevent further transmission of the virus."
"To address the issue, County governments have strengthened enforcement through County Environmental Inspectors to ensure integrated waste management systems are adhered to thereby limiting waste influx in undesignated areas and landfills, he said.
Suluhu tells Kenya MPs to play their role in cementing Kenya-Tanzania relations » Capital News
NAIROBI, Kenya, May 5- Tanzania President Samia Suluhu on Wednesday called on Kenya's lawmakers to use their position in enhancing the relationship between the two countries and mend any existing rift.
While addressing a joint sitting of The National Assembly and Senate, Suluhu said the two countries are dependent on each other and their relationship should be protected at all cost.
"We depend on each other in good and in bad times. When there is drought in Tanzania, famine is always around the corner in Kenya. When industries are affected in Kenya, goods become unavailable in Tanzania therefore we need each other for our own survival and economic benefit," said Suluhu.
Suluhu arrived in Kenya on Tuesday for a two-day trip to thaw relations between the neighbours, after years of disputes over trade and border issues.
She is hoping to renew the all-important alliance with Nairobi, which came under strain during the tenure of her predecessor John Magufuli, who died suddenly in March. 
Once close allies in the regional East African Community (EAC), Tanzania's participation in the bloc faded under Magufuli because of economic rivalry and accusations of unfair trade practices. 
On Wednsday, Suluhu called on leaders from both countries to work together and ensure Tanzanians and Kenyans engage in business smoothly devoid of unnecessary restriction which are a result of policies instituted by lawmakers that lead to unhealthy competition.
"You have the mandate to establish laws and advise the government on the way forward and how those who elected you will be led. Your role in boosting the relationship between our two countries is vital on how we are going to achieve economic and political development," Suluhu added, when she addressed MPs after meeting the Tanzanian business community in Kenya jointly with her host President Uhuru Kenyatta.
Kenyatta said Tanzanians will nolonger require business visas or work permits.
Suluhu, 61, landed in the capital, Nairobi on Tuesday and was received by two ministers before heading to the presidency, where she inspected a guard of honour and received a 21-gun salute.
She then held talks with President Kenyatta.
"Your visit has given us the opportunity to renew our relations," Kenyatta said at a joint press briefing with Suluhu.
Kenya would work with Tanzania to ensure the nations' unity "will continue to grow and be strengthened for the benefit of our people", he added.
The two leaders announced the signing of a deal for the transportation of liquefied petroleum gas from the port city of Mombasa to Dar es Salaam, Tanzania's economic capital.
Such deals were irregular under Magufuli, who was seen as favouring other regional trading blocs. 
– Hassan's new approach –
Nairobi is the main investor in Tanzania from the six-nation EAC bloc, and the fifth-largest from the continent.
Magufuli, nicknamed the "Bulldozer" for his uncompromising leadership style, in 2016 declined to be part of Kenya's diesel-powered Standard Gauge Railway project, choosing instead to unveil a plan to build an electric railway.
That same year he declined to invest in a Nairobi-driven road project to link Kenya with Ethiopia, Uganda and South Sudan. 
A series of rows followed in 2017 and 2018 when Tanzania burned alive more than 11,000 chicks imported from Kenya, and seized hundreds of cattle that had wandered across the porous frontier.
Disagreements over border closures and flight bans during the Covid-19 pandemic also heightened tensions.
"We have agreed that our health ministers chart a plan to ease border crossing and checks to hasten service delivery," said Suluhu. 
The visit, almost five years since Magufuli came to Kenya, comes as Hassan moves away from the policies of her autocratic predecessor.
On Monday she announced a series of Covid-related restrictions on travellers arriving in Tanzania. Magufuli long denied the presence of the disease in the country, saying prayer had spared the nation from the disease.
This is Suluhu's second foreign visit since she took power. 
She became the second visiting Head of State to address Kenya's joint Parliament sitting after Former Tanzania President Jakaya Kikwete who had the same privilege on October 6, 2015
Suluhu stressed that during her era, she will strive to strengthen historical ties that exist between the two countries particularly on economic cooperation.
"As you are aware in the current world, relations between nations are based on economics. All other issues will naturally fall in place because of our blood relations but economically we need to lay out sound policies to build strong economies," the Tanzanian leader said.
In their private talks with President Uhuru Kenyatta, they agreed on the need to create a conducive environment for the private sector to thrive and participate fully in economic development.
President Suluhu expressed gratitude to President Kenyatta for encouraging her to be strong and take the mantle of leading Tanzania.
"I have also come to introduce myself to Kenya since immediately after the death of our President, I took over the leadership as stated in our Constitution, that the Vice President takes over as Head of State when the President dies in office. This is why we had smooth transition from one President to another because we honour what our constitution says," she said.