This Leg Day Finisher Workout Uses Pauses to Grow Your Glutes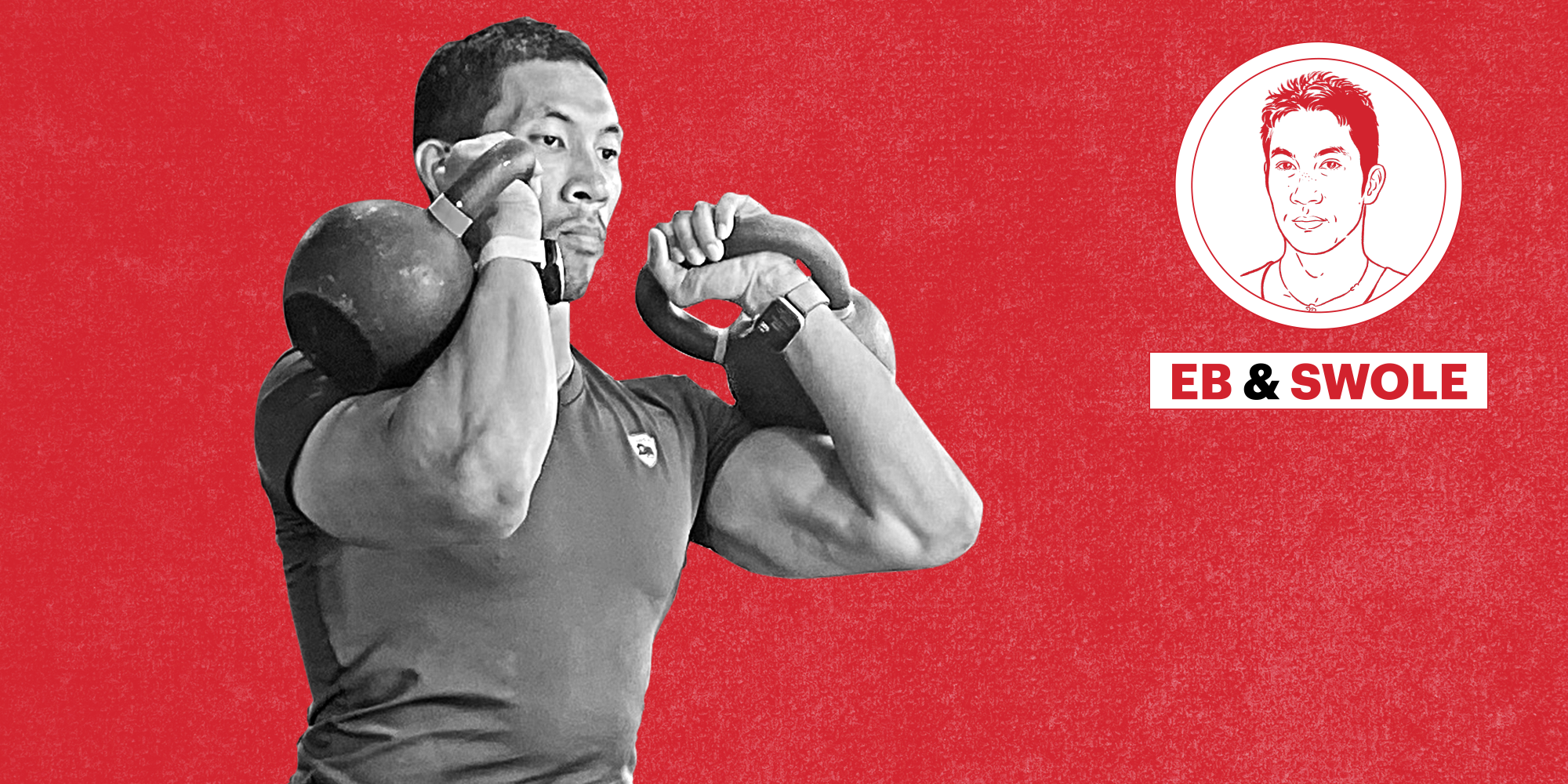 Big arms are great, and no one is going to turn up their nose to a strong, broad back. But if you really want to put in some high-reward work in the weight room, you'll target your glutes. They're the biggest muscle in your body, and giving them some extra love will do more than just fill out your pants. The glutes are key for explosive, powerful movements, and if you're doing nothing but sitting on them all day, you're in danger of a dead butt.
You should be targeting the muscles with workouts like this finishing series from Men's Health fitness director Ebenezer Samuel, C.S.C.S. The Bulgarian pause superset gives you a chance to force your glutes to work overtime for growth.
"This move is all about pushing your glutes to fire—and then stay hyper-involved in your squatting," says Samuel. "You can never have enough glute strength or power, and you'll develop it here."
The positioning of the pulse Bulgarian is the key to making that happen. "By utilizing a vertical shin angle on the front leg, we insure that the move is driven by our hamstrings and glutes, and they have to work super-hard to drive you into a standing position," Samuel says.
To take on the Bulgarian pause superset finisher, you'll need a set of kettlebells and an elevated platform like a bench for your foot. If you need a set to try this at home, check out this option from CAP Barbell.
Start with the kettlebells in a front rack position with your foot up on the platform. Check here for some tips on getting into position for the Bulgarian split squat.
Bend your knee to squat down, lowering until your front thigh is parallel to the ground and keeping the shin of your planted foot in a vertical position. Raise up slightly then back down to pulse, then stand up to complete the rep.
Perform 8 to 10 of those pulse squat reps.
Immediately step forward into a square stance. Perform 6 to 8 reps of pause squats, waiting for a count before standing back up.
Repeat on the opposite leg.
The toughest part of the series might be the final reps at the end. "You're shifting from a unilateral move to a bilateral move and operating with uneven fatigue, so when you descend into that first rep, you should feel off-balance; use the pause to reorganize how you're applying full-body tension," says Samuel. "Once you do that, you'll get to appreciate the beauty of this superset: It's supercharging your squats. You'll find yourself firing up with great acceleration and power, partly because you're now operating with two legs, and partly because of the glute stimulation you created during the pulse Bulgarian work."
Add the finisher to your leg day with 3 sets through the whole series.
For more tips and routines from Samuel, check out our full slate of Eb and Swoleworkouts. If you want to try an even more dedicated routine, consider Eb's New Rules of Muscle program on our All/Out Studio app.
Comments
comments
Kenyan celebrities talking about American race issues is hypocrisy
Kenyan celebrities are weighing in on the recently cowardly and callous killing of George Floyd by Minnesota police officer. And while there is nothing wrong about Kenyan celebrities with no connection to the political temperature in America adding to their voice to the millions of others calling out the institutionalized racism in America, one has to also look to see whether these same guys speak up when things are thick in Kenya.
And we did some checking and realized that the same guys currently touting their global villager citizenship are usually mute when Kenya is up in flames. These same Kenyan celebrities are clowns.
You see, as trump pointed out, Kenya is a shithole nation. We have so many issues at the moment that we need to address. But be that as it may, Kenyan artists would prefer to virtue signal and talk about distant issues over in the land of the brave, the home of the free where they will suffer no repercussions.
When post-election violence erupted, how many people came out to denounce it early on rather than waiting for ethnic and tribal diatribe to be drawn up for them? How many Kenyans recently spoke up about the disputed and divisive general elections that had to be re-conducted? How many Kenyan celebrities have been talking about the still existing internally displaced people? Or the rampant and widespread corruption that has seen our shithole country sink to demoralizing levels of depth that threatens the wellbeing of future generations?
I will wait for you to point them out.
I would love to see the Jua Calis and the Janet Mbuguas raise their voices when Kenyan police batter protesters. i would love to see Kenyan celebrities talk about unlawful and cruel evictions.
For more thought-provoking opinion pieces, click here. And be sure to like our Facebook page.
Comments
comments
'Ours was a complicated father-daughter relationship,' cries Jimmy Wayuni's daughter
One of the daughters of celebrated Benga musician Jimmy Wayuni has revealed that she was not that close to him.
In a tweet that has since gone viral, award winning filmmaker Mercy Murugi reveals that for the longest time she would have loved Jimmy to play the role of daddy.
She wrote,
"How do you mourn a man you had barely known? How do you mourn the man you called biological father but fought so much with him for the title of Dad that he wanted, but you felt he was yet to earn?"
Adding,
"What many never knew is Jimmy Wayuni is my biological father. And now he's gone."
Jimmy lost his life yestsrday night in a tragic car accident along Thika Road.
Mercy paid tribute to the fallen icon.
"Rest in peace Jimmy Wayuni Githinji. Ours was a complicated father – daughter relationship. Both of us headstrong. Prolly got it from you. That and my eyes. Rest easy.
💞💞."
Comments
comments
Blessings galore! President Kenyatta welcomes newest grandchild, Uhuru
President Uhuru Kenyatta is a happy grandpa for the second time in four years.
His first born son, Jomo Kenyatta is reported to have welcomed a baby boy named Uhuru at Nairobi Hospital.
This will be the second child for Jomo and his wife Fiona Ngobi Achola.
Their first born daughter is named Wanjiru after Kenya's first lady Margaret Kenyatta.
Baby Wanjiru was born in October 2017.
The second born, Uhuru is said to have arrived on May 27, 2020.
To date there has never been a photo of baby Wanjiru in public. It seems the parents want to keep it that way.
The same applies to Baby Uhuru.
All the same congratulations Fiona and Jomo on your bundle of joy.
Comments
comments