The 7 best military commanders of all time, according to Napoleon Bonaparte – Politics – Pulselive.co.ke
Napoleon Bonaparte is one of the greatest military commanders of all time.
He brought Revolutionary France back from the brink of destruction with his Italian campaign in 1796 and 1797. He made a fool of Czar Alexander I at the Battle of Austerlitz in 1805. He encircled an entire Austrian army and forced them to capitulate at the Battle of Ulm in 1805. And these are just a few of his exploits.
But he was also a student of history, and repeatedly instructed his subordinates to pore over the campaigns of seven specific commanders that came before him, arguing that it was the only way to learn the art of war and become a great captain.
"Your own genius will be enlightened and improved by this study, and you will learn to reject all maxims foreign to the principles of these great commanders," Napoleon said.
We've ranked the commanders based on Napoleon's comments and their own achievements:
7. Prince Eugene of Savoy (1663-1736).
Eugene was a field marshal and statesman under the guise of the House of Savoy, which served the Holy Roman Emperor of Austria.
Wounded in battle 13 times during his 39 year career, one of Eugene's greatest conquests was the Siege of Belgrade in 1717 against the Ottoman Empire, in which he led a cavalry attack that helped turn the tide.
"Military science," Napoleon was quoted as saying by Madame de Remusat, "consists in calculating all the chances accurately in the first place, and then in giving accident exactly, almost mathematically, it's place in one's calculations."
"Prince Eugene is one of those who understood [this] best," Napoleon said.
6. Gustavus Adolphus (1594-1632).
Gustavus Adolphus was king of Sweden between 1611-1632, and helped put Sweden on the map.
One of his greatest victories was at the Battle of Breitenfeld during the Thirty Years War when his forces, together with the Saxons, flanked both sides of the Catholic army and annihilated the enemy.
He was killed during the same war while leading a cavalry charge at the Battle of Lutzen.
5. Frederick the Great (1712-1786).
Frederick II, or Frederick the Great, was king of Prussia from 1740-1786 and greatly expanded his kingdom's territory through his military victories.
Some of his greatest victories were at the battles of Rossbach and Leuthen during the Seven Years War, where he defeated larger armies with great maneuvering.
But despite being one of Napoleon's seven great commanders, the French commander appeared to consider the next commander even better.
4. Henri de La Tour d'Auvergne, vicomte de Turenne (1611-1675).
Turenne was a French field marshal who served Louis XIV, also known as The Sun King.
Perhaps his greatest victories came in the winter of 1674 and 1675 during the Franco-Dutch War. In December of 1674, he maneuvered around the German army and surprised them weeks later in early January, hitting the enemy's flanks and driving them away from Alsace.
He was killed later in July 1675, as the Franco-Dutch War was still raging, by a cannonball as he was observing enemy lines.
In 1793, Revolutionary France was bent on erasing anything that had to with royalty and religion, and began destroying royal tombs at St-Denis outside of Paris.
Known as a man of the people, Turenne's body was one of the few left untouched. His remains now reside in the Invalides.
"You seem to admire [Frederick the Great] immensely," Napoleon once told a subordinate, according to his secretary, Bourrienne. "What do you find in him so astonishing? He is not equal to Turenne."
"General," Napoleon's subordinate replied, "it is not merely the warrior I esteem in Frederick, but one cannot refuse one's admiration of a man, who even on the throne, was a philosopher."
"True … but all his philosophy shall not prevent me from striking out his kingdom from the map of Europe," Napoleon said.
A few years later, after he crowned himself emperor, Napoleon annihilated Prussia during the Jena-Auerstadt campaign of 1806, and subsumed the kingdom in his empire.
3. Hannibal Barca (247 bc-183 bc).
Hannibal was a Carthaginian general and statesman in present day Tunisia who wreaked havoc on the Roman Empire.
Arguably his greatest conquest came during the Battle of Cannae when he compelled the Romans into attacking in unfavorable conditions, eventually wiping out their cavalry and then its entire army. The Roman historian Polybius wrote that Hannibal's army killed 70,000 Romans.
Hannibal is also well known for impressively crossing the Alps before entering Italy and the Battle of Cannae, surviving harrowing assaults from the Gauls.
His power diminished, he poisoned himself around 183 BC.
2. Julius Caesar (100 BC-44 BC).
Caesar was a Roman general and politician who is one of the greatest conquerors of all time.
Well known for his victory at the Battle of Alesia and conquest of the Gauls, he was made a consul in the first Roman Triumvarate in 59 BC along with Pompey the Great and Marcus Licinios Crassus.
But civil war later broke out between Caesar and Pompey. In 48 BC, after suffering a series of defeats to Caesar, Pompey was murdered in Egypt.
"I admire the fine campaign of Caesar in Africa," Bourriene quoted Napoleon as saying.
Shortly after that, he fought a quick war in Anatolia — in present day Turkey — and made quick work of the king of Cimmerian Bosporus. His famous words, "I came, I saw, I conquered," were from this war.
Caesar was afterwards made dictator, but was assassinated — stabbed to death by the Roman senators — in 44 BC.
1. Alexander the Great (356 bc-323 bc).
Alexander was king of Macedonia who conquered the Persian empire, invaded India and spread Grecian culture across much of the ancient world.
Tutored by Aristotle at a young age, he became king after his father, Phillip II, was assassinated.
While he never officially ranked the seven commanders, Napoleon himself, along with many other historians, seemed to consider Alexander the best.
"I place Alexander in the first rank," Napoleon told Bourrienne. "My reason for giving the preference to the king of Macedon is, on account of the conception, and above all, for the execution of his campaign in Asia," adding that he admired the Siege of Tyre, conquest of Egypt and march to the Oasis Ammon most.
Alexander died from illness in 323 bc.
Like his heroes, Napoleon Bonaparte is now considered one of the greatest military commanders of all time.
Here's what Napoleon had to say about "the campaigns of Alexander, Hannibal, Caesar, Gustavus Adolphus, Turenne, Eugene and Frederick."
"Model yourself upon them. This is the only means of becoming a great captain, and of acquiring the secret of the war of war. Your own genius will be enlightened and improved by this study, and you will learn to reject all maxims foreign to the principles of these great commanders."
Covid-19 deaths, hospitalizations soar among youth in Americas – KBC
Hospitalizations and deaths of younger people are surging as the COVID-19 pandemic accelerates across Latin America and the Caribbean, Pan American Health Organization (PAHO) Director Carissa Etienne said on Wednesday.
"Adults of all ages – including young people – are becoming seriously ill. Many of them are dying," Etienne said at her daily press briefing as quoted in a PAHO release.
In Brazil, mortality rates doubled among those younger than 39, quadrupled among those in their 40s, and tripled for those in their 50s, between December 2020 and March 2021, she said.
"For much of the pandemic, our hospitals were filled with elderly COVID patients, many of whom had pre-existing conditions that made them more susceptible to severe disease," Etienne said. "But look around intensive care units across our region today. You'll see they're filled not only with elderly patients, but also with younger people."
Get breaking news on your Mobile as-it-happens. SMS 'NEWS' to 20153

Etienne urged hospitals in the region to increase the size of intensive care units (ICU) in anticipation that the trend will continue, while warning that expansion of ICUs cannot continue indefinitely.
As a result, she urged nations to double down on prevention measures such as lockdowns and facemasks.
Tell Us What You Think
Uhuru wa biashara, Suluhu ya vikwazo: How Kenya-Tanzania trade will be streamlined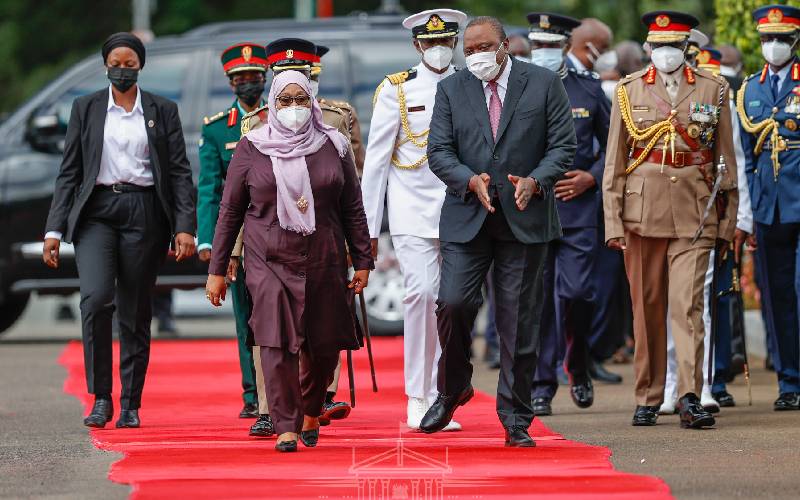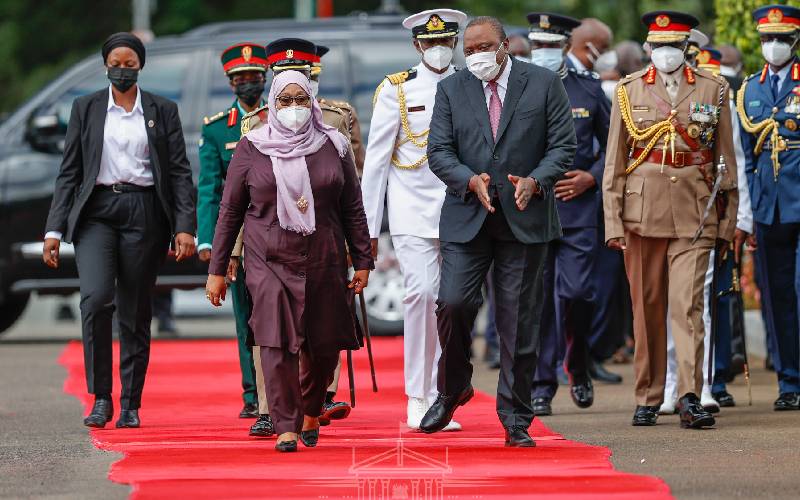 President Uhuru Kenyatta with his Tanzania counterpart Samia Suluhu, who is on a two-day state visit in Kenya.[PSCU]
President Uhuru Kenyatta says ministers from both Kenya and Tanzania should resolve all non-tariff barriers and other restrictions affecting the two countries within four months.
Uhuru, on Wednesday said going forward, there will be no business visa or work permits for Tanzanian wishing to do business in the country.
"You are free to come and trade here in Kenya, there will be no business visas or work permits as long as you abide by the laws of the land," he said.
Uhuru was speaking during the Kenya-Tanzania Investment Forum at Serena hotel. The forum was in line with President Samia Suluhu's two-day state visit.
Kenya has about 513 companies doing business in Tanzania compared to Tanzania's 30 in Nairobi.
Uhuru said in the next two weeks, concerned ministers from both sides should clear all the traffic jams at the Taveta and Namanga border points.
Uhuru said they should pay a special focus to the issuance of Covid-19 certificates to ease the movement of  transit cargo.
"I direct that all the maize lying at the border be cleared in two weeks. We cannot subject businesses to more suffering," Uhuru said.
Take a quick survey and help us improve our website!
Take a survey
Uhuru urged the ministers to move swiftly and ensure the ease of doing business at the border pointswas decisively tackled.
"It is not about wearing suits and meeting over tea.Get to the ground and understand what is affecting those traders. Don't just sit in those offices. If you need to consult, do it and get the work done," he said.
Uhuru's sentiments came shortly after the Kenya Business Community nsaid it was ready to trade with the Tanzanian business community.
Led by the Kenya National Chamber of Commerce (KNCC), the community proposed the formulation of a Joint Business Council that will support the two countries.
KNCC President Fred Ngatia said the council would play a key role in addressing issues that bedevil  Nairobi-Dar trade,
The community said there should be policy forums and investment-focused events that will target small-scale enterprises.
"We are going to focus more on economic projects by identifying favourable financing institutions that will help us settle some of the commercial disputes affecting our community," Ngatia said.
He said this will be made possible through the Public-Private Partnerships offered by the government.
As a result, KNCC in partnership with the Tanzania Chamber of Commerce will host a trade and investment exhibition in Dar es Salaam this August aiming to help SMEs unlock their potential.
So far Trade and Agriculture ministers from the two sides have had a breakfast meeting and agreed to initiate bilateral discussion before the end of the month.
Trade CS Betty Maina said the discussions aim to iron out all issues that have been hampering trade between the two countries.
This includes issues surrounding maize import.
President Samia Suluhu said her government was ready to serve as a bridge to pave way for businesses between the two countries to thrive.
"It is not about competing and complicating things, but about developing business relationships to allow both parties to explore opportunities," she said.
Suluhu said while Tanzania is rich with natural resources and tourist attractions, Kenya is thriving in the ICT world and thus the need for exchange of skills on research and development.
"Muna bahati sana maanake upande mmoja mnao Uhuru wa kufanya biashara na upande mwingine Suluhu la kuondoa vikwazo," Suluhu said.
Kenya and Tanzania agree to iron out trade barriers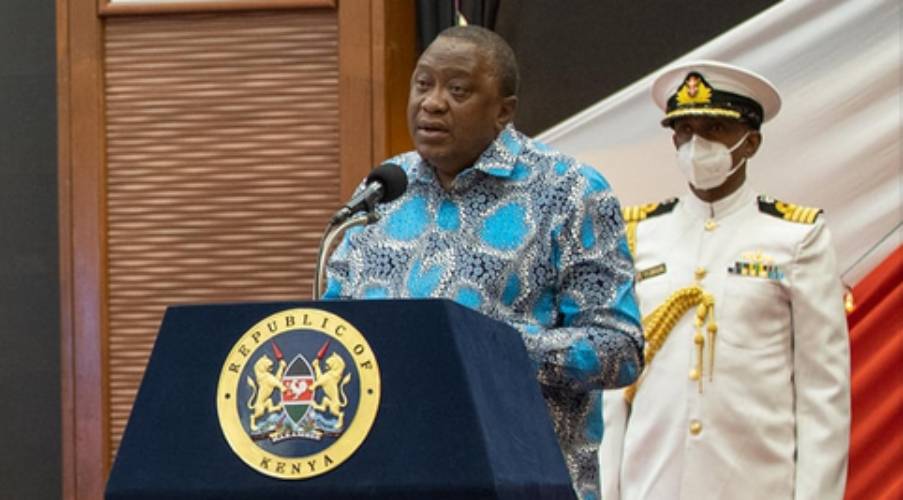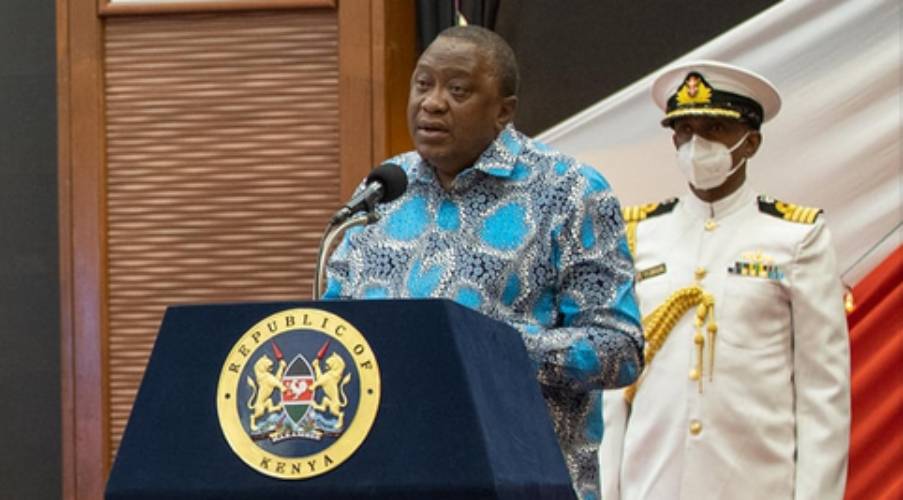 President Uhuru Kenyatta (PHOTO: PSCU)
NAIROBI, KENYA: A business forum held on Wednesday between Kenya and Tanzania agreed to iron out challenges constraining business between the neighbouring countries.
President Uhuru Kenyatta and Tanzania counterpart Samia Suluhu Hassan during the forum noted that trade opportunities between the two countries have not been fully exploited. Trade volume between the two countries was valued at Sh60.4 billion in 2012 and Sh47.5b, Sh45.6billion and Sh47.5 billion in 2016, 2017 and 2018 respectively.In 2020, President Uhuru Kenyatta noted that the volume was valued at Sh50 billion.
"Trade between the two countries has thrived over the past due to robust private sector, entrepreneurial citizen among other factors, however from the volumes we have not exploited the opportunities to full capacity," he said.
"There is an urgent need for cooperation between the two countries to iron out issues hindering the growth of trade," he added.
He noted that the economies need to drop unhealthy competition which he said work against investment in the two neighbouring countries.
The President also directed responsible government officials to meet within this week or the week after to iron out issues around the Covid-19 certificate. He also directed CS Agriculture and Livestock Peter Munya to allow maize to be cleared at the border.
Reading from the same script, his counterpart Suluhu Hassan noted that real development between the two countries can get better if they develop together.
"We need to work on a conducive environment by creating efficient courts, harmonize tax regimes, work on the investment climate and better legislation," she said. She noted that Kenya can benefit from Tanzania's rich mineral sector while Tanzania can borrow from Kenya's thriving technology sector.
Take a quick survey and help us improve our website!
Take a survey
The private sector represented by the East African Business Council noted the decline in intra EAC trade is due to several barriers to trade, investment and movement of persons. Intra-EAC trade currently stands at below 20 per cent vis a vis SADC at 48 per cent and European Union at 70 per cent.
"There's a need to embrace digitalization particularly in moving goods and services across the EA region and harmonizing the tax regimes, we need to also strengthen the East African Secretariat," said Nick Nesbit, Chairman of East African Business Council.
He also underscored the need to promote value addition in manufacturing and diversification of our products and the elimination of Non-Tariff Barriers, which will go a long way towards increasing intra-EAC trade from the current below 20 per cent.
Ministers from the two countries are expected to meet before the end of the month to iron out issues affecting trade between the two countries.