Tanzanian president to import coronavirus 'herbal cure' – KBC
Tanzania's President John Magufuli says he will send a plane to Madagascar to import a herbal tonic which has been touted as a cure for coronavirus by the country's president.
Congo-Brazzaville's president has also promised to import the drink.
It is produced from the artemisia plant – the source of an ingredient used in malaria treatment.
The World Health Organization has said there is no proof of any cure and has advised people against self-medicating.
Get breaking news on your Mobile as-it-happens. SMS 'NEWS' to 20153

The drink was launched as Covid-Organics was being marketed after being tested on fewer than 20 people over a period of three weeks, the president's chief of staff Lova Hasinirina Ranoromaro told the BBC.
In response to the launch of Covid-Organics, the WHO said, in a statement sent to the BBC, that the global organisation did not recommend "self-medication with any medicines… as a prevention or cure for Covid-19".
It reiterated earlier comments by WHO head Tedros Adhanom Ghebreyesus that there were "no short-cuts" to finding effective mediation to fight coronavirus.
International trials were underway to find an effective treatment, the WHO added.
In March, the US-based National Center for Complementary and Integrative Health warned against purported coronavirus remedies, including herbal therapies and teas – saying the best way to prevent infection was to avoid exposure to the virus.
Speaking on TV, Tanzania's President John Magufuli said he was already in contact with the government of Madagascar and would despatch an aircraft to the island nation to collect the medicine.
"I am communicating with Madagascar, and they have already written a letter saying they have discovered some medicine. We will despatch a flight to bring the medicine so that Tanzanians can also benefit. So as the government we are working day and night," he said.
Mr Magufuli has already been widely criticised for his reaction to the coronavirus pandemic.
He has encouraged the public to continue gathering in places of worship, while much of the world has faced lockdown.
Tanzania's delay in enforcing stricter measures to prevent further spread of coronavirus in the country, could have led to the spike in positive cases, according to the WHO.
The country has 480 confirmed cases of coronavirus while Congo-Brazzaville has 229 and Madagascar has 135.
Comments
comments
Amend law to give counties more money, Ottichilo urges: The Standard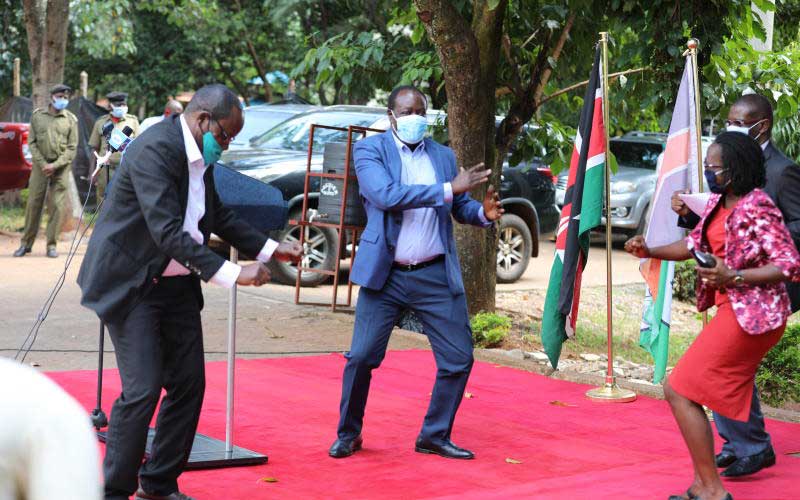 Governor Wilber Ottichilo (centre), his deputy Patrick Saisi (left) and county officials dance in honour of the late John Nzenze during the Madaraka Day press briefing in Vihiga. [Nathan Ochunge, Standard]
WesternGovernor proposes increasing funding to counties from the current 15 per cent to at least 40 per cent.
Vihiga Governor Wilber Ottichilo has called for constitutional amendments that will see county governments get an increase in revenue allocation to spur economic growth within the devolved units.
Dr Ottichilo, who was speaking in Mbale town yesterday, asked the committee working on the harmonisation of the Building Bridges Initiative (BBI) report to include the proposal of increasing funding to counties from the current 15 per cent to at least 40 per cent.
Ottichilo said that the increased funding will ensure counties have enough money to spur economic growth as well their development agenda since they will be managing their own IFMIS system.
"I am hopeful that Kenyans will support the amendment of the constitution for a better Kenya," the governor said.
SEE ALSO: Kenyans divided on call for law changes
Ghost workers
Ottichilo also revealed that he was undertaking a fresh audit of the county staff in order to get rid of ghost workers who have led to a bloated wage bill.
The county boss further told healthcare workers that they will be getting their pay on time to avert the now commonplace downing of tools.
"Issues of delayed salaries will be a thing of the past. Their promotions are being worked on by the County Public Service Board (CPSB) in the 2020/2021 financial year. I urge them to continue with the good job they are doing since the deadly virus is yet to be contained in the country," said Ottichilo.
He has also expressed his sincere gratitude to the forefront health workers in the county for their exemplary efforts in helping residents prepare for the novel coronavirus despite the challenges they are facing. 
SEE ALSO: Uhuru: Why I can't wait to change the law
"We shall forever be indebted for your kindness, hard work and resilience."
Comments
comments
MCAs blame Atwoli, Oparanya for Wetang'ula woes and Luhya division: The Standard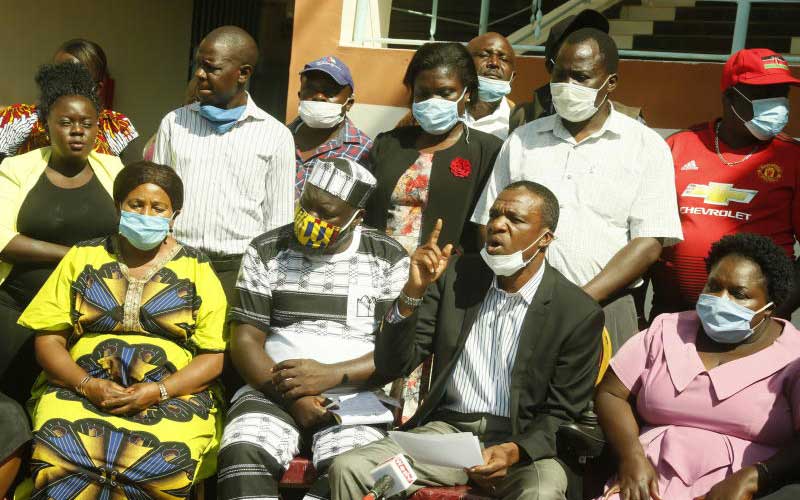 Kakamega County Assembly ward reps address the press at a Kakamega hotel, June 2. [Benjamin Sakwa, Standard]
WesternReps says anyone seeking support of the Luhya must go through Mudavadi and Wetang'ula
Political temperatures in Western Kenya have heightened following the staged coup to oust Senator Moses Wetang'ula from Ford Kenya party leadership position.
Local leaders led by over 15 ANC Kakamega County Assembly ward reps yesterday pointed an accusing finger at the Central Organisation of Trade Unions (Cotu-K) Secretary General Francis Atwoli and ODM leader Raila Odinga over the Wetang'ula party woes. 
The MCAs led by the Assembly's Minority leader, David Ndakwa, accused Raila of using Mr Atwoli and Governor Wycliffe Oparanya to destabilise the leadership of Ford Kenya and ANC parties so as to benefit from the Luhya vote in the 2022 elections.
Four days ago, a coup in Ford Kenya saw Wetang'ula replaced by Kanduyi MP Wafula Wamunyinyi as the acting party leader.
SEE ALSO: Nairobi's new cycle lanes, walkways prompt 'Uhuru and Raila' night visit
The ward reps have vowed that anyone seeking the support of the Luhya community must first go through Musalia Mudavadi and Wetang'ula and not Atwoli or Governor Oparanya.
"Some people have taken our previous kindness for our weakness. We have helped them achieve their political ambitions using our innocent support in times of need at the ballot. They are now having illegal gatherings at Atwoli's home in Kajiado to fight our own sons," said Ndakwa.
He added: "Some of our leaders have succumbed to the political machinations and intimidations by our adversaries by accepting to participate in illegal gatherings serving the interests of other people. We therefore say no to these levels of deceit and conmanship."
Ndakwa said ANC was solidly standing with Wetang'ula at a time when 'dark forces' attempted to stage a premature coup against him, adding that an enemy or the problem of Ford Kenya is also an enemy of ANC party.
"Any individual, community, parties or organisations willing to support or work with the Mulembe nation must channel such negotiations through Mudavadi and Wetang'ula our undisputed leaders," said Ndakwa.
SEE ALSO: Msajili wa vyama asema Wetangula angali kinara wa Ford Kenya
Butsotso South MCA Walter Andati said other groupings led by Atwoli have no mandate of the community and therefore cannot speak on behalf of the community.
"They are telling us that they are strategising to be in the 2022 government but for us we want to form the next government and not to join others. Time for political auction is over. Other tribes have their kingpins and are always respected. We demand respect for Mudavadi and Wetang'ula," said Mr. Andati.
"We are not cohabiting with the government or forming a coalition with them as we are not part of them. We are only cooperating with the President Uhuru Kenyatta's government over national issues like Covid-19, revival of economy and floods," said Farouk Machanje, the Isukha South Ward Rep.
Kholera ward MCA Godliver Omondi and Kakamega ANC Youth leader Emmanuel Buchichi asked ODM Secretary General Edwin Sifuna to stop insulting Mudavadi since they are not equals. The two reminded him to stick to ODM party affairs.
Mr Sifuna on Sunday castigated Mudavadi for linking Raila to the woes facing Wetang'ula, terming Mudavadi as a perennially programmed leader, a professional mourner, fence sitter and one who sees the ghosts of ODM everywhere.
SEE ALSO: Kamar succeeds Kindiki as Senate deputy speaker
At the same time, Bishop George Mechumo has called on Atwoli to stop creating divisions in the Luhya community but instead unite them.
Bishop Mechumo of the Anglican Church of Kenya (ACK) Diocese of Bungoma faulted a move by Atwoli to take a section of Luhya leaders to his home in Kajiado where they planned matters affecting the community without the input of other leaders.
Mechumo said Atwoli should involve all and sundry stakeholders in Western Kenya to drive the common agenda of the community in clinching the Presidency which has been elusive from Independence.
"If he did proper consultations with other respected leaders we would have told him that from 1963 we have not lead the country and its high time to lead," said Mechumo.
Comments
comments
President issues Executive Order on restructuring government
President Uhuru Kenyatta has issued an executive order that has seen him abolish the Presidency and instead put the office of the deputy President under the office of the president.
The new order also adds Nairobi Metropolitan Service as a public office adding it to to the Executive Office of the President.
One of the function of the Executive Office of the President is implementation of the Deed of Transfer of Functions executed between the National Government and  Nairobi City County  Government.
The order reads:
Get breaking news on your Mobile as-it-happens. SMS 'NEWS' to 20153

"IN EXERCISE of the powers conferred by Article 132 (3) (b) of the Constitution, as read with all other enabling Laws, I, UHURU KENYATTA, President and Commander-in-Chief of the Kenya Defence Forces, order and direct:
"THAT the Government shall be organized as set out in this Order; (ii) THAT this Order contains portfolio responsibilities and changes made in the structure of Government; (iii) THAT this Order assigns functions and institutions among Ministries and State Departments; and (iv) THAT this Order supersedes Executive Order No. 1 of 2018 (Revised) issued in July 2018."
Click here to see the order–>Executive Order No. 1 of 2020 formatted final Updated
Tell Us What You Think
Comments
comments