Tanasha Donna back with Magix Enga on 'Jojo' (Audio)
Tanasha Donna has teamed up with Kenya's finest producer, Magix Enga, in new hit titled Jojo. This jam is one of her many projects in the year 2020.
The Kenyan queen features in a new jam after her last release with her estranged lover, Diamond Platinumz.
Jojo is more of a love song as they all seem to be communicating to some girl that is diving some dude crazy. First, it is worth noting that the whole jam has been delivered in English.
I must admit that this is a win for Magix Enga for he has for once ditched his usual gengetone tunes.  Jojo comes at a time that Tanasha needs to prove to the world that her music is still something without Diamond.
Jojo is one jam that has proved that Magix Enga is a very flexible artiste who easily transforms into any genre.
Magix Enga is a brand an the most flexible artiste
To start with, the lyrics to this song are well done. Him enjoining Tanasha did him good in the English aspect.
In addition to the good audio production, it is only right we dig deeper into the lyrics and get the full meaning of the song.
You'll hear a stanza where Magix Enga asks Jojo not to leave his heart. In this line one clearly understands the woman in question here goes by the name Jojo.
Also, you get to realise that the title of the song has been repeated a lot in the chorus. This aspect helps the audience identify with the song and the message.
Production
Into the production, the audio is well done and one can easily hear what the two artistes are saying. When it comes to mixing, it is with no doubt that Magix Enga is king.
On the other hand, each one of them delivers their lines so well. Jojo should just be played every day for it is one of the best works of Magix Enga and Tanasha Donna.
In conclusion, the song gets a rating of 6/10.
Audio below.
An SEO writer. Review East Africa Music.. Passionate about cameras.
Comments
comments
Check out the multimillion mansion Jalang'o lives in!
Radio presenter Jalang'o is a man who loves the good life. Just from what he wears, drives and finally where he finally lives!
After keeping his home private for years, the Milele FM presenter ended up showing off his house unintentionally through a video on his page. From his caption, he was for sure on a mission to promote his YouTube channel.
For days now Jalang'o has been trying to clean up his act and name after Blogger Edgar Obare exposed him for cheating on his wife. According to reports Jalas and his WhatsApp group friends would invite young girls to Ng'ong where they would party; and have fun later on at some certain rented apartment in Nairobi.
Jalang'os home
Well, we can't tell why his wife Amina Chao wasn't enough for the presenter but all in all Jalang'o has since learnt the importance of staying faithful to his wife,
Anyway as seen on the screenshots shared below, Jalang'o undeniably lives at one of the most fanciest homes in Nairobi. We are not sure whether the house is a rental or one that he bought; but the truth is, Jalang'os home is goals!
This is where he lives with his newly wedded wife and rumor has it that the couple already has children together; but as usual, Jalang'o refuses to publicize his family just to keep people talking online.
Employees
As much as Jalang'o image has tarnished by his extra marital affairs; we also can't help but applaud him for being a good boss!
In his latest videos shared on Instagram stories, the Milele FM host is often seen hanging out and bonding with his Gardners; something most bosses would never do! However as for Jalas, he simply can't forget where he started from and for this reason, has every right to treat his employees as his simple friends. Anyway check out photos of his home below.

I write entertainment stories as well review and critic local music. Apart from my busy schedule you can catch me on social pages by clicking on them below
Comments
comments
Why we need to touch and be touched: The Standard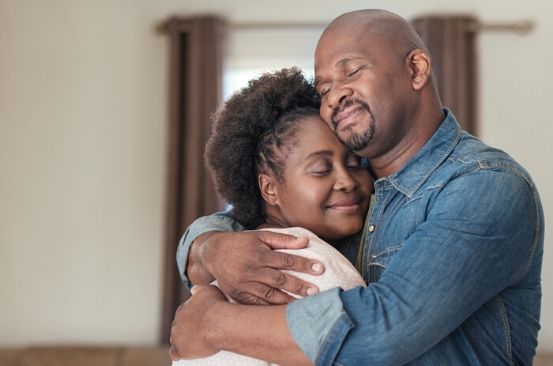 In the 13th century, Germany's King Frederick II came up with a diabolical study to find out if children would learn to speak if they weren't spoken to. He wanted to prove that they would naturally speak German.
For the research, Frederick took babies from their mothers at birth and placed them under the care of nurses. The nurses were strictly forbidden from speaking to the babies or even in their hearing. Frederick also imposed a second rule: the nurses weren't allowed to unnecessarily touch the infants.
But to Frederick's disappointment, the study had to be cut short because all the babies died. In 1248, an Italian historian named Salimbene di Adam observed: "They could not live without petting."
In an increasingly touch-averse world, especially during the Covid-19 pandemic, we can forget the power of physical touch. But as evidence shows, touch deprivation can have far-reaching, negative health implications.
Health benefits of touch
Kisses, hugs, holding hands and pets have profound health benefits for both the giver and the receiver. 
Various studies have shown that touch signals safety and trust, soothing our anxieties. In a 2006 study by Jim Coan and Richard Davidson, participants getting a painful blast of white noise while laying in an fMRI scanner showed heightened brain activity usually linked to responding to threat and stress. However, participants who had their romantic partner stroking their arm didn't show this reaction at all. Basically, touch switched off their threat response, making them less anxious.
How? This effect can be explained by the fact that physical touch triggers the release of dopamine and serotonin. These are two neurotransmitters that help regulate your mood as well as relieve stress and anxiety. A 2004 study published in the Journal of Psychosomatic Research, patients with breast cancer showed an increase in dopamine and serotonin levels after receiving massage therapy.
Various studies by the Touch Research Institute at the University of Miami Miller School of Medicine show that touch can help boost natural killer cells that attack bacteria, viruses and cancer cells. In a 2015 set of studies, touch was shown to boost the immune systems of people who had been exposed to the common cold. After exposing the participants to the virus, researchers found that the people who had more touch from their social interactions battled infection more effectively and exhibited fewer signs of illness.
Touch has been shown to increase the time spent in restorative deep stages of sleep. This leads to other health benefits, including stress reduction, lower heart rates and lower blood pressure?
The Standard
Kisses, hugs, holding hands and pets have profound health benefits for both the giver and the receiver
Comments
comments
List of Africa's bigest and least expected celebrity breakups
There are celebrities breakups that hit hard, mainly because we have invested so much time in them on social media making us part of the relationship.
Below are Africa's biggest breakups.
Vanessa Mdee and Juma Jux
The celebrated Tanzanian ex-couple broke the hearts of many when they broke up in 2019.
Many assumed they would end up getting married as they had dated for years.
Sadly they did not and we were left asking ourselves what went wrong.
Diamond Platnumz and Zari
Zari and Diamond broke up in 2018 after the mother of five decided she had had enough drama.
At the time they were dating most people assumed Zari would be able to tame Diamond's womanizing ways to no avail.
The couple had bad blood between them and have been communicating through lawyers.
It's only after Zari called out Diamond for caring about 500 strangers during the coronavirus pandemic and not having a clue if his own children are fed, that he reached out.
Diamond Platnumz and Tanasha Donna
They were considered Africa's celebrity couple, that is until things started going south between them.
First, Tanasha had her wedding postponed, eventually, it never materialised. It was only after the breakup that she said Diamond had rushed things.
Diamond in an interview said he was 100% sure he had wanted to marry Tanasha, but he never did and he has since moved on.
Frankie JustGymIt and Maureen Waititu
They were considered couple goals by many. They would give fans a glimpse of their day to day life via their YouTube channel.
They were the type of couple you'd see and go 'Aaaaw'.
Things did not work out between them something that saw them part ways.
Sally Mbilu and Willis Raburu
Citizen TV reporter Willis Raburu proposed to Sally Mbilu in 2014. They broke up two years later under unclear circumstances.
Months later he shocked the country when he walked down the aisle with the love of his life Marya Prudence.
But like they say karma is a [email protected], word on the street is that the two broke up.
Which celebrity couple did you NEVER in your wildest dreams imagine they would break up?
Comments
comments