Stop beating Kenyans during curfew, leaders tell police : The Standard
Leaders across the political divide have condemned the brutality meted out on Kenyans by police officers who were enforcing a government's curfew to curb the spread of the coronavirus diseases.
Led by Senate Majority Leader Kipchumba Murkomen, the leaders said the action of the police as was witnessed on Friday evening defeated the very purpose of the curfew. 
The Elegeyo Marakwet senator said the police action, endangered the lives of many Kenyans, saying lumping people together could have led to more infections if one of them was suffering from coronavirus.
SEE ALSO :China virus cases spike, 17 new infections reported"Before we even discuss the violence, if any of them was positive, he or she must have infected so many. This is primitive," he said, adding that if one or two of the Kenyans in this crowd were positive,  then the multiplying effect will be catastrophic.
He told Interior CS Fred Matiang'i to borrow a leaf from his Health counterpart Mutahi Kagwe by providing leadership and instilling order and discipline among the officers during the curfew.
"CS Kagwe has demonstrated great leadership during the coronavirus outbreak with timely updates to Kenyans, those charge of our security must take the queue and enforce the curfew with a human face while respecting the rule law, he said adding that the action of the police as was witnessed in Likoni and other parts of our country is counterproductive.
For More of This and Other Stories, Grab Your Copy of the Standard Newspaper.   Read Now »
He said the curfew was declared by President Uhuru Kenyatta to curb the spread of the coronavirus and not to torture Kenyans.
Murkomen said the officers must stop acting like they harbour grudges against Kenyans and the curfew has provided them with an opportunity to revenge.
SEE ALSO :China confirms virus spreading between humans"The curfew is meant to curb the spread of coronavirus not to torture Kenyans. The security managers are behaving as though they have a grudge against Kenyans and are curfew as an excuse for revenge. It must stop forthwith," said Murkomen.
Siaya Senator and Senate Minority Leader James Orengo told off the police for violating the rights of Kenyans in the name of enforcing a curfew, adding that the curfew has not suspended the law.
"A state of emergency does not by itself ineluctably limit or suspend the Bill of Rights. There must be legislation. In any case, national security must be pursued in compliance with the rule of law and human rights. Police must not enforce the curfew with might but love and fight Covid-19," Orengo tweeted
ANC leader Musalia Mudavadi told the police to spare Kenyans the beating saying majority of citizens are already economically distressed and that any brutality will break their hearts.
Mudavadi said what Kenyans want in the wake of the coronavirus pandemic is love and civility and not the brutality witnessed on Friday.
SEE ALSO :Factbox: What we know about the new coronavirus spreading in China and beyond "Kenyans are already economically distressed and now terrified of covid-19. They need help and guidance. Enforcement of the curfew does not mean terror and brutality to the mwanainchi. Treat the citizenry with civility," said Mudavadi
Nandi Governor Stephen Sang condemned the brutality and told the law enforcers not to confuse Kenyans with the coronavirus.
"Police brutality witnessed this evening across the country is unacceptable. Police must not appear to confuse wanainchi for coronavirus. Even as we urge Kenyans to adhere to the directives and guidelines issued by the government, rule of law and common sense must prevail at all times," said Governor Sang.
Cases of police brutality have been witnessed in certain parts of the country as the nationwide curfew took effect on Friday evening.
Police spokesman Charles Owino has however defended the officers, saying there was no brutality as being claimed.
SEE ALSO :Travelers to be screened for 'Chinese' coronavirus- GovernmentSpeaking on one of the TV stations on Friday night, Owino said the police are well trained and knows when to use force and to what extent and that what was witnessed was the enforcement of the law.
He cautioned Kenyans against ignoring the curfew, saying they will not hesitate to arrest anyone flouting the directives.
"If you walk at night, we will arrest you. We have enough cells. If the cell in Central is full, we will take you to Kayole. If it is full, we will even take you to Machakos," he said.
Police and commuters clashed at the Likoni ferry in Mombasa Friday afternoon, a scenario occasioned by overcrowding as residents rushed to beat the curfew deadline.
The situation was no different in Kisumu and Eldoret towns as police teargassed Kenyans for flouting the curfew rules.
Photos and clips of police beating up Kenyans who allegedly failed to adhere to the curfew emerged online with netizens condemning the police for using excessive force in handling Kenyans.
Do not miss out on the latest news. Join the Standard Digital Telegram channel HERE.
Related Topics
CoronavirusCurfewPolice brutality
Comments
comments
Amend law to give counties more money, Ottichilo urges: The Standard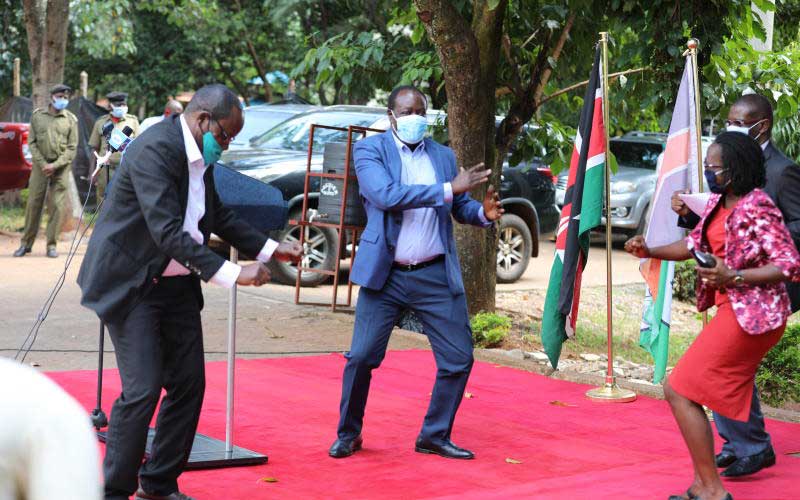 Governor Wilber Ottichilo (centre), his deputy Patrick Saisi (left) and county officials dance in honour of the late John Nzenze during the Madaraka Day press briefing in Vihiga. [Nathan Ochunge, Standard]
WesternGovernor proposes increasing funding to counties from the current 15 per cent to at least 40 per cent.
Vihiga Governor Wilber Ottichilo has called for constitutional amendments that will see county governments get an increase in revenue allocation to spur economic growth within the devolved units.
Dr Ottichilo, who was speaking in Mbale town yesterday, asked the committee working on the harmonisation of the Building Bridges Initiative (BBI) report to include the proposal of increasing funding to counties from the current 15 per cent to at least 40 per cent.
Ottichilo said that the increased funding will ensure counties have enough money to spur economic growth as well their development agenda since they will be managing their own IFMIS system.
"I am hopeful that Kenyans will support the amendment of the constitution for a better Kenya," the governor said.
SEE ALSO: Kenyans divided on call for law changes
Ghost workers
Ottichilo also revealed that he was undertaking a fresh audit of the county staff in order to get rid of ghost workers who have led to a bloated wage bill.
The county boss further told healthcare workers that they will be getting their pay on time to avert the now commonplace downing of tools.
"Issues of delayed salaries will be a thing of the past. Their promotions are being worked on by the County Public Service Board (CPSB) in the 2020/2021 financial year. I urge them to continue with the good job they are doing since the deadly virus is yet to be contained in the country," said Ottichilo.
He has also expressed his sincere gratitude to the forefront health workers in the county for their exemplary efforts in helping residents prepare for the novel coronavirus despite the challenges they are facing. 
SEE ALSO: Uhuru: Why I can't wait to change the law
"We shall forever be indebted for your kindness, hard work and resilience."
Comments
comments
Low number of the coronavirus cases in Africa baffles scientists
Like most African countries, Kenya has recorded few coronavirus deaths and infections.
With 71 fatalities and slightly more than 2,000 cases, Kenya may be lucky even as the pandemic ravages Europe, the United States, South America and other parts of the world.
Except for North Africa, where 1,900 deaths have been reported, the other regions – East, West, Central and Southern Africa – had registered 2,394 combined by yesterday.
Africa has about 152,500 Covid-19 cases, with 4,344 deaths and 64,047 recoveries.
Compared with other parts of the world and initial disease models, Africa is doing well in terms of the number of infections and deaths.
And now, researchers say Africa is a unique case.
A youthful population and warmer weather are reducing the transmission of the deadly virus, according to a study published in the American Journal of Tropical Medicine and Hygiene.
The research by a team of Kenyan scientists says a combination of the two factors "is likely to contribute even more to the low transmission and reduced disease severity in Africa".
The researchers reviewed recent studies conducted elsewhere and analysed and compared disease patterns and trends in Italy, the United States, Nigeria and Kenya.
"The contrasting trends of the pandemic in countries presented and the studies cited make the combined effects of warmer weather and youthful population a compelling explanation of the low Covid-19 transmission and severity in Africa," the report says.
The study adds that the premise that Africans are not getting the coronavirus or dying from it because of pre-existing immunity from exposure to cross-reacting coronaviruses "is intriguing but requires further studies".
The researchers argue that due to the high transmissibility of Covid-19 in vulnerable populations, the few cases introduced in Africa could have triggered a full-blown local epidemic.
But the rate of transmission is still low in Africa, months after the first cases were reported.
African countries' mitigation measures seem less stringent compared with Europe and the US.
Social distancing is almost non-existent in Africa while lockdowns were not practicable "because of poverty and reliance on the informal economy".
It means that while measures taken by governments to control the spread of the virus may have worked, they may not have been effective in controlling a spiral infection.
The continent is poor and it was expected that increased Covid-19 infections would overwhelm its health systems.
A team of researchers from the London School of Hygiene and Tropical Medicine did a mathematical modelling in April, which projected that Africa would have 450,000 coronavirus cases by the second week of May.
The researchers projected that every country in East Africa would have at least 10,000 cases by May 10.
At the beginning of May, WHO predicted that 183,000 to 190,000 people could die of Covid-19 and 29 million to 44 million could get infected in the first year of the pandemic "if containment measures fail".
The lower transmission rate of Covid-19 in Africa, says the UN agency, suggests "a more prolonged outbreak over a few years".
But it appears Africa is resilient, and many countries are considering reopening their economies.
A recent study showed that Africans are four times less likely to die from Covid-19 compared with Europeans and North Americans.
They are two times less likely to die from the disease compared with Asians and South Americans.
The researchers, however, said if the WHO prediction comes to pass, where Africa could still record increased cases and deaths in the coming months as demonstrated in Brazil, the progression may dispel the hypotheses the study deemed compelling.
Comments
comments
MCAs blame Atwoli, Oparanya for Wetang'ula woes and Luhya division: The Standard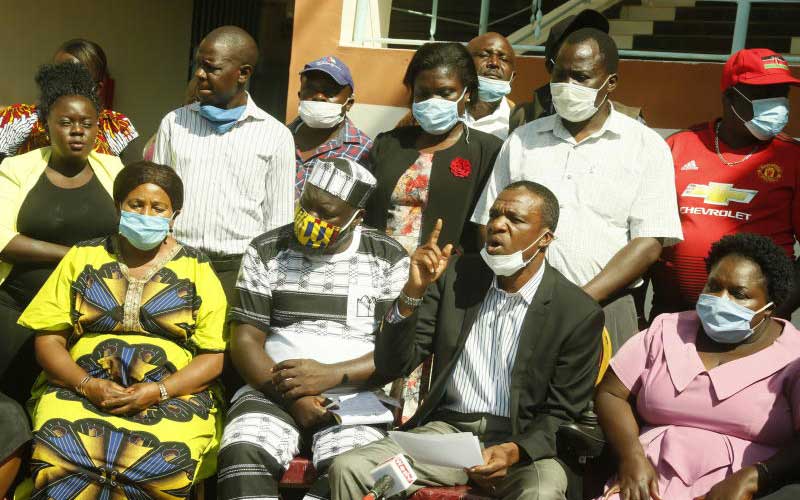 Kakamega County Assembly ward reps address the press at a Kakamega hotel, June 2. [Benjamin Sakwa, Standard]
WesternReps says anyone seeking support of the Luhya must go through Mudavadi and Wetang'ula
Political temperatures in Western Kenya have heightened following the staged coup to oust Senator Moses Wetang'ula from Ford Kenya party leadership position.
Local leaders led by over 15 ANC Kakamega County Assembly ward reps yesterday pointed an accusing finger at the Central Organisation of Trade Unions (Cotu-K) Secretary General Francis Atwoli and ODM leader Raila Odinga over the Wetang'ula party woes. 
The MCAs led by the Assembly's Minority leader, David Ndakwa, accused Raila of using Mr Atwoli and Governor Wycliffe Oparanya to destabilise the leadership of Ford Kenya and ANC parties so as to benefit from the Luhya vote in the 2022 elections.
Four days ago, a coup in Ford Kenya saw Wetang'ula replaced by Kanduyi MP Wafula Wamunyinyi as the acting party leader.
SEE ALSO: Nairobi's new cycle lanes, walkways prompt 'Uhuru and Raila' night visit
The ward reps have vowed that anyone seeking the support of the Luhya community must first go through Musalia Mudavadi and Wetang'ula and not Atwoli or Governor Oparanya.
"Some people have taken our previous kindness for our weakness. We have helped them achieve their political ambitions using our innocent support in times of need at the ballot. They are now having illegal gatherings at Atwoli's home in Kajiado to fight our own sons," said Ndakwa.
He added: "Some of our leaders have succumbed to the political machinations and intimidations by our adversaries by accepting to participate in illegal gatherings serving the interests of other people. We therefore say no to these levels of deceit and conmanship."
Ndakwa said ANC was solidly standing with Wetang'ula at a time when 'dark forces' attempted to stage a premature coup against him, adding that an enemy or the problem of Ford Kenya is also an enemy of ANC party.
"Any individual, community, parties or organisations willing to support or work with the Mulembe nation must channel such negotiations through Mudavadi and Wetang'ula our undisputed leaders," said Ndakwa.
SEE ALSO: Msajili wa vyama asema Wetangula angali kinara wa Ford Kenya
Butsotso South MCA Walter Andati said other groupings led by Atwoli have no mandate of the community and therefore cannot speak on behalf of the community.
"They are telling us that they are strategising to be in the 2022 government but for us we want to form the next government and not to join others. Time for political auction is over. Other tribes have their kingpins and are always respected. We demand respect for Mudavadi and Wetang'ula," said Mr. Andati.
"We are not cohabiting with the government or forming a coalition with them as we are not part of them. We are only cooperating with the President Uhuru Kenyatta's government over national issues like Covid-19, revival of economy and floods," said Farouk Machanje, the Isukha South Ward Rep.
Kholera ward MCA Godliver Omondi and Kakamega ANC Youth leader Emmanuel Buchichi asked ODM Secretary General Edwin Sifuna to stop insulting Mudavadi since they are not equals. The two reminded him to stick to ODM party affairs.
Mr Sifuna on Sunday castigated Mudavadi for linking Raila to the woes facing Wetang'ula, terming Mudavadi as a perennially programmed leader, a professional mourner, fence sitter and one who sees the ghosts of ODM everywhere.
SEE ALSO: Kamar succeeds Kindiki as Senate deputy speaker
At the same time, Bishop George Mechumo has called on Atwoli to stop creating divisions in the Luhya community but instead unite them.
Bishop Mechumo of the Anglican Church of Kenya (ACK) Diocese of Bungoma faulted a move by Atwoli to take a section of Luhya leaders to his home in Kajiado where they planned matters affecting the community without the input of other leaders.
Mechumo said Atwoli should involve all and sundry stakeholders in Western Kenya to drive the common agenda of the community in clinching the Presidency which has been elusive from Independence.
"If he did proper consultations with other respected leaders we would have told him that from 1963 we have not lead the country and its high time to lead," said Mechumo.
Comments
comments