Sh 6 million losses which almost killed Bahati's EMB Records – Nairobi News
Kenyan gospel artiste Kevin Bahati has revealed how huge losses running to millions of shillings almost drove him to shutting down his record label EMB Records which he started two years ago.
Bahati further revealed that during that period his record label also suffered a mass exodus of artistes.
EXPENSIVE VENTURE
However, after a careful thought he decided to give it another shot by starting afresh.
The artiste made the revelations on Wednesday during the a thanksgiving event cum relaunch ceremony of the stable in Nairobi.
"Music is expensive and following what happened (walk out of artistes), I contemplated shutting EMB which I started two years ago. I made a loss of over Sh6 million," Bahati said during the event.
NEW ARTISTE
"The reason why many labels don't survive in Kenya is because it's expensive to maintain them," he added.
And to mark a new start the label has signed a new artiste by the name Danny Gift, who was official unveiled during the ceremony.
Comments
comments
Check out the multimillion mansion Jalang'o lives in!
Radio presenter Jalang'o is a man who loves the good life. Just from what he wears, drives and finally where he finally lives!
After keeping his home private for years, the Milele FM presenter ended up showing off his house unintentionally through a video on his page. From his caption, he was for sure on a mission to promote his YouTube channel.
For days now Jalang'o has been trying to clean up his act and name after Blogger Edgar Obare exposed him for cheating on his wife. According to reports Jalas and his WhatsApp group friends would invite young girls to Ng'ong where they would party; and have fun later on at some certain rented apartment in Nairobi.
Jalang'os home
Well, we can't tell why his wife Amina Chao wasn't enough for the presenter but all in all Jalang'o has since learnt the importance of staying faithful to his wife,
Anyway as seen on the screenshots shared below, Jalang'o undeniably lives at one of the most fanciest homes in Nairobi. We are not sure whether the house is a rental or one that he bought; but the truth is, Jalang'os home is goals!
This is where he lives with his newly wedded wife and rumor has it that the couple already has children together; but as usual, Jalang'o refuses to publicize his family just to keep people talking online.
Employees
As much as Jalang'o image has tarnished by his extra marital affairs; we also can't help but applaud him for being a good boss!
In his latest videos shared on Instagram stories, the Milele FM host is often seen hanging out and bonding with his Gardners; something most bosses would never do! However as for Jalas, he simply can't forget where he started from and for this reason, has every right to treat his employees as his simple friends. Anyway check out photos of his home below.

I write entertainment stories as well review and critic local music. Apart from my busy schedule you can catch me on social pages by clicking on them below
Comments
comments
Why we need to touch and be touched: The Standard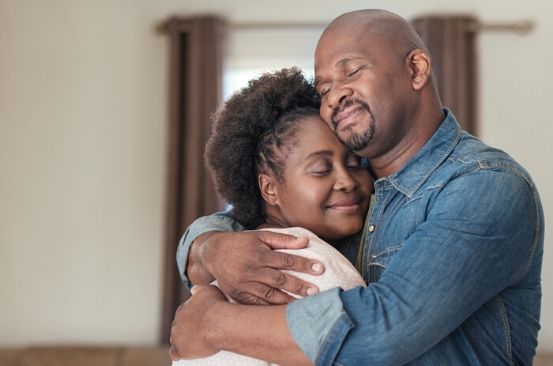 In the 13th century, Germany's King Frederick II came up with a diabolical study to find out if children would learn to speak if they weren't spoken to. He wanted to prove that they would naturally speak German.
For the research, Frederick took babies from their mothers at birth and placed them under the care of nurses. The nurses were strictly forbidden from speaking to the babies or even in their hearing. Frederick also imposed a second rule: the nurses weren't allowed to unnecessarily touch the infants.
But to Frederick's disappointment, the study had to be cut short because all the babies died. In 1248, an Italian historian named Salimbene di Adam observed: "They could not live without petting."
In an increasingly touch-averse world, especially during the Covid-19 pandemic, we can forget the power of physical touch. But as evidence shows, touch deprivation can have far-reaching, negative health implications.
Health benefits of touch
Kisses, hugs, holding hands and pets have profound health benefits for both the giver and the receiver. 
Various studies have shown that touch signals safety and trust, soothing our anxieties. In a 2006 study by Jim Coan and Richard Davidson, participants getting a painful blast of white noise while laying in an fMRI scanner showed heightened brain activity usually linked to responding to threat and stress. However, participants who had their romantic partner stroking their arm didn't show this reaction at all. Basically, touch switched off their threat response, making them less anxious.
How? This effect can be explained by the fact that physical touch triggers the release of dopamine and serotonin. These are two neurotransmitters that help regulate your mood as well as relieve stress and anxiety. A 2004 study published in the Journal of Psychosomatic Research, patients with breast cancer showed an increase in dopamine and serotonin levels after receiving massage therapy.
Various studies by the Touch Research Institute at the University of Miami Miller School of Medicine show that touch can help boost natural killer cells that attack bacteria, viruses and cancer cells. In a 2015 set of studies, touch was shown to boost the immune systems of people who had been exposed to the common cold. After exposing the participants to the virus, researchers found that the people who had more touch from their social interactions battled infection more effectively and exhibited fewer signs of illness.
Touch has been shown to increase the time spent in restorative deep stages of sleep. This leads to other health benefits, including stress reduction, lower heart rates and lower blood pressure?
The Standard
Kisses, hugs, holding hands and pets have profound health benefits for both the giver and the receiver
Comments
comments
'I wanted to call you last week we laugh…' Jacque Maribe mourns Allan Makaka
Jacque Maribe has mourned the untimely death of her friend Allan Makaka. Allan, a former Kenya Rugby Sevens player died in a tragic accident along Mombasa Road on May 23 after he rammed into a trailer.
The 37-year-old was until his death the Business manager in charge of Royal Media Services' Hot 96 FM.
Also read;
Allan during his career scored most tries for Kenya in the 2004-2005 World Rugby Sevens Series. In a memo to its staff, Royal Media Services wrote,
"It is with great sadness that we announce the passing on of our colleague Allan Makaka, Business Manager in the Commercial department through a tragic road accident."
Jacque Maribe is among the many friends Allan had and while mourning his demise, she reminisced the good pal he was.
"I don't even know what to say. And I literally wanted to call you last week we laugh about something. This is so devastating Allan you can't just dim your lights like that. And you always called me cousin. Sleep well, tutaonana baadaye," read her post.
Check out more messages from Kenyans and the rugby fraternity
Fred Obachi When we all thought it's Covid19 we have to worry about, then you get to hear that a young vibrant gentleman has just lost his life as a result of a tragic road accident! RIP #AllanMakaka a "marketing" genius.
Also read;
Cleophas Malala It is with profound sadness of heart that I have learnt the untimely demise of a friend and a brother ALLAN MAKAKA.Our friendship spans from the days when we were both pupils at St. Peter's Mumias Boys Primary and later at UNITED STATES INTERNATIONAL UNIVERSITY.
Willis Raburu RIP Allan Makaka you guy, you guy, my guy. Always the life of the office! Rest well bro.
Kenya Rugby Union It is with deep sorrow that we have learnt of the passing of Allan Makaka following a traffic accident on Saturday 23 May 2020. A warm individual off the pitch, Allan's death is indeed a huge loss to his family, friends, colleagues and the rugby fraternity. May God grant his family, friends, team mates and colleagues strength during this trying time.
Shujaa Pride We are deeply saddened by the death of former #Kenya7s International player Allan Makaka who passed away today in a tragic road accident. Our most sincere condolences goes out to his family and friends. Rest in Peace Champ.
Also read;
Comments
comments