Sex workers ask for violence, HIV-free work environment
With a mix of bitterness and bits of detachment, Chani* recalls one of the most demeaning moments she has ever faced as a sex worker.
It involved a white man, who she thought presented a chance to make good money.
"I was introduced to him by one of my colleagues at our favourite hotspots," narrates Chani, a sex worker in Ganze, Kilifi County.
The 34-year-old single mother of two was in for a nightmare. "As soon as we entered the room, he forced me to do some indecent sexual acts, threatening to hurt me if I did not obey," she adds.
So for hours, she had to stand this, and what's worse is that she ended up getting less money than what they had agreed on.
Coming from an extremely poor and broken family, Chani's situation is a case of survival by any means.
She couldn't go past Standard Eight, considering that she had a child to take care of.
Her story mirrors that of Neema*. Even before she turned 18, she was already on the streets selling her body.
Now aged 28 and a single mother of two, she ran out of options when she was unable to proceed with her education, after sitting the Kenya Certificate of Primary Education (KCPE) examination.
So when she became pregnant with her first child, she was only 17 and with little education, no career and no income. These factors, she says, forced her to venture into prostitution.
Of course, like most sex workers, her safety — physical or health-related — is never guaranteed. She recounts a case that could have changed her life for the worst.
"As usual, I got a client who went ahead and booked a lodging. As I got on to work, things seemed usual, but after we were done, I realised that all this time, he was not wearing protection. I was distraught and the only thought that ran through my mind was that he might have infected me with HIV," she explains.
For Jayne*, who is based in Mtwapa, she and her friends have had to get used to frequent physical and sexual attacks, not just from violent clients but also from rival sex workers.
Jayne, who is in her mid-forties, remembers how at one time her friend was beaten up for getting a client from a rival group's hotspot.
A 2015 study by GNP+ found that Kenyan sex workers face heightened risk of violence with little or no protection from law enforcement officers.
A 2016 report, "Aren't We Also Women?", presented to the United Nation's Committee on the Elimination of Discrimination Against Women in Geneva in October 2018 by the Kenya Sex Workers Alliance (Keswa) and Bar Hostess Empowerment and Support Programme said that 25 female sex workers were killed in Kenya.
Another study conducted by Keswa revealed that in 2017, about 100 sex workers died due to violence they faced while on the streets.
On the other hand, the National AIDS and STIs Control Programme (Nascop) says sex workers are the population at the highest risk of HIV infection as they account for more than 30 per cent of new annual HIV infections in Kenya.
Nascop estimates that 1.6 million people are living with HIV in Kenya, which represents a prevalence rate of 5.6 per cent.
But on the other hand, 29.3 per cent of sex workers are living with HIV, quite an astounding figure considering that a 2016 Nascop report indicated that Kenya had 136,675 sex workers.
These statistics suggested that one in every three sex workers is infected with HIV, making it the highest reported prevalence in any group in Kenya.
It is for this reason that Grace Kamau, the African Sex Workers Alliance coordinator, says there is a need to highlight the plight of female sex workers in an effort to reduce HIV infections.
"We can no longer continue to bury our heads in the sand while studies have shown that by decriminalising sexual work, we are able to reduce HIV infections by 46 per cent," she said.
Dr Patricia Owira, the project manager at the International Centre for Reproductive Health, says the rights of female sex workers should be safeguarded.
"If we ensure the safety of this group of people, then somehow there's a positive ripple effect to other players, like for instance, their clients," she says, adding that it is time the plight of sex workers is highlighted.
*Names changed to protect the identity of the speakers.
Homa Bay health workers: MCAs interfere with health services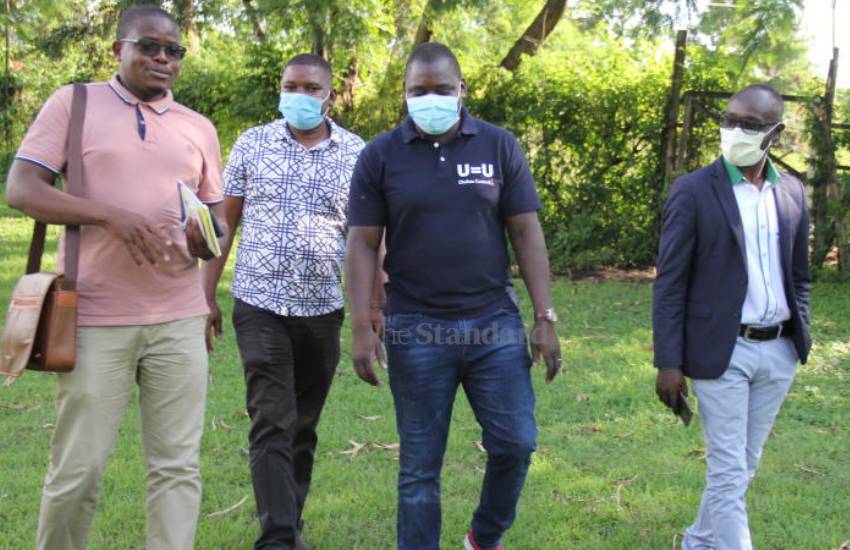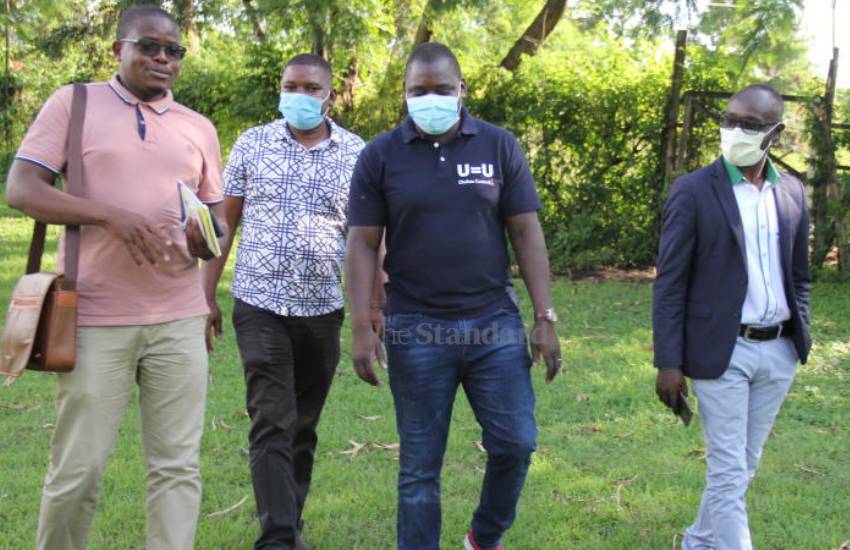 Homa Bay County KNUN Secretary Omondi Nyonje, KUCO Executive Secretary Philip Mbom and KUCO chairman Stephen Obunga. [James Omoro, Standard]
Health workers' unions in Homa Bay have accused Members of the County Assembly (MCAs) of interfering with health services at the County Referral Hospital.
The County Assembly recently adopted a report that the acting Chief Executive Officer of the hospital Peter Ogolla be removed to pave way for the reinstatement of the former CEO Dr Lilian Kocholla who was recently shown the door.
Dr Kocholla was sent on compulsory leave because of alleged poor management which had put the hospital in a deplorable state.
This made MCAs through the Health Committee conduct investigations which revealed the hospital lacked many essential drugs including panadol.
Instead, the MCAs blamed the health executive Prof Richard Muga for the problems in the hospital, before they impeached him a few days later.
But the Kenya National Union of Nurses (KNUN) and Kenya Union of Clinical Officers (KUCO) accused the MCAs of interfering with the service delivery at the facility.
The county KNUN Secretary Omondi Nyonje, KUCO Executive Secretary Philip Mbom and KUCO chairman Stephen Obunga said changes in the management of the hospital should not be altered again.
"It is true that there has been an issue of poor management at the hospital and that is why patients were forced to buy many essential items including gloves for medics to attend to them," Nyonje said.
Take a quick survey and help us improve our website!
Take a survey
He, however, noted that the new management should be given time" to enable Dr Ogolla to apply all his skills of correcting anomalies which were caused by the previous management."  
Mbom argued that the recommendation by the MCAs to reinstate Dr Kocholla is tantamount to interfering with the provision of health services at the hospital.
"The change of management was made to correct weaknesses which impeded the proper provision of health services in the hospital. Any attempts to defeat the changes mean impending delivery of health services to Homa Bay residents," Mbom said.
Obunga said health is a sensitive department that should be handled keenly. "We urge MCAs to handle health department with utmost care because any mistake by management of a health facility can cause loss of lives."
The County Assembly Health Committee chairperson Joan Ogada said their aim was to improve service delivery in the hospital.
"The staff at the hospital should forge a spirit of teamwork and unity to ensure quality health service delivery to Homa Bay residents," Ms Ogada said when she tabled the investigative report in the Assembly. 
The fate of Prof Muga now lies in hands of Governor Cyprian Awiti who can decide to sack or retain him in his executive committee.
Congo President Sassou Nguesso appoints son as minister in new govt
The Republic of Congo's President Denis Sassou Nguesso has chosen a new government that includes his son as well as an opposition leader, according to a statement read on public television.
Other appointments
Senate to decide Wajir Governor's fate on Monday afternoon – KBC
The Senate will on Monday, May 17 hold a special sitting to decide the fate of Wajir Governor Mohammed Abdi Mohamoud.
In a Gazette notice Senate Speaker Kenneth Lusaka said the only business to be transacted during the afternoon sitting will be the consideration of a report of the Special Committee on the proposed removal of Mohamoud from the Office of the Governor.
In what has been an anxious wait, the Governor will know his fate on Monday at 2.30 p.m when the House reconvenes to discuss the report of the 11-member Senate Committee that probed his removal by way of impeachment.
The Committee led by Senator Okong'o Omogeni concluded its two-day hearing sessions on Thursday last week after gathering evidence from the County Assembly and the Governor's defense teams.
Get breaking news on your Mobile as-it-happens. SMS 'NEWS' to 20153

Governor Mohamud was impeached on account of abuse of office, financial impropriety, gross misconduct, and gross violation of the Constitution.
In his submission the Governor urged the committee to give a credible verdict for the benefit of the Wajir residents.
He was impeached on April 27 in a vote supported by 37 MCAs against 10.
Tell Us What You Think