Scare as MV Likoni ferry stalls midway channel, pushed to shore by another vessel ▷ Kenya News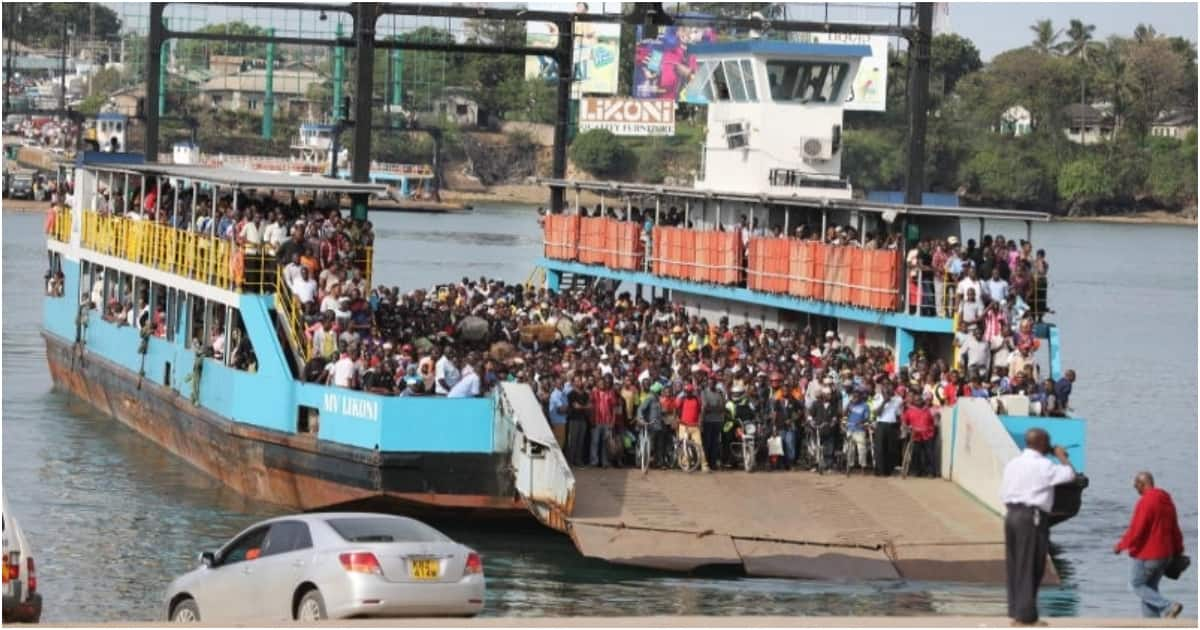 – The ferry had taken off from the shore and got stalled midway the channel
– It took intervention of another vessel to push it to the shore for passengers to alight safely
– The incident painted a bad image on management of the vessels at the channel
– This came days after a car with a woman and her child on board slid off MV Harambee ferry due to a faulty ramp leading to their death
There was a moment of scare at Likoni, Mombasa, when a ferry carrying passengers across the Indian Ocean stalled midway channel.
The MV Likoni which was carrying hundreds of passengers and vehicles was pushed to the shore by MV Jambo.
READ ALSO: Waziri Fred Matiang'i afuta likizo za maafisa wakuu wa polisi, kuzuia wizi wa mitihani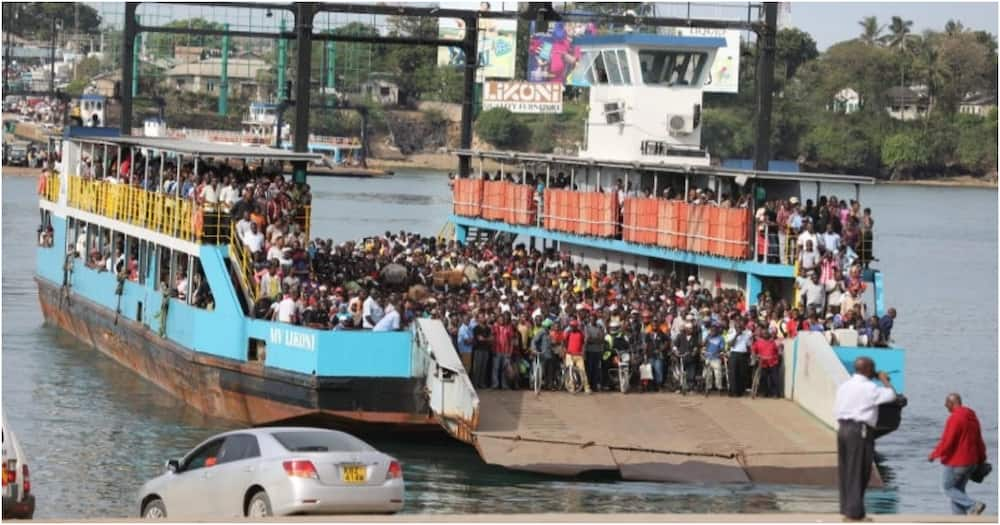 READ ALSO: Likoni ferry: Victims' family receives car compensation from insurance company
In a video shared on Facebook by one Nicholas Songora on the morning of Tuesday, October 15, the visibly shaken passengers watched in disbelief as the vessel was pushed to the shore.
Locals called on the government to ensure the vessels are in good working conditions to avoid similar incidences in future.
"Kenya Ferry Service management must stop joking with Wanjiku's life. Now MV Likoni is faulty but they force ferrying both vehicles and passengers. MV Jambo has come to our rescue and pushing MV Likoni is the best rescue happening now," said Songora.
READ ALSO: Picha 9 za kupendeza za mwanawe msanii Bahati zinazodhihirisha kufanana kwao
The incident came at a time when KFS has been on the spot over poor management of ferries at the Likoni channel.
Concerns over management of the vessels started after a car slid off MV Harambee and plunged into the ocean killing a mother and her daughter.
Of public interest was the fact that there were no standby rescue teams who would have saved occupants of the car as it took at least 10 minutes before it sunk to the ocean floor.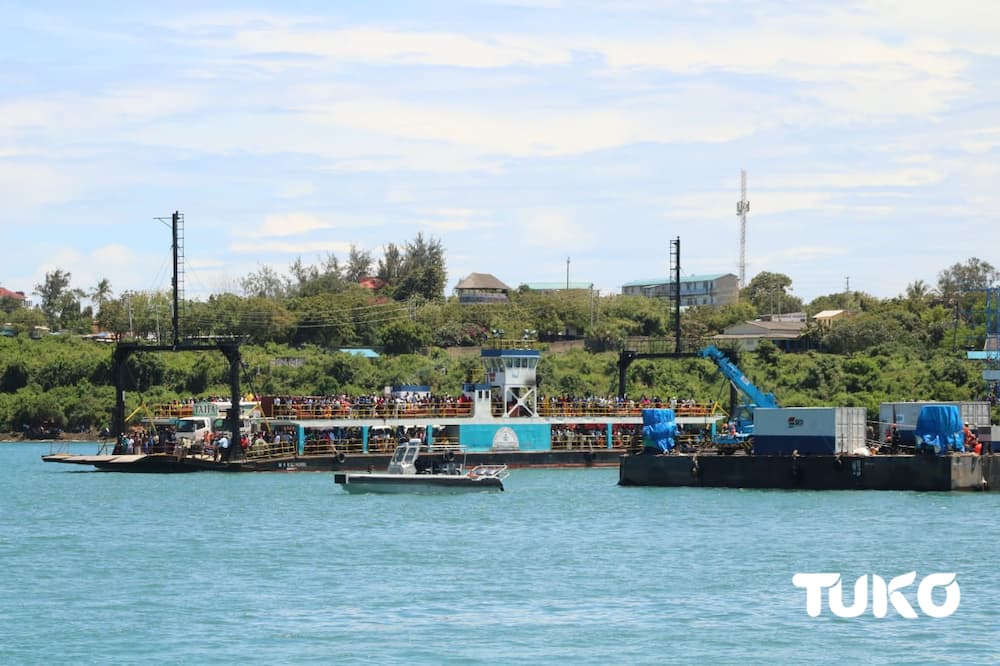 READ ALSO: Eliud Kipchoge's heroism in Vienna inspires Senator Kimani Wamatangi to run marathon in under 4 hours
As if that was not enough, it took more than twelve hours before recovery and rescue operations began.
Eventually, it took 13 days for the car to be retrieved after intervention from foreign divers in collaboration with the Kenya Navy.
Do you have a groundbreaking story you would like us to publish? Please reach us through [email protected] or WhatsApp: 0732482690. Contact Tuko.co.ke instantly
Subscribe to watch new videos
Comments
comments
Kenyan celebrities talking about American race issues is hypocrisy
Kenyan celebrities are weighing in on the recently cowardly and callous killing of George Floyd by Minnesota police officer. And while there is nothing wrong about Kenyan celebrities with no connection to the political temperature in America adding to their voice to the millions of others calling out the institutionalized racism in America, one has to also look to see whether these same guys speak up when things are thick in Kenya.
And we did some checking and realized that the same guys currently touting their global villager citizenship are usually mute when Kenya is up in flames. These same Kenyan celebrities are clowns.
You see, as trump pointed out, Kenya is a shithole nation. We have so many issues at the moment that we need to address. But be that as it may, Kenyan artists would prefer to virtue signal and talk about distant issues over in the land of the brave, the home of the free where they will suffer no repercussions.
When post-election violence erupted, how many people came out to denounce it early on rather than waiting for ethnic and tribal diatribe to be drawn up for them? How many Kenyans recently spoke up about the disputed and divisive general elections that had to be re-conducted? How many Kenyan celebrities have been talking about the still existing internally displaced people? Or the rampant and widespread corruption that has seen our shithole country sink to demoralizing levels of depth that threatens the wellbeing of future generations?
I will wait for you to point them out.
I would love to see the Jua Calis and the Janet Mbuguas raise their voices when Kenyan police batter protesters. i would love to see Kenyan celebrities talk about unlawful and cruel evictions.
For more thought-provoking opinion pieces, click here. And be sure to like our Facebook page.
Comments
comments
'Ours was a complicated father-daughter relationship,' cries Jimmy Wayuni's daughter
One of the daughters of celebrated Benga musician Jimmy Wayuni has revealed that she was not that close to him.
In a tweet that has since gone viral, award winning filmmaker Mercy Murugi reveals that for the longest time she would have loved Jimmy to play the role of daddy.
She wrote,
"How do you mourn a man you had barely known? How do you mourn the man you called biological father but fought so much with him for the title of Dad that he wanted, but you felt he was yet to earn?"
Adding,
"What many never knew is Jimmy Wayuni is my biological father. And now he's gone."
Jimmy lost his life yestsrday night in a tragic car accident along Thika Road.
Mercy paid tribute to the fallen icon.
"Rest in peace Jimmy Wayuni Githinji. Ours was a complicated father – daughter relationship. Both of us headstrong. Prolly got it from you. That and my eyes. Rest easy.
💞💞."
Comments
comments
Blessings galore! President Kenyatta welcomes newest grandchild, Uhuru
President Uhuru Kenyatta is a happy grandpa for the second time in four years.
His first born son, Jomo Kenyatta is reported to have welcomed a baby boy named Uhuru at Nairobi Hospital.
This will be the second child for Jomo and his wife Fiona Ngobi Achola.
Their first born daughter is named Wanjiru after Kenya's first lady Margaret Kenyatta.
Baby Wanjiru was born in October 2017.
The second born, Uhuru is said to have arrived on May 27, 2020.
To date there has never been a photo of baby Wanjiru in public. It seems the parents want to keep it that way.
The same applies to Baby Uhuru.
All the same congratulations Fiona and Jomo on your bundle of joy.
Comments
comments