Sandals are not just indoor foot wear anymore they are high fashion
When you think about sandals/ slides, what's the first thing that comes into your mind? Comfort, accessibility? Well whatever you think about sandals/slides it's probably something you wear to the store when buying groceries or when you go and drop your kids off at school.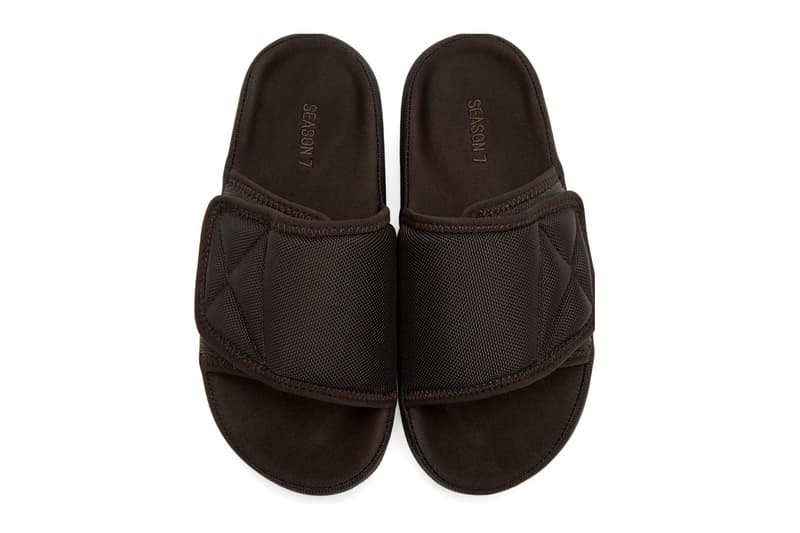 Whatever the case we all have sandals at home and we use them for various reasons but you never thought that sandals would someday become high fashion. Well according to some celebrities and global fashion houses like Gucci, Fendi, Margiela and Prada sandals are high fashion now.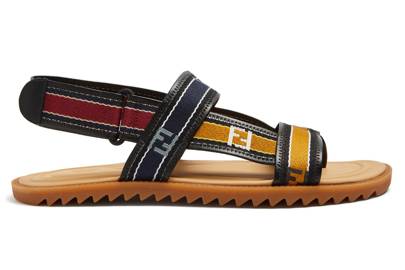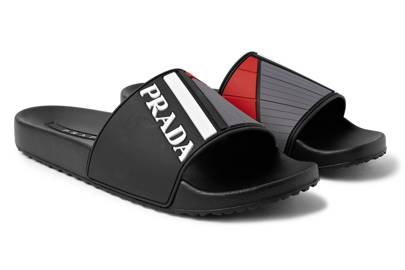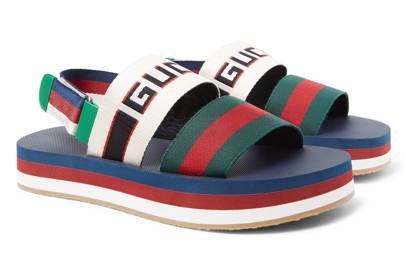 Plenty of stylish people all around the world from Youtubers to stylists never would have thought they would see the day where sandals are considered fashion and bear the logos of respectable fashion houses.
Due to their design and exposure, sandals/slides aren't necessarily the most appropriate footwear in the world when it comes to official clothing but try telling that to someone like Kanye West who showed up to a wedding in Yeezy slides.
It's not really for everyone, sandals are more of a polarizing piece of footwear. You're either going to love it or hate it. For those that choose to love it well…good news for you, you're not alone.
Rappers have been wearing slides for years now and some take it as far to wear it on a red carpet. This is a pretty bold move and extremely difficult to pull off. So unless your a style icon and you have nothing to prove, you might want to stay away from this.
Gone are the days when the only people who wore sandals were college students and stay at home moms. It's becoming extremely popular and brands like Adidas offer some of the best sandals for those who are comfortable in street wear, it could take your style to the next level.
Comments
comments
Rugby players who have died in the past years and causes of their death
The recent death of former rugby player Allan Makaka left us in shock but so did the deaths of fellow rugby players who died before him.
Some died so young, at a time when their stars were just picking up.
Below are rugby players who have died in the past and what killed them.
1-Allan Makaka
Makaka died on Friday night, May 22, after being involved in a grisly road accident along the Mombasa Nairobi highway.
2-Mike Okombe
Slain international rugby player Mike Okombe was killed by his girlfriend in 2018.
This was after an argument that arose from a truth and dare game during a birthday party drove him wild.
According to court documents Mr Okombe was allegedly in the chest using a kitchen knife, leading to his death.
3. Joshua Gathumbi
Rugby player Joshua Gathumbi  in 2010 collapsed and died in a public service vehicle on his way to an internship interview at the United Nations in Gigiri, Nairobi.
Accounts, from family and friends, state that Gathumbi complained of chest pains and fatigue a week before his death.
He was only aged 25 and played for Impala RFC.
4.Tony Onyango
The Kenya Simbas and KCB full back layer collapsed and died at his home in Nairobi.
He had complained of chest pains during a training session and was advised to rest.
James kilonzo
The KCB center James Kilonzo was shot on the chest in the morning of 24 July, 2018.
Ogeto Gecheo
The Nondescripts RFC centre sustained a nasty spinal injury while tackling an opponent while playing against Strathmore Leos.
The 19-year-old was attended to by match-day medical personnel on the ground before being rushed to Aga Khan Hospital where he later died.
Comments
comments
"Always know I am here for you," Eric Omondi´s sweet message to ex, Chantal Grazioli
The relationship between Chantal Grazioli and Eric Omondi only gets sweeter by the day.
The duo split in 2019, after 4 years of dating and serving us some couple goals, in what remains unclear circumstances.
However, both parties clarified that they would continue being bosom friends, always having each other´s back and at each´s beck and call.
That is exactly what we have been seeing on our tabloids, if not more.
Miss Chanty was marking another year in her life and her bestie, Eric Omondi serenaded her with praise and love.
Also read: Eric Omondi's puffed out chest drives ladies wild (Photos)
According to the comedy act, Chantal was ´perfect´, a combination of beauty and brains, topping it up with exceptional character.
Miss Chanty lights up the comedian´s world and even though, they are no longer an item, Eric vowed to always be there for her, come rain, come sunshine.
I know they say no one is perfect but I never met someone soo perfect. Soo much beauty, soo much brains, soo much character. Keep Smiling love, you light up the World♥️…Even though we are no longer together you know am always here for you and I know you got my back. HAPPY BIRTHDAY MAMA SMOOTHY. Please help me wish @miss.chanty the HAPPIEST BIRTHDAY.
As always, the comment section was on fire, some fans asking Eric to move on, others warning the duo to stop playing around with their minds, with a section sending love to the dashing beauty.
Background
During the Christmas festivities, 2019, Chantal jetted into Kenya to spend time with her best friend, Eric Omondi and this left Kenyans questioning the more.
Then early in the year, the ex-lovers were getting cosy in bed, in a bid to promote the Italian damsel´s skin care business.
That eventually settled and we had to slowly accept that probably their friendship is just one of a kind.
Also read: Is it Jacque Maribe or Chantal? Eric Omondi finally explains his complicated relationship status!
Not just that, the comedian´s baby mama, Jacque Maribe revealed she was good friends with Chantal Grazioli, sweetly commenting on each other´s Instagram posts, one would think it was all sarcastic but well, it was not.
The two girls have also been on a date together, with the self-proclaimed President of Comedy in Africa.
Can´t get better.
Meanwhile, happy birthday to the Italian girl!
Comments
comments
Fibromyalgia: When your body's pain volume is always turned up: The Standard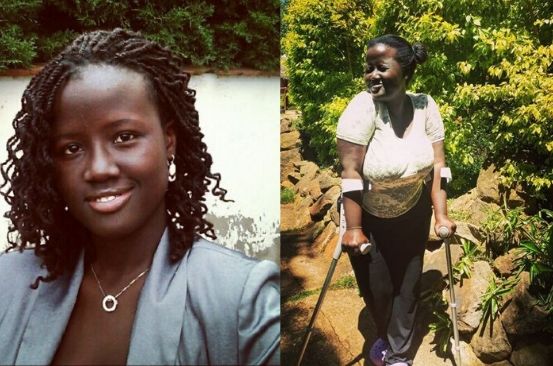 To feel pain more intensely than most, where scraping a knee feels like you have been hit by a sledgehammer, is something Laura Litaba has had to live with.
Although she was always a sickly baby, and even though throughout her school-going years she had incessant back pains and headaches, Laura didn't think that her health could get any worse.
But it did. At least a few decibels of pain higher when in 2011 she began experiencing splitting headaches, and no painkiller could take away the pain.
"Sometimes I would take more than the recommended dosage," she says.
While between migraines, she decided to see a specialist who would hopefully tell her why she couldn't get a reprieve from the pain in her head.  
But the neurologist told her he couldn't find a thing wrong with her head. And so, defeated, Laura trudged back home.
Pretty soon though, the pain began manifesting in other parts of her body.  
"I had back pains, chest pains and fatigue that I couldn't explain away. I could sleep for more than 12 hours but still wake up very tired," she says.
Just as she had through her childhood, she decided to grit through her pain and live life, at least as much as she could and as pain-free as she could manage.
She even joined university where her musical gift shone brightly. She was determined to live fully through the pain. But in 2016, things began falling apart.
"I was just back in the country after participating in a music concert and my body was aching all over. I brushed it off thinking that it was due to the travel and had probably picked up a bug. But a visit to the doctor showed I had rheumatoid arthritis," she says.
Laura had never heard of the disease. And the doctor didn't care to explain it to the shell-shocked Laura.  
"He prescribed the drugs and sent me on my way. But even with the medication, the pain remained and even got worse. My aunt, a paediatrician, recommended that I see a rheumatologist."
And so she did. After a battery of tests, the rheumatologist confirmed she had fibromyalgia.
Fibromyalgia, she soon learnt, is a disorder characterised by widespread musculoskeletal pain accompanied by fatigue, and sleep, memory and mood issues.
Since the disease has no cure, she was prescribed drugs that would reduce the symptoms.
"I wish I had known earlier what was ailing me. In school, I would go to class and when it's over, it would take me forever to stand up as my legs would be numb, with painful joints and muscles. I had to ask lecturers every semester to allow me to come to class when I could. With medication, life could have been easier," she says.
Fibromyalgia is accompanied by chronic fatigue syndrome, a condition that leaves one feeling constantly tired, and Laura has found that difficult to deal with.
She has once been forced to resign from a job she loved after she experienced a flare up.
"I had chest pains and was admitted to hospital for pneumonia. I had to be away from work for weeks on end and thus had to resign and move back home."  
Sometimes she experiences what is referred to in medical circles as a fibro fog. This is when one can't focus on the task at hand and has a problem retaining information.
"I once went on a job interview and my mind went blank for a whole minute. My concentration sometimes is so poor I can read something and not understand it," she explains.
Living with fibromyalgia means coping with the nausea, nerve pains, insomnia, irritable bowel syndrome and twitching that are common occurrences.
The helplessness that comes with the constant pain was a major cause of stress for Laura.
"I used to do most of my chores independently, but now I need help doing almost everything. I can't carry heavy things because my hands are in pain. The only thing I do on my own is bathing. I wish I could hire a home care nurse but I can't afford the cost that comes with it," she says.
Embracing the pain
This, added to difficulties in walking, made Laura a recluse, choosing to stay indoors.
But earlier this year, she decided to do what she once did so bravely: embrace her pain and live fully.
"So I got myself a wheelchair and joined my friends outside. That felt great. I have to admit though that it does sting some when I see people attending parties and concerts because that was my life a few years ago," she says nostalgically.
Laura now has resorted to learning new languages online, acquiring new skills and working online since she can't dabble in public relations, which was once her area of specialty.
Despite her joints aching and muscles sore, she is ready to start a new chapter in life, one without self-pity.
"I can't really do much out there in my state but I know I will find a way to shine bright," she says.
Atta girl. We wish Laura all the best
The Standard
Just as she had through her childhood, she decided to grit through her pain and live life
Comments
comments