Ruto ally wants Senate scrapped
A Jubilee MP allied to Deputy President William Ruto has proposed that the Senate be abolished and the positions of Nominated MP and MCA scrapped.
If adopted, Caleb Kositany's radical proposal would occasion a constitutional amendment through a referendum ahead of the 2022 polls.
In a later to National Assembly Speaker dated September 17, Kositany says the positions cost the public over Sh3 billion annually, "which constitutes a heavy burden to the taxpayer."
He does not mention the 349-strong National Assembly, where he is a member.
Kositany has asked Muturi to direct the legal service directorate to assist him in formulating the bill.
"We have to think in the long-term and I would want anyone else to challenge me. What does the Senate do that is so special that cannot be done by the National Assembly? I don't see any reason why we should have the Senate overburden taxpayers," he said.
Read: Reduce counties and number of MPs to curb rising wage bill, says religious group
The MP whose Soy constituency borders Ruto's Turbo in Uasin Gishu however told the Star that his proposal has nothing to do with the 2022 politics and was purely motivated by a desire to trim the huge wage bill.
"I have not even spoken to the Deputy President about it. I have only spoken to the people of Soy. The Deputy President has nothing to do with my bill at all," he told the Star yesterday.
Kositany is one of Ruto's close associates who often conducts political missions on his behalf.
However, last evening, the Ruto's communications director David Mugonyi said the DP speaks for himself and should not be dragged into the initiatives of other individuals.
"Kositany is an MP and he speaks for himself. As you are aware, the DP has said he speaks for himself. We have to stop this notion that whenever an MP from Rift Valley speaks, he is an ally or speaks for the DP," Mugonyi said.
"Above all, interrogate his proposal — Is it feasible or just hot air? That calls for change of the constitution. What is the DP's stand on the same? His view on the referendum is clear," he added.
More: Aukot wants woman rep post abolished, MPs reduced to 194
OPPOSED
Ruto's supporters vehemently opposed a proposal for a referendum by Nasa's Raila Odinga, with the DP derisively dismissing its advocates as "lazy and incompetent" politicians.
While addressing the devolution conference in April, Raila had proposed a parliamentary system of government with a three a three-tier devolved structure comprising 14 administrative regions.
In May, Ruto shot back: "Lazy and incompetent people who don't want to work hard, and incompetent people who can't formulate programmes, and those who lose elections want to use the Constitution as their bogeyman."
The DP's allies then went on the warpath discrediting calls for a referendum as a ploy by some politicians (read Raila) to get to power through other means after failing to win elections.
Since March 9 truce between Raila and President Uhuru Kenyatta, Ruto's supporters have remained suspicious of the handshake christened the Building Bridges Initiative.
The 14-member steering committee formed thereafter is expected to recommend broad changes to the structure of governance and the law ahead of the 2022 presidential elections.
Yesterday, Wiper Party leader Kalonzo Musyoka said Kositany's proposal should await the recommendations from the handshake taskforce.
"The Senate subject is quite a big issue and I am quite sure it is a constitutional issue. I urge Kositany to wait for the building bridges initiative so that it is brought on board," said Kalonzo.
Read also: MPs want House size cut to reduce wage bill
HEAVY BURDEN
In his notification to the speaker that came smack in the middle of the raging taxation debate, Kositany says the object of the Bill is to "reduce the cost of representation to the public, reduce the public wage bill and promote prudent use of public funds."
He also wants to axe the 47 women representatives whom he said should be encouraged to compete with men for elective office.
"The other issue is nominated MCA's. They are so many. Like in my Uasin Gishu county, we have 30 elected and 17 nominated. The quorum for the county to sit is 15. This means that 15 unelected people can sit and pass something that would be binding to the electorate who did not vote for them."
Kenya has about 770 nominated MCA's and 1450 elected ones across the country. Each MCA has a personal assistant. Each MP also has constituency manager besides their PA.But Kositany's proposal triggered instant resistance from a section of nominated legislators and experts who rubbished it as a publicity stunt.
Former Transitional Authority chairman Kinuthia Wa Mwangi said those pushing for the abolition of the Senate have little or no understanding of devolved systems of governance.
"The framers of the Constitution were not wrong when they created Senate as a protector of the devolved system of government. You shudder when you hear of plans or plans to scrap the counties' first line of defence. Its just like removing a life support for the units," he said.
Ford Kenya nominated MP Nasir Ibrahim said the proposal would be retrogressive and a clawback on the strides Kenya has made in democracy."It is unfortunate that in this era someone can talk about doing away with nominated seats and the senate as provide for in the Constitution. I don't see the scrapping of these positions drastically reducing the wage bill," Ibrahim said.
Laikipia Senator John Kinyua said Kenya was indeed over-represented but dismissed the idea of scrapping the Senate as wishful thinking because the house has played its cardinal role as the defender of counties.
According to Kinyua, Kenya should scrap some constituencies and reduce the counties from 47 to just 14.
"Let us be realistic and improve on what the Constitution provides. We need to significantly adjust the system of governance to ensure we bring down the wage bill," said Kinyua.
To deal with the country's financial crisis, the lawmaker challenged the executive to deal firmly with corruption and plough the resources recovered to the economy.
STRENGTH
Currently the National Assembly has 290 elected members, 47 women elected from each of the 47 counties and12 members nominated to represent women, youth and the marginalised.
These add up to 349 members
The Senate is comprised of 67 members — 47 elected senators from each county, 16 women nominated for gender balance and four representatives of the youth and people with disabilities.
It is not the first time a petition to amend the constitution and change the structure of governance or representation has been moved. In February, Tiaty (Kanu) MP Kassait Kamket proposed amendments to the Constitution to introduce the positions of prime minister, two deputies and retain a ceremonial president as Head of State.
The proposal is pending before the budget committee for costing to determine the impact of the changes.
See also: How many MPs do you need to make law?
Uhuru wa biashara, Suluhu ya vikwazo: How Kenya-Tanzania trade will be streamlined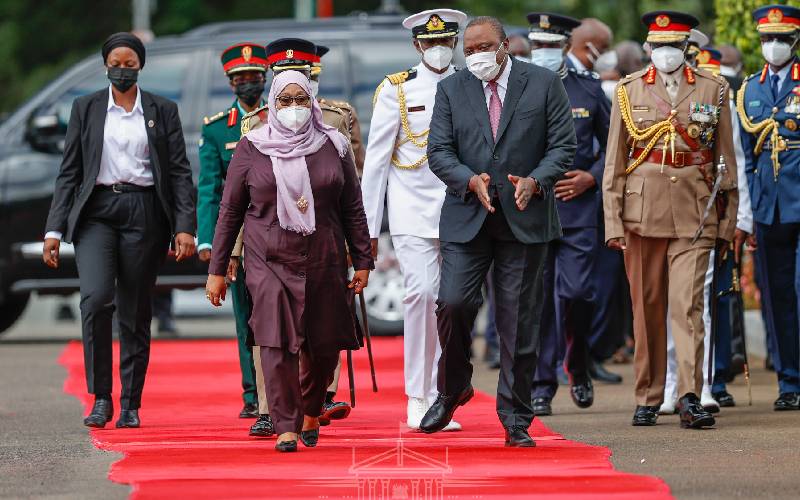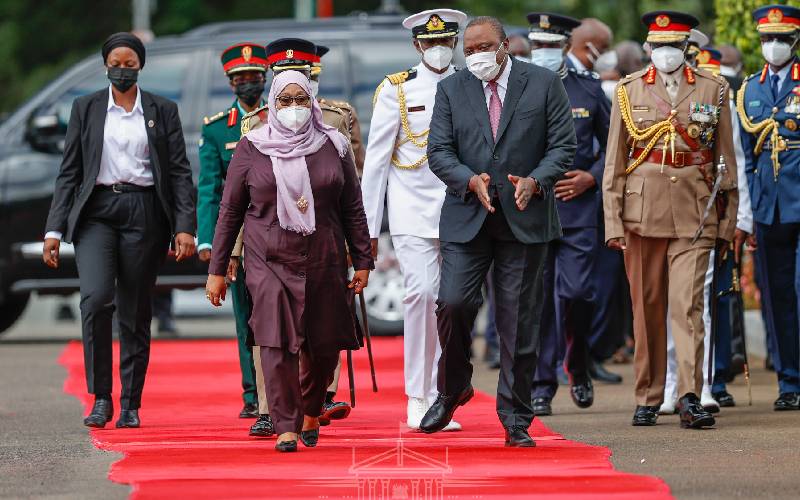 President Uhuru Kenyatta with his Tanzania counterpart Samia Suluhu, who is on a two-day state visit in Kenya.[PSCU]
President Uhuru Kenyatta says ministers from both Kenya and Tanzania should resolve all non-tariff barriers and other restrictions affecting the two countries within four months.
Uhuru, on Wednesday said going forward, there will be no business visa or work permits for Tanzanian wishing to do business in the country.
"You are free to come and trade here in Kenya, there will be no business visas or work permits as long as you abide by the laws of the land," he said.
Uhuru was speaking during the Kenya-Tanzania Investment Forum at Serena hotel. The forum was in line with President Samia Suluhu's two-day state visit.
Kenya has about 513 companies doing business in Tanzania compared to Tanzania's 30 in Nairobi.
Uhuru said in the next two weeks, concerned ministers from both sides should clear all the traffic jams at the Taveta and Namanga border points.
Uhuru said they should pay a special focus to the issuance of Covid-19 certificates to ease the movement of  transit cargo.
"I direct that all the maize lying at the border be cleared in two weeks. We cannot subject businesses to more suffering," Uhuru said.
Take a quick survey and help us improve our website!
Take a survey
Uhuru urged the ministers to move swiftly and ensure the ease of doing business at the border pointswas decisively tackled.
"It is not about wearing suits and meeting over tea.Get to the ground and understand what is affecting those traders. Don't just sit in those offices. If you need to consult, do it and get the work done," he said.
Uhuru's sentiments came shortly after the Kenya Business Community nsaid it was ready to trade with the Tanzanian business community.
Led by the Kenya National Chamber of Commerce (KNCC), the community proposed the formulation of a Joint Business Council that will support the two countries.
KNCC President Fred Ngatia said the council would play a key role in addressing issues that bedevil  Nairobi-Dar trade,
The community said there should be policy forums and investment-focused events that will target small-scale enterprises.
"We are going to focus more on economic projects by identifying favourable financing institutions that will help us settle some of the commercial disputes affecting our community," Ngatia said.
He said this will be made possible through the Public-Private Partnerships offered by the government.
As a result, KNCC in partnership with the Tanzania Chamber of Commerce will host a trade and investment exhibition in Dar es Salaam this August aiming to help SMEs unlock their potential.
So far Trade and Agriculture ministers from the two sides have had a breakfast meeting and agreed to initiate bilateral discussion before the end of the month.
Trade CS Betty Maina said the discussions aim to iron out all issues that have been hampering trade between the two countries.
This includes issues surrounding maize import.
President Samia Suluhu said her government was ready to serve as a bridge to pave way for businesses between the two countries to thrive.
"It is not about competing and complicating things, but about developing business relationships to allow both parties to explore opportunities," she said.
Suluhu said while Tanzania is rich with natural resources and tourist attractions, Kenya is thriving in the ICT world and thus the need for exchange of skills on research and development.
"Muna bahati sana maanake upande mmoja mnao Uhuru wa kufanya biashara na upande mwingine Suluhu la kuondoa vikwazo," Suluhu said.
Kenya and Tanzania agree to iron out trade barriers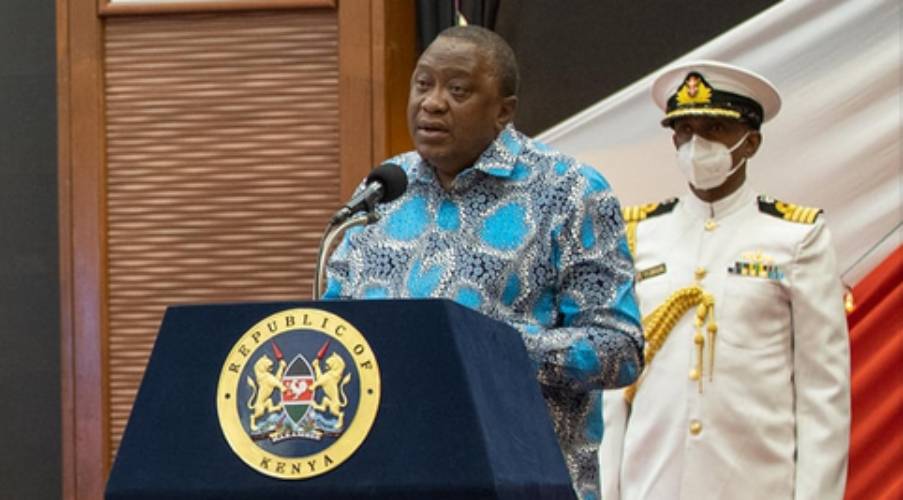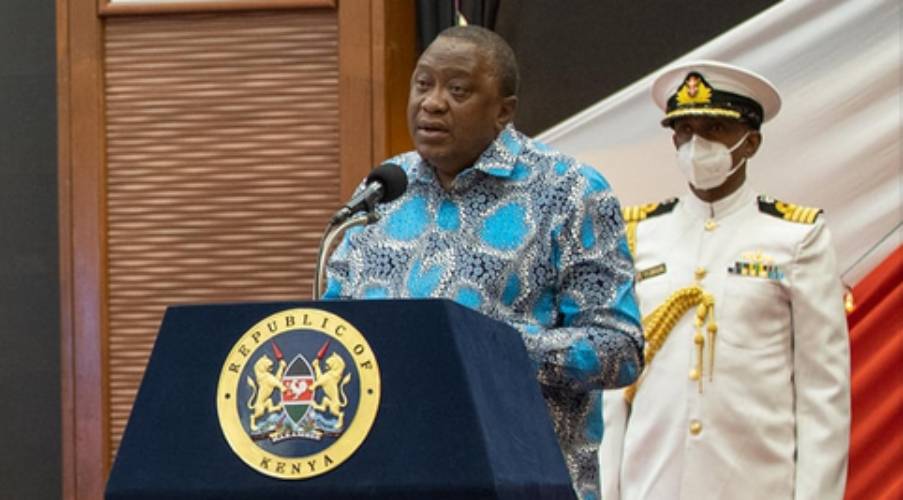 President Uhuru Kenyatta (PHOTO: PSCU)
NAIROBI, KENYA: A business forum held on Wednesday between Kenya and Tanzania agreed to iron out challenges constraining business between the neighbouring countries.
President Uhuru Kenyatta and Tanzania counterpart Samia Suluhu Hassan during the forum noted that trade opportunities between the two countries have not been fully exploited. Trade volume between the two countries was valued at Sh60.4 billion in 2012 and Sh47.5b, Sh45.6billion and Sh47.5 billion in 2016, 2017 and 2018 respectively.In 2020, President Uhuru Kenyatta noted that the volume was valued at Sh50 billion.
"Trade between the two countries has thrived over the past due to robust private sector, entrepreneurial citizen among other factors, however from the volumes we have not exploited the opportunities to full capacity," he said.
"There is an urgent need for cooperation between the two countries to iron out issues hindering the growth of trade," he added.
He noted that the economies need to drop unhealthy competition which he said work against investment in the two neighbouring countries.
The President also directed responsible government officials to meet within this week or the week after to iron out issues around the Covid-19 certificate. He also directed CS Agriculture and Livestock Peter Munya to allow maize to be cleared at the border.
Reading from the same script, his counterpart Suluhu Hassan noted that real development between the two countries can get better if they develop together.
"We need to work on a conducive environment by creating efficient courts, harmonize tax regimes, work on the investment climate and better legislation," she said. She noted that Kenya can benefit from Tanzania's rich mineral sector while Tanzania can borrow from Kenya's thriving technology sector.
Take a quick survey and help us improve our website!
Take a survey
The private sector represented by the East African Business Council noted the decline in intra EAC trade is due to several barriers to trade, investment and movement of persons. Intra-EAC trade currently stands at below 20 per cent vis a vis SADC at 48 per cent and European Union at 70 per cent.
"There's a need to embrace digitalization particularly in moving goods and services across the EA region and harmonizing the tax regimes, we need to also strengthen the East African Secretariat," said Nick Nesbit, Chairman of East African Business Council.
He also underscored the need to promote value addition in manufacturing and diversification of our products and the elimination of Non-Tariff Barriers, which will go a long way towards increasing intra-EAC trade from the current below 20 per cent.
Ministers from the two countries are expected to meet before the end of the month to iron out issues affecting trade between the two countries.
Delayed Sh70 billion to counties hampering COVID war: Wambora » Capital News
NAIROBI, Kenya, May 5- The Council of Governors has decried their inability to fight the COVID-19 pandeic due to lack of finances from the national government.
The Council's Chairperson Martin Wambora said the National Treasury is yet to release Sh70.2 billion owed to the counties, despite the clock ticking to the end of the financial year on June 30.
"Last week I reported that the total outstanding amount owed to County Governments is Sh70.2 billion. Despite having only one month left to the end of the financial year, the National Treasury is yet to disburse this outstanding amount to Counties," he told a news conference on Tuesday.
He said the delay has "compromised response measures towards the COVID-19 pandemic and service delivery to members of the public."
Some counties are yet to pay staff salaries for more than three months.
On the shortage of HIV and AIDS commodities, Wambora said Counties with high stock are now considering redistributing them to those with low stocks.
He said the Council of Governors will engage the Ministry of Health to fast-track the release of the pending products for HIV/AIDS stuck at the Mombasa port.
Further, he said, County Governments will prioritize a long-term solution in financing HIV, TB and Malaria response through domestic financing and increased Government resources to the programs.
Wambora further welcomed President Uhuru Kenyatta's decision to lift a lockdown on five Counties declared disease zones in March, saying it will allow businesses to thrive.
Nairobi, Kiambu, Kajiado, Machakos and Nakuru were on a partial lockdown until May 1 when President Kenyatta revised the night curfew to start at 10 pm to 4 am from the earlier 8pm.
He however, urged Kenyans to remain cautious since the threat of COVID-19 was still real.
On waste management, Wambora decried an influx of medical waste, particularly used PPE kits which are disposed in the dumpsites.
He noted that "this is hazardous waste should be treated in hospitals and disposed in a safer manner in order to prevent further transmission of the virus."
"To address the issue, County governments have strengthened enforcement through County Environmental Inspectors to ensure integrated waste management systems are adhered to thereby limiting waste influx in undesignated areas and landfills, he said.