Roku just released three new 4K, ultra-HD streaming devices, starting at only $40 — here's how they stack up against Google's and Amazon's (ROKU, AMZN, GOOG, GOOGL)
Using a Roku to stream 4K, ultra-HD TV and movies just got a lot cheaper.
The company just announced three new additions to its lineup of streaming devices — the Roku Premiere, Premiere+, and Ultra. These members of the Roku family were technically already on the market before, but these new models announced on Monday have notable upgrades, not to mention slashed prices.
By offering 4K streaming for as cheap as $40, Roku is taking on competitors like Google and Amazon, which both offer their respective 4K streaming devices for around $70 each. The Roku Premiere, its flagship 4K streaming device, was offered at that same $70 price point, but that's now down to $40 with this new model.
All three devices are available for pre-order, and will be shipped in October.
Here's what they're like:
The Roku Premiere is the company's cheapest 4K streaming device, at $40.
The Premiere features streaming in 1080p, 4K, and HDR, with up to 60 frames per second. The device uses a standard infrared remote, with no voice controls. However, Roku's free mobile app lets you search for TV, movies, and other videos with your voice.
This newer version of the Premiere features a smaller body than the previous, and its price was lowered from $70 to $40.
The Premiere+ is nearly identical to the Premiere, but it's only available at Walmart. However, the $50 device features a voice-enabled remote.
The Premiere+ is a Walmart exclusive. It's identical to it cheaper cousin, with the notable exception that the remote has a microphone so you can search Roku content with your voice.
The Roku Ultra is the most feature-packed and expensive member of the Roku family, priced at $100.
The Roku Ultra isn't receiving any significant upgrades from its previous iterations. But it will now include a pair of JBL headphones for free, usually priced at $40.
Those headphones will come in handy, too: One of the main differences between this model and the cheaper devices is that users can plug headphones into the Ultra's remote. That allows them to quietly listen to streamed shows or movies without bothering or waking anyone else in their home.
here's also a "lost remote finder" feature, which plays a sound from the remote after you press a button on the Ultra device. Like the Premiere+, the Ultra features voice control via remote.
Aside from a nicer remote, the Roku Ultra also supports 1080p and 4K streaming, additional storage through micro SD cards or USB, and a "night listening" mode that levels out the sound by lowering high-volume moments and raising low-volume moments. You can also connect the Ultra to the internet via an ethernet port, if the wifi in your home isn't optimal for streaming — a feature that the Premiere lineup lacks.
All three Roku devices are advertised as having access to more than 500,000 movies and TV shows.
Google's $70 Chromecast Ultra is an obvious 4K-streaming competitor to the Premiere lineup, but Roku beats Google in price.
Google's 4K Chromecast Ultra is pretty similar to what Roku offers, but at $70, comes at a higher price than Roku's entry-level options.
However, the Chromecast Ultra features an ethernet port, something that Roku's Premiere lineup doesn't have. It's also compatible with the Google Assistant and Google Home devices, so you can control it with just your voice, no remote required — but Roku just announced compatibility with Google Home and Assistant as well, so that gap is narrowing.
It should be noted that the Chromecast is purely a streaming device, and doesn't feature internal storage like Amazon's or Roku's devices.
Amazon's Fire TV is normally listed at $70, but the price has recently been lowered to $40.
Amazon's 4K Fire TV is also pretty similar to Roku's lineup. It's not clear whether the price drop from $70 to $40 is a temporary reduction, or a permanent price drop.
The Fire TV has an ethernet port, 8GB of internal storage, and supports voice control via Alexa through the remote. It's also compatible with Amazon's Echo lineup of home speakers, so if you're already invested in the Amazon ecosystem, the Fire TV might make the most sense. Roku's devices currently do not support Alexa control.
Frosty ties between police and Olenguruone residents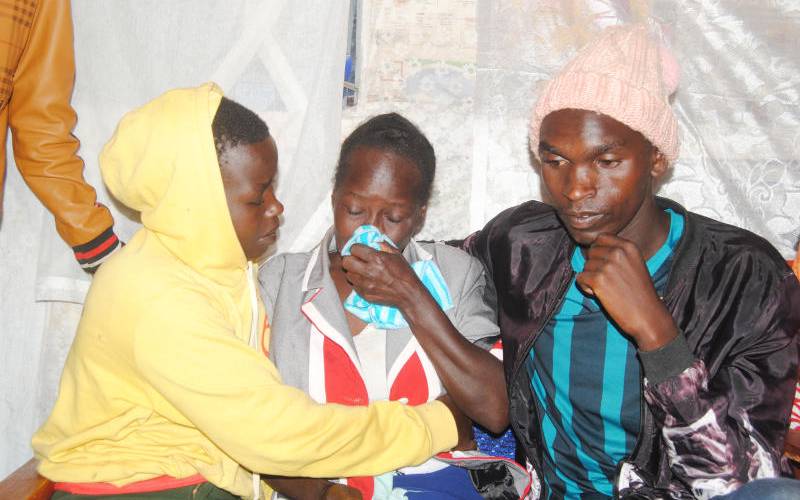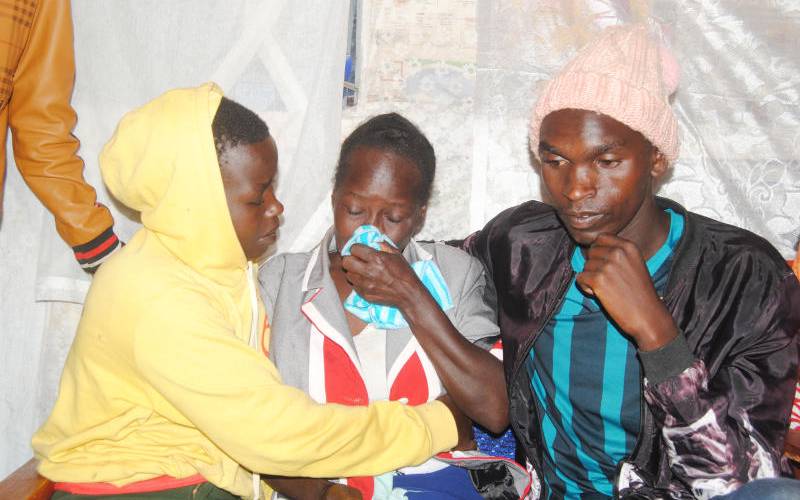 Rossy Lang'at (center), the mother of Emmanuel Kipkoech, 17, a Form two student at Sugutek Secondary School being consoled after her son was shot on the right hip by a police officer while dispersing protestors at Mlango trading centre. [Kipsang Joseph, Standard]
Over the years, Kiptagich and Olenguruone police stations, which are barely 15km apart, have been hitting the headlines for all the wrong reasons.
Several times police officers at the stations who are supposed to be enforcers of the law have found themselves under sharp civilian criticism for breaking the same laws.
From deaths of civilians in their hands in unclear circumstances or by the law keepers' bullets, to cases of assaults and drunk driving, the residents have found themselves demanding that the officers live up to the discipline as expected from the service.
Shockingly, the officers accused of breaking the law and some who have been arraigned have held senior positions at the two stations.
At the height of 1992 and 2007 post-election chaos, which are the worst the country has ever gone through, officers here were placed in a spot by human rights activists for taking sides based on ethnic lines.
Since then the relationship between villagers and the officers has been frosty. The residents appear to have lost confidence in the law enforcement officers and in some instances expressed their frustrations through violent protests.
In the most recent incident last weekend, at a roadblock erected at Mulango and manned by police officers attached to Kiptagich police station, officers flagged down a car bound for Tenwek Hospital in Bomet County.
The roadblock had been set up to stop movement of people from Nakuru County to Bomet County following a zonal lockdown that has since been lifted.
Take a quick survey and help us improve our website!
Take a survey
The driver and the child's mother are said to have disembarked from the vehicle to inform the police that they were rushing a sick child to hospital, but their plea landed on deaf ears.
Alex Tonui, a resident, explained that the two returned to their vehicle only to find that the child had already died, causing the woman to break down and attracting the attention of residents.
"The residents confronted the police officers. The situation escalated after more officers were deployed from Kiptagich and Olenguruone police stations," said Tonui says.
A one-hour running battle between the police and the residents who had blocked the road left at least one civilian dead, police officers injured and property destroyed.
The deceased was identified as Emmanuel Kipkoech, a 17-year-old Form Two student at Kiptagich Secondary School.
Police at Olenguruone Police station in Kuresoi South, Nakuru county on May 4, 2021.[Kipsang Joseph, Standard]
During a visit to the Kipkoech's home yesterday, his mother Rossy Langat was inconsolable as she mourned the death of her son, who the family said they had great hopes on.
"My only son. Why did it have to be him? He was my only child," she wailed as women struggled to get her back to her house.
Esther Lang'at, a neighbour, said Kipkoech had left home in the morning to do laundry at the banks of a seasonal river near the family's farm.
"As he was waiting for the clothes to dry, he heard people screaming at Mulango trading centre. He stood at a corridor watching the battle unfold before the police started firing in the air. Minutes later, Kipkoech was lying in a pool of blood," said Lang'at.
Gilbert Toroitich, the medical superintendent at Olenguruone Sub-county Hospital, said efforts to save Kipkoech's life were futile.
"He had already lost too much blood and turned pale. He had a bullet that entered through the right hip. We tried to resuscitate him but unfortunately lost him," said Dr Toroitich.
Kuresoi South Police Commander Henry Nyaranga accused the residents of overreacting and taking the law into their hands.
"The residents blew the situation out of proportion. They extensively damaged police vehicles and we now have two police officers admitted in hospital with serious injuries," said Nyaranga.
The sub-county police boss has, however, dismissed claims that there was bad blood between the law enfocers and locals, terming the incidents isolated and spread over a long period of time.
"I am not aware of any brewing beef between our officers and the civilians. The cases that were reported recently are either before court or under investigation. The officers are not above the law and the citizens should not take the law into their own hands either," said Mr Nyaranga.
He said 34 people were arrested and presented before court where they faced charges of being in an illegal gathering, flouting Covid-19 regulations and vandalising police vehicles.
Tension remained high around Olenguruone and Kiptagich police stations, with the residents reportedly planning to burn down the two stations where tens of motorbikes had been impounded. "We detained over 30 bodabodas and arrested 34 people. The residents planned to burn down the stations on Monday. We mobilised police officers from other sub-counties and investigations are on," said Nyaranga.
The two deaths, however, have emerged to have been a trigger for the simmering tension between the police and the residents who have had a fair share of each other's wrath in the past.
A chief inspector of police attached to Kiptagich is under investigation for assaulting Maragaret Chelang'at who he found outside during curfew hours last month. "Her case was booked at Olenguruone Police Station vide OB number 9/17/04/2021," said Nyaranga.
In June last year, Inspector David Kiprotich, Police Constables Henry Mureithi and Tom Kikao attached to Kiptagich, were arrested and charged at Molo Law Courts after they were captured mistreating a suspect.
The officers were filmed dragging Mercy Cherono, 21, with her hands tied at the back of a motorbike after she allegedly stole electronics and cash from a house belonging to one of the officers.
A week later, Police Constable Fred Amaya, who was stationed at Kiptagich, wrecked a police vehicle after he took an unassigned drive while drunk.
Two weeks after he was discharged from hospital, Amaya committed suicide by hanging himself in a bathroom within the station.
In July 2014, Olenguruone Police Station, which is the sub-county headquarters, was extensively damaged as the residents protested the murder of a bartender in the hands of the police.
Caren Chepkoech Rono died in the back of a police vehicle on July 8, 2014 while in the custody of corporal Silas Marimi, constables Reuben Maino and Wycliffe Wangila who were later charged with murder.
Charles Ng'eno, a witness in the case, testified that the three dragged Ms Rono from a bar and bundled her into a police vehicle.
Although the three officers were acquitted of murder charges, a postmortem report indicated that she either hit her head against a surface or was hit with a blunt object.
"There was violent brain shake to cause counter coupe injuries. This could have been caused by either the head moving towards and hitting a hard surface several times or the force hitting the head several times," the report read.
Interviewed residents have revealed that there has been bad blood between them and the police in the area over their conduct.
Paul Chelule, an elder, said that the officers have been operating outside the law in their handling of arrested persons and the use of excessive force.
"I watched in horror as the boy was shot. The officers who came as back-up didn't make any attempts to calm the crowd. Instead they started firing live bullets in the air. They should have used teargas instead," said Chelule.
Another resident said that there have been many unresolved assault cases by the officers which leaves the villagers view them as enemies.
"The young boy was with his friends and they were not part of those protesting. Many people have suffered in the hands of the police and denied justice. The incident has rekindled past experiences," said Langat.
[email protected]
 
 
TENDER NO. 28/KBC/2020-2021 FENCING OF KENYA BROADCASTING CORPORATION'S PARCEL OF LAND IN NYALENDA (KISUMU). – KBC
Follow us on Social Media
Suluhu: Closer ties for Kenya and Tanzania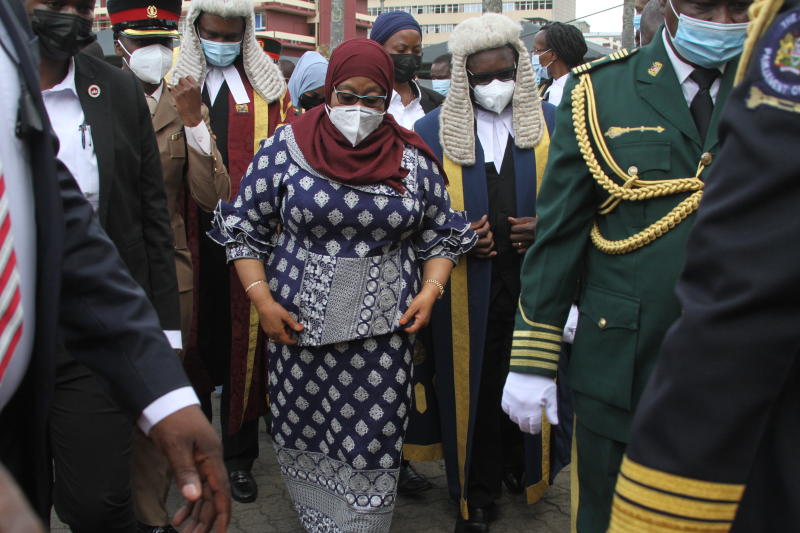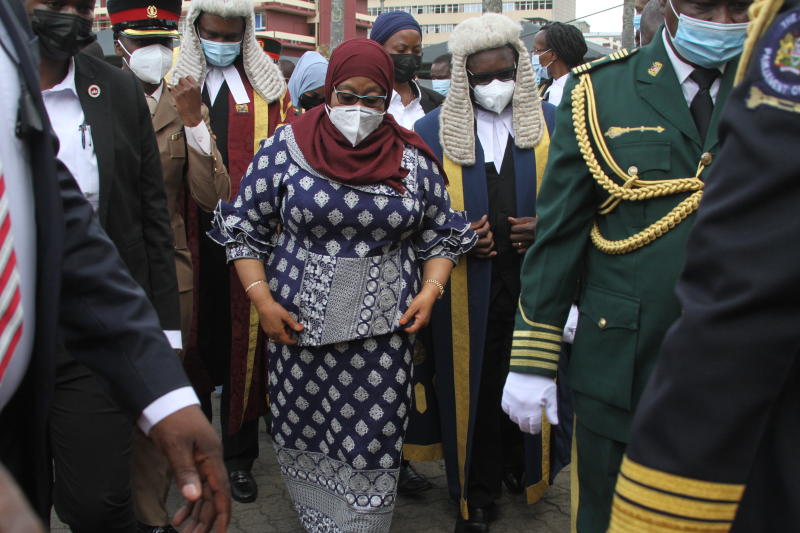 ?President Samia Suluhu's address to Parliament was a masterclass in charm, punctuated by periodic applause and stomping of feet by Kenyan lawmakers.