Relief For Kenyans as Uhuru Cuts PAYE Tax in New Economic Measures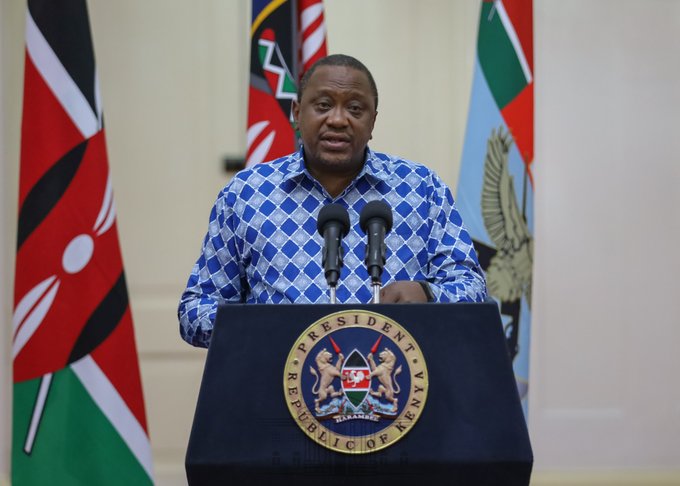 In the backdrop of a presidential address that attracted massive backlash, President Uhuru Kenyatta has announced a raft of new economic measures to cushion Kenyans taking a beating from the disruption of their income flow by the outbreak of the novel coronavirus pandemic.
Speaking during a televised address, President Kenyatta announced that he alongside Deputy President William Ruto will be taking an 80% pay cut while Cabinet Secretaries and Chief Administrative Secretaries will be taking a 30% cut on their pay packages as will Principal Secretaries who will take home 20% less than their usual.
Besides the cuts on senior executive civil servants' salaries, the President also announced a string of measures aimed at easing the strain on Kenyans feeling the heat.
The Head of State directed the National Treasury and the Kenya Revenue Authority (KRA) to;
Reduce VAT from 16% to 14%, effective April 1, 2020.
Reduce Income Tax Rate (PayAs-You-Earn) from 30% to 25%.
Effect 100 % Tax Relief for persons earning gross monthly income of up to Ksh. 24,000.
Reduce Income Tax (Corporation Tax) from 30% to 25%.
Reduce the turnover tax rate from the current 3% to 1% for all Micro, Small and Medium Enterprises (MSMEs).
Appropriate an additional Ksh10 Billion to the elderly, orphans and other vulnerable members of the society through cash-transfers by the Ministry of Labour and Social Protection, to cushion them from the adverse economic effects of the COVID-19 pandemic.
Temporary suspension of the listing with Credit Reference Bureaus (CRB) of any person, Micro, Small and Medium Enterprises (MSMEs) and corporate entities whose loan account fall overdue or is in arrears, effective April 1, 2020.
The Kenya Revenue Authority to expedite the payment of all verified VAT refund claims amounting to Ksh10 Billion within 3 weeks; or in the alternative, allow for offsetting of Withholding VAT, in order to improve cash flows for businesses.
'I recognize the anxiety that this pandemic has caused millions of Kenyan families; fearful of what the future may hold for them and their children and the possibility of job losses and loss of income weighing heavily on their minds," said President Kenyatta.
The president also directed all ministries and departments to begin the process of paying Ksh13 Billion of the verified pending bills, within three weeks. He also impressed upon the private sector to pay up its pending bills within a similar timeframe.
By the same token, the President also directed
That Ksh1 billion from the Universal Health Coverage kitty, be immediately appropriated strictly towards the recruitment of additional health workers to support in the management of the spread of COVID-19.
The Ministry of Health, the County Governments and the Public Service Commission to expedite the recruitment process of the additional health workers.
All-State and Public Officers with preexisting medical conditions and/or aged 58 years and above, serving in Job Group S and below or their equivalents, take leave or forthwith work from home excluding personnel in the security sector and other essential services.
Comments
comments
Kenyan celebrities talking about American race issues is hypocrisy
Kenyan celebrities are weighing in on the recently cowardly and callous killing of George Floyd by Minnesota police officer. And while there is nothing wrong about Kenyan celebrities with no connection to the political temperature in America adding to their voice to the millions of others calling out the institutionalized racism in America, one has to also look to see whether these same guys speak up when things are thick in Kenya.
And we did some checking and realized that the same guys currently touting their global villager citizenship are usually mute when Kenya is up in flames. These same Kenyan celebrities are clowns.
You see, as trump pointed out, Kenya is a shithole nation. We have so many issues at the moment that we need to address. But be that as it may, Kenyan artists would prefer to virtue signal and talk about distant issues over in the land of the brave, the home of the free where they will suffer no repercussions.
When post-election violence erupted, how many people came out to denounce it early on rather than waiting for ethnic and tribal diatribe to be drawn up for them? How many Kenyans recently spoke up about the disputed and divisive general elections that had to be re-conducted? How many Kenyan celebrities have been talking about the still existing internally displaced people? Or the rampant and widespread corruption that has seen our shithole country sink to demoralizing levels of depth that threatens the wellbeing of future generations?
I will wait for you to point them out.
I would love to see the Jua Calis and the Janet Mbuguas raise their voices when Kenyan police batter protesters. i would love to see Kenyan celebrities talk about unlawful and cruel evictions.
For more thought-provoking opinion pieces, click here. And be sure to like our Facebook page.
Comments
comments
'Ours was a complicated father-daughter relationship,' cries Jimmy Wayuni's daughter
One of the daughters of celebrated Benga musician Jimmy Wayuni has revealed that she was not that close to him.
In a tweet that has since gone viral, award winning filmmaker Mercy Murugi reveals that for the longest time she would have loved Jimmy to play the role of daddy.
She wrote,
"How do you mourn a man you had barely known? How do you mourn the man you called biological father but fought so much with him for the title of Dad that he wanted, but you felt he was yet to earn?"
Adding,
"What many never knew is Jimmy Wayuni is my biological father. And now he's gone."
Jimmy lost his life yestsrday night in a tragic car accident along Thika Road.
Mercy paid tribute to the fallen icon.
"Rest in peace Jimmy Wayuni Githinji. Ours was a complicated father – daughter relationship. Both of us headstrong. Prolly got it from you. That and my eyes. Rest easy.
💞💞."
Comments
comments
Blessings galore! President Kenyatta welcomes newest grandchild, Uhuru
President Uhuru Kenyatta is a happy grandpa for the second time in four years.
His first born son, Jomo Kenyatta is reported to have welcomed a baby boy named Uhuru at Nairobi Hospital.
This will be the second child for Jomo and his wife Fiona Ngobi Achola.
Their first born daughter is named Wanjiru after Kenya's first lady Margaret Kenyatta.
Baby Wanjiru was born in October 2017.
The second born, Uhuru is said to have arrived on May 27, 2020.
To date there has never been a photo of baby Wanjiru in public. It seems the parents want to keep it that way.
The same applies to Baby Uhuru.
All the same congratulations Fiona and Jomo on your bundle of joy.
Comments
comments