President's 'So what?' as 5,000 die sparks fury in Brazil
Rarely have two words ignited such a firestorm of controversy.
"So what?" said Brazilian President Jair Bolsonaro on Tuesday when a journalist asked him about the fact that more than 5,000 Brazilians had died of the coronavirus.
The far-right leader's off-the-cuff comment has been sparking anger ever since, with governors, politicians, healthcare professionals and media figures all weighing in to express their outrage at his lack of empathy.
Bolsonaro is no stranger to controversy. But his latest remark sparked such a fury because Brazil is facing a seemingly uncontrollable outbreak of the disease and is still several weeks away from the peak of the pandemic, with a death toll that threatens to surpass even the most dire predictions.
There have been more than 91,000 officially confirmed cases so far but scientists warn the real figure could be 15 to 20 times higher.
With a death toll that has already topped 6,300, the giant South American country is facing as grim a scenario as Italy or the United States.
"So what? I'm sorry. What do you want me to do?" Bolsonaro said Tuesday when questioned about his country passing the 5,000-death mark, more than China. He joked that even though his middle name is Messias, or Messiah, "I don't do miracles."
Wilson Witzel, the governor of Rio de Janeiro state, called the president's remarks "absolutely unacceptable."
With his own state on the verge of a public health meltdown, Witzel slammed the president for "being ironic about the deaths" rather than "being a leader at such a moment."
"Do your job," he said on Twitter Wednesday, the day when the pro-gun president was training at a target range, far from the woes of Brazil's 210 million citizens.
Joao Doria, governor of Sao Paulo state which is also on the frontlines of the battle against the coronavirus with more than 2,500 deaths already, replied furiously to Bolsonaro in the capital Brasilia.
"Get out of your Brasilia bubble," he retorted, urging Bolsonaro to visit hospitals "in this country which is crying for its dead and infected."
Unlike many other heads of state, the Brazilian leader has not been seen in any hospitals nor has he expressed much solidarity with victims of the disease, bereaved families or healthcare staff who have condemned the lack of ventilators or beds.
The head of the doctors' union in Sao Paulo, Eder Gatti, called on television for "a more serious attitude from the president of the republic."
Bolsonaro "shows very little sensitivity to the tragedies that the families of those directly affected by the pandemic are going through," said Lucio Renno, director of the Institute of Political Science at Brasilia University.
"His style is the iron fist, to be hard rather than to show solidarity or empathy," he told AFP.
It is a style that inevitably draws comparison with Bolsonaro's own role model, US President Donald Trump.
That type of reaction is "shocking for a large part of the population" and "reinforces the idea for a good part of the elites and for the Brazilian people that he is not fit to govern," Renno said.
Miriam Leitao, an op-ed writer at the daily O Globo, wrote on Thursday that with his "So what?" Bolsonaro had "renounced the presidency."
"Anyone who shows such contempt for his own people can no longer be president," she wrote.
In a tactic he has honed since becoming president, Bolsonaro quickly went on the offensive in the face of criticism from the governors and mayors, whom the Supreme Court has granted the power to call the shots in the fight against the pandemic.
"Ask Joao Doria or (Bruno) Covas [the mayor of Sao Paulo] why people continue to die even when they have taken such restrictive measures," said the president.
"They are the ones who should have the answers, you can't pin that on me."
Nevertheless the press on Friday blamed the spike in infections and death on Bolsonaro, who has encouraged people to go out to work to prevent an economic crash and whose most fervent supporters have taken to the streets to protest against lockdown orders.
Bolsonaro's "So what?" has "underscored how little importance he has attached to the situation," said political analyst Andre Pereira Cesar.
"If the president does not assume a wartime leadership stance against the virus he will be judged harshly — by history and by voters," he warned.
Comments
comments
Amend law to give counties more money, Ottichilo urges: The Standard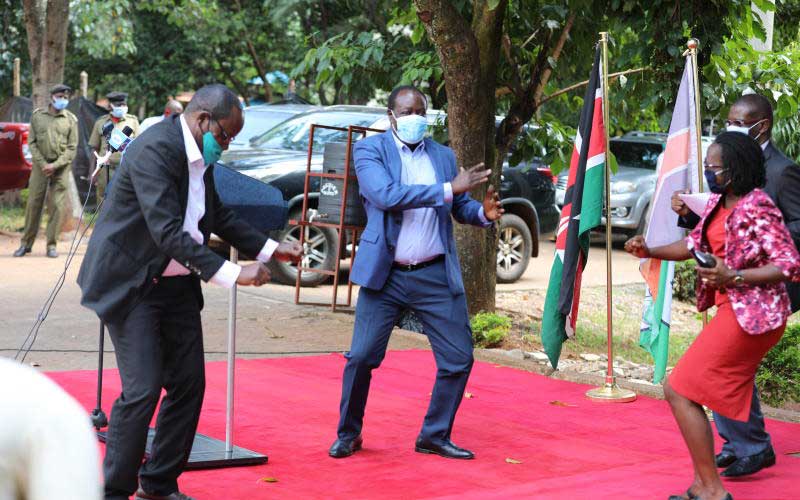 Governor Wilber Ottichilo (centre), his deputy Patrick Saisi (left) and county officials dance in honour of the late John Nzenze during the Madaraka Day press briefing in Vihiga. [Nathan Ochunge, Standard]
WesternGovernor proposes increasing funding to counties from the current 15 per cent to at least 40 per cent.
Vihiga Governor Wilber Ottichilo has called for constitutional amendments that will see county governments get an increase in revenue allocation to spur economic growth within the devolved units.
Dr Ottichilo, who was speaking in Mbale town yesterday, asked the committee working on the harmonisation of the Building Bridges Initiative (BBI) report to include the proposal of increasing funding to counties from the current 15 per cent to at least 40 per cent.
Ottichilo said that the increased funding will ensure counties have enough money to spur economic growth as well their development agenda since they will be managing their own IFMIS system.
"I am hopeful that Kenyans will support the amendment of the constitution for a better Kenya," the governor said.
SEE ALSO: Kenyans divided on call for law changes
Ghost workers
Ottichilo also revealed that he was undertaking a fresh audit of the county staff in order to get rid of ghost workers who have led to a bloated wage bill.
The county boss further told healthcare workers that they will be getting their pay on time to avert the now commonplace downing of tools.
"Issues of delayed salaries will be a thing of the past. Their promotions are being worked on by the County Public Service Board (CPSB) in the 2020/2021 financial year. I urge them to continue with the good job they are doing since the deadly virus is yet to be contained in the country," said Ottichilo.
He has also expressed his sincere gratitude to the forefront health workers in the county for their exemplary efforts in helping residents prepare for the novel coronavirus despite the challenges they are facing. 
SEE ALSO: Uhuru: Why I can't wait to change the law
"We shall forever be indebted for your kindness, hard work and resilience."
Comments
comments
MCAs blame Atwoli, Oparanya for Wetang'ula woes and Luhya division: The Standard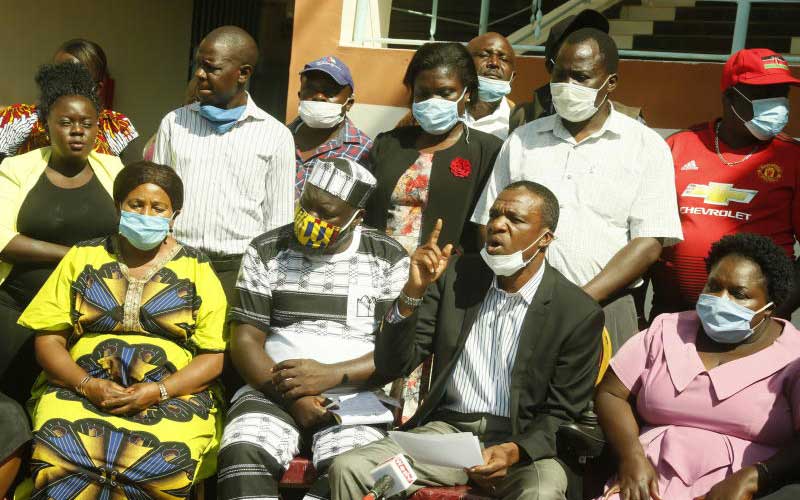 Kakamega County Assembly ward reps address the press at a Kakamega hotel, June 2. [Benjamin Sakwa, Standard]
WesternReps says anyone seeking support of the Luhya must go through Mudavadi and Wetang'ula
Political temperatures in Western Kenya have heightened following the staged coup to oust Senator Moses Wetang'ula from Ford Kenya party leadership position.
Local leaders led by over 15 ANC Kakamega County Assembly ward reps yesterday pointed an accusing finger at the Central Organisation of Trade Unions (Cotu-K) Secretary General Francis Atwoli and ODM leader Raila Odinga over the Wetang'ula party woes. 
The MCAs led by the Assembly's Minority leader, David Ndakwa, accused Raila of using Mr Atwoli and Governor Wycliffe Oparanya to destabilise the leadership of Ford Kenya and ANC parties so as to benefit from the Luhya vote in the 2022 elections.
Four days ago, a coup in Ford Kenya saw Wetang'ula replaced by Kanduyi MP Wafula Wamunyinyi as the acting party leader.
SEE ALSO: Nairobi's new cycle lanes, walkways prompt 'Uhuru and Raila' night visit
The ward reps have vowed that anyone seeking the support of the Luhya community must first go through Musalia Mudavadi and Wetang'ula and not Atwoli or Governor Oparanya.
"Some people have taken our previous kindness for our weakness. We have helped them achieve their political ambitions using our innocent support in times of need at the ballot. They are now having illegal gatherings at Atwoli's home in Kajiado to fight our own sons," said Ndakwa.
He added: "Some of our leaders have succumbed to the political machinations and intimidations by our adversaries by accepting to participate in illegal gatherings serving the interests of other people. We therefore say no to these levels of deceit and conmanship."
Ndakwa said ANC was solidly standing with Wetang'ula at a time when 'dark forces' attempted to stage a premature coup against him, adding that an enemy or the problem of Ford Kenya is also an enemy of ANC party.
"Any individual, community, parties or organisations willing to support or work with the Mulembe nation must channel such negotiations through Mudavadi and Wetang'ula our undisputed leaders," said Ndakwa.
SEE ALSO: Msajili wa vyama asema Wetangula angali kinara wa Ford Kenya
Butsotso South MCA Walter Andati said other groupings led by Atwoli have no mandate of the community and therefore cannot speak on behalf of the community.
"They are telling us that they are strategising to be in the 2022 government but for us we want to form the next government and not to join others. Time for political auction is over. Other tribes have their kingpins and are always respected. We demand respect for Mudavadi and Wetang'ula," said Mr. Andati.
"We are not cohabiting with the government or forming a coalition with them as we are not part of them. We are only cooperating with the President Uhuru Kenyatta's government over national issues like Covid-19, revival of economy and floods," said Farouk Machanje, the Isukha South Ward Rep.
Kholera ward MCA Godliver Omondi and Kakamega ANC Youth leader Emmanuel Buchichi asked ODM Secretary General Edwin Sifuna to stop insulting Mudavadi since they are not equals. The two reminded him to stick to ODM party affairs.
Mr Sifuna on Sunday castigated Mudavadi for linking Raila to the woes facing Wetang'ula, terming Mudavadi as a perennially programmed leader, a professional mourner, fence sitter and one who sees the ghosts of ODM everywhere.
SEE ALSO: Kamar succeeds Kindiki as Senate deputy speaker
At the same time, Bishop George Mechumo has called on Atwoli to stop creating divisions in the Luhya community but instead unite them.
Bishop Mechumo of the Anglican Church of Kenya (ACK) Diocese of Bungoma faulted a move by Atwoli to take a section of Luhya leaders to his home in Kajiado where they planned matters affecting the community without the input of other leaders.
Mechumo said Atwoli should involve all and sundry stakeholders in Western Kenya to drive the common agenda of the community in clinching the Presidency which has been elusive from Independence.
"If he did proper consultations with other respected leaders we would have told him that from 1963 we have not lead the country and its high time to lead," said Mechumo.
Comments
comments
President issues Executive Order on restructuring government
President Uhuru Kenyatta has issued an executive order that has seen him abolish the Presidency and instead put the office of the deputy President under the office of the president.
The new order also adds Nairobi Metropolitan Service as a public office adding it to to the Executive Office of the President.
One of the function of the Executive Office of the President is implementation of the Deed of Transfer of Functions executed between the National Government and  Nairobi City County  Government.
The order reads:
Get breaking news on your Mobile as-it-happens. SMS 'NEWS' to 20153

"IN EXERCISE of the powers conferred by Article 132 (3) (b) of the Constitution, as read with all other enabling Laws, I, UHURU KENYATTA, President and Commander-in-Chief of the Kenya Defence Forces, order and direct:
"THAT the Government shall be organized as set out in this Order; (ii) THAT this Order contains portfolio responsibilities and changes made in the structure of Government; (iii) THAT this Order assigns functions and institutions among Ministries and State Departments; and (iv) THAT this Order supersedes Executive Order No. 1 of 2018 (Revised) issued in July 2018."
Click here to see the order–>Executive Order No. 1 of 2020 formatted final Updated
Tell Us What You Think
Comments
comments