For the second time in a week, President Uhuru Kenyatta, on Sunday, 08 December 2019 gave TangaTanga MPs allied to his deputy William Ruto a piece of his mind in a fiery speech that left no doubt that he is not happy with their activities.
While addressing the congregation at St Francis of Asisi Church in Ruiru, the president made it clear that he gets irritated by the stupidity and the careless remarks that some politicians make adding that they behave as though they don't live in Kenya.
"Nakasirika nkiona ujinga. Ukiona vile wengine wanafanya na vile wanaongea unashindwa kama wananishi Kenya hii".
The President faulted the team for criss-crossing the country with promises of what they will deliver (20222 and beyond) and instead challenged them to focus on the present moment and what they are doing/can do to change the lives of Kenyans.
"Kila siku tunaambiwa juu ya kesho. Hatutaki ya kesho jameni, tutunataka kujua ya leo ni gani, hiyo ndio haja yetu kwa sababu tukipanga ya leo, ya kesho tutaganga(Every other day theytell us about tommorroww, making promises. But what about today? When we plan for today, we can focus on tommorow)," slammed Uhuru.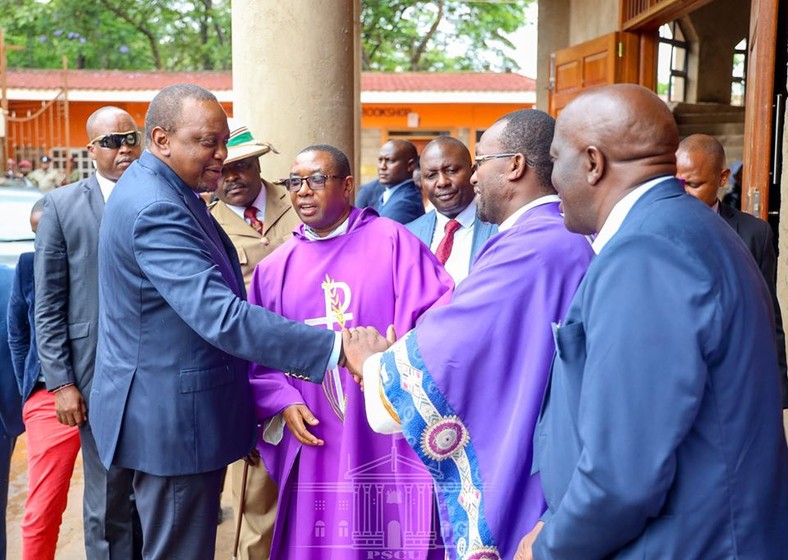 President Uhuru Kenyatta at St Francis of Assisi Catholic Church on Sunday, 08 Dec 2019

Yesterday, Gatundu Sout MP Moses Kuria took a swipe at the president, stating that the answer to their disgruntled is not anger.
In an apparent response, the head of state admitted that he gets offended at the stupidity that politicians spew.
"Unajua natoboa alafu wengine wanasema nakasiririka. Nakasirika nikiona ujinga…" slammed Uhuru.
Kuria had, on Saturday alluded to the President's fiery speech delivered on Tuesday in which he warned Tanga Tanga MPs that they are undermining the unity of the country by attacking the BBI.
"Si kuna manung'uniko, na njia ya kutibu manung'uniko sio makasiriko. Ni kukaa chini na kujiuliza ni kwa nini hawa watu ambao wamekula na sisi miaka yote wananung'unika. (There is discontentment, and the way to deal with it is not to get angry. The solution is sitting down to reflect why people who have been loyal all along are complaining)." Kuria slammed.
Below is the video of Uhuru making the remarks, courtesy of Daily Nation.