President Uhuru enyatta found himslef on the receiving end with a section of disgruntled Kenyans taking to Twitter to vent out their nger and frustrations.
#ConfusedPesident became a trending topic on Thursday evening, running through to Saturday as netizens delved into the state of the nation with some alledging that the President is overwhelmed by the challenges facing the nation.
"If we are not destroyed by terrorism, we will be ruined by poverty, moral decay, unemployment and incompetent rule. President is casting Platitudes and empty rhetorics left right center. Within his circle he is taming the power hungry Raila. We are doomed! #ConfusedPresident" slammed @theImwene .
The delicate Jubilee party unity and the BBI report that has placed the president right at the middle with Raila Odinga and DP Ruto reading from different scripts saw others claim that the head of state is confusedon which camp to loyal to.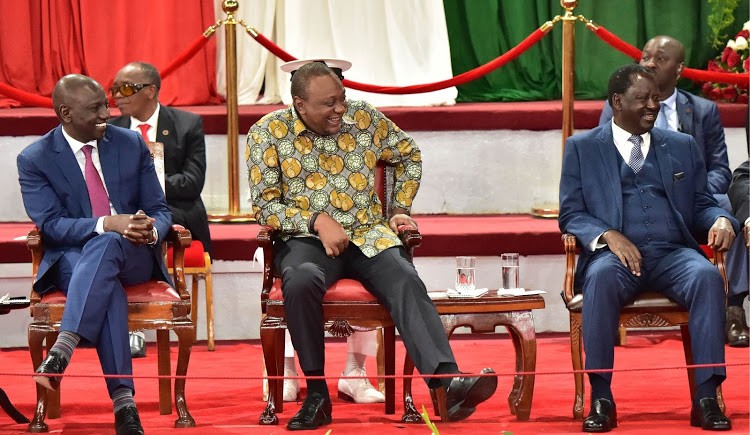 DP William Ruto, Presidnet Uhuru Kenyatta and Raila Odinga at the launch of BBI report

@WANJIRUCHARLES wrote: "#ConfusedPresident if BBI is meant to unite kenyans, its should start with Ruto And Raila".
"Uhuru Kenyatta is now confused whether to work for Kenyans or Raila Odinga". Added @wajutha.
Many made it clear that the rampant corruption under President Uhuru Kenyatta's administration is not something to smile about, pointing out that despite his bold pronouncements in the fight against corruption, Kenyans are yet to see any major conviction.
@rickarani wrote: "I love the showbiz portrayed when arresting leaders. The party is over as soon as they are arrested. Can't you just prosecute one tuone mko serious? #ConfusedPresident".
Some claimed that Uhuru had no grip in Mount Kenya, alleging that DP Ruto played a key role in getting him re-elected.
The heavy rains that have caused flooding, deaths and renderd many roads impassable did not miss in the issues presented on Twitter with some alleging tht the country needed to be fixed urgently.

President Uhuru Kenyatta and DP Ruto at a past event. Rival factions have emerged in Jubilee pulling on opposite sides and allied to the two leaders

As expected, projects that the President promised during the campaign period were the highlit of #ConfusedPresident with some demanding to know why the Laptop project failed and where Huduma number project disappeared to.
@pundit_somali wrote: "Uhuru Kenyatta went to launch a Japanese funded dispensary of 8M! He financed BBI which costed 10B to come up with a Kindergarten school Story Book! When Moses Kuria says amerogwa you think it's a JOKE?".
Other Netizens spoke their mind and said that Kenyans were always caught in wars between groups yet the leaders were eating and building skyscrapers.
The Likoni tragedy also found its way with others pointing out that it is time to find a lasting solution and channel some funds to build a bridge.
"#LikoniTragedy, could it mean we have a #ConfusedPresident who cannot learn from past errors? Likoni ferry serves tens of thousands each day. Why not build a modern bridge? BBI cost 10B? SMH" quipped yet another.