President Kenyatta Forms Four Committees to Oversee Big Four Agenda Delivery
President Uhuru Kenyatta has constituted a National Development Implementation and Communication Cabinet Committee that will oversee the delivery and oversight of national government development programmes and projects.
The newly formed NDICCC will be headed by the Cabinet Secretary for Interior and Co-ordination of National Government, currently steered by Fred Matiang'i, who will be tasked to foster greater co-ordination and harmonisation in the implementation of the government's development programmes and projects under the Medium Term Plan III, with a focus on the Big Four Agenda.
The Big Four Agenda is anchored in the Jubilee government's manifesto. The projects are; creation of 1.3 million manufacturing jobs by 2022 and raising the share of manufacturing sector to 15 per cent of the country's GDP from 9 per cent; achieving 100 per cent health coverage for every Kenyan; ensure robust food production and supply and building of 500,000 affordable houses.
"I note that for the efficient Co-ordination and administration of National Government Development Programmes and Projects across the Republic, and for proper discharge of the Executive Authority across the Nation, there is a need to establish implementing and co-ordinating Committees at various levels," said President Kenyatta.
CS Matiang'I will be deputised by Cabinet Secretary for National Treasury and Planning, currently headed by Henry Rotich, and will have all cabinet secretaries, the attorney general and the head of public services as the members.
President Kenyatta, in the same brief, has formed the National Development Implementation Technical Committee that will, among other tasks, receive and deliberate on the reports from the Regional Development Implementation Co-ordination Committee and any other relevant entities.
The Principal Secretary for Interior and Co-ordination of National Government, currently headed by Dr.Eng.Karanja Kibicho, will chair the NDITC and seconded by the Principal Secretary for The National Treasury, Dr Kamau Thugge. Members of this committee are Principal Secretaries for Energy, ICT, Planning, Devolution, Health, Crop, Industrialisation, Lands and Physical Planning, Housing and Urban Development, Infrastructure and Transport.
Other members in the committee are the Solicitor-General, any other Principal Secretary who will be co-opted as the need arises and the Head of Presidential Delivery Unit.
Regional commissioners have been charged to, among other duties, co-ordinate within their respective regions, using a multi-sectoral approach, to ensure that the implementation of government's projects have been realised under the Regional Development Implementation Co-Ordination Committee.
The RDICC members will be Regional Directors of Ministries, Departments and Agencies (MDAs) and (Semi Autonomous Government Agencies) SAGAs, and PDU's Senior Delivery Director.
President Kenyatta has also composed County Development Implementation Co-Ordination Committee to be chaired by respective county commissioners who will, among other tasks, co-ordinate within the county, using a multi-sectoral approach, the implementation of government's projects.
Members of CDICC are County Information Officers, County Directors of MDAs and SAGAs and the PDU's Delivery Director.
Comments
comments
Raila Odinga protests probe against bank executive: The Standard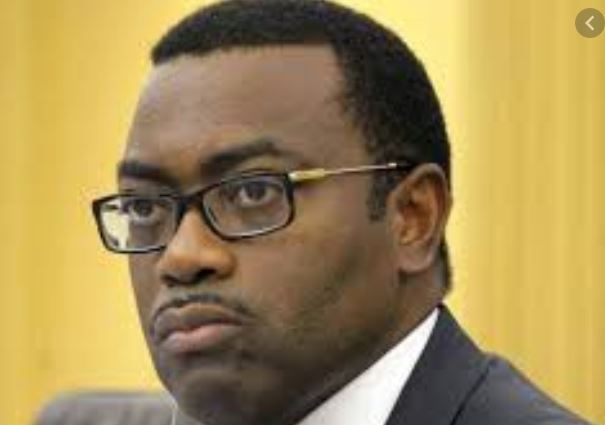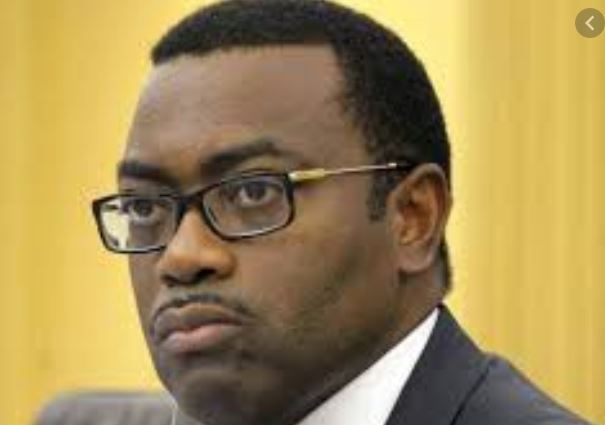 Business News
The bank's whistle-blowing and complaints handling policy will also be reviewed
Africa Union has thrown its weight behind embattled Africa Development Bank President Akinwumi Adesina over claims touching on recruitment and procurement at the institution.
A whistleblower has made allegations of violations of procurement, contract issuance, and recruitment procedures putting into question Adesina's leadership at the bank.
The allegations however were investigated by the executive board through its relevant committee and a determination made that they were baseless. Individuals who were not satisfied by the Board's findings and determination decided to pursue the issue outside the bank's processes and procedures by calling for an independent inquiry.
The African Development Bank's (AfDB) Board on Thursday said it stood by an internal investigation that had cleared its president of improper conduct, but it would carry out an independent review of the report in the interest of due process.
SEE ALSO: Tactical retreat or slow surrender: What next for DP Ruto after purge?
Raila Odinga, The Africa Union high representative for infrastructure development in the continent rubbished call for second investigations into the allegations. He at the same time outlined the progress the multilateral lender has made under the leadership of Adesina, a former Nigerian minister.
"We reject the attempt to operate outside the laws governing the operations of the bank. If not checked, these maneuvers can distabilise a well-functioning institution at a time the continent needs it most," Raila said.
In defending the bank, Raila pointed out that Adesina's leadership has yielded commendable results, among them raising capital from USD 98 billion to USD208 billion in 2020.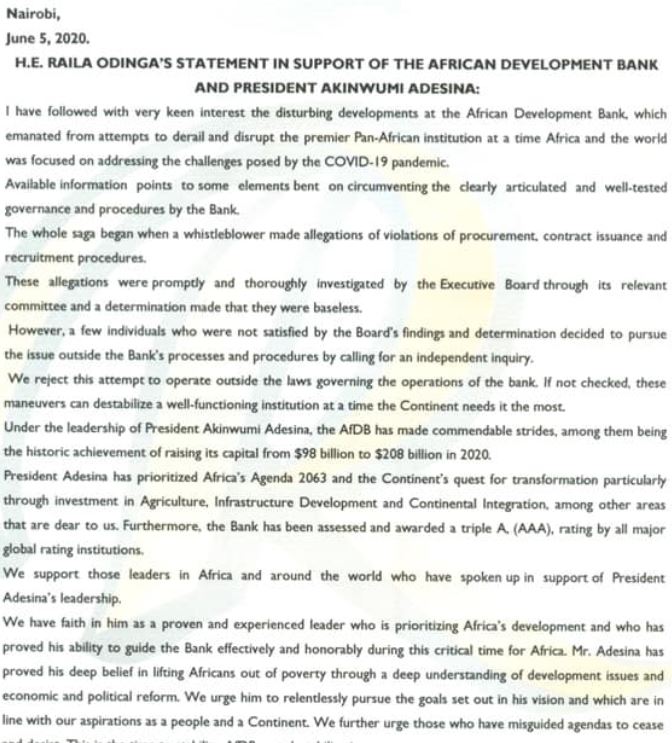 The United States, AfDB's second-largest shareholder, has demanded a new independent probe into the allegations, rejecting the bank's investigation over reservations about the integrity of the bank's process. Meanwhile, top shareholder Nigeria has voiced its support for Adesina.
In a statement, AfDB's board of governors said it believed the bank's ethics committee, which produced the report, had carried out its role correctly. But the board has nevertheless agreed to authorise a review.
SEE ALSO: Bromance, then boom: The parallels
"The independent review shall be conducted by a neutral high caliber individual with unquestionable experience, high international reputation, and integrity," it said.
On Tuesday, Nigerian President Muhammadu Buhari gave his backing to Adesina in his bid for a second term as AfDB president despite the allegations.
Adesina later this year plans to pursue a second term as the head of the multilateral lender, which is headquartered in Ivory Coast's commercial capital Abidjan.
The board said the review of the investigation would take no more than four weeks and not interfere with the bank's electoral calendar.
The bank's whistle-blowing and complaints handling policy will also be reviewed at a later date to ensure it is being properly implemented, it said.
SEE ALSO: MCAs blame Atwoli, Oparanya for Wetang'ula woes and Luhya division
Additional reporting by Reuters
Comments
comments
Over one million rendered jobless in Kenya as Covid-19 takes toll on businesses
At least one million Kenyans have lost their jobs or have been put on indefinite unpaid leave as the Covid-19 pandemic morphs into a major jobs crisis.
Multiple interviews and a compilation of public data from some of the companies suggest that the numbers could be higher, especially when casual labourers are factored in.
The massive job haemorrhage from the Covid-19 pandemic has thrown Kenya into one of the worst employment crises it has faced.
The Chinese contractor building the Standard Gauge Railway (SGR) sent 4,013 Kenyans and 471 Chinese expats on unpaid leave due to the coronavirus crisis.
The worst-hit companies are in the tourism, transport, horticulture, communication and education sectors.
At Kenya Airways, there is a thick cloud of helplessness as its more than 4,000 employees wait for a government bailout and the lifting of travel restrictions. The pay of a majority of its staff was cut by 75 per cent.
"If you are in a department where there is no work, such as pilots and cabin crew, you will stay at home the whole month. But engineers report for one week and are on leave the next, since aircraft have to be maintained even when parked," a member of staff said.
In March, Bridge International Academies sent hundreds of teachers and other staff on compulsory leave.
The low-cost private school chain told its staff through an internal memo that they should consider the leave as a "temporary lay-off" during which the organisation would not expect them to work and it would not be obligated to pay salaries.
The pain of the firm's staff is shared by others in more than 1,932 private secondary and 8,000 private primary schools in the country who have taken similar or worse actions.
Jointly, private schools employ hundreds of thousands of teachers and other support staff such as security guards, clerks, receptionists and messengers.
"Private schools entirely depend on the school fees paid by parents, meaning if this pandemic continues, most of these schools will cease to exist," Private Schools Association chief executive Peter Ndoro warned in a recent interview.
Mr Evans Muriu, a communication manager at SecurKenya Group Ltd, which employs more than 1,000 guards, says because of the pandemic, its key clients, among them hotels and malls, have cut down on their operations. This has left hundreds of security guards without jobs.
"When hotels shut down, the guards were released," Muriu said.
"When malls got reduced foot traffic, they reduced the number of guards. It has been very strenuous for the company and guards, some of whom have not worked for over two months."
To help them cope, the company's managing director has been doing some shopping for the affected guards.
"We feel it is important for fellow employers to be compassionate and lend a hand to the employees," Mr Muriu said.
Before the Covid-19 crisis, the private security business, with more than 2,000 firms, was thriving as various establishments hired guards to secure their premises.
Available estimates indicate that the sector employs as many as 700,000 guards, making it the biggest employer in the country. Now, a majority of these men and women have been rendered jobless.
The horticultural sector was also doing fairly well and employed over 150,000 Kenyans directly and another 500,000 indirectly. A majority of these jobs are now on the line.
According to the Alcohol Beverages Association of Kenya, bars previously employed over 250,000 people, many of them on a daily wage. The association's chairman said closing them has jeopardised their support for over two million livelihoods.
For two weeks now, the Nation has tried to get new Labour Cabinet Secretary Simon Chelugui to provide an official number of those who have lost jobs in the country. He did not pick up our calls or respond to several messages sent to him.
Companies are required to report to the ministry before carrying out any redundancies.
During Labour Day celebrations, President Uhuru Kenyatta said that more than half a million Kenyans could lose their jobs in the next six months due to the Covid-19 pandemic. He added that workers in the informal sector and casual labourers were the worst-hit.
But nothing can best illustrate the pain of employees and the unemployment crisis than last week's decision by the Fairmont Norfolk, an iconic hotel in Nairobi, to shut down indefinitely and fire all employees.
"Due to the uncertainty of when and how the impact of the global pandemic will affect the business picking up in the near future, we are left with no option but to close down the business indefinitely," the firm's country manager Mehdi Morad said in a memo. This means that several other hotels it operates, among them Movenpick, could face a similar fate.
The announcement, which sent chills through the job market, did not shock players in the hospitality industry who have taken similar actions quietly, or are considering them.
Tribe Hotel, Ole Sereni and DusitD2, all in the capital Nairobi, stopped operations days after the government imposed travel restrictions and social-distancing rules.
Many five-star hotels that rely on tourism, events and conferences have sacked their casual staff and put their permanent staff on indefinite leave. Very few have been lucky to remain on reduced pay.
Last week, East African Portland Cement Company (EAPCC), majority owned by the National Treasury and pensioners, announced a voluntary early retirement programme as part of a continuing staff rationalisation plan.
The cement maker's acting managing director Stephen Nthei said the programme is a one-time event open to all employees.
"The industry has witnessed a significant decline in productivity, resulting in depressed revenues and manpower utilisation, leading to unprecedented job losses," Mr Nthei said.
EAPCC is among several companies that started retrenching staff before the virus, which has made a bad situation worse in the country. These include Tuskys supermarkets and Shoprite supermarkets, which fired 104 staff after closing its Waterfront branch in Karen.
But there is a glimmer of hope.
On Wednesday, Kenya Airways' low-cost subsidiary Jambojet announced it has put in place safety plans in anticipation of launching its flights next week.
Acting chief executive Karanja Ndegwa said the measures include thoroughly sanitising aircraft before and after each flight, as well as paying extra attention to all heavily touched areas. The aircraft have also been fitted with high-efficiency particulate air filtration systems that refresh the air every three minutes.
"Once we resume operations, we will ensure that we continue to follow the guidelines set by the Ministry of Health, WHO, IATA and other relevant bodies," Mr Ndegwa said.
Comments
comments
Kenya re projects Sh1bn drop in earnings as COVID-19 reality sinks in
NAIROBI, Kenya, Jun 5 – The Kenya Reinsurance Corporation is staring at a revenue drop of at least Sh1 billion, an equivalent of five percent of its total earnings this year occasioned by lost contracts related to the COVID-19 pandemic.
The lion's share of the impact will be as a result of increased claims and rebates on premiums as businesses globally seek to re-negotiate their contract terms with underwriters and re-insurers.
According to the managing director Kenya Re Jadia Mwarania, the five percent hit will be "the worst case scenario" for the corporation in the wake of anticipated business losses occasioned by the pandemic.
"At the moment, we have over 265 re-insurance contracts spread across over 70 countries in diverse segments such as medical, trade credit, lawyers' liability fees among others. We expect the business to shrink in tandem with the lower GDP growth as projected by the government at the rate of 2.6 percent this year. On our end, we estimate the industry growth to shrink by at least 2 to 3 per cent" Mwirania said in an interview.
This year, Kenya Re had projected an income of over Sh19 Billion based re- insurance premiums, property, investment income and business diversification.
Faced with the gaping hole in its books, the corporation has started to aggressively collect premiums from underwriters and brokers from the existing contracts to plug the gap.
"We are generating weekly reports to monitor targets and performance. At the same time, we have enhanced turn-around times for claim processing to a maximum of 48 hours", said Mwirania.
To cushion the corporation on the investment side, the MD said the focus for the next half of the year will be to increase dollar reserves in order to accumulate hard currency reserves in anticipation of foreign contract claims.
Other measures being implemented include investing in fixed income instruments such as treasury bills, bonds and fixed deposits to mitigate the effects of volatility.
While cautiously noting that pandemics like COVID-19 are not covered in insurance contracts, Mwirania said that it will be the responsibility of each party to come up with the right solution to cushion both the client and insurer based on negotiation.
"We are well aware of the circumstances that have been occasioned by the pandemic. Most of the claim settlements will be based on negotiation and evaluation the best case scenario for each contract with mutual agreements between the involved parties" he said.
Comments
comments