Pope Francis offers his liberal views on sex
By THOMAS MATIKO
Head of the Roman Catholic Church, Pope Francis has waded into the 'taboo' topic of sex, describing it as a gift from God.
Speaking while addressing a group of young people from the Diocese of Grenoble-Vienne France, the Pope termed sexual relations between a man and woman as passionate love because true love is passionate.
"Sexually, sex, is a gift of God. Not taboo. Love between a man and a woman when it is passionate, it leads you to give your life forever. And to give it with your body and soul" Pope said.
Harira from Morocco Eve woman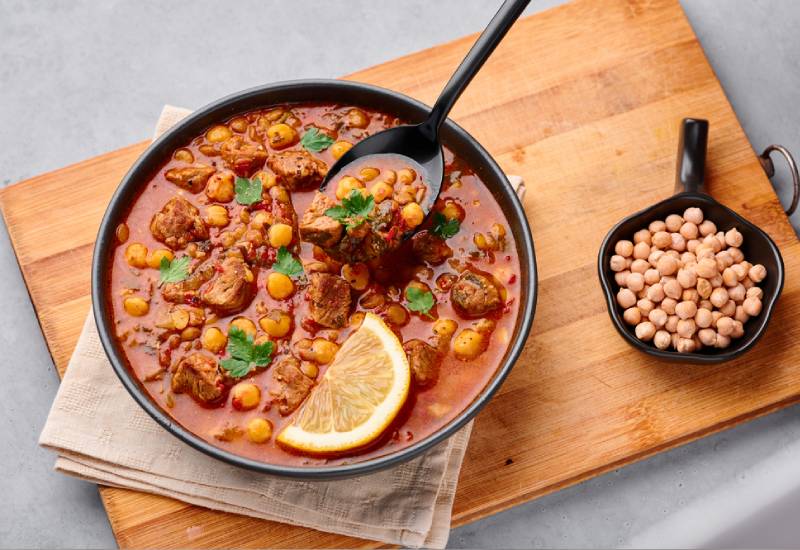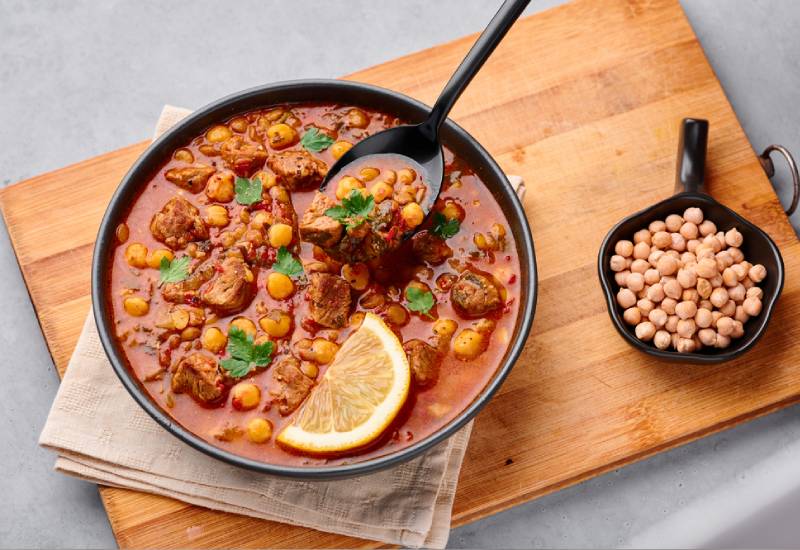 Let's be honest, the weather has not been on its best behavior and we are all in need some comfort food, anything to keep the cold away.
But as it stands, tea and coffee can only work their magic for so long before they get boring and monotonous.
If you feel this way, then you should probably try the Moroccan soup, Harira.
What is Harira?
This a popular traditional North African soup prepared mainly in Morocco and Algeria.
Harira comprises of a number of proteins, vegetables and spices that all help this soup burst out in zesty flavours.
You can have this bowl of soup as a starter, light snack or for the main course dish depending on what time of day you are preparing it.
Harira takes time before it achieves culinary perfection but the best part is that once you stir everything together, all that will be left for you is to wait as the heat does its magic.
Here is everything you will need to prepare this flavourful meal:
Take a quick survey and help us improve our website
Take a survey
Ingredients:
Beef, lamb or chicken meat, cubed
Vegetable Oil
One large onion, finely chopped
Three tomatoes- ripe and finely diced
Two table spoonful of tomato paste
A glass of dry chickpeas, soaked and peeled
Three table spoons of lentils
One bunch of coriander leaves, finely chopped
One tea spoonful of salt
Ginger, crushed
One tea spoonful of black pepper
½ tea spoonful of turmeric
One cup of flour
One Lemon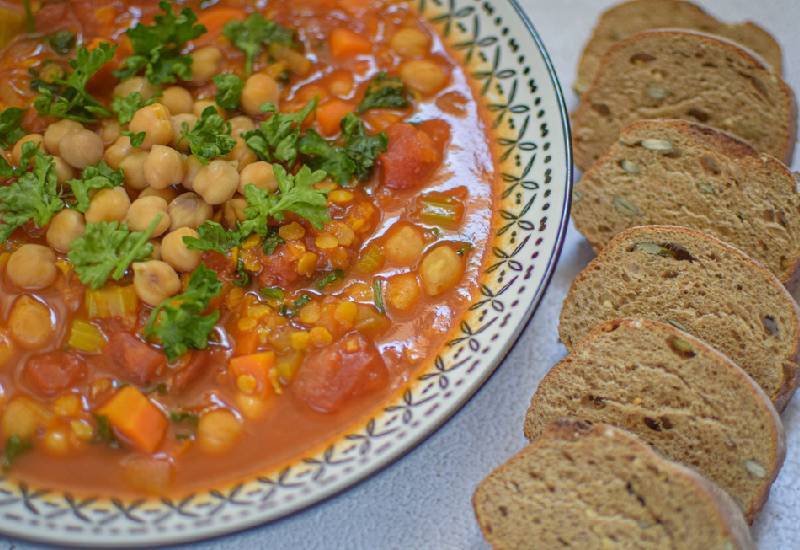 Method
Once all your ingredients and prepped and ready, the whole process is much easier from here on. In a large pot, heat your cooking oil and add your meat and let it brown.
Next, add your peeled chickpeas, tomatoes, onion, all the spices and three cups of water, stir for a little while and bring to boil. Let it cook on medium heat for about 30 minutes.
Once simmered, add your lentils, tomato paste and 7 cups of water to the mixture, cover and let it continue boiling for another 30-40 minutes.
When preparing this soup, you will need to regularly stir and taste your soup to adjust the ingredients and seasoning accordingly.
For that thick, creamy finish, the final step is to add your flour mixture moderately to your soup and stir constantly until you reach your desired consistency.
Let your soup simmer for another five minutes while stirring, this to ensure it doesn't stick to the pot. Once ready, serve on a bowl and garnish it with coriander leaves and lemon wedges.
You can serve your bowl of soup with some bread, rice, noodles or pasta but you can also indulge this meal as it is. Happy cooking!
Student murdered under unclear circumstances
Angry students of St Paul's Diploma Teachers Training College in Bumula Constituency, Bungoma County, Monday, took to the streets to protest the killing of a third year student at the institution by unknown assailants.
The irate students say the body of their colleague was discovered along the railway line, a few meters from the main college on Sunday night.
Martin Ambani, a student of Geography and Kiswahili was expected to graduate this year 2021 after the completion of his Diploma course.
The students blocked vehicles at Kimaeti along Bungoma-Malaba highway for almost one hour and appealed to Interior Cabinet Secretary, Fred Matiang'I, to intervene and find lasting solution to high incidents of insecurity rocking the area, particularly involving students fraternity.
St Paul's Diploma Teachers Training College was previously located in Kibabii area in Kanduyi Constituency before it was relocated to Syombe in Bumula Constituency with Mr Saul Barasa heading the institution.
The students led by Patrick Kemei, blamed Bungoma security team for laxity
and failure to beef up security around the College.
"This is not the first student to be murdered in such unclear
circumstances, if this situation is not going to be addressed then this
college should be closed down," they stated.
Patrick Kemei, also a third year student said villagers have been sneaking into the institution at night.and stealing students' linen, phones and other personal effects.
| "Since we were relocated to Syombe, insecurity and theft cases
have been on the rise in our institution, I appeal to relevant authorities
to make sure that we are safe while here,'' he said.
Bungoma County Police Commander, Dr Mutungi Mutiso, confirmed the incident
and asked students to remain calm as railway police investigate the brutal
act.
"I appeal to relatives and students to remain calm, demonstrations will not
add value, we have lost a life and let the investigations be completed so
that justice can be dispensed,'' appealed the County Commander.
The School Principal, Saul Barasa, declined to comment on the matter, saying that it was under probe by police officers.
KNA/By Roseland Lumwamu
Wasafi Records ink new deal with Warner Music – KBC
The deal will see WCB-Wasafi incorporated into Warner Music South Africa and Ziiki Media
Warner Music has announced a new 360 partnership with East Africa's number one artist Diamond Platnumz and his leading independent record label WCB-Wasafi. The new deal will see WCB-Wasafi incorporated into Warner Music South Africa and Ziiki Media, while Warner Music's global network will help propel Diamond Platnumz and the label's artists to a worldwide audience.
Diamond Platnumz is one of Africa's most successful artists, having released more than 30 hit songs, and is one of the region's most recognisable figures, which has led to him becoming a brand ambassador for companies such as Pepsi, Parimatch, Nice One Brand and Coral Paints. He has the number one artist YouTube channel in Sub-Saharan Africa, with more than five million subscribers, and also has more than 12 million Instagram followers. Over the course of his career, Diamond Platnumz has won numerous awards from the likes of MTV and Channel O.
Diamond Platnumz founded WCB-Wasafi and turned it into one of the top labels in Africa. The label has enjoyed success with artists such as Lava Lava, Mbosso, Rayvanny, Zuchu, and Queen Darleen.
The new 360 strategic partnership will see Warner Music, Diamond Platnumz, Ziiki Media and WCB-Wasafi artists collaborate on new releases, catalogue, brand partnerships, live and sync deals.
Get breaking news on your Mobile as-it-happens. SMS 'NEWS' to 20153

Speaking about the new partnership Diamond said, "I've built WCB-Wasafi from the ground up and believe that Warner Music and Ziiki are the right partners to help further grow our reach. I'm also looking forward to plugging into the Warner network myself. We've got some exciting plans and I can't wait to share more music with the world."
"Diamond Platnumz musical talent is undeniable and he's become one of Africa's most successful artists. On top of that, he's proven to be an incredible businessman, as he's grown WCB-Wasafi into a formidable record label. The East and Central African music scene has exploded over the last few years and we believe by working together, we can help promote Diamond and his artists to more fans around the world and introduce Bongo Flava scene to a broader audience. This 360 partnership establishes a new way to engage with artists in Africa and our ambition to bring African talent to the rest of the world. I'd like to thank WM South Africa and Ziiki Media for their outstanding support in making this deal happen," said Alfonso Perez-Soto, President, Emerging Markets, Warner Music.
Diamond's music is available to stream on all digital channels.
Tell Us What You Think