Police officers, informant in lawyer Willy Kimani murder case denied bail
Four police officers and an informant accused of killing human rights lawyer Willie Kimani will remain in police custody.
On Thursday morning, Fredrick Leliman, Stephen Cheburet Morogeo, Sylvia Wanjiku Wanjohi and Leonard Maina Mwangi were denied bail/bond terms.
Justice Jessy Lessit said nothing has changed since the first time they applied to be released.
This was their second bid for bail/bond at the Milimani Law Courts.
The court previously ruled that confession and evidence presented to investigators from the police informant, who is also the 5th accused, will be used against them in the case.
Peter Ngugi Kamau, the fifth accused person, is reported to have confessed to investigators how the deceased advocate and two others were kidnapped, brutally murdered and their bodies dumped into a river.
It is alleged that Kamau gave up the gruesome details hoping that he would be made a State witness.
He however recanted his earlier confession in a public court after he was charged with murder alongside the four officers after realizing things had changed.
Advocate Willy Kimani, his client Mr Josphat Mwenda and their taxi driver Mr Joseph Muiruri were kidnapped when leaving the Mavoko Law Courts on June 23, 2016.
A week later, their bodies were pulled out of Oldonyo Sabuk river in Machakos County stashed in gunny bags.
The trial will proceed for two weeks in July with investigation officers expected to present the 5th accused person's confession as evidence.
Video Of The Day: This new man in Harambee Stars jersey Christopher Mbamba
Comments
comments
Farmers oppose move to import maize: The Standard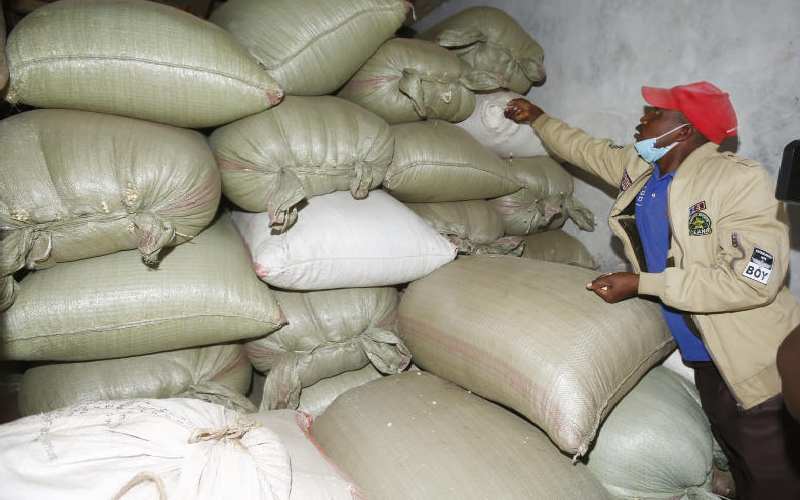 John Towett inspecting some of his 900 bags of Maize at home in Naiswet,Nakuru on May 29, 2020. [Kipsang Joseph/Standard]
Rift Valley"Our stores cannot be empty as we cannot risk starvation," Wekesa said.
Farmers in South Rift have protested government's plan to import four million bags of maize worth an estimated Sh10 billion.
The farmers claim they have sufficient stocks of maize in their stores, which the State could buy to bridge the shortage.
Yesterday, Andrew Tarich, a director with the Kenya Farmers Association (KFA), said farmers will struggle to sell their stocks if the government goes ahead to import the grain.
Kenya plans to import two million bags of white maize for human consumption and an additional two million bags of yellow maize for animal feed by mid-July.
SEE ALSO: CS Munya fined Sh100,000 for disobeying court
"It is not okay to importat maize when we have farmers holding millions of bags in their stores," said Yatich.
Strategy Food Reserve Oversight Board Chairman Noah Wekesa told The Standard that lack of maize is driving importation. Wekesa said the Sh10 billion was generated from sale of four million bags last year. The board sold two million bags at Sh2,300 per bag and another two million at Sh2,700 each.
"Our stores cannot be empty as we cannot risk starvation," Wekesa said.
But Yatich insisted it was ironic for the State to import four million bags yet annual maize production in the country stands at between 36 and 40 million bags.
Yatich, a farmer in Molo and Elburgon, said he has at least 600 bags of maize harvested last year.
SEE ALSO: State will no longer set maize prices
A 90 kilo bag is selling at between Sh1,700 and Sh2,300.
"Prices of the produce are not stable and farmers fear that after importation, they will be much lower, leaving them counting losses," he said.
The Standard visited different farmers in Neissuit, Njoro Sub-county and established a number of them had stocked the produce for lack of better markets.
Maiso Lepere is holding 600 bags of grain harvested last year while John Toet has 900 sacks.
Comments
comments
Calm returns in clash-hit Narok : The Standard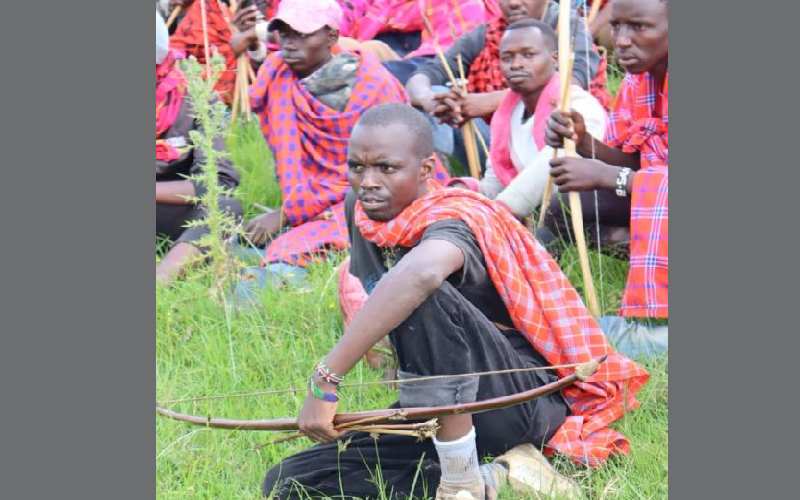 Residents of Ololoipang'i in Narok South during a peace meeting.Three people have been killed in inter-tribal clashes involving Kipsigis/Maasai communities over cattle theft. [Robert Kiplagat]  
Rift ValleyAuthorities issued a three-day ultimatum to residents in possession of illegal weapons to surrender them or face forceful disarmament.
An uneasy calm has returned to troubled Narok South where violent conflicts between local communities had erupted, leaving eight people dead and more than 20 houses razed down. Dozens others were injured in the skirmshes.
Area Deputy County Commissioner Felix Kisalu said in past four days, no incident has been reported in Ololoipang'i and Olooruasi villages following deployment of security personnel to the area.
Yesterday, authorities issued a three-day ultimatum to residents in possession of illegal weapons to surrender them or face forceful disarmament.
"We held a series of meetings at the affected areas and residents agreed to turn in their weapons, and that is why we gave them three days to surrender them or face forceful disarmament," said the administrator.
SEE ALSO: State extends curfew hours in clash-hit Trans Mara area
He said the security personnel and chiefs will go from door to door to collect the weapons should residents fail to surrender them within the stipulated time.
The move comes barely days after the Rift Valley Regional Coordinator George Natembeya toured the area at the height of the violence and revealed that majority of the deaths were caused by gun wounds indicating presence of illegal arms in the hands of the locals.
During a spot check over the weekend in the affected areas including Ololoipang'i, Olooruasi, Nkoben, Mekenyu and Olashapani revealed that relative calm had returned and people were slowly going back to their normal lives.
The administrator's sentiments were echoed by Narok Peace Task Force Chairman Bishop Peter Nakola who called on the government to mop up all illegal firearms and other crude weapons in the hands of civilians.
Underlying issues
Bishop Nakola also asked the government to investigate the underlying issues behind the skirmishes expressing fears that cattle theft was being used as a scapegoat for the tribal flare ups.
"How is it that people are killing each other because of one stolen cow? Innocent lives should not be lost because of a cow. I believe there could be some other underlying issues that the government should get into the bottom and tell us," said Nakola.
Comments
comments
Water line upgrade to serve more: The Standard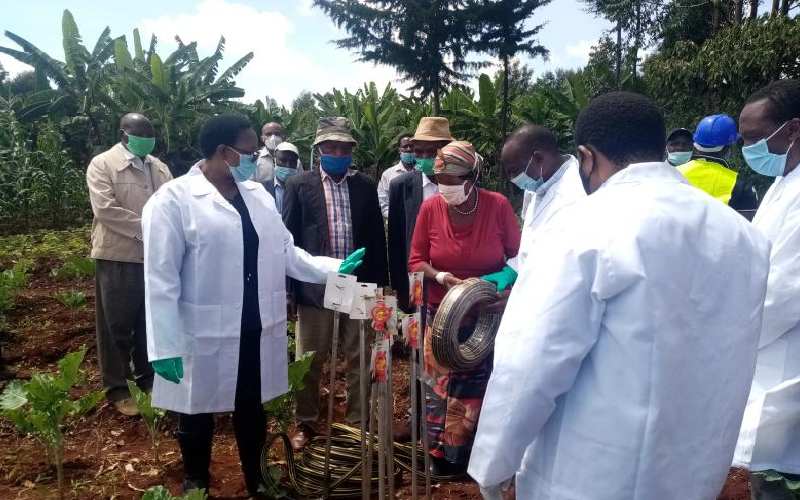 CS Water and Irrigation Sicily Kariuki speaks to farmers and Nyeri Town MP Ngunjiri Wambugu during her tour of Riamukurwe Water Project in Nyeri town on 29/05/2020. [Lydiah Nyawira/Standard]
CentralThe CS was accompanied by Kieni MP Kanini Kega. Mathira MP Rigathi Gachagua skipped the event.
A multi-billion shilling water project in Mt Kenya Forest that was initially meant to benefit over 30,000 Mathira residents in Nyeri County will be upgraded to serve more people.
Water Cabinet Secretary Sicily Kariuki said the project upgrade estimated at Sh1.2 billion will benefit residents of neighbouring Kieni constituency.
Speaking on Friday during a visit to the site, the CS said the Sagana river regeneration project will be redesigned afresh to accommodate Kieni Constituency.
The CS was accompanied by Kieni MP Kanini Kega. Mathira MP Rigathi Gachagua skipped the event.
"This project is among those permitted by President Uhuru Kenyatta to supply water to Mathira and Kieni sub-counties. It was started six months ago but stalled over a dispute between Kenya Forest Service (KFS) and ministry officials over the conservation aspect of it," the CS said.
Shared resource
The decision to restructure the project, she said, was informed by multiple petitions her ministry had received from Kieni residents calling for shared resources between the two neighbouring constituencies.
The CS instructed CEO of Tana Water Service Board Moses Naivasha to ensure the work of redesigning the project commences immediately.  "We are working with KFS on a conservation plan that will see us plant trees in over 60 acres of land to compensate for what will be destroyed during construction of the dam," she said.
In 2015, the government launched the Mathira water project to benefit residents of Mutathi-ini, Thaiti, Ngandu Kiria and Mbogo-ini.
But residents in Tetu sabotaged the project, noting they were not beneficiaries yet it was drawing water from their area.
Comments
comments