Peg new policies on research to help flatten corona curve: The Standard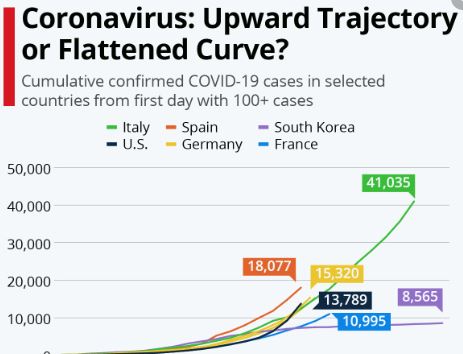 Houghton Irungu
As the negative economic impact begins to bite, the policy choices begin to narrow around health, wealth.
This Monday, we celebrate both Idd-ul-Fitr and African Liberation Day. For the first time in decades, one issue – flattening the Covid-19 curve – pre-occupies 1.3 billion Africans.
To date, there have been 99,062 cases of people who have contracted the virus across Africa; 3,082 have died and 39,085 have recovered. Nine countries, mostly from Northern and Southern Africa led by Egypt, South Africa and Algeria, are the most affected. While still low, mass testing has tripled in the last month, with 1.2 million Africans having now been tested, with remarkable increases in countries like Nigeria. 
Policymakers across Africa and elsewhere in the world face one of the most difficult choices. As the negative economic impact begins to bite, the policy choices begin to narrow around health, wealth and the risks of public unrest. Lift the lockdown and open up too early, fragile health systems will be quickly over-run and large numbers of people will die unprotected. Keep the lockdown and the national economy and millions of livelihoods will be crushed. 
A growing number of countries have begun to partially ease restrictions. Among them are rich and middle-income countries like Germany, Brazil and South Africa. Across Africa, night-time curfews and restrictions on public gatherings remain in place. However, countries have begun to allow businesses to re-open. Ghana has re-opened internal flights and from next month, schools seem set to re-open in a phased manner in South Africa. With this, the release of two national opinion polls and global conversations now prompt us to revisit whether Kenya should be extending or easing lockdown measures. 
SEE ALSO: Peg new policies on research to help flatten corona curve
This week, TIFA research and the Kenya National Bureau of Statistics released two significant opinion polls. Both sought to establish the impact of Covid-19 and health measures on the public, as well as how Kenyans are adapting. Their findings are fairly similar on the most important issues. The findings are crucial to the national debate on whether it is time to lift the lockdown or not. 
After months of community, private and public communications strategies, nearly every Kenyan is aware of the risk Covid-19 poses to the nation. We know how to wash our hands, what physical distance we need to keep and why it is important to stay at home, observe the curfew and other restrictions. Knowing doesn't mean complying. It simply means that we have information for us to make wise or stupid decisions. Nevertheless, 70 per cent of the population remain fearful of infection and we fear crowded public areas, public service vehicles and supermarkets most. 
The economic hardships are real. One in two Kenyans has seen their incomes reduce and one in five has lost a job over the last 60 days. This impact has affected self-employed and daily wage earners most. One in every five Kenyans who normally pay their rent on time was not able to do this at the end of April. Only 8 per cent of landlords and their agents listened to the president's appeal to offer rent waivers to their tenants. Home-schooling has been a major challenge for all classes of families but particularly for those from homes in the informal settlements. One in four children has been unable to adapt to online and digitally powered classes. They neither have the bundles, digital gadgets or the space to do this effectively. The last two months have been wasted from the perspective of formal learning.
Less than two per cent of families have the space to self-isolate or quarantine family members in their homes. As the pandemic impoverishes, the fear of rising crime levels increases. In our homes, the spectre of violence against spouses and children rises. So, too, do distress-related crimes. Women and men stealing for food, to pay rent and survive. 
National conversations are beginning to mirror global policy conversations again. Is it time for children to return to their schools? Having realised the pandemic didn't stop pregnancies, is it time we opened up our hospitals to non-Covid-19 related illnesses? Is it time to lift the restrictions on public places, in-country and international travel? 
SEE ALSO: Uganda women fear food shortages will make coronavirus and HIV a deadly mix
Every one of these policy choices and others have an impact on whether we flatten the curve or the country. It is critical that these policy choices are informed by development data offered by the TIFA and KNBS studies. They offer a glimmer into what the trade-offs could be and how we can protect the health, wealth and confidence of the public. Happy Africa Liberation Day and Idd-ul-Fitr, Africans! 
– The writer is Amnesty International executive director. The views are personal. Email: [email protected]
Comments
comments
EDITORIAL: East African economies can be reopened, but with caution
This week saw a steep jump in the number of confirmed cases of Covid-19 across East Africa, suggesting that the pandemic was entering a critical phase. It was also the week that governments began easing movement restrictions imposed 10 weeks ago, at the height of uncertainty over how the pandemic would unfold in the resource-constrained region.
Tanzania opened its airspace to international travel on June 1 and the other member states of the East African Community are expected to follow suit over the coming weeks.
On June 4, Uganda started a gradual return of public transport across most of the country, save for regions that are located along international borders.
Uganda's move spooked citizens who could not understand why a government that ordered a lockdown before even a dozen cases had been registered, should be opening up when all indications were that it was on the cusp of exponential spread of the pandemic.
Uganda's move aptly captures the difficult choices that governments across the world are facing. Covid-19 kills people, but the domino effect of an economic crash could result in even more deaths that would not be directly attributable to the virus.
While the jury is still out on the benefits of the lockdowns, going by what has so far happened, the governments cannot be denied credit for staving off what might have been.
East Africa, and Africa in general, has not seen the kind of case burden and fatalities witnessed in the developed world. But as the pressure for easing suggests, most people feel that the peak of any benefits from the lockdowns has probably been passed and further tightening would probably only inflict economic pain. The economies have contracted rapidly, impacting government's capacity to sustain the requisite social interventions.
The challenge for governments across the world continues to be how to prevent a health crisis from progressing into an economic crisis.
In East Africa, fiscal revenues have taken a nosedive because firms are not earning while export earnings are down to a trickle because of the break in connectivity between producer economies and international markets.
Reopening the economies is therefore the logical next step for the world but needs to be approached in a more co-ordinated manner. If the asymmetry that characterised the implementation of anti-Covid-19 measures is allowed to continue, opening up might yield the maximum dividend and, could potentially undo the gains achieved by the lockdown.
A logical first step should be opening up domestic movement. That will generate the knowledge that informs the next steps.
Covid-19 is still around and the risk of a relapse ever present. A harmonised view of the risk it poses to the region and sensible mitigation measures is necessary to preclude the risk of disruptive knee-jerk reactions.
A common testing regime would, for instance, negate the need for lengthy and costly quarantine periods for cross-border travellers.
Quarantines are not very different from lockdowns and countries that insist on them would have to effectively keep their borders shut. Without a co-ordinated reopening of the regional economy, disjointed efforts will not yield much.
Comments
comments
Tale of Zanzibari woman who found fortune on the Internet
This is the 31st anniversary of the Internet globally, but these things often arrive late on Africa's shores.
Hard to imagine, but it's only the 20th anniversary of the Internet's "proper" arrival in Africa, although some early adopters on the continent got there before that. Barely a dozen newspapers on the continent at that time had websites.
After the Internet arrived, coinciding with the beginning of the wide spread of the mobile phone, they took off with a fury.
However, it's only about 10 years since we started seriously thinking of making money online. The memory of the first presentation I sat in about using the Internet in Africa to grow business is still fresh in my mind. I had been to places outside Africa where people were making noises about it, but not here at home.
It happened in Mombasa in 2000. A then fairly young UK Department for International Development and British Council organised a workshop there and invited a couple of people in East Africa who were known to be tinkering with the Internet.
There was a smart, but sweaty and twitchy lad who had come from London to present.
Perhaps sensing bored expressions on some people's faces, he decided to bring it to East Africa. He told us the story of a woman in Zanzibar, a leading maker of handicrafts for tourists.
She had a small good business going. Every year tourists came, and every year she sold pretty much the same quantities of handicrafts and was happy.
One day in 1998 or 1999 someone from the British Council who was searching for people to work with, approached her and told her she could grow her business significantly if she used the Internet. She had heard of the Internet in idle talk on the island, but never paid attention.
Fortunately, she listened. You couldn't yet sell stuff on the Internet at that time, but she was told how she could get a computer, a dial-up modem, get on the internet, and find out about colour and other style preferences of the people from countries that sent most tourists to Zanzibar.
If British women were in the mood that summer for short brimmed hats with yellow bands, she made straw hats with short brims to sell to them when they came to Zanzibar. If the Germans liked bigger-brimmed hats with purple bands, she would make a few of those too.
She became among the first small business women to use a computer and the Internet on the island, and her business exploded. At the time, her name wasn't important. A handicraft woman in Zanzibar was enough.
Today, of course, we would have asked for her Facebook and Pinterest pages, and checked her out immediately. She is possibly retired now, having handed the business to a grandchild who ran it down. Can't stop wondering though; who was that pioneer digital entrepreneur in Zanzibar?
Charles Onyango-Obbo is a journalist, writer, and curator of the "Wall of Great Africans". [email protected]
Comments
comments
KAGWANJA: China's 'shared destiny' strategy can stem post-Covid anarchy
Two interwoven global developments – the outbreak of the coronavirus pandemic and the worldwide protests over the murder of George Floyd – have kindled debates on the future of global power in the emerging post-Covid world order.
Slowly but surely, a new post-pandemic world order is evolving, saliently characterised by rising populism and nationalism, increased competition between America and China and weak global leadership.
However, Chinese President Xi Jinping has revamped Beijing's concept of "community of shared future for mankind" as a trident strategy to stem the slide to a post-Covid anarchy.
The pandemic is shifting global power at three levels. First, its outbreak has accelerated America's decline, diminishing its global power in almost all spheres, including geopolitically, militarily, financially, economically, socially and in health and the environment.
The eruption of the "George Floyd protests" on May 26, 2020 has thrown America – and the world – into a triple crisis that is greatly diminishing America's global leadership.
From local uprisings over police brutality and the killing of the African American by Minnesota police, the protests have rapidly ballooned into an America-wide and global crisis in over 400 cities and towns in all 50 states across the United States and solidarity protests in over 25 countries on all continents, except Antarctica.
America's protests reflect the socio-economic impact of the Covid-19 crisis. The disease grew meteorically from 64 confirmed cases on March 5 to 1.9 million by June 3, with over 109,000 deaths – by far the highest in the world.
The Covid storm has exacted an inordinately heavy toll on America's black communities, for centuries plagued by systemic racism, poverty, joblessness and injustice across generations.
The riots exploded pent-up rage, anxiety and energy among the descendants of African slaves who form about 13 per cent of America's population and who have borne the full brunt of epidemic.
African-Americans constitute about 22 per cent of those with Covid-19 and 23 per cent  of those who have fallen to the virus. As one protester reportedly remarked: "It's either Covid is killing us, cops are killing us or the economy is killing us."
It has hardly helped matters that President Donald Trump has turned the Oval Office into a den of racial, ethnic and cultural bigotry, providing the lightning rod to the protests, calling demonstrators "thugs" and threatening them with "vicious dogs" and the US military.
Second, the pandemic is straining Africa's relations with America. The widespread disorder over Floyd's death has not only exposed raw race relations worldwide, but spurred protests and outrage across Africa and strained US-Africa relations.
On May 29, the usually cautious and diplomatic African Union condemned Floyd's murder and the "continuing discriminatory practices" against American citizens of African origin.
Thirdly, and in an emphatic way, the Covid-19 pandemic is also badly straining the US-China relations, remaking an increasingly uncertain and potentially anarchic post-Covid world order.
Between January and February 2020, there "was audible popping of champagne corks" in certain quarters of the US foreign policy establishment, stoked by the thinking that China was "at last coming apart" as the novel coronavirus outbreak and the unfolding economic carnage spread across the country.
But the tide turned in March and April. China rose like a giant Sphinx from the ruins of the pandemic and began to recover as the virus migrated ferociously to the West.
This "irrational jubilation" about a dying China were quickly replaced by irrational despair and even outrage that the pandemic could possibly help China emerge triumphant in the ongoing geopolitical contest with the United States.
In a skewed rendition of the future of power in a post-Covid  world based on the January-May US-China relations, former Prime Minister of Australia and President of the Asia Society Policy Institute in New York, Kevin Rudd argues that the coronavirus pandemic bodes ill for both American and Chinese power, as well as for the global order.
Rudd's article, 'The coming post-Covid anarchy', published by the Foreign Affairs journal (May/June 2020) on May 6, 2020 is perhaps as controversial as an earlier article of the same ideological hue by Robert D. Kaplan ('The coming anarchy', The Atlantic, February 1994).
But Rudd's article is guilty of an analytic overreach that ignores the strategies of rival powers. Beijing has responded to the pandemic and to the threat of a post-Covid anarchy by soaring up its Covid Diplomacy based on the concept of "humanity's shared destiny".
Between January and early June 2020, President Xi has popularised the concept in a flurry of prolific speeches, remarks, letters, messages and phone conversations with world leaders to highlight the need for international cooperation in combating the pandemic, counter-divisive ideologies like the "clash of civilisations" and stem post-Covid anarchy.
China and its intellectual and business leadership have dramatically scaled up Beijing's Covid diplomacy using humanitarian assistance especially to vulnerable developing countries to soar up the concept of "building a community of shared future for mankind" as the cornerstone of a peaceful and cooperative post-Covid world order.
The concept is winning hearts and minds in Africa and Asia, where it resonates with local cultures and philosophies.
Xi's "shared destiny" thesis finds a fertile cultural ground in 4.17 billion people out of a total of 8 billion human population in China (18.47 per cent), India (17.7 per cent) and Africa (16.72 per cent).
The "shared destiny" thesis resonates with the Ubuntu philosophy ("the belief in a universal bond of sharing that connects all humanity"), now driving China-Africa diplomacy in the 21st century.
The collective effort across cultures and civilisations to contain the Covid-19 pandemic marks the first attempt towards building a community of shared future for mankind.
"Viruses like Covid-19 do not respect borders, nor do epidemics discriminate between races," President Xi avers. In the face of smoldering racism, Africa may find in China a trusted partner in the post-pandemic world.
Professor Peter Kagwanja is the author of: Paving Africa's Silk Road: China-Africa Relations in the 21st Century (Tafiti House Publishers, Nairobi, 2016)
Comments
comments