Obado and Sharon: Murder plot thickens As John Mbadi Reveals Shocking Details
Speaking to the Nation, Mr Mbadi said Mr Oduor approached him seeking his help in getting access to the governor over a "sensitive" matter.
He added: "Your journalist Barrack approached me asking me to help him reach Obado over what he called a very sensitive matter.
"I, however, forgot about it but after one or two days the governor called me over a totally different matter. After we had discussed the matter, I remembered and told him, 'by the way, there is a Nation reporter based in Homa Bay who wants to talk to you over some matter he says is sensitive, so please get in touch with him'.
"The governor told me, 'No problem, give me his (Oduor) number' and I gave him the number. I remember it was on September 1. That is as far as it went. Barrack is my friend and it is not unusual for me to give contacts of my friends to journalists whenever they want to get in touch with them."
The Nation reporter appears to have interacted with Ms Otieno, Migori Governor Okoth Obado and Mr Obado's aide Michael Oyamo, longer than initially thought.
Detectives from the Directorate of Criminal Investigations are analysing telephone and text conversations over the past month-and-half to understand the nature of the relationship and how it precipitated if at all, the reported abduction of the duo and the subsequent killing of Ms Otieno.
An officer privy to the investigation said they were doing multilateration (a surveillance technique based on the measurement of the difference in distance to two stations at known locations by broadcast signals at known times) to establish the frequency of their meetings to try and tease out whether there was a tragic story of love, betrayal or extortion in the saga.
And even though the journalist — Mr Oduor — said that his phone and that one of Sharon were confiscated by their abductors on Monday, police said they would use mobile service provider signals to investigate their movements and whether threats were exchanged among them.
Mr Oduor knew Ms Otieno for close to a month, the two met several times and even travelled together twice from Homa Bay to Nairobi on a mission to meet the Governor, but did not manage to, as Mr Obado had travelled to Makueni with other governors.
Interviewed by fellow journalists at Nation Centre, Mr Oduor said he was approached by Ms Otieno who told him that she needed to share a story with him.
"We met for the first time almost a month ago and she told me that she had been having an affair with the governor. I questioned her about her details and she said she was a student.
"She also told me that she wanted the story made public because the governor had neglected her. Even so, she admitted to having received Sh100,000 from the governor three weeks before our meeting, an amount she said was too little as compared to what she had been receiving from him before he started ignoring her calls and texts," Mr Oduor said.
According to Mr Oduor, Ms Otieno she revealed that their affair went sour when the governor discovered that Ms Otieno had been chatting with his own son.
The governor accused her of having an affair with him.
To prove the allegations, Ms Otieno showed Mr Oduor telephone conversations and WhatsApp chats between herself and Mr Obado.
She allegedly also played a recording of a phone conversation whereby the governor purportedly asked her to have an abortion and stop posting too many pictures on social media.
After hearing her story, the journalist said he decided to contact the governor through Mr Mbadi so as to get his side of the story.
Mr Mbadi, true to his word, told the governor that a journalist wanted to speak with him.
"Governor Obado called me later and I gave him the story. He said he would not deny or confirm the allegations. He told me that his personal assistant would handle the issue."
Days later, he said, they travelled together with Ms Otieno to meet the governor in Nairobi but were unable to see him. They travelled back.
"Sharon was constantly hesitant about the story being published in the media. From my understanding, she was not decided fully and so I took my time to conduct more investigations.
"She, however, kept sending some pictures to the governor, which annoyed him. I still don't know the kind of pictures those were, but she said he was not happy," Mr Oduor said.
The conversation between Mr Oduor and Ms Otieno was halted for some time, until on Monday (the day they were abducted) when Ms Otieno called Mr Oduor, telling him that the governor's aide, Michael Oyamo, had asked her to ask him to go and meet him.
Ms Otieno, who was a second-year Medical Records and Information student at Rongo University, was the one in contact with the PA all this time and planned the meeting, according to Mr Oduor.
Mr Oyamo, Mr Oduor and Sharon met at Graca Hotel in Rongo around 7.35pm, but the PA said that they had to move to a different venue.
They all boarded a vehicle with two occupants that sped towards Kisumu.
On the way, the car stopped and Mr Oyamo disembarked, two people got in and sandwiched Mr Otieno and Mr Oduor between them, according to the journalist.
On the way, the two men became violent and tortured them and on sensing danger, Mr Oduor jumped out of the moving vehicle at Nyangweso market on the Homa Bay-Kisumu road, and escaped into a nearby homestead, according to the journalist.
Mr Oyamo was arrested on Tuesday morning while the body of Sharon was discovered in a thicket in the Kodero market.
The questions that the Directorate of Criminal Investigations are seeking to answer include: the identity of the men who went away with the student, the kind of relationship the four main people of interest in the saga had, the reason behind the brutal murder of the seven-month pregnant student, if indeed the governor was responsible for her pregnancy and whether the murder was linked to that fact.
The other question is why the abductors, knowing too well that one of their captives had escaped and could spill the beans and get them arrested, went ahead to kill the student if indeed they were responsible for that.
Detectives, including their boss, Mr George Kinoti, say they cannot yet reveal their suspect in the abduction and murder as this could jeopardise their investigations.
Meanwhile, Mr Obado kept a low profile despite his name being adversely mentioned as a person of interest in the death of the student.
Instead, Mr Obado reacted to the allegations through his press secretary, Mr Nicholas Anyuor.
Ms Otieno's mother Melida Auma reiterated that her daughter had told her of an affair with Mr Obado and said it was not a secret
"She told me the governor was responsible for her pregnancy and that he would care for her until childbirth," she said.
Ms Auma also disclosed that her first born daughter was abducted on Monday evening, she left her spare phone at home.
"Luckily, her sister had the pin and she switched it on. I found many calls marked unknown and was not able to identify the callers. The phone was handed over to the CID," she said.
But Mr Obado, through Mr Anyuor, insisted that the governor's opponents could be behind his current woes.
"I said the governor will not be drawn into the matter which is under police investigation, because he has not been implicated," Mr Anyuor said.
He insisted that Mr Obado will only comment if he is required to do so by the police.
On Thursday, Nyanza regional DCI boss Michael Barasa did not confirm or deny that they will interrogate Governor Obado over the incident.
The CID boss, however, noted that they were concerned by Mr Obado's communication secretary's utterances, which he noted may compel them to question him.
"We have noted the official has been making comments on behalf of the governor over this matter and if need be, we shall also question him," the officer said.
Mr Anyuor had initially argued that "associating the governor with this incident could be a political ploy meant to tarnish his name".
But Mr Barasa said it was only fair for the officer to give details of his thoughts.
Asked whether they would question Mr Obado for being a person of interest in the case, the DCI boss said: "At the moment I cannot comment on that because there are channels of investigation. We don't want to make comments that may prejudice the ongoing process."
"Our team from Nairobi is working with us to unravel the mystery surrounding the death and abduction."
But it is Mr Obado's inexplicable silence that is worrying.
On Thursday, it was established that Mr Obado was meant to represent the Council of Governors at the ongoing African Green Revolution Forum (AGRF) in Kigali, Rwanda, as the COGs Agriculture Committee Chairman.
Sources say the Governor had planned to travel on September 4, a day after Ms Otieno and Mr Oduor were abducted.
The AGRF event kicked off on Wednesday, September 5, the day Ms Otieno's body was discovered in a thicket in Oyugis, Homa Bay County.
The event concludes on Saturday, September 8, but the governor is not in Kigali.
Mr Obado may have shelved his trip because of the ongoing investigations.
"It is true the governor was to represent the CoG at the event in Rwanda but I cannot authoritatively tell you about his whereabouts. Let your Nairobi team check for him in the city," a source familiar with the Rwanda trip said
In Migori, another source revealed that the governor was last seen in office last week and that he travelled to Nairobi on Monday awaiting his Tuesday travel to Rwanda.
Monday is the day Ms Otieno and Mr Oduor were abducted. Mr Anyuor was cagey over the governor's whereabouts.
The official said he could not comment on the governor's locations but only respond to any queries directed at his boss.
"Why do you want to know where the governor is? I am his press secretary and whatever I tell you is his response," Mr Anyuor said.
On Wednesday, at the governors elaborate Rapogi home in Uriri, riot police were deployed on Wednesday as students of Rongo University protested against Ms Otieno's killing.
Yesterday, there was minimal activity at the home.
The usual sirens that normally rent the air as the governor arrives and leaves were conspicuously silent.
During the protests, no county vehicles were able to operate past Rongo from Migori Town.
Uriri politician Bernard Omondi yesterday wondered why Mr Obado was silent on the death of Ms Otieno despite being adversely mentioned.
"His silence is not normal. If he is clean, why can't he come out and clear his name? Let him come out of his hideout and speak," Mr Omondi, popularly known as Omondi Gwonyo said.
"How comes heavily armed police were spotted guarding his home on Wednesday as the students' protested? The police must move swiftly and question him on this matter once and for all."
Governor Obado's two cell phones remained off the whole day yesterday. Many in Migori believe the governor is holed up in his Nairobi home.
Alex Magelo's reign as speaker of the Assembly and AFC Leopards boss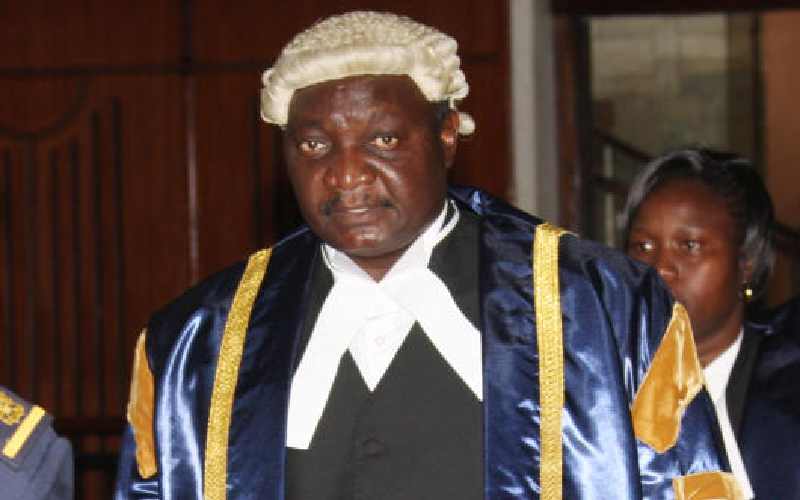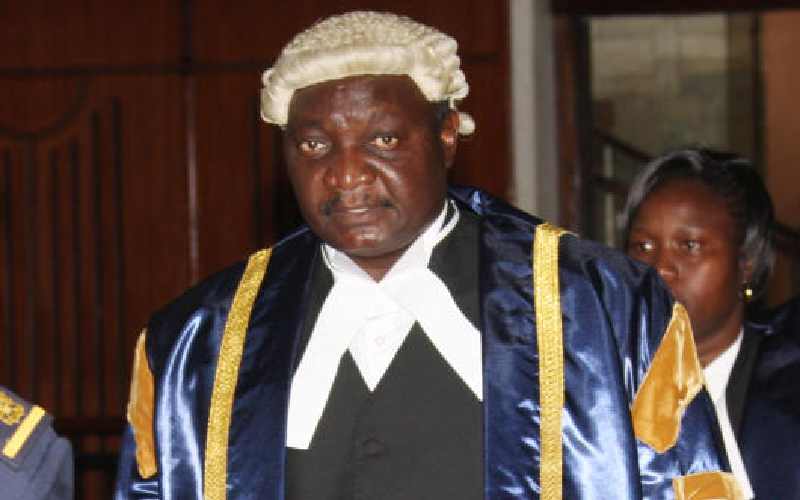 Alex Ole Magelo when he was Speaker of the Nairobi County Assembly.
As a long-serving councillor and former Speaker of Nairobi County Assembly, Alex ole Magelo earned a repute for his arbitration and leadership skills.
His popularity was also boosted by his affiliation to AFC Leopards where he served as chairman before quitting the Ingwe football club in 2013. He attributed his untimely exit to sabotage and unhealthy politics within the club circles.
The fierce Maa leader breathed his last yesterday while undergoing treatment at Nairobi Hospital, but as the curtain fell on this respected leader, he left rich moments to remember.
Magelo was elected as the City Assembly speaker in 2013, garnering 43 votes against Paul Mutungi's 42.
During his reign at the assembly, he presided over the passage of over 50 Bills, 52 motions, 326 papers tabled and adoption of more than 331 statements before paving way for his successor Beatrice Elachi.
During his five-year stint, Magelo's arbitration skills were put to the test more than ever as he steered the first but rocky city assembly ship towards the realisation of the new order of governance heralded by the 2010 Constitution.
The fact that he was shepherding a flock of MCAs, some of whom previously served as councillors and imported their rowdy and uncouth mannerisms to the assembly, did not make things easier for the gentle giant.
In an interview with The Sunday Standard prior to his demise, Magelo said when devolution came, he took over an establishment where MCAs did not shed off the councillors tag, thus there was no civility in whatever they demanded.
Take a quick survey and help us improve our website!
Take a survey
This however changed two years into his tenure during which he demonstrated his suave but firm leadership tactics.
"My experience is that they would hurl chairs at each other, use vulgar language and go the extent of coming to the chambers with fire arms. During my tenure I tried as much as I could to bring them together and show them that we should behave differently and I achieved that," he said.
"I hope going forward the current crop of MCAs will take the tag of being honourable members seriously because they are lawmakers."
Magelo was also hailed for overseeing the renovation and moving of MCAs into the now state-of-the-art Nairobi County Assembly chambers in 2016 estimated to have cost Sh200 million.
Magelo was a staunch believer in democracy – an attribute that saw him get the ear of President Uhuru Kenyatta and opposition leader Raila Odinga.
Shortly after Magelo's demise, President Kenyatta eulogised him, describing him as an outstanding leader who worked hard to make Kenya a better country for all.
The president said Magelo's commitment to duty and service to fellow Kenyans saw him get appointed as a member of the Kenya Leather Development Council last year.
"I have known the late Ole Magelo for a long time and from my interactions with him, I came to appreciate his commitment and desire to make life better for others," he said.
ODM leader Raila Odinga said the nation has lost one of its most outstanding public servants.
"In Alex Ole Magelo, the Maa have lost a strong and fearless leader who stood up for them without apologies. I have lost a steadfast and reliable friend. Kenya has lost a patriot, a great football enthusiast and official. May God comfort Magelo's family and the Maa nation," said Raila.
Nairobi Deputy Governor Anne Kananu described Magelo as a wonderful father figure with a humorous and gentle soul.
"He never harboured any ill will towards anyone and believed in resolving issues amicably," said Kananu.
Former Nairobi County Secretary Simon Leboo ole Morintat described Magelo as a generous nationalist whose death was a personal loss to the Maa community.
[email protected]
Raila's change of tact that has seen Nyanza reap benefits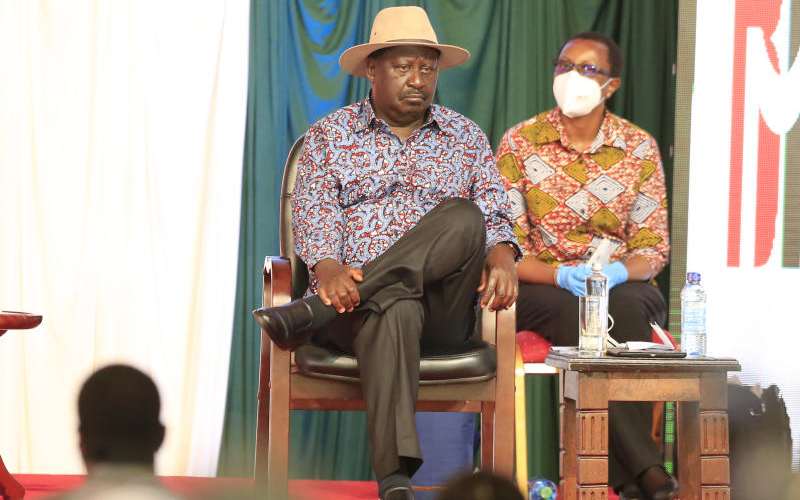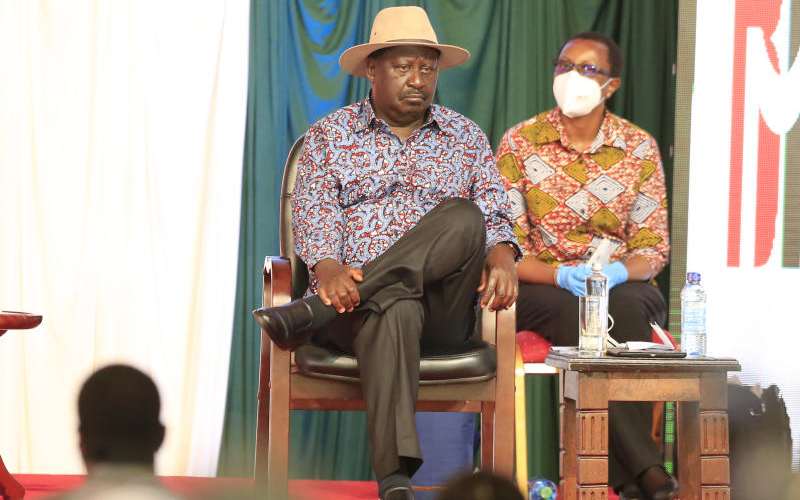 Raila is keen to discard the activism politics to pursue economic liberation for the region, which has suffered neglect for years.
Nyandarua County Assembly Speaker impeached for third time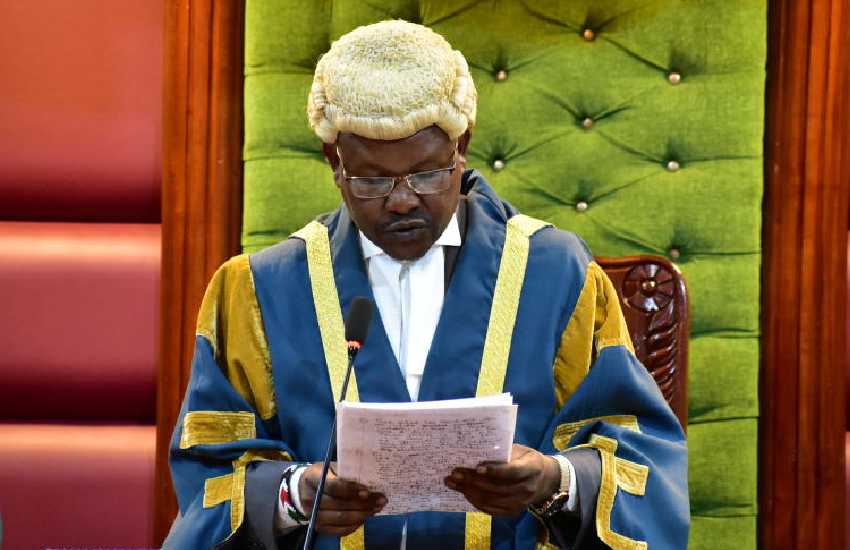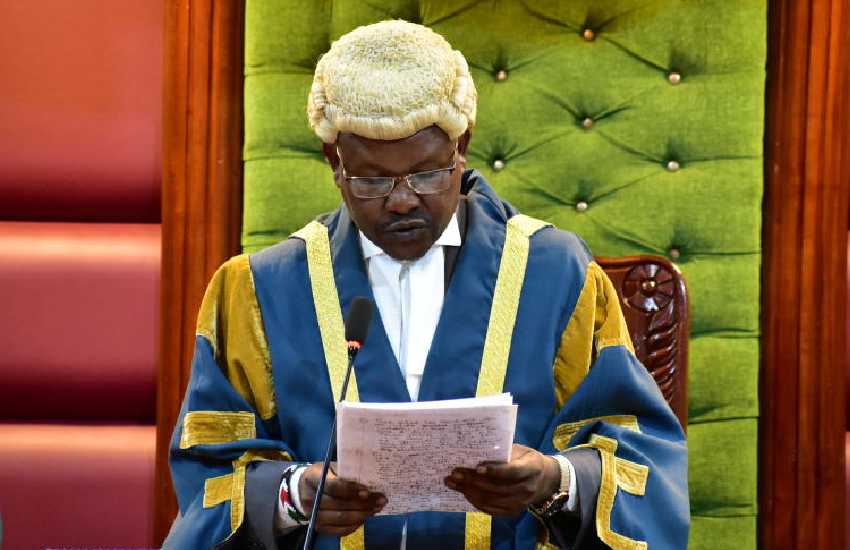 The special sitting was held despite a court order that reinstated the speaker.
Nyandarua County Assembly Speaker Ndegwa Wahome has been impeached for the third time.
Wahome was voted out over gross misconduct, abuse of office and nepotism in a special sitting held on Saturday.
31 out of the 38 ward representatives supported the impeachment motion while six opposed and one abstained.
The special sitting was held despite an order by Nakuru High Court Judge Hillary Chemitei reinstating Wahome until a case he had filed against his removal was heard and determined.
Reading out the charges, the mover of the motion, Majority Leader Edinard Kingori, accused Wahome of favouritism in assembly functions.
Kingori claimed that Wahome also failed to account for monies meant for the construction of Nyandarua County Assembly offices.
Nyandarua County Assembly Leader of Majority Edinard Kingori displays a notice of impeachment motion against speaker Ndegwa Wahome.
The Majority Leader alleged that the embattled speaker colluded with some MCAs and undermined Governor Francis Kimemia's leadership.
"The speaker has outrightly shown that he is unable to hold office. That is why we want him out. All he keeps asking from the executive is for more money yet he cannot account for the ones he has been allocated. We cannot allow this anymore. He has been discriminating against some of us in county assembly functions while favouring others. Is this fair?" posed Kingori.
Take a quick survey and help us improve our website!
Take a survey
Responding to the allegations, Wahome, who defended himself via zoom, said the impeachment was merely a political act.
"We know whose hand is behind this. My hands are clean and everyone can attest that I have run this assembly professionally since I took over eight years ago," said Wahome.
Wahome said that his demand for accountability and firm stand against corruption in the county was the root cause of his predicament. 
The speaker was represented by lawyers, Martin Waichungo and Mathea Gikunju.