NGWIRI: Kiambu farmland shouldn't be turned into concrete wasteland
In my youth, I used to envy those who regularly trooped each morning to the huge coffee plantations mostly owned by white farmers, and later, by the new political and business elite who eventually bought the farms.
The young ones among them used to regale us with tales of how much they earned for picking coffee, especially how they gorged on mandazi and samosas hawked there, hence the envy.
My parents wouldn't allow us to go pick coffee in the plantations when our own much smaller farm went unattended.
In our view, this was unfair, and things got worse when President Jomo Kenyatta decreed those workers must be transported to and from the plantations.
It seemed like we were missing all the glamour in life and the resentment built up until we understood that we were actually being educated with the proceeds from the crop we slaved on every Saturday.
That was when we realised the workers were being grievously exploited, but at least those farms provided jobs.
Today, most of the coffee plantations in Kiambu County are gone, many subdivided into small plots in which houses have sprang up.
Those used to be the plantations bought by land-buying companies, and this didn't matter too much because, at least, many people who had no shelter now owned their own plots and built their own houses.
But the sad thing is that the trend of turning fertile land into concrete did not stop there. Today, the only growth industry in Kiambu seems to be real estate.
People, mainly outsiders, are buying up huge tracts of land with the singular aim of building mini-cities and gated estates whose houses only the upper echelons of society can afford.
The unfortunate thing is that they are, seemingly, being encouraged to do so by the county government for unstated reasons.
The result is that arable land which was already scarce, is now being gobbled up by real estate investors at an alarming rate for the benefit of very few.
This is a dangerous trend which, unless checked, will have very serious ramifications.
Of course, coffee farming has over the years lost its lustre in many parts of the country, not just Kiambu.
There is very little profit in it, labour costs have gone over the roof, the cost of inputs and pesticides have become prohibitive, and lack of value addition has become a major hindrance.
As a result, nobody should really fault the estates owners for selling then and making a healthy profit instead of waiting for global market prices to rise because frost has destroyed Brazilian coffee.
According to statistics, nine years ago, agricultural activity accounted for 17.4 percent of Kiambu's income.
This percentage was, of course, expected to go down over time considering that the population was rising inexorably and the parcels of arable land dwindling.
What that means is that as cash-crop production goes down, eventually, the county will be unable to feed itself even as the sources of employment steadily dry up.
This is a recipe for disaster. As someone cynically observed, at this rate, Kiambu people will one day feed on concrete.
Even disregarding the hyperbole, it is obvious that unless ways are found to save the remaining arable land, there will be little left for even subsistence farming.
In a willing-buyer willing-seller situation, nobody can be stopped from buying land and building houses on it, but in the interest of the poor who are the majority, a moratorium should be slapped on this happy-go-lucky capitalism.
This may require tweaking the county's land-use policies or reforming them altogether. If this is not done urgently, Kiambu people may one day be forced to rely on perennial food aid, or to import maize from Makueni County.
Incidentally, it was interesting to learn from Kiambu Governor Ferdinand Waititu what he intends to do with 200 of the 635 acres ceded by the international pineapple grower Delmonte in Thika.
While the details of the negotiations are still unclear, it seems the land will be used for an airstrip that should, presumably, rival Wilson Airport.
Up to now, nobody appears to have taken that strange statement seriously enough to comment on it.
While it may be deeply satisfying to boast that Kiambu County also has an airstrip, an indicator of "development" — although Thika is barely 30 kilometres away from the JKIA and Wilson airport — this, surely, cannot be a priority for people who suffer from so much land stress that they periodically get murdered in their sleep for owning a few acres in parts of Rift Valley.
Mr Governor, how about arranging to sell parcels of the Delmonte land to the landless in your county, or better still, seeking ways to build value addition and extraction factories there to improve the lot of small farmers?
The 900,000 plus voters who elected you did not do it so that you can serve a tiny minority of the very rich, the only people who can actually benefit from an airstrip in their locality.
Suluhu: Closer ties for Kenya and Tanzania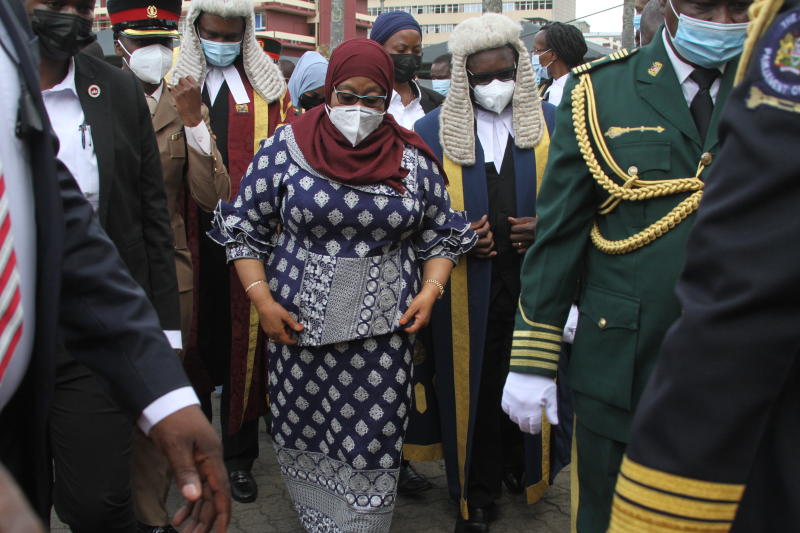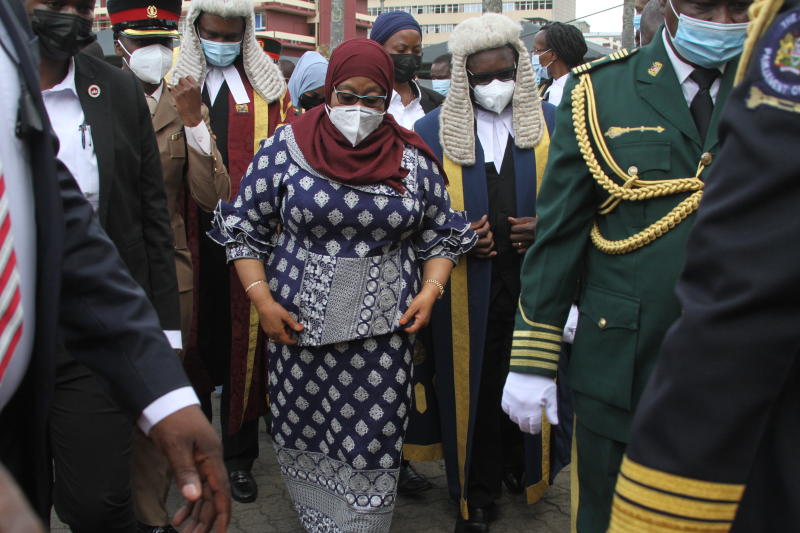 ?President Samia Suluhu's address to Parliament was a masterclass in charm, punctuated by periodic applause and stomping of feet by Kenyan lawmakers.
Covid-19 deaths, hospitalizations soar among youth in Americas – KBC
Hospitalizations and deaths of younger people are surging as the COVID-19 pandemic accelerates across Latin America and the Caribbean, Pan American Health Organization (PAHO) Director Carissa Etienne said on Wednesday.
"Adults of all ages – including young people – are becoming seriously ill. Many of them are dying," Etienne said at her daily press briefing as quoted in a PAHO release.
In Brazil, mortality rates doubled among those younger than 39, quadrupled among those in their 40s, and tripled for those in their 50s, between December 2020 and March 2021, she said.
"For much of the pandemic, our hospitals were filled with elderly COVID patients, many of whom had pre-existing conditions that made them more susceptible to severe disease," Etienne said. "But look around intensive care units across our region today. You'll see they're filled not only with elderly patients, but also with younger people."
Get breaking news on your Mobile as-it-happens. SMS 'NEWS' to 20153

Etienne urged hospitals in the region to increase the size of intensive care units (ICU) in anticipation that the trend will continue, while warning that expansion of ICUs cannot continue indefinitely.
As a result, she urged nations to double down on prevention measures such as lockdowns and facemasks.
Tell Us What You Think
Uhuru wa biashara, Suluhu ya vikwazo: How Kenya-Tanzania trade will be streamlined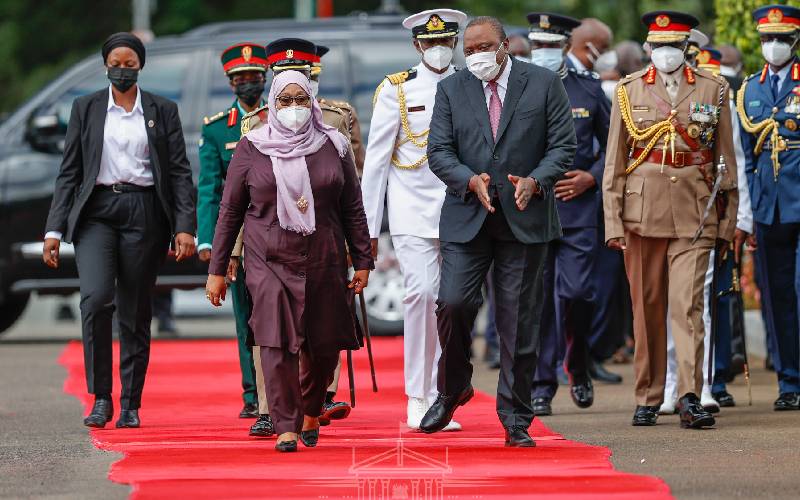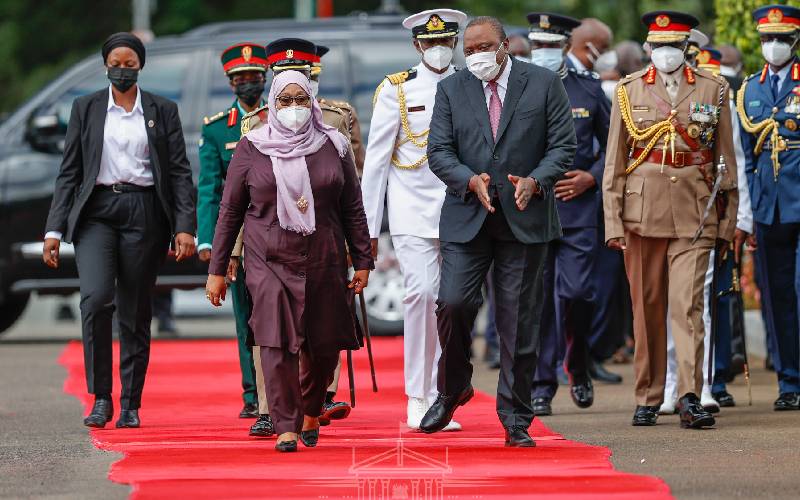 President Uhuru Kenyatta with his Tanzania counterpart Samia Suluhu, who is on a two-day state visit in Kenya.[PSCU]
President Uhuru Kenyatta says ministers from both Kenya and Tanzania should resolve all non-tariff barriers and other restrictions affecting the two countries within four months.
Uhuru, on Wednesday said going forward, there will be no business visa or work permits for Tanzanian wishing to do business in the country.
"You are free to come and trade here in Kenya, there will be no business visas or work permits as long as you abide by the laws of the land," he said.
Uhuru was speaking during the Kenya-Tanzania Investment Forum at Serena hotel. The forum was in line with President Samia Suluhu's two-day state visit.
Kenya has about 513 companies doing business in Tanzania compared to Tanzania's 30 in Nairobi.
Uhuru said in the next two weeks, concerned ministers from both sides should clear all the traffic jams at the Taveta and Namanga border points.
Uhuru said they should pay a special focus to the issuance of Covid-19 certificates to ease the movement of  transit cargo.
"I direct that all the maize lying at the border be cleared in two weeks. We cannot subject businesses to more suffering," Uhuru said.
Take a quick survey and help us improve our website!
Take a survey
Uhuru urged the ministers to move swiftly and ensure the ease of doing business at the border pointswas decisively tackled.
"It is not about wearing suits and meeting over tea.Get to the ground and understand what is affecting those traders. Don't just sit in those offices. If you need to consult, do it and get the work done," he said.
Uhuru's sentiments came shortly after the Kenya Business Community nsaid it was ready to trade with the Tanzanian business community.
Led by the Kenya National Chamber of Commerce (KNCC), the community proposed the formulation of a Joint Business Council that will support the two countries.
KNCC President Fred Ngatia said the council would play a key role in addressing issues that bedevil  Nairobi-Dar trade,
The community said there should be policy forums and investment-focused events that will target small-scale enterprises.
"We are going to focus more on economic projects by identifying favourable financing institutions that will help us settle some of the commercial disputes affecting our community," Ngatia said.
He said this will be made possible through the Public-Private Partnerships offered by the government.
As a result, KNCC in partnership with the Tanzania Chamber of Commerce will host a trade and investment exhibition in Dar es Salaam this August aiming to help SMEs unlock their potential.
So far Trade and Agriculture ministers from the two sides have had a breakfast meeting and agreed to initiate bilateral discussion before the end of the month.
Trade CS Betty Maina said the discussions aim to iron out all issues that have been hampering trade between the two countries.
This includes issues surrounding maize import.
President Samia Suluhu said her government was ready to serve as a bridge to pave way for businesses between the two countries to thrive.
"It is not about competing and complicating things, but about developing business relationships to allow both parties to explore opportunities," she said.
Suluhu said while Tanzania is rich with natural resources and tourist attractions, Kenya is thriving in the ICT world and thus the need for exchange of skills on research and development.
"Muna bahati sana maanake upande mmoja mnao Uhuru wa kufanya biashara na upande mwingine Suluhu la kuondoa vikwazo," Suluhu said.