Netanyahu's wife convicted of misusing public funds
An Israeli court Sunday convicted the wife of Prime Minister Benjamin Netanyahu of fraudulently using state funds for meals, under a plea bargain which dropped more severe charges.
While the ruling cut short a high-profile trial, the Netanyahu family's legal woes are far from over: the veteran premier himself faces possible indictment for bribery, fraud and breach of trust in the coming months.
In a deal approved by judge Avital Chen at Jerusalem magistrates' court, Sara Netanyahu was found guilty of using the errors of government accounting staff to bypass spending restrictions.
She was fined 10,000 shekels ($2,800) and ordered to reimburse the state a further 45,000 shekels.
Although her husband is a millionaire she asked for payment to be deferred and the judge allowed her to pay in monthly instalments beginning in September.
"The deal reached between the sides is worthy and appropriately reflects the deeds and their severity on the criminal level," Chen said in his ruling.
The 60-year-old, a high-profile presence at her husband's side throughout his long tenure in office, was initially charged in June 2018 with fraud and breach of trust for paying $100,000 (85,000 euros) for meals from well-known Jerusalem businesses.
She had done so while falsely declaring there was no cook available at the PM's official residence.
The amended indictment, approved Sunday, dropped the graft charges, replacing them with "obtaining a benefit by deliberately exploiting the mistake of another person".
"Despite the fact that cooks were employed at the residence the accused instructed staff at the residence, as a matter of normal practice, to order prepared meals from restaurants for herself, her family and visitors."
The tiny courtroom at the Jerusalem magistrates' court was packed with journalists.
"As in every plea bargain, each side makes concessions, sometimes hard concessions," prosecutor Erez Padan said.
"It is right and proper for the public interest to bring this case to an end."
Netanyahu's attorney Yossi Cohen told the court his client had already been heavily punished by the media.
"Four years of ugly leaks and denigrations" constituted "inhuman punishment", he said.
"No other person could have withstood this, this lady is made of steel," Cohen added.
Sara Netanyahu has a reputation for finding legal loopholes to receive state funding for her household's relatively high expenses.
"On a number of occasions she instructed that restaurant chefs be brought in to cook for guests at the residence, all in deliberate exploitation of the bookkeepers' mistakes," the amended charge sheet said
The caterers included an Italian restaurant, a Middle Eastern grill joint and a Sushi house.
The prosecution attorneys put a positive face on what was generally considered a good outcome for Sara Netanyahu Sunday.
"The significance of this ruling is that a person with access to public funds, as senior as they may be, cannot use them as their own," Padan's co-counsel Jenny Avni told reporters outside the courtroom.
"Taking significant amounts of public funds over several years, in violation of the rules and procedures, is a criminal offence carrying with it a conviction and a real financial penalty."
Sara Netanyahu is also being sued by a former cleaner who claims the premier's wife mistreated her.
In 2016 a court awarded some $47,000 in damages to a former housekeeper who accused her of repeated workplace abuse in a similar case.
Separately, Benjamin Netanyahu is facing possible indictment for bribery, fraud and breach of trust in the months ahead.
Two people wearing t-shirts with the message "crime minister" were barred from entering the court for his wife's hearing on Sunday.
He is reportedly seeking legislation that would result in him being granted immunity.
However, he was unable to form a coalition following an April general election, and Israel is now gearing up for September polls.
In a Facebook post late Saturday, he declared his wife a "real heroine" who was "a punching bag for the media."      
Comments
comments
Interior PS Karanja Kibicho hints at reopening of the economy: The Standard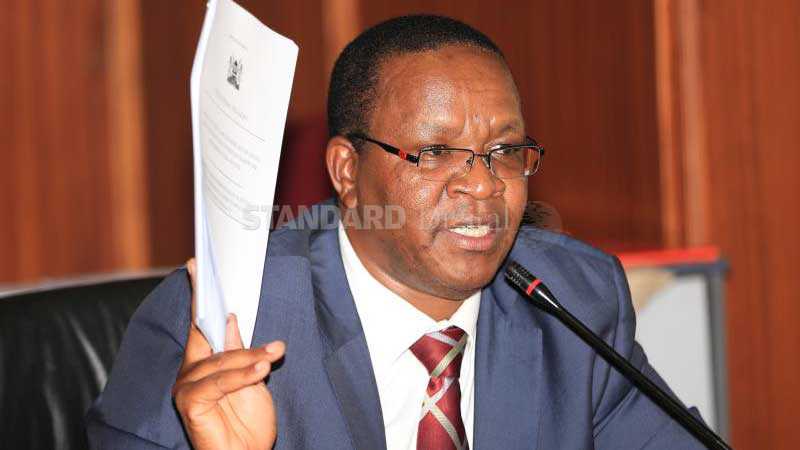 Interior Principal Secretary Karanja Kibicho. [File, Standard]
NairobiOn Saturday June 6, President Uhuru Kenyatta is expected to give a way forward in regard to cessation of movement in the affected counties
Interior Permanent Secretary Karanja Kibicho has hinted on a likely phased re-opening of the country even as Kenyans await eagerly on the new measures set to be announced on Saturday.
In an interview with Radio Citizen, Kibicho said the government had found itself in a difficult position since recorded Covid-19 cases in the country are on the rise but noted high-level discussions were ongoing.
"We cannot lock-down forever, the government makes its money from taxes, currently people are not at work, personally I think we can re-open but under strict guidelines," Kibicho said.
According to the PS, some restrictions may be lifted although the government will not be relaxing the requirements on face-masks and social distancing.
SEE ALSO: COVID-19: The interruption of customs
"Companies willing to re-open will need to ensure guidelines on face-masks and social distancing are adhered to because the new coronavirus is still here with us," he added.
Kibicho urged Kenyans to remain vigilant and not to expect a sudden normalcy saying the re-opening of the economy was a very delicate balance requiring the participation of everyone.
On Saturday June 6, President Uhuru Kenyatta is expected to give a way forward in regard to cessation of movement in the affected counties. The previous containment order directive affecting Nairobi, Mombasa and Kwale counties will elapse on Saturday.
The daily dusk-to-dawn curfew which had been extended by a further 21 days will also be lapsing on June 6.
On Monday during Madaraka Day celebrations held at State house, President Uhuru Kenyatta hinted at the reopening of places of worship.
SEE ALSO: Kenya Power employees turn Covid-19 positive
While delivering his speech, the President said he shared the heavy hearts of all those who can no longer worship as they used to.
"I direct the Ministry of Interior and the Ministry of Health to continue and hasten their engagement with religious leaders; with the objective of developing protocols that will be adopted to guide a more participatory way of worship while guaranteeing the safety of worshipers," he said.
During his seventh national address on the progress made in containing the virus in the country, the president noted that every Kenyan would have to take responsibility to prevent the spread of the highly infections virus.
"We will not continue with the lock-down and the curfew, I have told health officials and my ministers that they should start telling Kenyans that we cannot be under a curfew or lock-down forever," he said.
Comments
comments
54 COVID-19 patients discharged raising cleared cases to 553 » Capital News
NAIROBI, Kenya June 3 – Fifty-four COVID-19 patients have been discharged after recovering form the virus, representing the highest single-day recovery rate recorded yet since the first patient was discharged on April 1.
The total recovery toll now stands at 553 representing a 25 per cent recovery rate against the global average of 48 per cent.
Health Chief Administrative Secretary Rashid Aman on Wednesday attributed the high number of recoveries to the commitment and diligence of health workers on the frontline in the war against the pandemic.
"This recovery is attributed to the diligent and committed work of health workers operating in enabled health systems, this shows that with good management, this disease when clinically manifested is curable and not a death sentence," he asserted when he addressed the press during a regular status update on COVID-19.
Aman reiterated government's commitment to combat the spread of the virus while urging the public to maintain adherence to COVID-19 containment measures in order to support government efforts to flatten the infection curve.
"We must wear masks at all times to protect ourselves and our loved ones and avoid the risk of being infected or infecting others," the Health CAS added.
He however raised concern over the violation of social distancing guidelines by some restaurants warning that the actions pose a huge risk in the fight against the virus.
"The only measure that has been relaxed is the measure that allowed operation of restaurants and eateries based on strict adherence to the social and physical distancing guidelines," he said.
Out of the 2,112 samples analysed in 24 hours leading to Wednesday, Aman noted that 123 tested positive for the virus bringing total number of infections to 2,216.
The cases are distributed in Nairobi(44), Mombasa (34), Uasin Gishu (12), Kiambu (3), Kajiado (3), Nyeri (3) , Kilifi (2), Garissa (1) and Laikipia(1).
The country's death toll now stands at 74 after 3 more patients succumbed to the virus, two of them from Nairobi, the third was reported in Nyeri.
"The youngest one is a 12-year-old boy while the other two are 41 years and 71 years ofage. Our heartfelt condolences to their families and friends," Aman noted.
Comments
comments
Man arrested after his goggles were found at murder scene – Nairobi News
The Directorate of Criminal Investigations [DCI] is holding a man arrested after a pair of his googles was recovered from a murder scene.
Kelvin Otieno Oduor was arrested after his spectacles were found beside the lifeless body of Duncan Odhiambo Buda, who was found dead outside St John's Church in Korogocho slums on May 27.
But Oduor said he was handed the goggles at Kariobangi police station where "I was informed that I was involved in the murder of a person I don't know".
The deceased was found with several stab wounds suspected to have been inflicted by two men among them Oduor on the morning of the same day.
The death was reported to Korogocho police post by the deceased's wife.
Detective constable Collins Musiomi of Starehe DCI offices obtained orders at Makadara law courts to detain Oduor for 14 days pending investigations.
Musiomi said the scene of the crime was photographed by the scenes of crimes personnel and he drew the sketch plan before the body was collected and taken to City Mortuary.
The detective said Oduor has not been interviewed and witnesses including the deceased's wife Linet Otieno have not recorded statements.
He said none of the statutory police procedures including mental assessment of the suspect and the postmortem of the deceased has been done.
Comments
comments