My husband's alcoholism is slowly killing our marriage, please help!
My husband lost his job due to drunkenness. Since then, our marriage has been very unhappy. He calls me all sorts of names and claims that I don't value him. Instead of finding another job so that he can fend for his family, he has turned to drinking alcohol late into the night.
He has become cruel to the extent that I fear accompanying him anywhere lest he starts insulting me in public. We used to go to church together but he has quit church. In fact, he blames God for his misfortunes. I have noticed that he has become short-tempered. Sometimes I fear for the safety of myself and our child.
My parents feel I should move in with them together with my child as we try to work out our marriage. However, I am hesitant to leave because I took a vow to keep our marriage going. Separation or divorce is not an option for me. Recently, my husband started making demands for a second baby.
Things are already tight given that he still hasn't secured a job. I am at a loss on what to do. Please advise.
I am sorry that things have got that far with your husband. It is not clear to me what started him on this habit of taking alcohol and staying away from home till late.
Whatever the causes, it appears like the alcohol not only caused him to lose his job, but also his church friends.
The loss of a job must have led to further drinking of alcohol, emotional abuse meted out on you and the late arrivals home.
Joblessness could easily lead to a season of anxiety and the possibility of anger that may quickly slide into wrong company.
This cycle may lead to further use of alcohol to drown his sorrows. With time, he has come to a place where it seems he cannot do without alcohol.
Alcohol has now become his place of refuge. With the love of alcohol, one could easily be drawn to abuse or even promiscuous behaviour.
For some, this may show itself through the love of pornography and cybersex. Without a job, the feeling could make him feel like he is a failure.
As a result, his actions could be a show of wanting to take control through manipulation.
This is the web where many find themselves causing their families great pain. This could be the reason your parents do not want to see you continue to suffer.
Your man has become a captive of alcoholism, resulting in outbursts of anger and the deflection of blame to you or even God for all he is facing.
At times he will feel bitter and betrayed by the world around and drown himself more in drinking alcohol. The best thing is to remain a friend.
In relationships where one spouse is an addict, the best chance for the relationship finding help is when the sober partner becomes the voice of hope, reason and support.
This is hard particularly where the habit goes on for a long time. To make things hard, you have to look for ways to address his desire for a second baby.
For him, he might see another baby as a consolation or a win in such moments of uncertainty.
I pray that you remain focused and find the grace to remain the voice of hope to yourself and to a man who needs help.
I do agree with your perspective on divorce. I pray that you will move with wisdom as you try your best to bring good and supportive people around him.
Encourage him to get help. What you need to watch out against is any form of violence or physical abuse.
I sense a level of heightened frustration and pain that has built up over the years.
I believe that as you create a conducive environment at home, it will help you remain positive. Change will not come through blame and accusations.
Many are being wasted by alcohol, thereby making very little contribution to their families.
Here are some practical ways of helping both of you walk a road towards healing: 1) Be sure that he sees and knows that, regardless of what both of you face, you love and honour him.
Remember, your level of wellness is key to the focus you will have. Don't carry anger and revenge.
2) Make home the best place he would want to come back to. Be uncompromising, firm and yet caring. Avoid being erratic in your temperament by being consistent in serving him.
3) Grow a tough skin to those who are talking negatively about him and your family. He is a man in need of help. As much as he is looking wasted, the home gives him assurance.
4) Demonstrate the kind of life God would want to see from you. Be clear on the sort of behaviours or actions that you will not tolerate.
5) Be consistent in praying for him and yourself. Have good people surround you in prayer, including your close friends from church.
Have faith that a day is coming when all this will be behind you. Knowing what drives people to become alcoholic will help you give him support.
In a previous article, I have written about researchers working to pinpoint how genes could increase a person's risk of becoming an alcoholic.
Because alcohol could alter the balance of chemicals in the brain, the body could end up craving alcohol to restore pleasurable feelings and avoid negative feelings.
Because of the job loss, alcohol could be a great hiding place. People feeling low about themselves can slide further into addictions of various kinds if support is absent.
It is most likely that your husband's alcoholism is driven by his desire to forget the problems he is facing.
Getting professional help could be the next level if things don't improve. This will help unearth and bring understanding to the background of this drinking problem.
Getting out of such a trap and cycle requires breaking out of such habit and building new habits instead.
Depending on what drove him to start drinking alcohol, you will be able to determine whether, with the help of your counsellor, he is sliding into addiction.
Remember, his drinking problem did not start after he lost the job.
Since you are the only person in the whole world who understands him better, your perspective on what caused the initial slide into using alcohol is vital.
As much as he may appear militant, your constant assurances may be the best avenues to get him out of the problem.
As I mentioned earlier, your inner healing is key to getting rid of blame that will do nothing but drive your husband away.
If allowed, this could work negatively for you and the child. What works for one may not work for another.
However, consistency in doing good from an unselfish heart will deposit little seeds that will one day germinate and bring forth the desired change of behaviour or an acknowledgment that they need help.
The worst thing you can do is to force him to change. The best way is to win his friendship. He says that you look down on him.
Could this be more so in words and actions that are the result of your inner pain? Therefore, there is a need to make your husband feel he is important and needed.
He may have faults but with your support, the future can be bright. Love and acceptance given in wisdom could help bridge the gap.
Comments
comments
Pesa otas! KBC presenter Bonnie Musambi gifts wife Sh1 million and iPhone on her birthday
KBC presenter Bonnie Musambi has proved to be the most romantic man around. The father of two has always gone all out when it comes to his wife's birthdays.
Musambi while celebrating his wife Betty's 31st birthday, he gifted her a cheque worth Ksh1 million and an iPhone 11 worth Ksh100,000.
Prices for iPhone 11 in Kenya range from Sh84,999 for the 64GB, 128GB goes for Sh 89,969 and 256GB RAM sells at Sh 99,999.
Also read;
The party was attended by a few family members and close friends among them Citizen TV's Monica Kiragu.
The excited mother couldn't hide her joy and as she unwrapped one of her gifts, her husband said,
I saw you already have a car and a house, now I was asking my self what else can I get you?"
The journalist penned a sweet letter to the love of his life, which read;
This gorgeous girl is celebrating her 31st birthday today and i am so excited!
My lovely wife, what gift can really match your goodness?
I really wonder.
May the Lord keep you healthy just for me.
Happiest 31st birthday babes.
Taking to social media, the mother of two wrote,
'Thank my love @bonniemusambikbc for the birthday surprise 💕💕……thank you our friends for making it happen,' Betty posted accompanied ny photos from her birthday gift.
Check out photos from her birthday
In 2019, Bonnie Musambi bought his wife a house in Kilimani worth Sh 18 million and a Nissan X-trail which is said to have cost him around Sh2.5 million
Also read;
Comments
comments
Photos from Chris Kaiga's 'Mastingo' video shoot with CS Kagwe's son, Kahu$h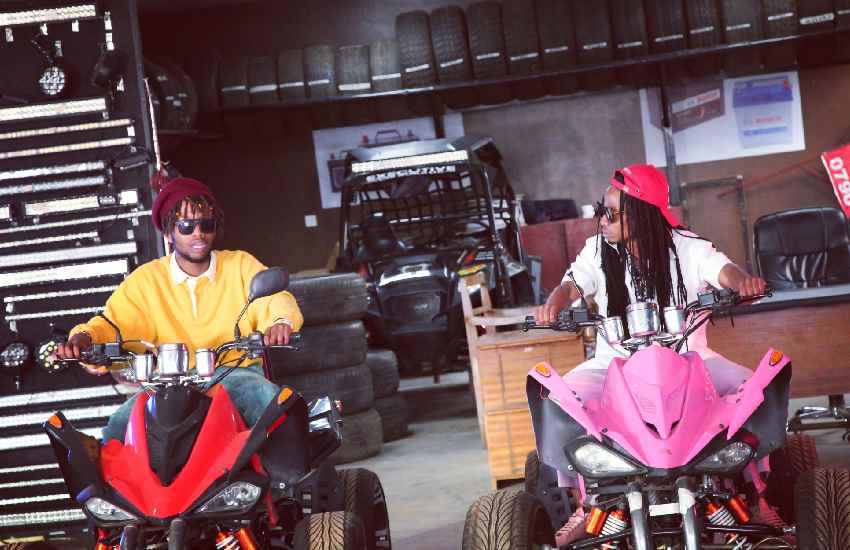 It is all systems go for Chris Kaiga's eagerly awaited song Mastingo featuring fast-rising rapper Kahu$h, the son to Health CS Mutahi Kagwe.
According to photos shared exclusively with Standard Entertainment & Lifestyle of their video shoot ahead of the song's release, the two spared no cost in packaging the aptly titled gem.
Read Also: Chris Kaiga and Kahu$h, CS Kagwe's rapper son to drop 'Mastingo'
Lavishly pink with a spice of 70's vibe, the video set below is reportedly part of a big-budget showcase shot in exquisite locations featuring, among others, top of the range cars and executed by the best in the business.
Take a look at the set channelling the exuberance of youth as the two budding artists hunt for international glory.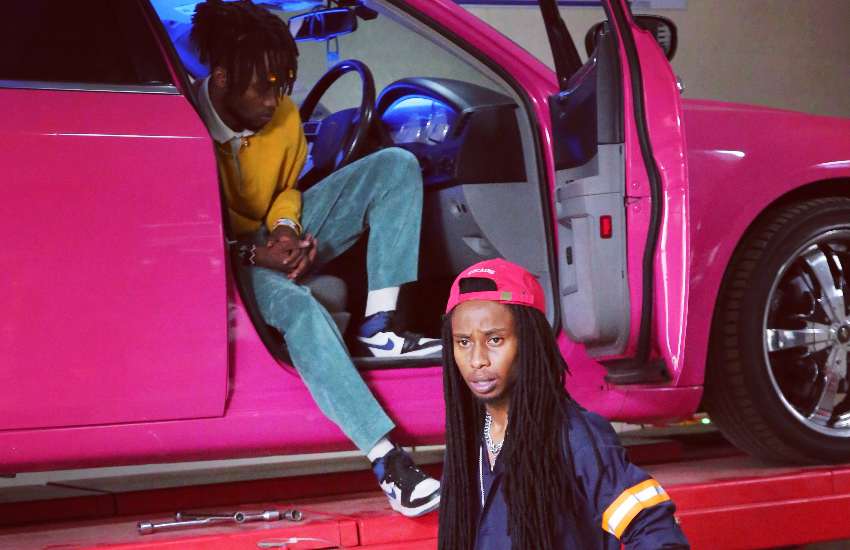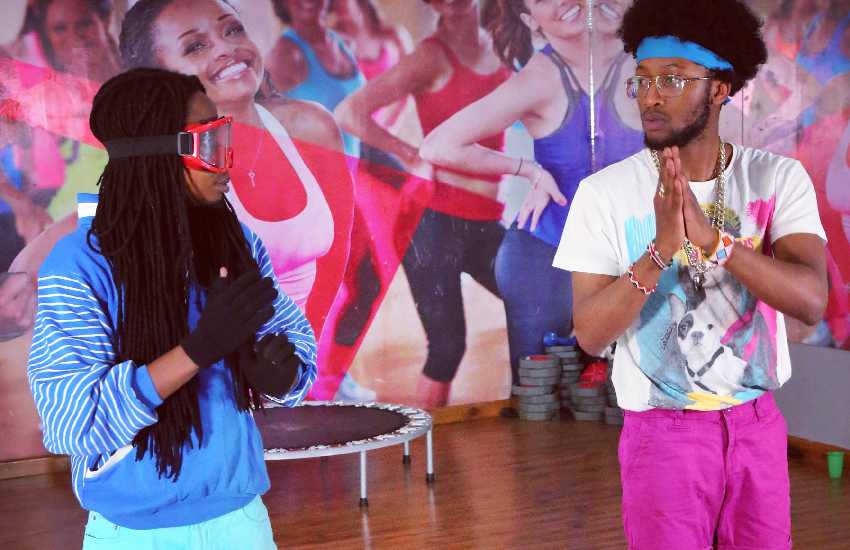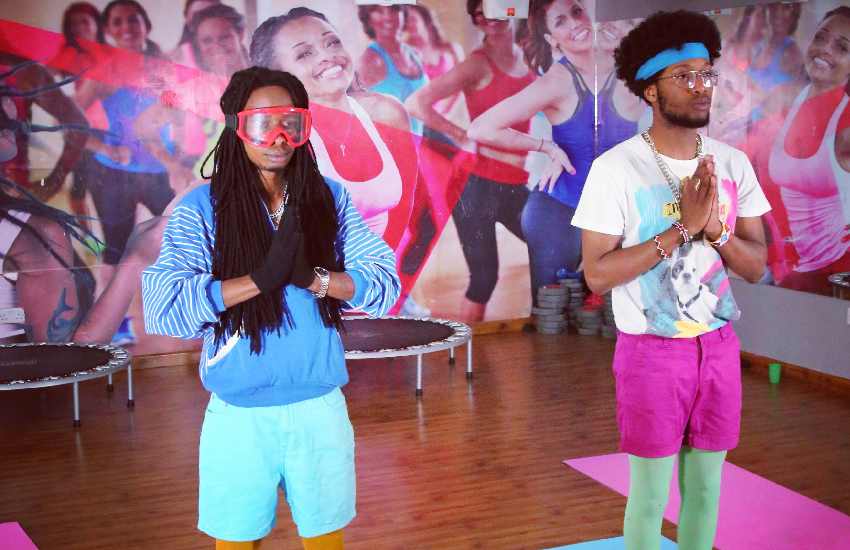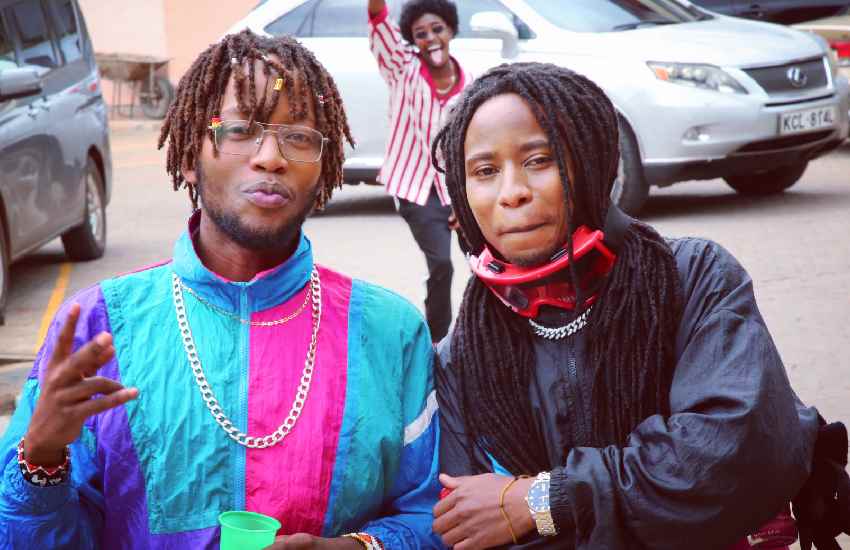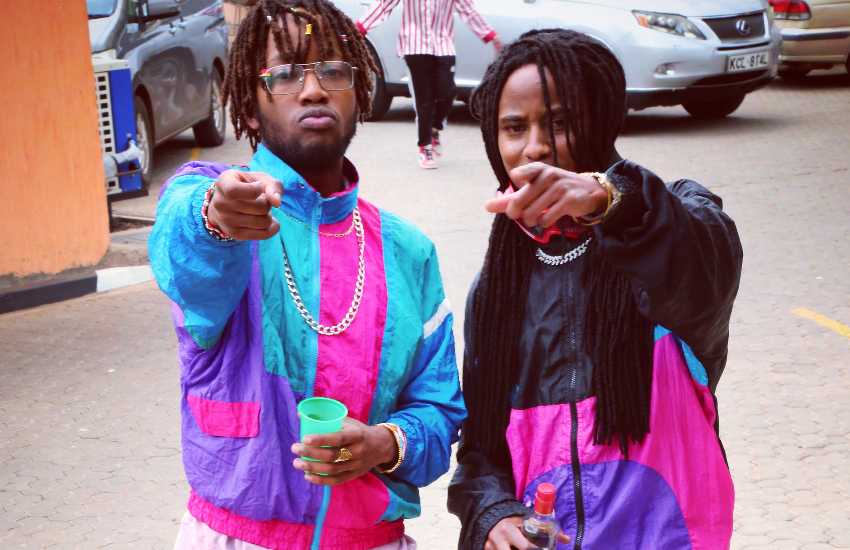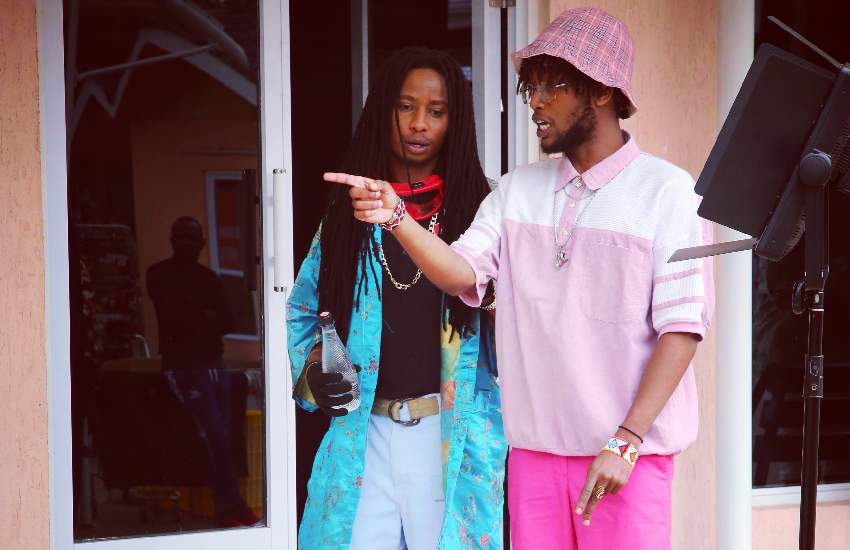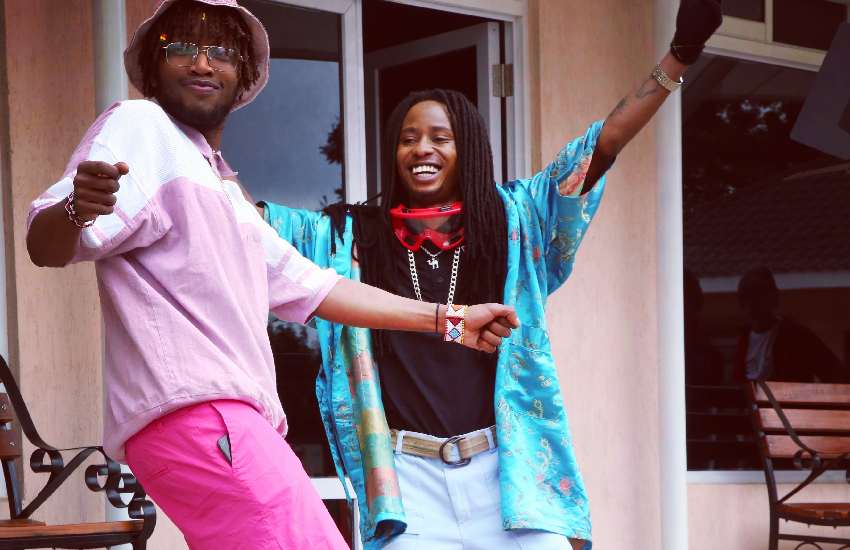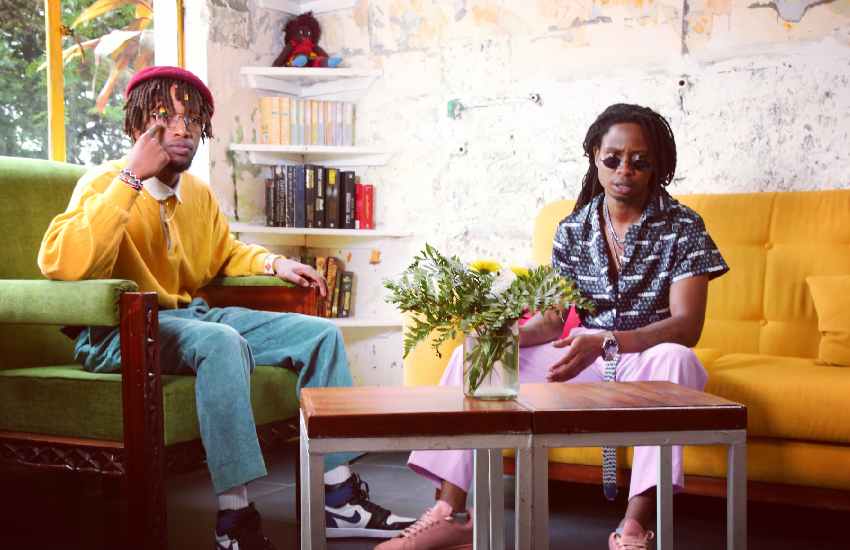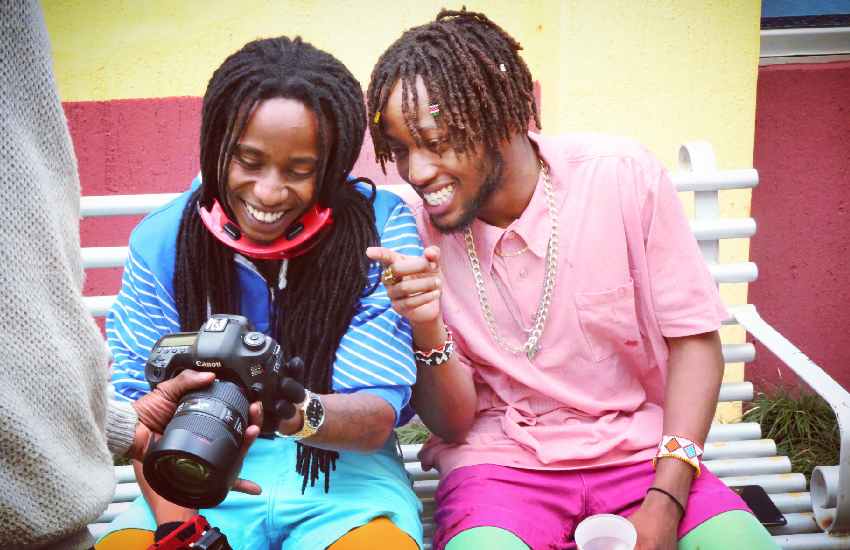 Comments
comments
Spreading the message of sustainable business
How did you react to the news when you got appointed?
I was honoured because it is an opportunity to represent Kenya and Africa in general — take this message of sustainable business globally, and hopefully propel it to the next era of sustainable business.
What's the relation between the work you were doing at Safaricom and your new job?
This area of work is something I have been doing for the last eight to 10 years at Safaricom. So, it's taking some of the lessons we've learnt at the local level to the global level. Actually, we had been partnering with the United Nations Global Compact (UNGC) since 2008. So, I'm moving to work with an organisation that has inspired and shaped the work that I do at Safaricom.
Do you see this as the apex of your career life?
I wouldn't think so. First, I haven't stepped in the office yet (laughs). But what I know is that the responsibility and the opportunity are immense. I think it is a progression of my career, and it allows me to exercise this work in the area of responsible business at a global level.
Did you ever see yourself being in this position 10 years ago?
I am truly honoured and humbled by the opportunity. What I saw —and I worked very closely with our former CEO Bob Collymore on this — was the opportunity for companies to shape the way they do business, and build a narrative focused on sustainable business.
How was the recruitment process?
I was actually approached by a head-hunter a few months ago, and that culminated in a series of interviews and discussions. And also interviews within the UN system as a whole, culminating in an interview with the deputy Secretary-General of the UN Amina J. Mohamed.
Why do you think they deemed you fit the job?
That's a tough one. During the interviews, I brought what I had to the table. And I think for me it is about 20 years of experience working in the area of development and sustainable development. I began my career in the NGO sector, working across various development areas and countries in Africa. I then moved into the corporate sector, working with Safaricom, where I began the practice of sustainable business from a private sector perspective.
I have a wealth of experience from the NGO sector — I worked with the UNDP in Somalia — and then I came with about 11 years of solid corporate experience. Thus I have a unique blend of both NGO and corporate experience.
Give us an idea of what your new role will look like?
As the executive-director, my role involves shaping and ensuring that the principles of UNGC together with the SDGs become a way of doing responsible business. Currently,  we have 10,000 companies that are members. Obviously, the idea is to expand that further but make sure there is a deep and strong understanding of corporate sustainability and sustainable business.
Has the leadership position ever been held by an African?
No, I'm the first African to take up the role.
How does that make you feel?
Again, it's an honour to represent Kenya; and the continent. It is an honour to take forward the vision so aptly crafted and created by Kofi Annan, who I respect and admire for his principles around sustainable business.
What would you say has been your biggest achievement since you were employed in 1999?
In the early stages of my career, I spent a couple of years working in Somalia. That was especially eye-opening because I was able to work across a very wide spectrum of development. The highlight for me was contributing to the first-ever United Nations Development Programme human development report for Somalia. And it really helped put down some firm statistics around the development indices and what was going on around health, education and economic empowerment in Somalia.
At Safaricom, my career journey there has prepared the ground for where I find myself in this new role. I had the opportunity to work with Collymore, who was a mentor and an incredible inspiration to me in this area of work.
Tell us about your upbringing and how it has made you who you are
I'm the lastborn in a family of four children. My parents are a great inspiration to me. They are people of many firsts. My father was the first Kenyan and black African cardiologist and internal medicine specialist. He taught us the importance of strong academic foundation and balance.
He was an all-rounded medical practitioner, but he also enjoyed sports, outdoors, and travelling. Incidentally, he also worked with the UN at the World Health Organization, and his work saw us visit a couple of countries in Africa, which were part of his duty stations.
My mother is also a woman of many firsts. She has been an MP for several years, serving our home area of Funyula constituency in Busia.
Have you informed your mum about your new role?
I did, immediately I got appointed
How did she react?
I think my family as a whole is very honoured and proud of the appointment. There are challenges ahead, but they see it as a great opportunity to represent my country. They're aware of my passion for sustainable development, and are excited about the opportunity for me to practice it at a global level.
Have you interacted with your predecessor?
I have met Lise Kingo on many occasions. Because Safaricom is a member of the UNGC and a couple of other membership organisations, we would attend convenings and meetings during the UN General Assembly Week, which was generally held in New York in September.
So you leave Safaricom a very proud woman for what you've done?
I leave Safaricom also grateful for the lessons that I've learnt, mentorship and exposure.
About your educational journey
I undertook my university education abroad. I studied Economics and International Development at McGill University in Montreal, Canada. And that was my first foray into issues such as health, economics, economic policy and sustainable development.
I then proceeded to do my Master's in public policy at the University of Minesotta in the US, where I dug into policy reform. I focused on health policy aspects.
Many women will look up to you. Say something to women and girls out there
It is important for girls and women to seize opportunities. I think this is being aware that they can, with support and mentorship, achieve their dreams. I think it is important to reach out for mentorship within the corporate world space. It is important to build your skills and knowledge.
Women as a whole, need to continue to mentor and support professional development of younger girls, to be solid role models and lift up other women as they rise.
Comments
comments