'My father, the rapist': Hidden victims of Rwanda's genocide
A 24-year-old Rwandan whose mother was raped in the genocide tells the BBC how he came to learn of the circumstances of his birth. Their names have been changed because of the shame surrounding rape, which still exists to this day.
Jean-Pierre says it was a form asking for his parents' names at the end of primary school which first made him question who exactly his father was.
"I did not know him – I did not know his name," he says.
Not having a father at home was not unusual: many other children may have been fatherless – more than 800,000 people were killed during the genocide in Rwanda in 1994. But they knew their father's name.
He had heard the village whispers, and the names people would call him – but it would take years for him to finally learn the whole truth.
The story, his mother Carine says firmly, "is not something to take at one time".
"He had heard different information. He heard gossip. Everyone in the community knows I was raped. There was nothing I could do about it," she explains.
"My son kept asking who his father was. But among 100 men or more who raped me, I could not tell the father."
'I couldn't run away'
Exactly how many children were born as a result of rape during the 100-day massacre in 1994 is not known.
Efforts are being made by the UN to end to conflict-related sexual violence – rape was used as a weapon of war from Syria to Colombia and from Democratic Republic of Congo to Myanmar last year.
Survivors are sharing stories on social media using the hashtag #EndRapeinWar to mark the UN's day to eliminate sexual violence in war.
But it is not easy for those involved to recall the events – even a quarter of a century later. Hearing Carine's story, it is clear why she waited until her son was old enough to hear the truth.
She was about the same age as him the first time she was raped, one of hundreds of thousands mainly Tutsi women and girls believed to have been sexually assaulted by Hutu neighbours, militia and soldiers.
The genocide had just begun, and she was still bleeding from two machete wounds on either side of her face – wounds which still make it hard to eat and speak today.
Her assailants – people who had once been part of the same community – had dragged her to the edge of a pit where they were dumping the bodies of the men, women and children they had just systematically murdered in a school.
But despite her wounds, despite the pain, Carine knew she did not want to die.
She also knew she did not want to die when a group of soldiers sexually assaulted her with small trees and sticks just hours later, causing unimaginable damage.
It was only when another group attacked her, biting her all over her body, she decided she no longer wanted to live.
"Now I wanted to die soon. I wanted to die so many times."
But her ordeal had only just begun: the hospital which tried to save her life was quickly overrun by Hutu militia.
"I couldn't run away. I couldn't go because everything was broken," she says.
"Whoever wanted to have sex with me could. If the perpetrators wanted to urinate, they could come and do it on me."
It was only when the hospital was liberated by the rebel Rwandan Patriotic Front that Carine finally got the treatment she needed, and was allowed to return home to her village – weak, broken, bleeding, but alive.
So when the doctors discovered she was pregnant, they were shocked.
"I was asking what to do as the body was almost nothing – I could not imagine what was going to happen.
"When the baby was born, I could not understand why. I could not believe the boy was from me. I was always thinking about what happened. After giving birth, I kept the baby – although I felt no love."
'CHILDREN ABANDONED'
This story – or variations of it – has been told hundreds of times to children across Rwanda over the past 25 years, although rarely told openly.
"Rape is taboo. In most cases, the shame goes to the women instead of the man," says Sam Munderere, chief executive of Survivors Fund (Surf) that coordinates the Foundation Rwanda programme, which offers educational and psychological support for mothers and their children born as a result of rape during the genocide.
In some cases, he explains, the stigma caused relatives to urge the mothers to abandon the children. In others, it caused the breakdown of their marriages.
Where they could, the women kept it secret. As a result, many children only realised how they were conceived when, like Jean-Pierre, they tried to fill in the form.
"The issue is now the mothers telling the children how they were born after the genocide. It was easy to simply say:
'Your father was killed during the genocide.'
"But as kids grow up, they ask many questions, and the mother is sort of pushed to saying the truth."
Over the years, Foundation Rwanda has helped mothers find the words to tell their stories over the years but the truth, Sam acknowledges, can cause a trauma of its own.
"The effects can be long-term; the effects can go from generation to generation," he says, recounting the story of one young woman who was hiding the truth about her father from her new husband.
It would, she said, harm her marriage if he knew.
Then there was the mother who admitted she mistreated her daughter because she believed her naughty behaviour was due to "how she was born".
And there are the many mothers who, like Carine, simply felt disconnected from their children, the lasting impact of which is yet to be fully realised.
"They are consequences we would not think of," Mr Munderere points out. "The young people have their own challenges and we are doing our best to support them to be able to fit into society, to feel there are as good as any other young person in Rwanda."
The trauma of bonding
Carine finally told Jean-Pierre the whole story of his conception, and birth, when he was 19 or 20.
He has, he says, accepted it. But still, he feels there is a hole in his life where a father should be. Somewhat surprisingly, he feels no hatred towards the man who attacked his mother – but then, Carine has also decided to forgive.
"One of the things that made me most traumatised was thinking about them. When you forgive, you feel better," she says, matter of factly.
"I have never been angry about him," Jean-Pierre adds. "Sometimes I think about him: when I meet with life challenges I feel that I would love having a father to help me solve these problems."
He plans on training as a mechanic and one day having a family of his own.
"I am planning to help my family as well," he says, although all that takes money – and money is something in short supply.
As for Carine, she accessed counselling early, helping her bond with Jean-Pierre as he grew up: "I feel this is my kid now."
Their closeness is easy to see as they sit on a step looking out over the rolling green hills from the door of their new home, bought with help from Surf.
It sits just outside the village where she grew up – the village she ran from when her family tried to make her give Jean-Pierre up, the village where he was called names as a younger man.
But now things are calm. They feel accepted by both the family and community.
"They know I survived for a long time living with the trauma and I am happy here," she says.
As for Jean-Pierre, he is full of pride for his mother and what she has achieved: "It is very hard to see but I was very happy with her progress.
"The way she accepted what happened. The way she thinks about the future and the way forward."
Comments
comments
Rugby players who have died in the past years and causes of their death
The recent death of former rugby player Allan Makaka left us in shock but so did the deaths of fellow rugby players who died before him.
Some died so young, at a time when their stars were just picking up.
Below are rugby players who have died in the past and what killed them.
1-Allan Makaka
Makaka died on Friday night, May 22, after being involved in a grisly road accident along the Mombasa Nairobi highway.
2-Mike Okombe
Slain international rugby player Mike Okombe was killed by his girlfriend in 2018.
This was after an argument that arose from a truth and dare game during a birthday party drove him wild.
According to court documents Mr Okombe was allegedly in the chest using a kitchen knife, leading to his death.
3. Joshua Gathumbi
Rugby player Joshua Gathumbi  in 2010 collapsed and died in a public service vehicle on his way to an internship interview at the United Nations in Gigiri, Nairobi.
Accounts, from family and friends, state that Gathumbi complained of chest pains and fatigue a week before his death.
He was only aged 25 and played for Impala RFC.
4.Tony Onyango
The Kenya Simbas and KCB full back layer collapsed and died at his home in Nairobi.
He had complained of chest pains during a training session and was advised to rest.
James kilonzo
The KCB center James Kilonzo was shot on the chest in the morning of 24 July, 2018.
Ogeto Gecheo
The Nondescripts RFC centre sustained a nasty spinal injury while tackling an opponent while playing against Strathmore Leos.
The 19-year-old was attended to by match-day medical personnel on the ground before being rushed to Aga Khan Hospital where he later died.
Comments
comments
"Always know I am here for you," Eric Omondi´s sweet message to ex, Chantal Grazioli
The relationship between Chantal Grazioli and Eric Omondi only gets sweeter by the day.
The duo split in 2019, after 4 years of dating and serving us some couple goals, in what remains unclear circumstances.
However, both parties clarified that they would continue being bosom friends, always having each other´s back and at each´s beck and call.
That is exactly what we have been seeing on our tabloids, if not more.
Miss Chanty was marking another year in her life and her bestie, Eric Omondi serenaded her with praise and love.
Also read: Eric Omondi's puffed out chest drives ladies wild (Photos)
According to the comedy act, Chantal was ´perfect´, a combination of beauty and brains, topping it up with exceptional character.
Miss Chanty lights up the comedian´s world and even though, they are no longer an item, Eric vowed to always be there for her, come rain, come sunshine.
I know they say no one is perfect but I never met someone soo perfect. Soo much beauty, soo much brains, soo much character. Keep Smiling love, you light up the World♥️…Even though we are no longer together you know am always here for you and I know you got my back. HAPPY BIRTHDAY MAMA SMOOTHY. Please help me wish @miss.chanty the HAPPIEST BIRTHDAY.
As always, the comment section was on fire, some fans asking Eric to move on, others warning the duo to stop playing around with their minds, with a section sending love to the dashing beauty.
Background
During the Christmas festivities, 2019, Chantal jetted into Kenya to spend time with her best friend, Eric Omondi and this left Kenyans questioning the more.
Then early in the year, the ex-lovers were getting cosy in bed, in a bid to promote the Italian damsel´s skin care business.
That eventually settled and we had to slowly accept that probably their friendship is just one of a kind.
Also read: Is it Jacque Maribe or Chantal? Eric Omondi finally explains his complicated relationship status!
Not just that, the comedian´s baby mama, Jacque Maribe revealed she was good friends with Chantal Grazioli, sweetly commenting on each other´s Instagram posts, one would think it was all sarcastic but well, it was not.
The two girls have also been on a date together, with the self-proclaimed President of Comedy in Africa.
Can´t get better.
Meanwhile, happy birthday to the Italian girl!
Comments
comments
Fibromyalgia: When your body's pain volume is always turned up: The Standard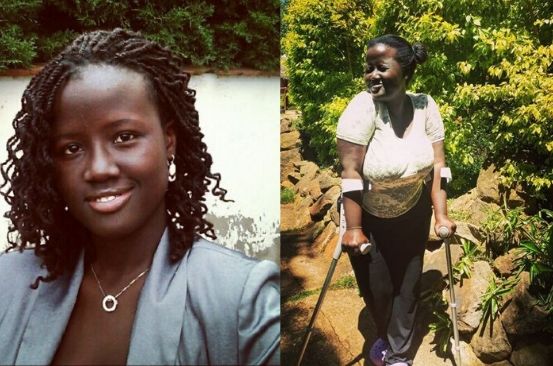 To feel pain more intensely than most, where scraping a knee feels like you have been hit by a sledgehammer, is something Laura Litaba has had to live with.
Although she was always a sickly baby, and even though throughout her school-going years she had incessant back pains and headaches, Laura didn't think that her health could get any worse.
But it did. At least a few decibels of pain higher when in 2011 she began experiencing splitting headaches, and no painkiller could take away the pain.
"Sometimes I would take more than the recommended dosage," she says.
While between migraines, she decided to see a specialist who would hopefully tell her why she couldn't get a reprieve from the pain in her head.  
But the neurologist told her he couldn't find a thing wrong with her head. And so, defeated, Laura trudged back home.
Pretty soon though, the pain began manifesting in other parts of her body.  
"I had back pains, chest pains and fatigue that I couldn't explain away. I could sleep for more than 12 hours but still wake up very tired," she says.
Just as she had through her childhood, she decided to grit through her pain and live life, at least as much as she could and as pain-free as she could manage.
She even joined university where her musical gift shone brightly. She was determined to live fully through the pain. But in 2016, things began falling apart.
"I was just back in the country after participating in a music concert and my body was aching all over. I brushed it off thinking that it was due to the travel and had probably picked up a bug. But a visit to the doctor showed I had rheumatoid arthritis," she says.
Laura had never heard of the disease. And the doctor didn't care to explain it to the shell-shocked Laura.  
"He prescribed the drugs and sent me on my way. But even with the medication, the pain remained and even got worse. My aunt, a paediatrician, recommended that I see a rheumatologist."
And so she did. After a battery of tests, the rheumatologist confirmed she had fibromyalgia.
Fibromyalgia, she soon learnt, is a disorder characterised by widespread musculoskeletal pain accompanied by fatigue, and sleep, memory and mood issues.
Since the disease has no cure, she was prescribed drugs that would reduce the symptoms.
"I wish I had known earlier what was ailing me. In school, I would go to class and when it's over, it would take me forever to stand up as my legs would be numb, with painful joints and muscles. I had to ask lecturers every semester to allow me to come to class when I could. With medication, life could have been easier," she says.
Fibromyalgia is accompanied by chronic fatigue syndrome, a condition that leaves one feeling constantly tired, and Laura has found that difficult to deal with.
She has once been forced to resign from a job she loved after she experienced a flare up.
"I had chest pains and was admitted to hospital for pneumonia. I had to be away from work for weeks on end and thus had to resign and move back home."  
Sometimes she experiences what is referred to in medical circles as a fibro fog. This is when one can't focus on the task at hand and has a problem retaining information.
"I once went on a job interview and my mind went blank for a whole minute. My concentration sometimes is so poor I can read something and not understand it," she explains.
Living with fibromyalgia means coping with the nausea, nerve pains, insomnia, irritable bowel syndrome and twitching that are common occurrences.
The helplessness that comes with the constant pain was a major cause of stress for Laura.
"I used to do most of my chores independently, but now I need help doing almost everything. I can't carry heavy things because my hands are in pain. The only thing I do on my own is bathing. I wish I could hire a home care nurse but I can't afford the cost that comes with it," she says.
Embracing the pain
This, added to difficulties in walking, made Laura a recluse, choosing to stay indoors.
But earlier this year, she decided to do what she once did so bravely: embrace her pain and live fully.
"So I got myself a wheelchair and joined my friends outside. That felt great. I have to admit though that it does sting some when I see people attending parties and concerts because that was my life a few years ago," she says nostalgically.
Laura now has resorted to learning new languages online, acquiring new skills and working online since she can't dabble in public relations, which was once her area of specialty.
Despite her joints aching and muscles sore, she is ready to start a new chapter in life, one without self-pity.
"I can't really do much out there in my state but I know I will find a way to shine bright," she says.
Atta girl. We wish Laura all the best
The Standard
Just as she had through her childhood, she decided to grit through her pain and live life
Comments
comments