MPs summon Kiunjuri over delayed importation of subsidized fertilizer
The National Assembly Agriculture committee has summoned CS Mwangi Kiunjuri to appear before it on Monday next week to explain the cause of delays in importing subsidized fertilizer.
Addressing a press conference at Parliament buildings on Thursday afternoon, committee chairman Adan Haji said Kiunjuiri is expected to explain why the ministry failed to put alternative measures if it knew the contract of the fertiliser importer could lapse by January this year.
"The situation is now at crisis level. This ministry has been trying to import the fertiliser but we have now been told that this year it is not possible. We have been told the company had issues and the Attorney General was still scrutinizing the contract," Adan said.
Kiunjuri was accompanied by committee members Janet Sitienei (Turbo), Justus Murunga (Matungu),Emmanuel Wangwe (Navakholo), Brighton Yegon (Konoin), Paul Mwrigi (Igembe South) and Daniel Kamuren (Mogotio).
Read: Subsidized fertilizer is available, says NCPB
On Monday Kiunjuri confirmed the government will not be buying fertiliser for this season.
"As a ministry, we were ready to procure the subsidised fertiliser by last year October but the process was halted due to investigations. However, all is not lost as we can still buy the fertiliser through a specially permitted system under Article 114 of Public Procurement. But this can only be authorised by the Treasury to ensure farmers have fertiliser within 21 days to the time of planting because the rains are unpredictable," Kiunjuri said.
The MPs expressed fears that the prices of fertilizer by local traders were likely to go up.
Farmers in the larger Rift Valley will start planting from mid-February to March.
The National Cereals and Produce Board sells a 50kg bag of subsidised planting fertiliser at Sh1, 800 and top fertiliser at Sh1, 500.
Also read: Relief for farmers as government subsidises fertiliser prices
Comments
comments
Villagers trap and kill suspected thieves : The Standard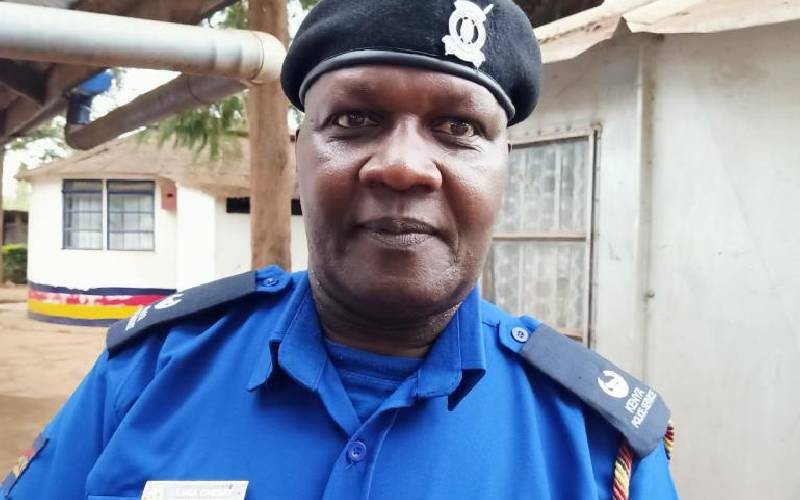 Four men were lynched after they were allegedly caught stealing goats at Mithuthi-ini village of Tebere ward in Kirinyaga County at 5am yesterday.
Suspecting that the thieves would strike following a spike in similar incidences, residents spent the whole night waiting for them.
Mwea East Deputy Police Commander Lucas Chebet (pictured) said two suspects escaped while the rest were beaten to death by angry villagers who used machetes and other weapons.
SEE ALSO: Ward reps reject push to reconcile with Waiguru
"When we were informed about the attack, we rushed to the scene and found the four already dead. They had cuts all over," he said.
The suspects, whose bodies were moved to the Kerugoya County Hospital mortuary, are yet to be identified.
Chebet said they are investigating the incident and would bring to book any villager who participated in the lynching.
In Nyeri, the police have arrested a 38-year-old man from Thatha village in Tetu over the death of his father.
The suspect is being held at Ihururu police station for allegedly assaulting his 80-year-old father and killing him.
SEE ALSO: Anti-graft body probes Kirinyaga County staff
According to Tetu Deputy County Commissioner Oddilliah Ndeti, the old man died at Nyeri County Referral Hospital where he had been rushed to after he sustained head injuries in the attack.
The incident happened on Sunday morning.
Authorities could not immediately establish the cause of the assault. 
In Siaya, the police have arrested a man found in possession of a rifle that was stolen from Umala Police Station last year.
The weapon is said to have been used in a series of robberies in the area.
SEE ALSO: Of women, leadership and corruption
The suspect was also found with police and military uniform. The police are however yet to confirm where he got the uniforms from.
Police also recovered 13 rounds of ammunition from the suspect  who was attempting to sell the firearm. The suspect is said to have been part of a gang masquerading as police officers and terrorising residents.
Comments
comments
Dashed hopes for revellers as bars remain closed: The Standard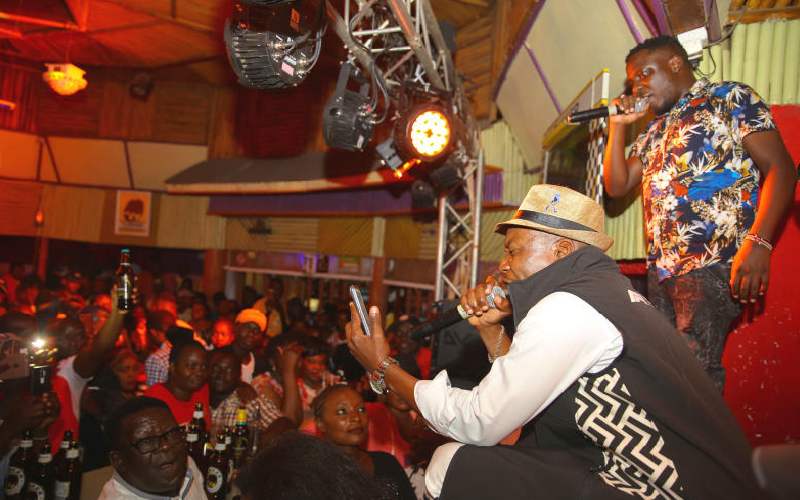 Entertainment spots, bars and lounges had their hopes of resuming business dashed with yesterday's presidential address that maintained their continued closure.
In the phased reopening of the economy announced by President Uhuru Kenyatta, the inter-county cessation of movement was lifted as well as worship places scheduled for reopening, but there was no word on re-opening of clubs, bars or other entertainment spots.
"We know that jobs have been lost and some businesses have been closed and many livelihoods endangered, and this is the unfortunate sorry state of affairs across the world. We must be aware that those who beat disasters like these in the past did so by first changing their mindsets," said President Kenyatta.
SEE ALSO: Embrace Saba Saba ideals as we commemorate this day
By night, Nairobi is known to be effortlessly beautiful, with lights emanating from all sides of towering office buildings and music pulsating from strategically placed nightclubs to attract those who need to let their hair down after work or catch up with peers.
Nightlife
However, the face of Nairobi's nightlife changed instantly when the country confirmed its first case of Covid-19 on March 13. 
The social and physical distancing guidelines issued by the Ministry of Health as well as those from the World Health Organisation spelt doom for the leisure industry, as people were urged to stay away from bars, lodgings and other recreation places for their own good.
Among the strict containment measures for the virus was a ban on congregational meetings, including visits to nightclubs, closure of bars and adjusted operating protocols on restaurants.
SEE ALSO: Reduced incomes in corona era see Kenyans skip meals
Entertainers, who would otherwise be mingling with their fans at hosted club events have also gradually turned to Instagram live shows to capture and maintain their audience.
"As artistes, we solely depend on bars and restaurants to make money. What's happening right now means that artistes are not making any money during this pandemic. The online concerts help maintain brand and visibility to audiences but it really can't compare to business before the virus," rapper Khaligraph Jones said yesterday.
Leisure industry
The economic effects of the novel virus on the leisure industry have been loud and harsh, with thousands losing their jobs. Many city bars, restaurants and resorts closed their doors, leaving workers jobless or on indefinite unpaid leave.
According to the Alcohol Beverages Association of Kenya, up to 250,000 people were employed at bars and other entertainment spots prior to the pandemic. Closing the doors of these establishments essentially meant sending the staff home to an uncertain future.
SEE ALSO: Academic calendar out today
Artistes and other performers in the entertainment industry have also had to count their losses and opt out of the crowded performances they would typically treat their fans too. In the changing times, the likes of popular rapper Nyashinski, Afro-pop band Sauti Sol and famous rapper King Kaka have hosted online concerts.
"Coronavirus is real. We can't argue with what the government has said. As a Disc Jockey, I have felt the pinch in my pocket, but I have to respect the government's decision and look into other business ventures to sustain my family in the meantime," says popular DJ and TV personality Pierra Makena.
Comments
comments
Health starts with you, says Uhuru as country reopens: The Standard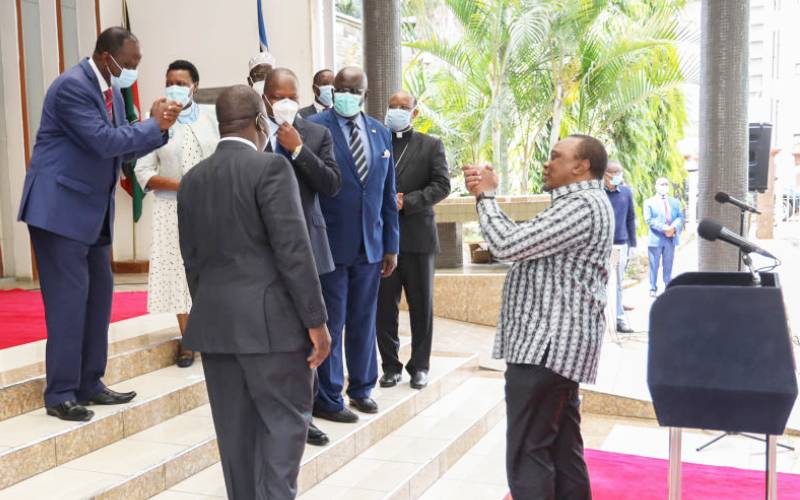 President Uhuru Kenyatta with experts after addressing the Nation on the new Presidential guidelines on Covid-19 pandemic at Harambee House in Nairobi on July 06, 2020. [PSCU,Standard]
President Uhuru Kenyatta yesterday bowed to pressure to reopen the economy, but threw the burden of responsibility back to Kenyans.
In a decision welcomed by the drivers of the economy but dreaded by public health officials, the president conditionally lifted the cessation of movement order in and out of Nairobi and other counties that had recorded soaring cases of Covid-19.
Essentially, Kenyans now have 21 days to behave normally, while moving around or risk being forced into another locked down should the health crisis deepen. Caught between a rock and hard place, the President admitted he was aware the move could spread the risk of infections.
"By re-opening Nairobi, Mombasa and Mandera, we are more at risk than we were when the restrictions were in place.  We must, therefore, exercise cautious optimism and avoid reckless abandon," he said.
SEE ALSO: Embrace Saba Saba ideals as we commemorate this day
If the patterns of interactions and the spread of the disease show that the condition is worsening, the president said, he will be forced to return to the lock-down at zero-option.
Speaking during his State address on the pandemic, President Kenyatta painted an image of the struggles he faced before making his decision. He described it as a dilemma between choosing to resuscitate the economy and monitoring the worrying trend of high numbers of cases testing positive for the virus.
President Kenyatta said that they had a series of consultative forums to address many issues around the disease, among them being whether the country had met the irreducible minimums set last month when he issued guidelines based on modeling that painted the worst case scenario if he adjusted the measures.
At that time, he had said, experts had warned that more than 45,000 people could die by October if measures put in place to contain spread of coronavirus are relaxed even by 60 per cent.
SEE ALSO: Reduced incomes in corona era see Kenyans skip meals
"Although these projections are generated by a model, there is hard evidence suggesting that countries, which opened up without proper protocols also experienced serious waves of infections. Spikes of infections were for instance experienced after re-opening religious gatherings in South Korea, Pakistan and Malaysia," he said in his June 6 speech.
Irreducible minimum
President Kenyatta said the country must meet bare minimum by showing a decline of infection rates and proof the infections are being contained, health care systems must be sufficiently prepared to contain the virus and must not be overwhelmed at any point during the pandemic and that there must be access to testing, isolation and quarantine facilities.
He had also ordered counties to prepare adequately to manage Covid-19 patients. Capacity for surveillance and contract tracing was also to be boosted before the rules are eased.
Yesterday, the President admitted the country had not met all the irreducible minimums. However, together with experts and other stakeholders, the Government reached a consensus that there is reasonable level of preparedness to allow for the reopening of the country.  
SEE ALSO: Academic calendar out today
"While the Government will, no doubt, do its part to achieve the desired wish of remaining open, you, mwananchi must also do what is expected of you personally to achieve it. This is therefore a national call to civic responsibility," he said.
The President told religious leaders that even though he has allowed the resumption of church services, it is their responsibility to ensure the set rules are adhered and infection rates do not escalate.
"The State does not have resources to go to every church and mosque to see to it that you adhere to the rules," he said.
He cautioned against unnecessarily travels upcountry and exposing of vulnerable population in the society to the virus.
"Those going home, know you are going to interact with our elderly. It is not the Government's responsibility if you take the disease to them," he said.
SEE ALSO: Groups push for sex class
He cautioned people who have been peddling rumours that the disease is not real because they have not encountered anyone with the virus.
"While it is true that most people get better, it is also true that the number of people who are admitted has been rapidly increasing," he said.
His speech focused on individual responsibility, and unity to fight the disease. He likened it to the era where the HIV pandemic weighed heavily on the economy and killed many, but through behaviour change and individual responsibility it was managed.
"It is about you and what you do. I will ask you to come together like we did in the HIV times. Eventually we all took responsibility. It is what saved us. The Government cannot come to your homes. It is you…" he said.
The President expressed concern over the rise in gender based violence cases and the abuse of children's rights recorded. He Ordered the National Crime Research Centre to probe the cases and prepare an advisory to security agencies within 30 days to see that all violators are brought to book.
SEE ALSO: Domestic conflict surges as corona takes heavy toll on many families
Comments
comments