Met warns Kenyans to brace for heavy rains as floods kill 20
About 20 people have died following heavy rains across the country for several days.
The downpours have also displaced more than 20,000 households and left a trail of destruction.
On Saturday, the Kenya Red Cross Society told the Sunday Nation that they have documented 18 deaths so far — four each in Marakwet, Kitui, Meru, Turkana and two in Wajir.
There are fears that the numbers could rise even as Kenya Meteorological Department warns in their weekly report that rainfall intensities are likely to increase in parts of the northeast, the highlands east and west of the Rift Valley, the southeast lowlands and the coast.
"The situation could worsen due to the ongoing rains and we are asking Kenyans to observe safety measures including carrying umbrellas, being on the lookout for flash floods, moving to higher grounds and not to drive, walk or swim through flooded areas or moving water," said Red Cross Communications Manager Peter Abwao.
The aftermath of a heavy downpour at a church in Lodwar town, Turkana County, on October 18, 2019. PHOTO | SAMMY LUTTA | NATION MEDIA GROUP
He said they are looking at the next course of action, which is to set up camps for displaced families especially in Wajir where about 8,000 households had been displaced and Mandera where 5,000 households have been affected.
"We are currently assessing as to whether we need temporary shelters. Some have found themselves safer grounds so far, but some may need assistance until the floods subside," said Mr Abwao.
The latest deaths of two people were reported Saturday after flash floods wreaked havoc in Turkana County following heavy rain on Friday, which the Red Cross fears might have left more casualties.
Turkana Central Sub-County Police Commander David Mburukwa told the Sunday Nation that the two died after floods that marooned hundreds of villagers in both Turkana Central and Loima sub-county persisted.
"We have retrieved a body at Lodwar Livestock Market and moved it to the Lodwar County and Referral Hospital and another one at Loima. This is besides many livestock that have been swept away," Mr Mburukwa said.
He said that transport and business activities had been paralysed along Kitale-Lodwar and Lokichogio road after the usually dry river beds burst their banks.
The floods also washed away a tarmac road near the flooded Moi Gardens Stadium where Mashujaa Day celebrations will be held.
Turkana Women Representative Joyce Emanikor appealed to both the county and national governments as well as the NGOs to intervene.
The weatherman warned that there will be heavy rains in the coastal region including Mombasa, especially in the early morning hours over several places of the county.
"This will then give way to sunny intervals the rest of the morning. The afternoon will have sunny intervals and at night there is a chance of a shower. Wind will be 11km/h flowing from the southeast direction," said Mombasa County Director of Meteorology Edward Ngure has explained.
The maximum temperature will be 30°C and the minimum temperature will be 24°C and the relative humidity will be 80 percent.
"Warmer-than-usual sea surface temperature has developed near Africa's east coast. Cooler-than-usual sea surface temperature has formed off the northwest coast of Australia.
This means our region (including Mombasa) has a high chance of receiving enhanced rainfall now and in the coming months," he said.
Heavy downpour pounding parts of western Kenya has wreaked havoc in parts of the region with Busia bearing the greatest brunt of crop destruction on farms.
A view of the fish market in Lodwar following heavy rains in several parts of Turkana County, September 13, 2019. PHOTO | PETER WARUTUMO | NATION MEDIA GROUP
Already, an alert has been given over floods in Teso North and South in Busia where hundreds of residents are counting losses after waters swept away their crops and waterlogged their houses.
Several families have been left homeless in Kamolo, Katanyu and Onyunyur villages in Teso North and Akiriamasi and Ngelechom in Teso South ad Red Cross plans rescue operations while monitoring Nyando and Budalang'i that are prone to floods.
In Siaya, the heavy downpour has affected an estimated 500 residents of Yimbo East ward in Bondo.
Area MCA Francis Otiato said the rain has destroyed farmland around the expansive Yala swamp.
The MCA told Sunday Nation on Friday that besides crops, raging floods have killed animals, leaving some of the homesteads submerged.
He said Achuodho, Magombe, Bur IRO, Mago and Ndiwo were the most affected.
"Major cause of flooding in Achuodho and Magombe is the illegal weir built by the Dominion farm above initial allowable heights," he said.
Heavy rains continued to pound most parts of the county such as Rarieda, Bondo, Alego Usonga, Ugunja and Gem but the police in the area said no deaths had been reported, so far.
In Homa Bay, families living in low areas have been advised to move to higher ground to avoid floods. The residents appealed for government intervention.
The 68-year-old Murunga accused the government of employing stopgap measures whenever the region is hit by floods instead of finding a lasting solution.
"We are tired of being lured with relief food whenever the region experiences floods. We want the government to construct dykes similar to those in Budalang'i along River Malakisi to control water flow."
Comments
comments
Dashed hopes for revellers as bars remain closed: The Standard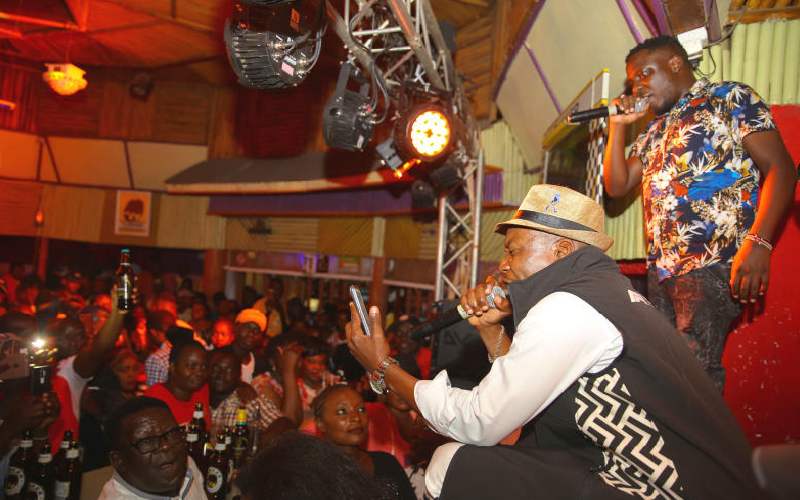 Entertainment spots, bars and lounges had their hopes of resuming business dashed with yesterday's presidential address that maintained their continued closure.
In the phased reopening of the economy announced by President Uhuru Kenyatta, the inter-county cessation of movement was lifted as well as worship places scheduled for reopening, but there was no word on re-opening of clubs, bars or other entertainment spots.
"We know that jobs have been lost and some businesses have been closed and many livelihoods endangered, and this is the unfortunate sorry state of affairs across the world. We must be aware that those who beat disasters like these in the past did so by first changing their mindsets," said President Kenyatta.
SEE ALSO: Embrace Saba Saba ideals as we commemorate this day
By night, Nairobi is known to be effortlessly beautiful, with lights emanating from all sides of towering office buildings and music pulsating from strategically placed nightclubs to attract those who need to let their hair down after work or catch up with peers.
Nightlife
However, the face of Nairobi's nightlife changed instantly when the country confirmed its first case of Covid-19 on March 13. 
The social and physical distancing guidelines issued by the Ministry of Health as well as those from the World Health Organisation spelt doom for the leisure industry, as people were urged to stay away from bars, lodgings and other recreation places for their own good.
Among the strict containment measures for the virus was a ban on congregational meetings, including visits to nightclubs, closure of bars and adjusted operating protocols on restaurants.
SEE ALSO: Reduced incomes in corona era see Kenyans skip meals
Entertainers, who would otherwise be mingling with their fans at hosted club events have also gradually turned to Instagram live shows to capture and maintain their audience.
"As artistes, we solely depend on bars and restaurants to make money. What's happening right now means that artistes are not making any money during this pandemic. The online concerts help maintain brand and visibility to audiences but it really can't compare to business before the virus," rapper Khaligraph Jones said yesterday.
Leisure industry
The economic effects of the novel virus on the leisure industry have been loud and harsh, with thousands losing their jobs. Many city bars, restaurants and resorts closed their doors, leaving workers jobless or on indefinite unpaid leave.
According to the Alcohol Beverages Association of Kenya, up to 250,000 people were employed at bars and other entertainment spots prior to the pandemic. Closing the doors of these establishments essentially meant sending the staff home to an uncertain future.
SEE ALSO: Academic calendar out today
Artistes and other performers in the entertainment industry have also had to count their losses and opt out of the crowded performances they would typically treat their fans too. In the changing times, the likes of popular rapper Nyashinski, Afro-pop band Sauti Sol and famous rapper King Kaka have hosted online concerts.
"Coronavirus is real. We can't argue with what the government has said. As a Disc Jockey, I have felt the pinch in my pocket, but I have to respect the government's decision and look into other business ventures to sustain my family in the meantime," says popular DJ and TV personality Pierra Makena.
Comments
comments
Health starts with you, says Uhuru as country reopens: The Standard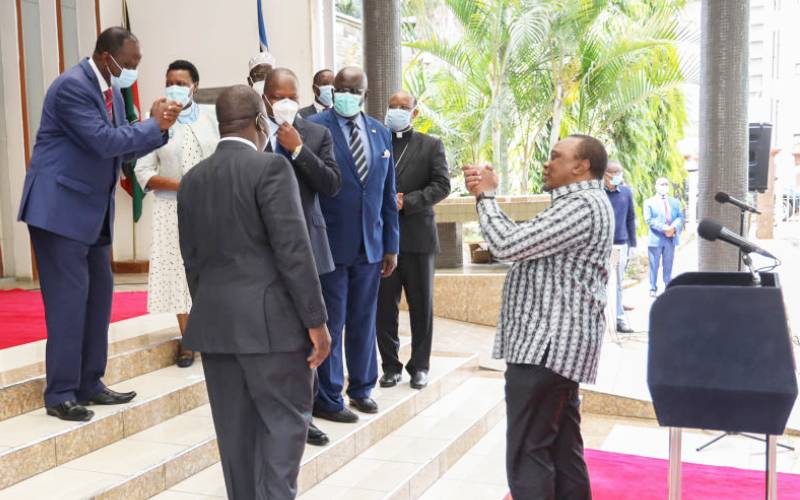 President Uhuru Kenyatta with experts after addressing the Nation on the new Presidential guidelines on Covid-19 pandemic at Harambee House in Nairobi on July 06, 2020. [PSCU,Standard]
President Uhuru Kenyatta yesterday bowed to pressure to reopen the economy, but threw the burden of responsibility back to Kenyans.
In a decision welcomed by the drivers of the economy but dreaded by public health officials, the president conditionally lifted the cessation of movement order in and out of Nairobi and other counties that had recorded soaring cases of Covid-19.
Essentially, Kenyans now have 21 days to behave normally, while moving around or risk being forced into another locked down should the health crisis deepen. Caught between a rock and hard place, the President admitted he was aware the move could spread the risk of infections.
"By re-opening Nairobi, Mombasa and Mandera, we are more at risk than we were when the restrictions were in place.  We must, therefore, exercise cautious optimism and avoid reckless abandon," he said.
SEE ALSO: Embrace Saba Saba ideals as we commemorate this day
If the patterns of interactions and the spread of the disease show that the condition is worsening, the president said, he will be forced to return to the lock-down at zero-option.
Speaking during his State address on the pandemic, President Kenyatta painted an image of the struggles he faced before making his decision. He described it as a dilemma between choosing to resuscitate the economy and monitoring the worrying trend of high numbers of cases testing positive for the virus.
President Kenyatta said that they had a series of consultative forums to address many issues around the disease, among them being whether the country had met the irreducible minimums set last month when he issued guidelines based on modeling that painted the worst case scenario if he adjusted the measures.
At that time, he had said, experts had warned that more than 45,000 people could die by October if measures put in place to contain spread of coronavirus are relaxed even by 60 per cent.
SEE ALSO: Reduced incomes in corona era see Kenyans skip meals
"Although these projections are generated by a model, there is hard evidence suggesting that countries, which opened up without proper protocols also experienced serious waves of infections. Spikes of infections were for instance experienced after re-opening religious gatherings in South Korea, Pakistan and Malaysia," he said in his June 6 speech.
Irreducible minimum
President Kenyatta said the country must meet bare minimum by showing a decline of infection rates and proof the infections are being contained, health care systems must be sufficiently prepared to contain the virus and must not be overwhelmed at any point during the pandemic and that there must be access to testing, isolation and quarantine facilities.
He had also ordered counties to prepare adequately to manage Covid-19 patients. Capacity for surveillance and contract tracing was also to be boosted before the rules are eased.
Yesterday, the President admitted the country had not met all the irreducible minimums. However, together with experts and other stakeholders, the Government reached a consensus that there is reasonable level of preparedness to allow for the reopening of the country.  
SEE ALSO: Academic calendar out today
"While the Government will, no doubt, do its part to achieve the desired wish of remaining open, you, mwananchi must also do what is expected of you personally to achieve it. This is therefore a national call to civic responsibility," he said.
The President told religious leaders that even though he has allowed the resumption of church services, it is their responsibility to ensure the set rules are adhered and infection rates do not escalate.
"The State does not have resources to go to every church and mosque to see to it that you adhere to the rules," he said.
He cautioned against unnecessarily travels upcountry and exposing of vulnerable population in the society to the virus.
"Those going home, know you are going to interact with our elderly. It is not the Government's responsibility if you take the disease to them," he said.
SEE ALSO: Groups push for sex class
He cautioned people who have been peddling rumours that the disease is not real because they have not encountered anyone with the virus.
"While it is true that most people get better, it is also true that the number of people who are admitted has been rapidly increasing," he said.
His speech focused on individual responsibility, and unity to fight the disease. He likened it to the era where the HIV pandemic weighed heavily on the economy and killed many, but through behaviour change and individual responsibility it was managed.
"It is about you and what you do. I will ask you to come together like we did in the HIV times. Eventually we all took responsibility. It is what saved us. The Government cannot come to your homes. It is you…" he said.
The President expressed concern over the rise in gender based violence cases and the abuse of children's rights recorded. He Ordered the National Crime Research Centre to probe the cases and prepare an advisory to security agencies within 30 days to see that all violators are brought to book.
SEE ALSO: Domestic conflict surges as corona takes heavy toll on many families
Comments
comments
No children, elders as churches set to reopen: The Standard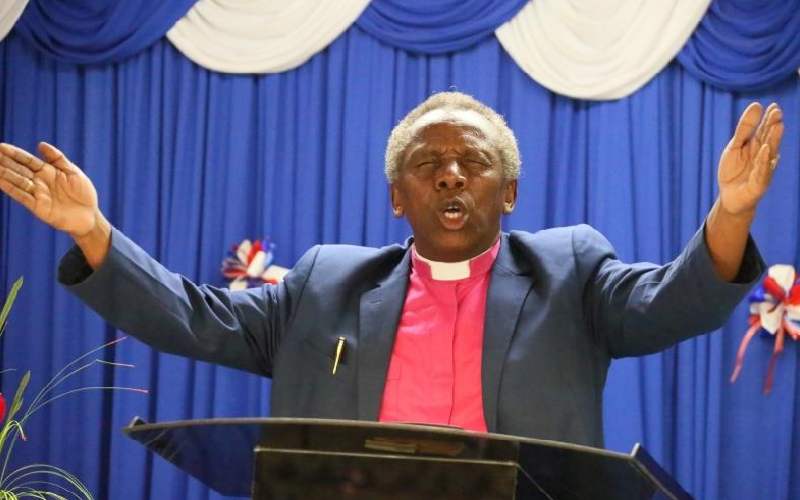 Bishop Erastus Njoroge of Four Square Pillar Church in Mweiga, Nyeri, prays after President Uhuru Kenyatta announced the reopening of places of worship. [Kibata Kihu, Standard]
Healing miracles may be one of the activities that preachers will not get a chance to perform as the Government instituted tough measures that will keep the sick away from places of worship.
Unlike what the Bible says in Matthew 19:14, children will also not be allowed into the church under the new rules.
Those who are in need of healing will now have to stretch their faith further through live-streamed services if they have the electronic gadgets and the services are streamed since the new guidelines will not allow them into houses of worship.
President Uhuru Kenyatta announced the new guidelines, prepared by the Interfaith Council of Kenya when he addressed the nation yesterday. 
SEE ALSO: Embrace Saba Saba ideals as we commemorate this day
Not more than 100
The guidelines say that individuals who have underlying health conditions and are 58 years and above should not join others for communal worship.
"A maximum of 100 participants are allowed at each worship service, which should not take more than an hour. Sunday schools and madrassa shall remain suspended until further notice," said the president.
He said in-person worship should not include congregants under the age of 13 or those above 58 years with underlying conditions.
From what was developed by the Catholic fraternity and handed to the Interfaith Council of Kenya, even having symptoms synonymous to those of Covid-19 will deny you an opportunity to attend a worship service.
SEE ALSO: Reduced incomes in corona era see Kenyans skip meals
"It is recommended during this period to limit the celebration of the anointing of the sick to those who are dying and those about to undergo serious surgery," reads the guidelines as presented by the Catholic church.
Places of worship will also not allow persons without masks to enter and those without should be provided with. For places of worship that hold more than one service, then there will be disinfection before the next service starts.
Practices like giving a hi-five during the service will no longer apply as there will be no physical contact. The sign of peace shared by Catholics may also not be done with physical distance put at 1.5 metres.
Offertory baskets
"To prevent sharing of materials and items among members, remove all missals, hymnals, prayer cards and other paper resources, all congregants will be required to leave their contacts," reads the guidelines, which the Catholic Church seeks to adopt. Collection of the offering will be done without passing the offertory baskets to the next congregant as the church seeks to adopt a centralised designation for collection.
SEE ALSO: Academic calendar out today
"Those in charge of the collection will wear gloves," it adds.
For the Catholics, there is already consideration to change the sign of peace or do away.
"Communion should be received by hand and every minister and communicant should sanitise their hands prior to distribution and reception," the document reads.
"If any physical contact occurs between the minister and the communicant, the minister should immediately sanitise his hands."
Comments
comments