Meet Rachel Mitchell, the woman who will question Ford about her Kavanaugh allegations at the Senate Judiciary Committee hearing
Republicans on the Senate Judiciary Committee announced they have hired longtime Arizona prosecutor Rachel Mitchell to question Christine Blasey Ford during her testimony Thursday.
Ford has accused Supreme Court nominee Brett Kavanaugh of sexually assaulting her when the two were teenagers in the 1980s.
Mitchell is a respected, experienced prosecutor who specializes in sex crimes, and has said that the innocence and vulnerability of victims is what first drew her to the practice.
The woman who will question Christine Blasey Ford on Thursday during her testimony against Supreme Court nominee Brett Kavanaugh has built her career out of investigating sex crimes and interviewing traumatized victims of abuse.
Senate Republicans announced Tuesday they had hired Arizona sex-crimes prosecutor Rachel Mitchell to question Ford before the Senate Judiciary Committee. Ford has accused Kavanaugh of sexually assaulting her during a party when the two were teenagers.
Mitchell's retention was the latest development in a series of controversies over the hotly anticipated hearing. Although Ford had requested that senators question her rather than a lawyer, Senate Republicans defended Mitchell's hiring as necessary to ensure a fair and respectful hearing.
It will also allow Senate Republicans to avoid the optics of having 11 male Republicans grilling Ford with questions about a sensitive subject.
"We have done it because we want to depoliticize the whole process, like the Democrats politicized the Anita Hill thing," Grassley said in a statement, referring to Hill's 1991 testimony against then-Supreme Court nominee Clarence Thomas, whom she accused of sexual harassment.
"I promised Dr. Ford that I would do everything in my power to avoid a repeat of the 'circus' atmosphere in the hearing room that we saw the week of September 4," Grassley added.
'It struck me how innocent and vulnerable the victims of these cases really were'
Mitchell is the perfect candidate for the job, according to those in Arizona's law-enforcement community who know her. Maricopa County Attorney Bill Montgomery sang her praises in a statement on Tuesday.
"The American people can be confident that Rachel Mitchell's experience as a conscientious prosecutor, trained to seek justice, protect victims, and pursue truth will assist the Senate Judiciary Committee in performing its important task," he said.
A longtime prosecutor who worked her way up to the role of chief of the Special Victims Division of the Maricopa County attorney's office, Mitchell is highly experienced in prosecuting sexual assault cases. She is currently on leave from her position, according to Grassley's statement.
Mitchell has prosecuted several high-profile cases throughout her career, including the 2005 conviction of Rev. Paul LeBrun, a former Catholic priest accused of molesting young boys. LeBrun was eventually sentenced to 111 years in prison.
"She's one of these career prosecutors who specializes in sex crimes," Paul Ahler, who formerly worked in the Maricopa County attorney's office, told The Arizona Republic. "It's hard to find those people because a lot of people get burned out on those issues, but it's kind of been her life mission."
Mitchell is particularly well-known for working with child victims. She has helped develop best practices when interviewing victims, and was once named the "Outstanding Arizona Sexual Assault Prosecutor of the Year."
It was in part the helplessness of young victims that drew Mitchell to the specialty. In 2012, she told FrontLine Magazine that she had never intended to specialize in sex-crimes prosecution until she became a law clerk and was paired up with a senior attorney who was prosecuting a youth choir director.
"It was different than anything that I would have ever imagined it being. It intrigued me," Mitchell said. "It struck me how innocent and vulnerable the victims of these cases really were. When I became an attorney with the office I prosecuted other kinds of cases, but I was drawn back to this area."
Residents shun sewer line, cite connection fee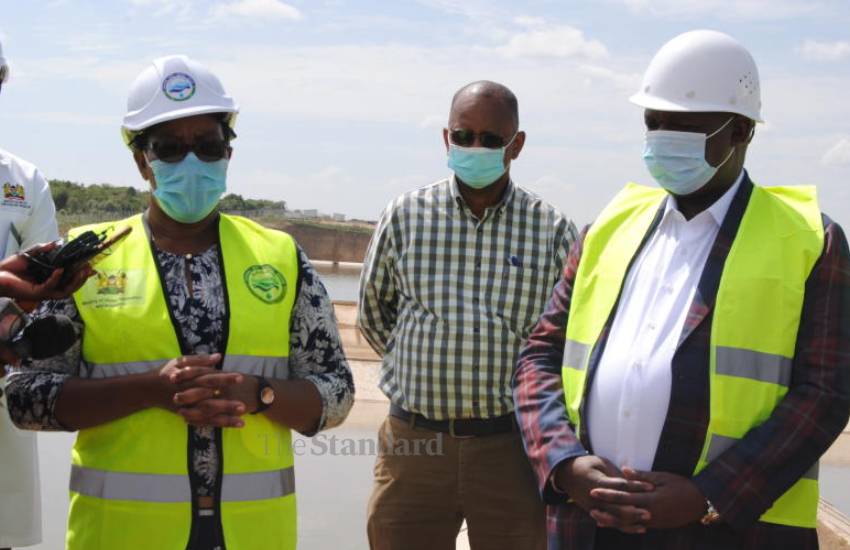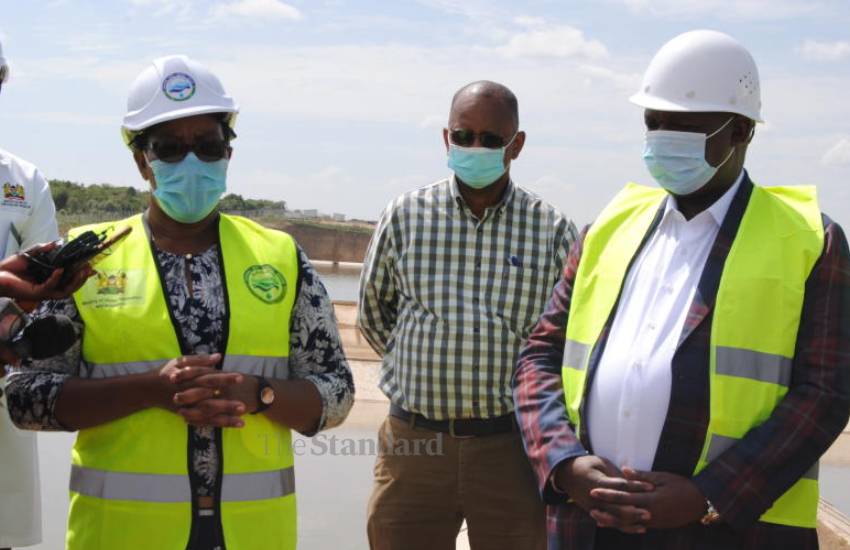 L-R:Water CS Sicily Kariuki and Narok Governor Samuel Tunai inspecting the new Sh1.7Billion Narok Sewerage treatment plant at Limanet area in the outskirts of Narok town. [Robert Kiplagat, Standard]
A Sh1.7 billion sanitation project lies idle as Narok County residents continue using septic tanks and open bushes for human waste disposal.
Narok Water and Sanitation Company (Narwasco) Managing Director Stanley Kuyioni said most businesses are yet to activate their connections, adding that this was affecting service delivery.
So far, Narwasco has only managed to do 500 free connections in the first phase and customers will have to pay for themselves in the next phase.
Kuyioni acknowledged that the demand for water in Narok town has been on the rise due to a drastic population increase from the intended 100,000 dwellers.
"Currently Narok needs over two million cubic metres of water daily, which we cannot satisfy but we are working with some partners to expand the capacity to enable more customers to get connected," said Kuyioni.
Anthony Kigen, a manager at Upstates Outlets, a real estate agency, revealed that several real estate owners were yet to connect to the sewer line.
"I manage several residential premises and landlords fear the cost of connection and the expenses of connecting for all the houses. They still prefer using the septic tanks at their premises," said Kigen.
Apart from the Sh20,000 connection fee paid to Narwasco, Kigen said there were extra expenses of piping as well as water connection, which most say is costly.
Take a quick survey and help us improve our website!
Take a survey
His sentiments were echoed by John Mwangi, a hotelier in Narok town, who said lack of sufficient supply of water has forced him to rethink connecting to the sewer line.
"Water and sewer line work together. I still buy water for use in my business and should I connect to the sewer line, then it means I will be running at a great loss since I will have to spend more on water," Mwangi said.
He explained that it costs him Sh2,000 to buy water daily, which translates to Sh60,000 a month and the cost might double should he get connected to the sewer line.
Just like most property owners in Narok, Kigen and Mwangi want the county government to revise the connection fee downwards to at least Sh5,000 so that Narok residents can enjoy the positive impact of the mega project.
Completed six months ago, the project was undertaken by the Central Rift Water Works Agency and the county government with funding from the national government in collaboration with the African Development Bank, and was aimed at helping in proper management of sanitation and stormwater in a town that has over the years witnessed perennial floods.
Before the construction of the sewer line, only 0.5 per cent of households in the area were connected to the main sewer line while about 28.2 per cent used open bushes for human waste disposal.
The project was commissioned early this year by Water Cabinet Secretary Sicily Kariuki, but despite the residents having challenges of waste disposal and paying huge amounts for exhauster services, they are yet to embrace the new system.
Narok town businesses and residential houses have been using septic tanks and source the services of exhausters that charge Sh4,000.
Simon Leyian, who owns an exhauster, now sees a bleak future in the business once the town is connected to the sewer line.
Kebs wants all thermal guns re-calibrated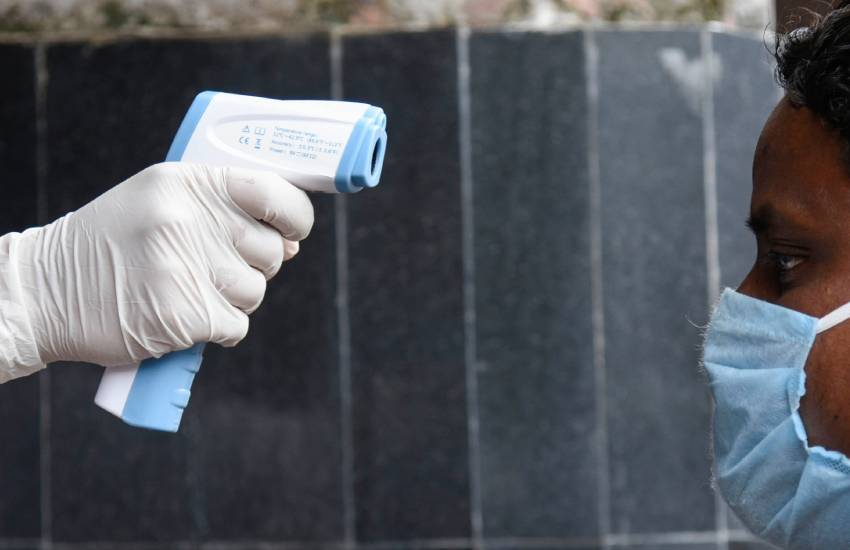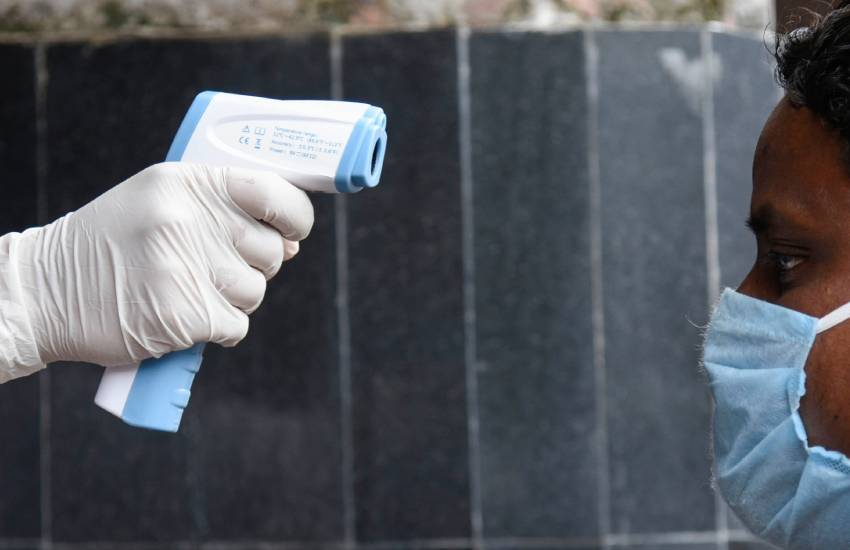 The gadgets are used to check temperatures. [Courtesy]
The standards body has asked owners of thermal guns (non-contact infrared thermometer) to re-calibrate them to improve the accuracy of their readings.
The gadgets are used to check temperatures in public places and hospitals in the fight against Covid-19. Kenya Bureau of Standards (Kebs) said the re-calibration ought to take into account any 'drift' or low change in the response of a gauge – in the course of their use.
This has been occasioned by instances of faulty readings of these devices which are now mandatory in all public spaces for screening possible Covid-19 cases.
Drifting on measurement gadgets occurs as part of the ageing process of some of the components of the device or changes in the environment among them humidity or temperatures. Any temperature above 37.5 degrees Celsius is considered above normal, hence a suspected Covid-19 case.
Erratic measurements
Josephat Bangi, who heads the metrology department at the Kenya Bureau of Standards, said one sign that the thermal gun needs to be re-calibrated is when it becomes 'erratic' when giving readings.
"People have their temperature taken and it turns out to be not as expected or not specific," he explained. "When you notice your thermal gun is erratic, and it gives erratic measurements, then it could be time for it to be re-calibrated."
Bangi says while some thermal guns have an upper limit reading of 42 degrees Celsius, some can go to 50. "Some are also affected by magnetism," he said.
Take a quick survey and help us improve our website!
Take a survey
Sometimes, he noted, depends on the manufacturer's instructions. "What is recommended depends on the frequency of use. There are places where thermo guns measure small populations, maybe you have five people in your institution while there are other organisations where the number of people being measured in a day is so huge and the thermo gun is so busy the whole day," he explained.
Some manufacturers would recommend after a year but there are no uniform timelines as this depends on the frequency of use. 
Rusana's candidature causes political heat as race to succeed Obado intensifies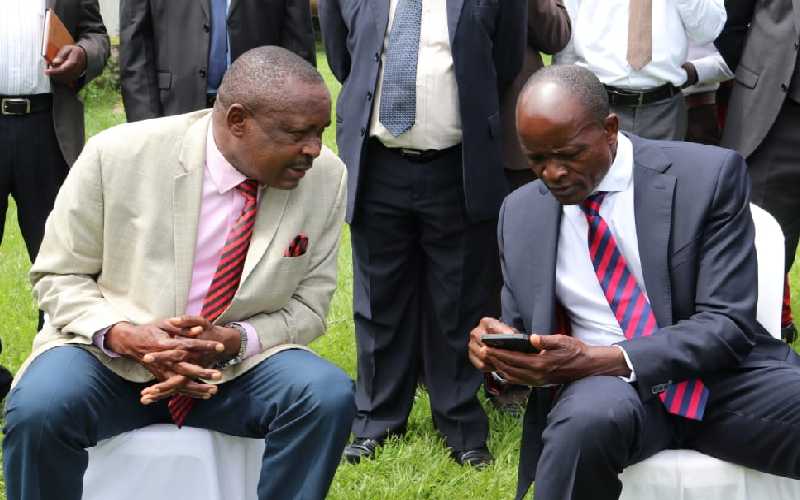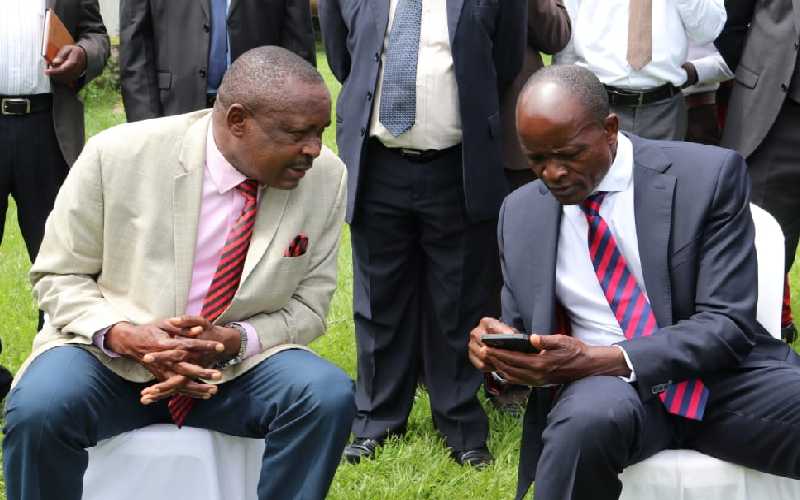 Migori Governor Okoth Obado with County Secretary Christopher Rusana at a past function. Rusana has declared interest in the Migori gubernatorial race. [Anne Atieno, Standard]
The entry of Migori County Secretary into the race to succeed Governor Okoth Obado appears to have rattled seasoned politicians who have accused him of using elders to endorse his candidature.
Christopher Rusana's endorsement by Suba Community elders has seen other aspirants cry foul, saying the decision of the elders who attended the May 3, meeting in Kisii was compromised.
The aspirants led by Migori Woman Rep Pamela Odhiambo have vowed never to step down.
Odhiambo, businessman Philip Mwabe, former Migori MP John Pesa, former Mombasa executive Seth Odongo and businessman Owiso Ngao have rubbished the endorsement, saying the process was unfair and that the outcome was influenced.
The exercise was conducted by elders led by Pentecostal Evangelical Faith of Africa (PEFA) chairman John Okinda and a team of six opinion leaders from Suna East and Suna West constituencies.
The meeting held at the Carmel Park hotel in Kisii town was attended by Mrs Odhiambo, Rusana, Mwabe and Pesa while Odongo and Ngao did not attend.
Speaking to The Standard early this week, Mwabe said he opposed the voting idea after the candidates present refused to pick insisting that despite the selection of Rusana, he would be on the ballot.
Take a quick survey and help us improve our website!
Take a survey
When contacted by The Standard, Pesa and Mrs Odhiambo said they are still in the race.
"My candidature is not on reverse gear. I will be on the ballot come 2022," said Mrs Odhiambo.
Consult opponents
Rusana has, however, downplayed the wrangles, promising to consult with his opponents to ensure the region produces a candidate.
In a phone interview with The Standard on May 16, Rusana who wants to run on an ODM ticket wondered why the change of heart yet his opponents fully participated in the exercise.
"We were all present, and they fully participated, I still don't know what happened a few days later, maybe the media can find out from them," he said.
He said with the elders' blessing, it is all system go as he tries to consolidate his backyard before he can approach other regions.
The country secretary said he is banking on the support of the masses and not that of Governor Obado as his opponents are claiming to win the seat come 2022.
"There is something the elders saw in me, I don't take it for granted and will not disappoint their trust," added Rusana.
 "Because I am always a quiet person, my opponents have been underestimating me. I will not mind getting the support of like-minded leaders who will help me shape Migori, I will first take my mandate to people."
According to the Suba community elders led by chairman Riogi Riogi, having a single candidate would increase their son or daughter's chances of succeeding Governor Obado.
Riogi said he is aware of the wrangle t, but called on other aspirants who felt shortchanged to seek dialogue.
"In our own wisdom, we saw that placing a single candidate would strengthen the community's unity and supporting the candidate would be easy and hence the winning of the elections," Riogi said.
The Suna clan, which is part of the Suba community, has been angling to field a single candidate to solidify Suna West (46,162 votes) and Suna East (46,574 votes) out of the 389,182 votes in Migori.
PDP factor
With Governor Obado ditching the ODM for the People's Democratic Party (PDP) and the Kuria community factor, the 2022 Migori gubernatorial race could be the trickiest.
Obado is reported to have mounted a massive membership recruitment drive for the PDP after announcing he will ditch Raila Odinga-led ODM.
The governor's point men have rolled out registration and membership drive across the county manually and digitally in an exercise expected to run up to the end of the year.
Other aspirants who are eying the seat include Assembly Speaker Boaz Okoth, Senator Ochillo Ayacko, former Rongo MP Dalmas Otieno, former Nyatike MP Edick Anyanga, US-based academician Mark Ogutu and businessman Robert Okong'o.