The Senator of Makueni County, Mutula Kilonzo took to twitter to state that Sonko's dramatic arrest had not served any purpose rather than make him a hero.
He went ahead to say that the court day would resemble a scene from Hollywood.
"The mishandling of and dramatic airlifting of Govenor Sonko & front page spread in all newspapers has not served any purpose other than make him a hero! The court day will be a scene from Hollywood" Read the Senators post.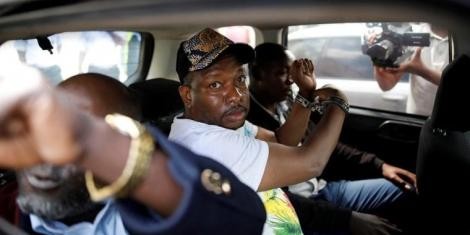 Sonko's dramatic arrest has made him a hero-declares Mutula Kilonzo

The post elicited mixed reactions from Kenyans On Twitter (KOT) some saying that his dramatic arrest wasn't a big issue since that's how Police handle ordinary Kenyans. Others went ahead to state that his dramatic arrest was a way in which the Government was using to send a strong message that no leader was untouchable.
Some netizens expressed their disgust with the Senator stating that he had been infected with the mtu wetu syndrome. They went ahead to caution the Senator from feigning morality since Sonko was resisting his arrest and refusing to adhere to the laws of Kenya.
Mike Sonko was arrested yesterday along Nairobi-Mombasa highway and airlifted to Nairobi amid kicking and swearing.

Governor Mike Sonko to face fresh charges

Here are some of the comments
@Blacklebo Whose hero?
@mikejush Had presented himself to the nearst police station , would he have gone through that ordeal ?? Our leaders crave attension and love stupid drama, i dont sympathise with him , lets stop izi childish dramas , the court needs to be firm and
@Munanyakhi A Kamba politician defending one of their own then we understand why Rift Valley Legislators are behind Sonko
@AkokoElly Senator there's this video that went viral this week of Sonko slapping someone in the company of his aides, what say you? Did you condemn it?
@FatakanwaS Why I am I not surprised by this statement? Kenyans with tribal politics. You had to defend him because ni "mtu wetu".
@nellylngt This clearly shows how innocent Kenyan souls die in the hands of the men in blue uniform?
@CKMahea He is definitely a VILLAIN in the eyes of almost EVERYONE in Kenya….. How does such an arrest make anyone a HERO Mutula? Don't you also want to be a HERO? Get arrested like that…. ata mama mboga ata kudharau.
@nzomos The way he was screaming.. Hero wa wapi
@SenMutula Where was he for close to 10 hours? If he is innocent he could have presented himself early enough. Ikiwa ameiba pesa arudishwe Shimo la Tewa.
@SenMutula Wacha mafeelings.Sonko is an escaped convict and the state is legally required to rearrest him and return him to prison to complete his sentence.