Luke Shaw 'mocks' ex-Man United teammate Lukaku after Inter crashed out of Champions League ▷ Kenya News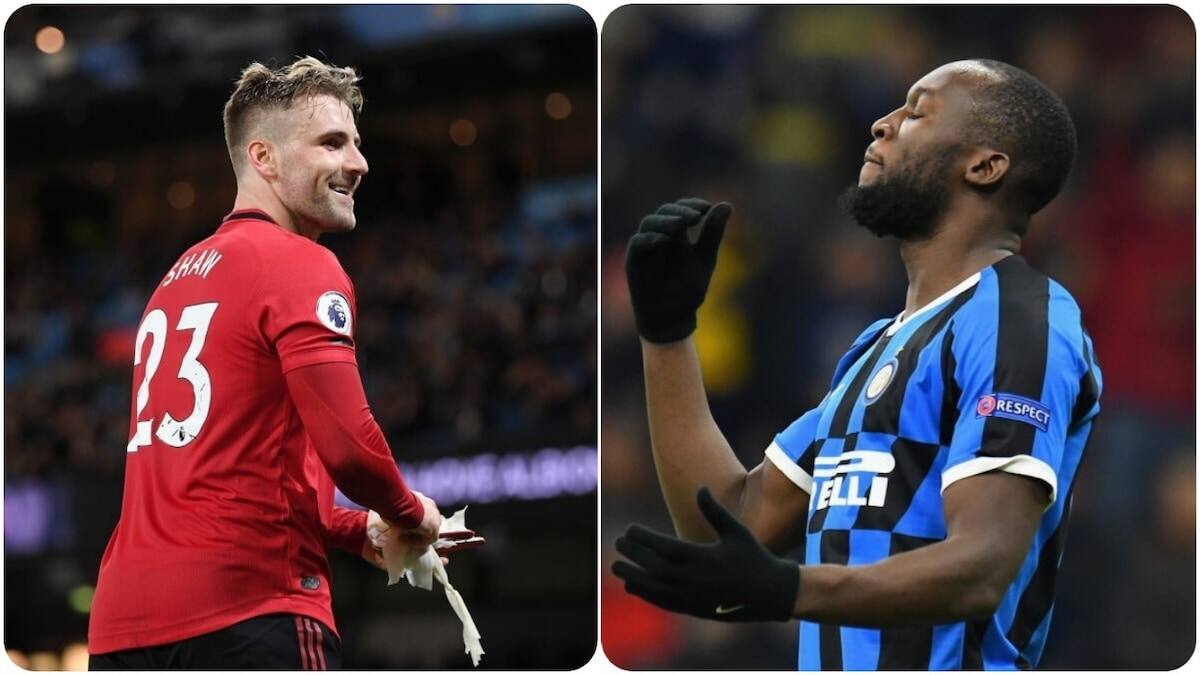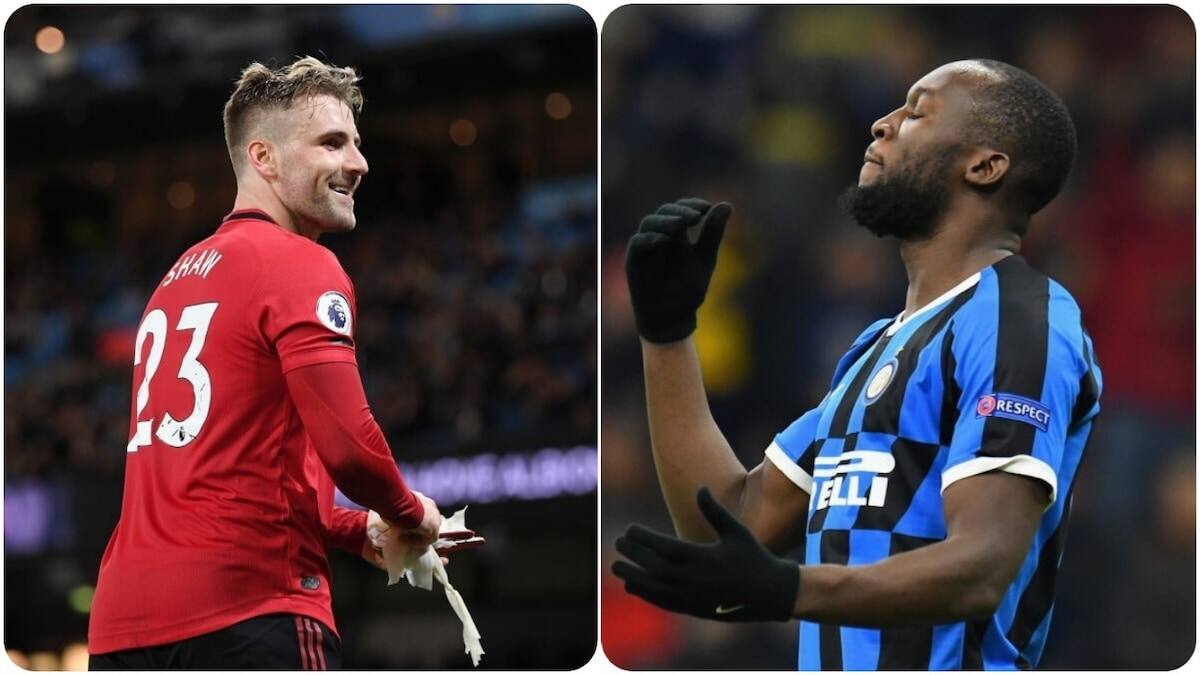 – Luke Shaw has aimed a dig at former teammate Lukaku after Inter crashing out of Champions League
– Inter Milan were beaten 2-1 at the San Siro by Barcelona to finish third on the log with seven points after six matches
– Lukaku initially claimed he left Man United to play UCL football
Manchester United defender Luke Shaw has trolled former teammate Romelu Lukaku after Inter failed to progress to Champions League knockout stage.
The Serie A current table-toppers finished third on the table after suffering a 2-1 defeat to Barcelona in their last Group H game at San Siro.
Carles Perez opened scoring for the visitors in the 23rd minute after which the Belgian striker restored parity for the home team.
Ansu Fati was introduced in the 85th minute and just a minute later scored the winning goal for coach Ernesto Valverde's side.
Inter will now be campaigning in the Europa League from next round after finishing third on the table with seven points.
And Shaw took great pleasure in the situation as he stylishly aimed a dig at Lukaku.
The United defender traced Lukaku's old Twitter post which showed the Belgian smiling followed by the smiley emoji and a caption that read: "UCL" with Shaw cheekily replying: "Welcome back."
It would be recalled that the former Everton striker left Old Trafford in August in search of Champions League football.
But their failure to beat Barca ended their campaign in Europe's top tier championship after just six matches this season.
Lukaku has made 20 appearances for Inter – scoring 12 goals in the process and they are top of the league table.
Hip-hop to hoops: J. Cole joins Rwanda basketball team
KIGALI, Rwanda, May 18 – American rap star J. Cole has signed with the Rwanda Patriots and will play as a shooting forward in the maiden NBA-backed Basketball Africa League which starts in the East African nation on Sunday.
The award-winning rapper and music producer, whose full name is Jermaine Lamarr Cole, 36, played the sport in high school and university, and has long dreamed of a professional basketball career.
His name featured on the roster of 13 players released Friday night by Patriots head coach Alan Major. Cole will play in jersey number 15 for the team representing Rwanda in the BAL.
"J. Cole is a very good shooter. We picked him because He has a really high IQ for the game," Patriots chief operations officer Haydee Ndayishimiye told AFP.
"He has a history of playing the game … We just thought that he is a great fit with the team and as we have seen in practice he is gelling well with the team. While they are practicing with him, they are looking good out there. He really compliments the team," she added.
Ndayishimiye said Cole's contract was confidential, and he would only be with the team for the duration of the tournament.
The BAL tournament will run until May 30.
The first edition of the 12-club event was scheduled for last year, but had to be postponed because of the coronavirus pandemic.
BAL president Amadou Fall said the league "will provide a platform for elite players from across the continent to showcase their talent and inspire fans of all ages".
The BAL is being supported by the International Basketball Federation and the USA-based National Basketball Association.
It will be the first NBA-sponsored professional league out of the US.
Cole's Rwandan debut came two days after the release of his sixth studio album "The Off-Season", a nod to his love of basketball.
"I'm at a point in my life where I'm like, are you going to be doing this forever?" Cole said in a recent interview with Slam, an American basketball magazine.
Solskjaer hopes fans will cheer not jeer on return to Old Trafford
LONDON, United Kingdom, May 17 – Ole Gunnar Solskjaer hopes Manchester United fans will ditch their protests against club owners, the Glazer family, and cheer on the team when supporters return to Old Trafford for the first time in more than a year on Tuesday.
United's last three home games have featured fans protesting against the Glazers after they signed up to the European Super League before the supporters furious reaction saw them withdraw hastily.
United's home game with Liverpool had to be postponed earlier this month when fans broke into the stadium and got onto the pitch.
The re-scheduled game last Thursday also featured protests outside the ground — as did last Tuesday's home defeat to Leicester.
Solskjaer wants to hear more positive sounds when they host relegated Fulham where victory would secure them second place in the table.
Around 10,000 fans are expected to attend as the latest easing of the British government's coronavirus restrictions comes into force.
Although some clubs welcomed back around 2,000 fans for a short spell last December the last time a club entertained a sell out crowd was Leicester's 4-0 win against Aston Villa at the King Power Stadium on March 9, 2020.
"We've been waiting for a long, long time to welcome the fans back," said Solskjaer at his eve-of-match press conference.
"Of course the last couple of home games, especially the Liverpool ones with the protests…
"It's never nice to see a club that is not united, fans with the team, so we're hoping that Tuesday is going to be a positive day that we move together, that we play a good game of football."
– 'Harry is our leader' –
Solskjaer, though, blames the protests for their last two home defeats to Leicester and Liverpool.
Even without the protests United'a overall home form this season has been poor — six defeats in all — and effectively cost them giving champions Manchester City a run for their money in the title race.
Their away form by contrast has been scintillating — unbeaten on the road in the Premier League this season and have not lost an away league game in 15 months.
"I just didn't want to use it as an excuse because we lost two games but surely it's a reason behind the performances," he replied when asked if the protests had affected his players.
The last two home defeats have also come with defensive talisman Harry Maguire out of action with an ankle injury suffered in the win over Aston Villa on May 9.
The England star will not play again in the league — United have two matches remaining — but Solskjaer reiterated he would be given right up to the last moment to prove his fitness for the Europa League final against Spanish side Villarreal on May 26.
"We've known it all along but maybe some people open their eyes more when he's not playing," said Solskjaer.
"Harry is our leader and our captain. We're consciously taking the route of not testing him out too early because we don't want to aggravate something."
Top team by June 30 to represent Kenya in CAF Champions League
NAIROBI, Kenya, May 17 – The Football Kenya Federation (FKF) has agreed that the team which will top the BetKing Premier League standings by June 30 will represent Kenya in the 2021-22 CAF Champions League.
In a circular sent to clubs on Monday evening, the Federation has stated that CAF's directive to have names forwarded to them for representatives in Inter-Club competitions has necessitated the decision.
"Consequently, and in consideration that the BetKing Premier League calendar may not be concluded before the aforementioned date, due to the disruption occasioned by the COVID 19 pandemic, the FKF Leagues and Competitions Committee, in a meeting held on May 7, 2021, resolved that the FKF PL representative in the CAF Champions League shall be the team at the top of the table, as at June 30, 2021," a letter to clubs, signed by FKF CEO Barry Otieno stated.
Eleven-time champions Tusker FC currently lead the standings with 34 points, two ahead of second placed AFC Leopards.