Kenyatta unveils a Sh53.7bn relief package to boost virus-hit economy
NAIROBI, Kenya, May 23 – President Uhuru Kenyatta has rolled out an 8-point stimulus program valued at Sh53.7 billion to jumpstart the economy amid the coronavirus pandemic that has ravaged sectors across the country.
The program focuses on key sectors among them infrastructure, education, health, agriculture and tourism.
Other sectors that will benefit from the 8-point stimulus programme are include SMEs, environment and manufacturing.
In infrastructure, the government has set aside Sh5 billion to hire local labour to repair infrastructure which have been affected by the ongoing rains.
Kenyatta says the money will be used to rehabilitate damaged access roads, foot bridges and other public infrastructure.
Other big winners of the program include the education sector which will receive Sh6.5 billion to hire 10,000 teachers and 1,000 ICT interns to support digital learning countrywide.
More to follow
Comments
comments
DP Ruto allies ask Uhuru not to forget their support since 2002
A section of leaders from Deputy President William Ruto's backyard have waded into the widening rift in Jubilee Party telling President Kenyatta not to forget that he is where he is because of the Kalenjin community's support.
The North Rift leaders were Wednesday categorical that it was the former President Moi who forced the late former nominated MP Mark Too to step down for him to pave the way for a young Uhuru to enter Parliament and subsequently contest the presidency.
Nandi Governor Stephen Sang and Chesumei MP Wilson Kogo said had Mr Too declined to resign, Mr Kenyatta probably would not have made it politically.
"The Kalenjin community has supported the President since 2002 including when Kanu lost power in 2013 and 2017 elections. It is only fair that the community is treated with decorum in Jubilee," said Mr Sang.
Mr Ruto's allies have continued to be ousted out of key positions in Senate with former majority leader Kipchumba Murkomen, majority whip Susan Kihika and Deputy Speaker Kithure Kindiki already stripped of their seats.
Jubilee secretary-general Raphael Tuju on Tuesday also announced the restructuring of Senate committees which saw the DP's allies kicked out of key positions. The purge is now said to be headed to the National Assembly.
The DP's allies have however read mischief and are categorical that the purge is targeting leaders who have taken certain political stands and it has nothing to do with what Mr Tuju calls instilling discipline in the party.
"As Jubilee leaders from Rift Valley and the entire Kalenjin community, we are very concerned with what's happening in Jubilee. We supported the president overwhelmingly but he seems to have forgotten us," said Mr Kogo.
Chama Cha Mashinani leader Isaac Ruto, however, said the ongoing purge was normal in any democracy and called on the community not to panic.
"Claims that the restructuring is targeting supporters of certain individuals is neither here nor there" the former Bomet governor said by phone.
He said a party leader has a prerogative to restructure Parliament to ensure his agenda is pushed and crucial bills passed.
But Mr Sang said that all happenings in Jubilee at the moment point to attempts to force the DP out of the 2022 race.
"Such schemes will not succeed. We are owners of Jubilee and we are there to stay," said the close DP ally.
Comments
comments
Giraffe Manor opens doors since Covid-19 struck: The Standard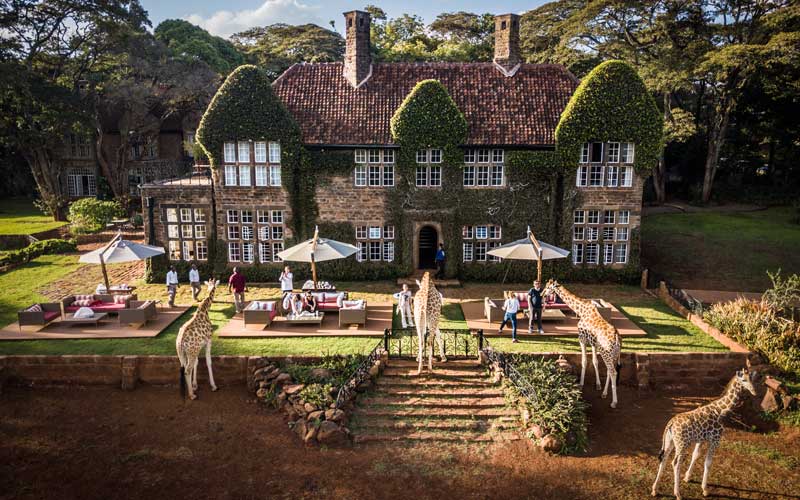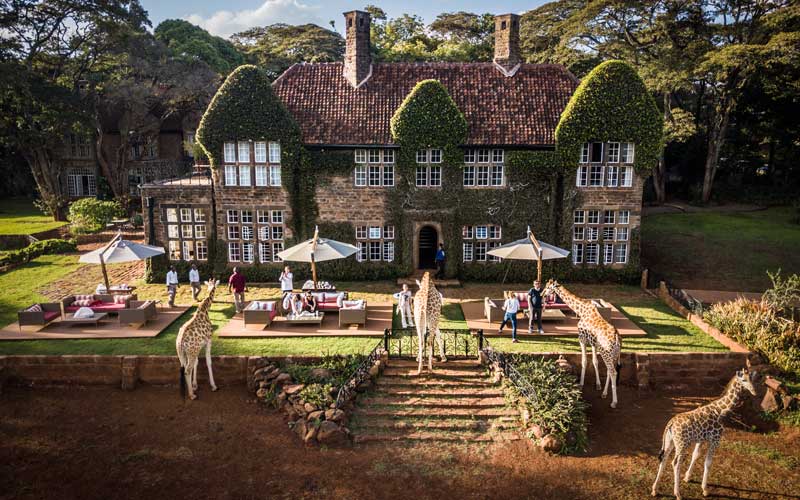 Business News
Kenyans welcome to experience hotel whose availability is hard to come by as it is often booked a year in advance
As a powerful indicator of light at the end of the covid-19 tunnel, one of Kenya's most iconic tourism destinations, the Giraffe Manor re-opens tomorrow May 29, 2020.
The hospitality industry in Kenya, as most of the world, closed temporarily since March when flights were suspended and major restrictions imposed by the government to curb the spread of Covid-19.
The re-opening thus is a welcome development for an industry, and especially thousands of anxious workers, which has borne the harshest effects of the global pandemic.
Often referred to as one of the most Instagrammed properties in the world, the exclusive boutique hotel is set in 12 acres of private land within 140 acres of indigenous forest in the Lang'ata suburb of Nairobi.
SEE ALSO: Dealing with lockdown loneliness – from keeping active to coping without hugs
The historic manor house, modelled on a Scottish hunting lodge in 1932, has extraordinary appeal that harks back to the 1930s when European visitors first flocked to East Africa to enjoy safaris.
With its stately façade, elegant interior, verdant green gardens, sunny terraces and delightful courtyards, guests often remark that it is like walking into the film Out of Africa: indeed, one of its twelve rooms is named after the author Karen Blixen.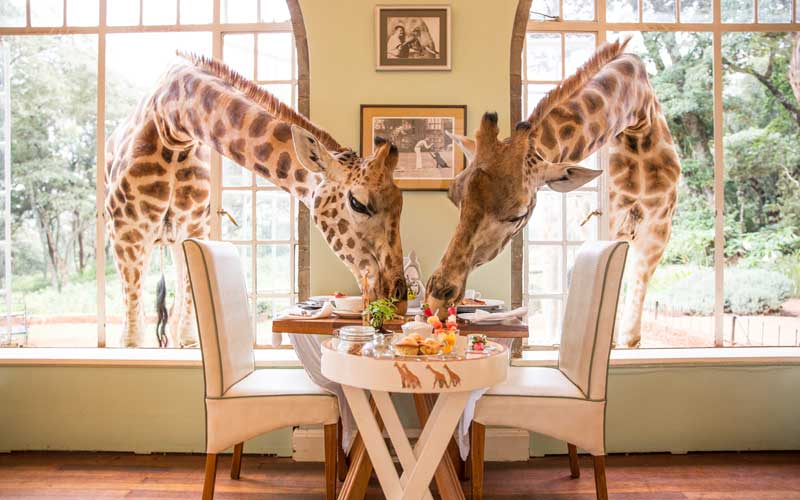 One of the most fascinating things about Giraffe Manor is its resident herd of Rothschild's giraffes who may visit morning and evening, poking their long necks into the windows in the hope of a treat, before retreating to their forest sanctuary.
The elegant long legged giraffes have roamed its lawns since the 1970s when conservationists Jock and Betty Leslie-Melville first adopted an orphaned Rothschild's giraffe called Daisy. Since then, the globally recognised hotel has been the choice host for celebrities visiting Africa including Ellen DeGeneres, Mick Jagger, Brooke Shields, among others
For a start, however, a chance to experience the all-inclusive bucket-list property will only be available Kenyan citizens and residents who can still travel within Nairobi.
SEE ALSO: Hospitals opt for staff pay cuts, unpaid leave
This is an opportunity to experience an establishment whose availability is hard to come by; the hotel is often booked a year in advance.
Strict hygiene protocols and a special resident rate, valid for the month of June 2020, have also been announced to entice visitors.
Comments
comments
MACmobile launches 'live' streaming of data platform for Kenyan retailers
NAIROBI, Kenya, May 28 – Supply chain software company MACmobile has launched a new platform that can support "live"  streaming of formal market retail "sales out" data from till points as well as map the relevant stock holding in-store simultaneously in the Kenyan Market.
This follows a partnership with Cognizance Processing who built the platform and will be available for Kenyan wholesalers and retailers.
The platform will reflect "sales in" data to retailers while mapping stock holding in the multiple warehouses being used in the distribution supply chain.
Daily retail sales feeds and basket data feeds (when made available), stock in store and stock at the distribution centre, can be recorded and made available in a live feed to a dashboard.
This enables the manufacturer to identify Key Performance Areas (KPAs) against which performance benchmarks are established and deviations reported against. The deviation reporting is live and communication is made to merchandisers and/or retail management on the ground.
"We are excited to launch this new offering to the Kenyan market. Having a technology that can provide till data to close the loop of the entire supply chain is a game changer," says Muhoro Gathii, Country Sales Manager at MACmobile International.
Gathii says the partnership will see MACmobile closing the loop on supply chain intelligence with its solutions offering now encompasses every aspect of the supply chain, delivering a single version of the truth from manufacturing to consumer sales in the general retail sector and to the Distributor/Wholesaler in the modern market.
"Ensuring that products are visible on the shelf at all times is the crux of manufacturing and retail. However, actual sales and in-store data around execution, pricing, promotional, and planogram compliance have always been the challenge. This has prevented complete insight across the value chain. With Cognizance on board, we have now added this last mile to our FIELDForce offering and will be available as a feature going forward," says Andrew Dawson, Managing Director at MACmobile.
Dawson says the plaform  is able to map retails sales per stock keeping unit (SKU), per store, per region, across the country, allowing for intelligent stock allocation, reducing returns and wastes and allowing for Just In Time (JIT) manufacturing to satisfy customer demand as it varies.
"The powerful analytical capabilities of FIELDForce, augmented by our partnership with Cognizance, closes the loop on supply chain analytics. Our customers have real-time access to a wealth of data to allow for proactive actionable remediation, instead of reactive event tracking. We can empower manufacturers to leverage a single version of the truth through the entire supply chain, so that they can move to optimal, JIT manufacturing across the country," Dawson concludes.
Headquartered in South Africa, Macmobile started operations in Kenya March, 2019 to serve the Fast Moving Consumer Good segment with its cloud based value chain solutions and platforms.
Comments
comments