Kenyans react to Nancy Baraza claim of unfair dismissal : The Standard
Former Deputy Chief Justice Nancy Baraza (pictured) has decried the unfair treatment she got after being accused of assaulting a security guard at a shopping mall in Nairobi on December 31, 2011.
Baraza in an interview with KTN, blamed her colleagues at the Judiciary for orchestrating her exit after the assault drama yet some of her colleagues in Judiciary and Government have gotten away with worse things.
"I don't know the politics behind it. But if it is because someone has made a mistake that warrants being tossed out then that is okay. But for me, I feel the standards applied on me were too high in the sense that after I left people have done worse things and they have not been harassed the way I was," she said.
SEE ALSO :Baraza: Fired for pinching guard as others go scot-free
Baraza's interview generated varied reactions online after she claimed her collegues acted out of malice to oust her from a seat that has been perceived as jinxed, now that her successor, Justice Kalpana Rawal also exited under a cloud of controversy; and the current holder and Lady Justice Philomena Mwilu, is fighting to stop corruption allegations.
Some Kenyans still condemned the manner in which Baraza handled the security guard, Rebecca Kerubo, on the fateful day as others defended her claiming the bar had since been lowered.  Others opted not to revisit the matter.
You pinched Kemunto's nose, threatened her with a loaded gun and got away with it. You should have spent time in jail for assault and threatening Kemunto with bodily harm and death. Nancy Baraza has zero credibility to speak about the judiciary. No jurisprudential record.

— Dr. Miguna Miguna (@MigunaMiguna) May 15, 2019
Surely, and like baraza many Kenyan judges behave like Lords. and wigs are coming back to intimidate litigants – Cj Mutunga had done away with them.
Tunoi retired before we could know if kidero bribed him with 200m.

— Neffnguyo (@Neffnguyo) May 16, 2019
From the comments many Kenyans don't want this matter revisited because of guilt and shame driven by blood thirsty mobs. Looking at the kind of crooks we elected to office right after this minor incident exposes us as a very hypocritical lot.Anyway the country got what it wanted

— Alex Omondi (@alexomondi3) May 15, 2019
No, it should have been handled differently. She should not have lost a job. That security officer should have been trained to identify n void confrontation with VIPs

— Chepakish (@AkishRed) May 16, 2019
No, it should have been handled differently. She should not have lost a job. That security officer should have been trained to identify n void confrontation with VIPs

— Chepakish (@AkishRed) May 16, 2019
If Nancy will apologize to Kerubo, then every one deserve second chance

— Caro Lusweti (@CaroLusweti) May 15, 2019
I have never been convinced that Nancy Baraza did anything wrong.
I would be happy if she ever serves as a judge again
#KTNPointBlank

— I am (@Lawi_Makori) May 15, 2019
Which narrative? Was JSC fair to her? Baraza was removed for pinching a guards nose, current DCJ is embroiled in court cases with serious charges leveled against her yet the JSC has never acted on her.

— Mike Musa (@MuhangaMike) May 15, 2019
Baraza, described the incident as "a security lapse' on her side and insisted her colleagues used the incident to target her with malice for being an "outsider."  She argued that if the same high standards applied against her were used against all State officers, many would be in jail.
Register to advertise your products & services on our classifieds website Digger.co.ke and enjoy one month subscription free of charge and 3 free ads on the Standard newspaper.
Related Topics
Comments
comments
Tunisia announces 3rd phase of lifting Covid-19 restrictions
Tunis
Tunisian minister in charge of major national projects Lobna Jribi announced on Wednesday the main lines of the third phase of the national strategy for partially lifting the coronavirus lockdown.
"From June 4, work will resume at 100 per cent capacity in public administrations and in the other sectors of activity," Jribi said at a press briefing at the government's headquarters in Tunis.
She announced that mosques, all worship places, hotels and restaurants will reopen on June 4.
"Party halls will reopen on the same date," said the minister, adding that the enclosed spaces will operate at 50 per cent of their capacity and the open spaces will operate at full capacity, but in compliance with hygiene measures.
SPORTS
Various sporting activities will be resumed from June 8 without the public "for the moment," while respecting the preventive measures fixed by the Ministry of Youth and Sports.
Travel between all Tunisian governorates will resume without authorisation, said Jribi.
Tunisian nationals abroad will be repatriated from June 4 to June 14, "and priority will be given to students and residents who have lost their jobs".
"Since March 15, 2020, Tunisian authorities have managed to ensure the repatriation of 25,000 Tunisians stranded abroad, including 18,000 by air and 7,000 via land borders," said the Minister of Transport and Logistics, Anouar Maarouf, at a press briefing held in Tunis on Wednesday.
SCHEDULED FLIGHTS
Maarouf said that several flights have been scheduled recently to repatriate Tunisians living in various countries who wish to spend the summer holidays in Tunisia.
"However, the programming of new repatriation flights does not mean opening the borders," explained Maarouf.
He stressed that any Tunisian national repatriated will be called upon to comply with a mandatory confinement of two weeks; "one week at the hotel at his own expense – during which two screening tests will be carried out, with one upon arrival and the other upon exit – and a second week at his home."
EXEMPTED FROM QUARANTINE
Students, employees whose contract of employment has expired, Tunisian nationals in difficult financial situations, and those who have been stranded in the destination countries will be exempted from the quarantine fees.
On May 26, Mohamed Rabhi, head of the health quarantine commission at the ministry revealed that mandatory quarantine in Tunisian medical centres over the Covid-19 concerns has so far cost the state 15 million dinars (5 million US dollars).
On June 1, Tunisia decided to reopen the land, air and sea borders from June 27, but Tunisian nationals abroad will be repatriated from June 4.
On Wednesday, Tunisia reported one imported Covid-19 case, bringing the total number of cases to 1,087.
The Tunisian government has imposed strict confinement measures shortly after the announcement of the first coronavirus case on March 2.
The North African country has received several batches of medical aid from the Chinese government, Chinese foundations and companies since late March to help its fight against the pandemic.
Comments
comments
Charges filed against all four police officers in Floyd killing » Capital News
Minneapolis, United States, Jun 2 – Prosecutors in Minnesota on Wednesday upgraded charges against the US police officer primarily implicated in the killing of a handcuffed black man, and charged three other officers over the death, which has ignited nationwide protests.
With a key demand met, demonstrators vowed to press on in the fight against racism, staging protests in cities from New York to Los Angeles after the new charges were announced.
Pressure on Trump mounted as his former Pentagon chief Jim Mattis launched a searing broadside, accusing the Republican leader of trying to "divide" America.
In Minnesota, prosecutors had initially charged 44-year-old Derek Chauvin — the white officer filmed kneeling on the neck of George Floyd for nearly nine minutes — with third-degree murder.
But they said Wednesday they were upgrading the charge, roughly akin to manslaughter, to second-degree murder, which does not involve premeditation but carries stiffer penalties.
"I believe the evidence available to us now supports the stronger charge of second-degree murder," Minnesota attorney general Keith Ellison said.
Chauvin's three colleagues at the scene of Floyd's May 25 arrest for allegedly seeking to buy cigarettes with a counterfeit bill are accused of being complicit in the killing.
Tou Thao, 34, J. Alexander Kueng, 26, and Thomas Lane, 37, were charged with aiding and abetting second-degree murder, and taken into custody.
The arrest of all four officers involved has been a focus for tens of thousands of protesters who have marched the streets of dozens of US cities for the past nine days, often defying curfews to condemn police brutality and demand racial justice.
Minnesota Governor Tim Walz said the upgraded charges and arrests presented a chance to "come back to the issue at hand… systemic racism and the lack of accountability."
"This is probably our last shot, as a state and as a nation, to fix this systemic issue," he said.
– 'Bittersweet moment' –
Floyd's family, in a statement thanking protesters, called the arrests and new charges a "bittersweet moment" — and a "significant step forward on the road to justice."
They urged Americans to continue to "raise their voices for change in peaceful ways."
At a protest in Manhattan, Brian Clark said the charges were "a good start" but vowed demonstrators would "exercise our right to protest until every black person gets the justice they deserve."
"It's not enough," added fellow demonstrator Elijah B., who did not give his last name.
"This could have happened a week ago… it wasn't until people started marching on the streets and started tearing things that people started to pay attention."
Thousands took to the streets in both Hollywood and downtown Los Angeles. A large group also protested at the US Capitol.
Former president Barack Obama applauded the "change in mindset" he sees among Americans demanding racial justice, and urged the nation to "take the momentum that has been created as a society, as a country, and say 'Let's use this' to finally have an impact."
– 'Law and order' –
While condemning Floyd's death, Trump has adopted a tough stance towards the protesters, saying they include many "bad people" and calling on governors to "dominate the streets."
"We need law and order," he repeated on Wednesday.
Mattis ripped into Trump, calling him "the first president in my lifetime who does not try to unite the American people — does not even pretend to try."
"Instead, he tries to divide us," the retired Marine general said in a blistering statement posted online by The Atlantic.
Trump has raised the possibility of invoking the Insurrection Act to deploy active duty troops to quell unrest.
But Mattis' successor Mark Esper said that option should only be used as "a matter of last resort and only in the most urgent and dire of situations."
"We are not in one of those situations now. I do not support invoking the Insurrection Act," said the current defense secretary.
White House spokeswoman Kayleigh McEnany said Wednesday that the act remains "a tool available" to the president, who is facing a tough reelection battle in November.
"The president wants to protect America's streets," McEnany said. "We cannot have burning churches. We cannot have police officers that are shot. We cannot have businesses that are looted and destroyed."
Trump meanwhile denied media reports that he was rushed for his safety to the White House bunker while protests raged in the streets outside.
"It was a false report," Trump told Fox News Radio, before saying that he did go into the secure area for an "inspection" and only for a "tiny, little, short period of time."
Reports of Trump taking shelter sparked a wave of online mockery, which is believed to have contributed to his decision on Monday to make a controversial visit to a partly damaged church near the White House.
Police violently dispersed mostly peaceful crowds of protesters to clear a path for Trump, and the photo opportunity was widely condemned.
– 'No more' –
Curfews remained in place Wednesday in cities including New York, Los Angeles and Washington, though they were slightly loosened.
Los Angeles and Washington both delayed the start of their curfews by several hours, compared to previous nights.
Former president Jimmy Carter called on "people of power, privilege and moral conscience" to bring an end to racial discrimination.
"We need a government as good as its people, and we are better than this," the 95-year-old Carter said in a statement.
burs-amz/sst
Comments
comments
Keroche heiress now Mrs Benpol after her wedding in Dar es Salaam: The Standard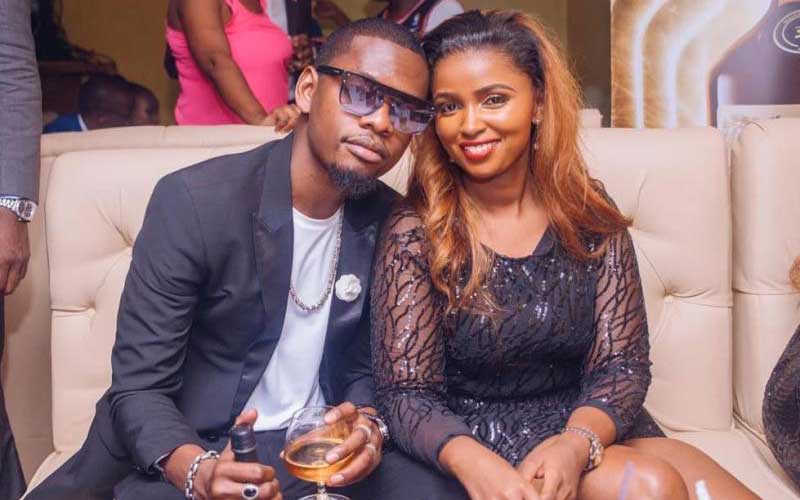 Anerlisa Muigai and Tanzanian artiste Benpol at a past event. [File, Standard]
NairobiNuptials: Anerlisa and Tanzanian lover tie the knot
Barely a month after Keroche Breweries owner couple  Joseph Karanja and Tabitha Karanja lost their last-born daughter Tecra Muigai, their most famous offspring Anerlisa Muigai has wedded her Tanzanian lover.
It is a fairytale of sorts. While the departed Tecra was described as the family 'rebel' who fell in love with the now haunted Omar Lali, a beach boy and boat-owner, Anerlisa, who has always been seen as the heir to the throne, has tied the knot with a Tanzanian artiste Benpol.
"A queen can now sit on her throne comfortable," Anerlisa wrote  on Instagram, writings that were ascribed on an over-sized bejeweled golden chair. Even though details remain scanty as to when and where the wedding ceremony took place, indications are that the low-key ceremony took place in Tanzania over the weekend – around the same time Tecra would have celebrated her 30th birthday.
It now looks like the CEO of her own premium mineral water company diverted media attention from her big day by posting fond memories of the late sister. "This was so Tecra, she would enter a room and everyone would be quiet to listen to her," Anerlisa wrote on a photo of Tecra accompanying the post marked "Happy Birthday".
SEE ALSO: Keroche heiress boyfriend Omar Lali Omar set free
Already having been acknowledged as brother-in-law during Tecra's funeral, Benpol is said to have married his enviable heartthrob in his hometown Dar-es-Salaam, a fairy tale affair attended by family members and close friends.
Scanty details
It was a church wedding, a secret occasion that was first leaked by one of the service providers, one Mom Gemin, after taking to social media with photos of the wedding cake and thanking the couple for the opportunity to serve them. Tanzania showbiz blog Mwakilishi was the first to pick it up. Soon after, more photos of the wedding ceremony were posted online, causing anxiety among netizens who in their hundreds congratulated the couple and wished them well.
"I know for a fact the wedding took place. However, I have no details on its logistics, neither do I know how and where it happened. They had been planning it since they cleared the traditional ceremony back in Naivasha. The death of their sister has nothing to do with it as there were plans long before her tragedy," a source close to the family told The Standard. 
"It must have taken a lot of logistical issues for this to take place in Tanzania as currently, the borders are closed. The family communications person was even left out of the picture and can't say much."
SEE ALSO: I'm a phone call away, Maina Kageni to Anerlisa following Tecra's death
In photos and video clips circulating online, the bride and groom are seen entering the church, Anerlisa in a white mermaid wedding gown is well complimented by Benpol's black and white broken suit. The after-party set-up looks stunning with the arrangement left to detail, a single row white banquet hall set-up well decorated with small centerpiece vases on the tables and dimly lit crystal chandeliers hanging from the top.
There is a three-tier round cake with elaborate flowery, its middle layer artistically christened 'BA', the couple's initials. Another photo shows the couple dancing in a relaxed dinner set-up with the lady of the day strutting in an olive green figure-hugging long dress and Benpol in a white tuxedo shirt and black pants. 
On Sunday, Anerlisa did a teaser for her Instagram fans where one could notice a wedding ring. She has, however, kept mum on the matter despite pressure from her fans. Benpol's phone went unanswered. He didn't respond to our text messages either.
The two lovebirds met in 2018 during a press conference organised by one of Anerlisa's friends. At first, they denied that they were dating – only describing themselves as business partners – but their romance blossomed.
Comments
comments