Kenya: You Face Arrest for Not Wearing a Face Mask in Public

You will be arrested from today should you be found in public without a face mask.
That is the message to Kenyans who have been taking lightly the requirement of wearing masks as one of the precautions against the spread of coronavirus.
Inspector-General of Police Hillary Mutyambai Tuesday said the grace period for adjusting to the regulations given by President Kenyatta has expired and that anyone violating them will be taken to court.
During the weekend, Health Cabinet Secretary Mutahi Kagwe gazetted a list of hefty penalties against violators.
"Users of public or private transport and public transport operators shall wear proper masks that must cover the mouth and nose. They should also maintain a physical distance of not less than a metre," Mr Kagwe said in the Kenya Gazette Supplement No 41.
Given enough time
"A person who commits an offence under these rules shall, on conviction, be liable to a fine not exceeding Sh20,000 or imprisonment for a period not exceeding six months or both."
Yesterday, the Kenya Police Service said the public has been given enough time to acquire masks and that it will begin enforcing the rules.
"Police officers have been asking Kenyans to wear face masks. We're going to take another step to make sure the law if followed," the IG said after receiving a donation of 200,000 masks for the service from the National Social Security Fund (NSSF) and Ahadi Kenya.
"But before police enforce the regulations, I appeal to Kenyans to take the initiative to wear the masks. It is no longer an advisory … as the rules have been gazetted."
The use of masks has been credited for helping to slow down the spread of the virus in Japan, South Korea, China and parts of Europe.
The World Health Organization (WHO) says the droplets emitted by people when coughing, talking or sneezing may contain the virus, which can remain in the air for several hours.
People who walk into these micro droplets risk infection.
Masks, studies show, also greatly reduce the chances of catching the disease by people who come into close contact with the infected.
The government says it is mandatory for one to have a mask as soon as he or she steps out of the house.
Huge human traffic
Employees of businesses with huge human traffic like barber shops, salons, public service vehicles and supermarkets must have masks at all times, the regulations say.
The public has raised questions about the availability of masks and their affordability.
The cheapest single-use mask costs Sh70 while the most expensive and effective N95 version that medical personnel prefer, ranges between Sh200 and Sh1,500.
There are growing concerns about the unregulated manner in which masks are being sold, especially by traders and hawkers, who have taken advantage of the growing demand.
There have been cases where a customer is allowed to try a mask but ends up not buying it, thus increasing the spread of the virus.
Trade and Industry Cabinet Secretary Betty Maina on Friday said Kenyan garment companies have enough material to produce six million face masks.
Kitui County Textile Centre is mass-producing masks, while Eldoret-based Rivatex East Africa Ltd has also begun doing so.
Kenyans have been calling on the national and county governments to give them masks for free before the new regulations are implemented.
Comments
comments
Soaring number of sick drivers puts Busia in tight spot: The Standard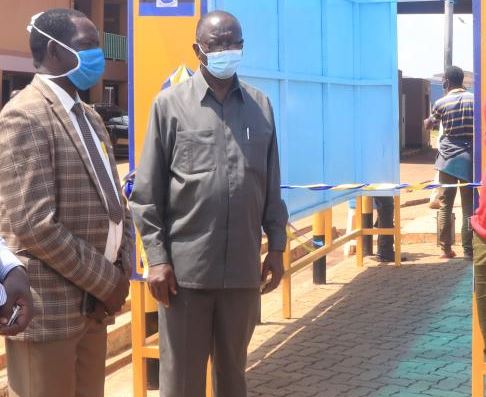 Busia Deputy Governor Moses Mulomi in countersuit (centre) at the Busia One Stop Border Post. [Ignatius Odanga/Standard]
WesternThe facilities have bed capacities of 42 and 200, respectively. Another 50 beds have been added at Alupe that had a 71-bed capacity.
So far, Governor Sospeter Ojaamong's administration has identified Agricultural Training Centre (ATC) and St Monica Chakol as additional centres.
The facilities have bed capacities of 42 and 200, respectively. Another 50 beds have been added at Alupe that had a 71-bed capacity.
The county has been engaging the national government over possibility of converting the Kenya Medical Training Institute in Busia into another isolation facility to handle rising numbers.
But chief officer-in-charge of Health and Sanitation Isaac Omeri indicated that only asymptomatic patients would be accommodated at the ATC. On top of the preventive measures put in place by the county government, five hotels have been identified in Busia town where truck drivers can put up and six others in Malaba border town.
SEE ALSO: Why partnerships in technology are key in fighting pandemic
Dr Omeri said the hotels were specifically for truck drivers to help minimise scenerios where they mingle freely with locals. 
By yesterday, Busia had recorded 178 positive cases, all of them truck drivers.
"We expect the number to go up in coming days. That is why we have decided to get alternative places for patients to be held as they get medication," said Omeri.
The county has mounted disinfectant booths and spray tunnels in strategic places, particularly at the Busia and Malaba border posts, for use by clearing agents and truck drivers.
It has also erected water tanks and provided soap for locals to wash hands regularly.
SEE ALSO: What if Kenyans knew Covid-19 was coming?
Food vendors
Following complaints from a section of locals that some food vendors were hawking food to truckers, the county has launched sensitisation programme aimed at educating the sellers not to have close contact with drivers.
"It is a matter of great concern because some drivers mingle with locals before even knowing their status. We are telling our people and specifically those selling food and fruits to avoid getting into close contact with truckers to avoid contracting the virus," said Omeri.
The Ministry of Health in March identified truck drivers as a weak link in the fight against coronavirus.
For the last three weeks, Busia town and Malaba have been chaotic due to trailer snarl-up.
SEE ALSO: How coronavirus slashed trips to ATMs to an all-time low in April
Uganda has so far returned at least 50 Kenyan truck drivers who tested positive. The county by Thursday had tested more than 7,000 truck drivers.
On Tuesday, Governor Ojaamong and County Commissioner Joseph Kanyiri announced that a driver without a certificate to show they are Covid-19 free would not enter the county.
They said drivers would bear the cost of fumigating their trucks. The response team established that some drivers had no certificates.
Shortage of reagents, personal protective equipment, ventilators, face masks and fewer health care providers have remained the biggest challenges in the fight against coronavirus in the county, said Omeri.
Yesterday, he said the department was keen on paying the heath care providers their subsistence allowances.
SEE ALSO: Sacco relaxes loan terms for members as virus looms
This is after some frontline workers lamented that their morale was low since the county was yet to pay them their allowances.
The affected cadres include doctors, nurses, public health officers and laboratory technologists.
Comments
comments
Woman claims baby swapped with a dead one in hospital: The Standard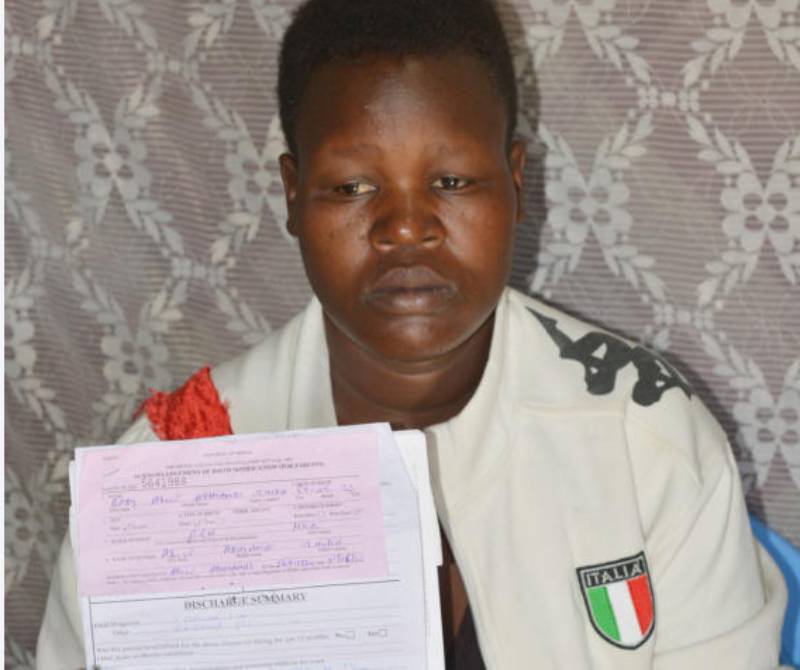 Rift ValleyBut medical superintendent says child was born pre-term and promises to conduct DNA to establish the truth.
A woman has accused Nakuru Level Five Hospital of swapping her newborn with a dead one.
Alice Adhiambo (pictured), 31, said she checked into the facility on May 21 and was admitted after medics reported that she had high blood pressure, thereby placing her and her unborn baby in danger.
"I remained at the hospital until May 29 when I delivered at around 4pm through caesarean section. My baby boy weighed 2.6 kilogrammes at birth and was feeding normally. I spent the day with him on Saturday and Sunday," said Adhiambo.
SEE ALSO: Standing out as tough times push more to side hustles
Details on the Newborn Unit Exit Form indicated that "the child was born pre-term at 31 weeks and 5 days as compared to 40 weeks for a normal delivery."
Adhiambo explained that on Sunday evening, she went to breastfeed her child at 6pm and left the nursery at around 7:30pm hoping to check on the baby again by 9pm.
"At 9pm, I left my bed heading to the nursery. There I met two nurses who asked me where the name tag on my child had gone yet I had left it intact. My baby too was not in his bed," she said.
The distressed mother said the nurses then broke the news to her that her child had died after which she demanded to see the body.
Unique hair
SEE ALSO: Dortmund's Sancho, Akanji fined for getting haircuts without face masks
"My child had unique hair close to the forehead. I was shown an already wrapped baby whose body colour had turned almost green. The dead child had a birth mark on the face while mine had none. The body was too cold to have died minutes earlier," said Adhiambo.
Her attempts to get an explanation on the circumstances under which her baby died were futile as none of the nurses had answers to her queries.
But the hospital's medical superintendent Dr Joseph Mburu has denied Adhiambo's claims.
"There was nothing like a baby swap. The document in our possession clearly show that the child was born pre-term," Dr Mburu said.
The situation became more complicated the following day as Adhiambo was paying her bill when it emerged that she had been given a different file as a record for her child.
SEE ALSO: Keter turn guns to Diamond League debut
On the Discharge Summary Form given to Adhiambo, her patient number was recorded as 792173 but at the hospital billing records the number had been assigned to a different patient.
"At the accountant's desk, the patient number on the form gave the record of a patient named John Ng'ang'a. That was neither me nor my son," she said.
Dr Mburu admitted that there were some errors on the records but the inpatient number belonged to Adhiambo.
"If the child was not hers, we shall have a DNA conducted to establish the truth of the matter," said Dr Mburu.
More discrepancies emerged between the birth notification and a burial permit issued to allow the hospital to dispose of the body.
SEE ALSO: Covid-19: A wake-up call to save the Earth
In the two documents seen by The Standard, the Birth Notification issued on June 1 indicates that the child was born dead on May 29 while the burial permit indicated the child died aged one day.
Adhiambo who works as a security guard in Nakuru town said the torment has been hard for her to bear adding that her husband is still held up in Mombasa due to cessation of movement because of the Covid-19 pandemic.
Comments
comments
Yes, hear it from me, living with dwarfism is such a tall order: The Standard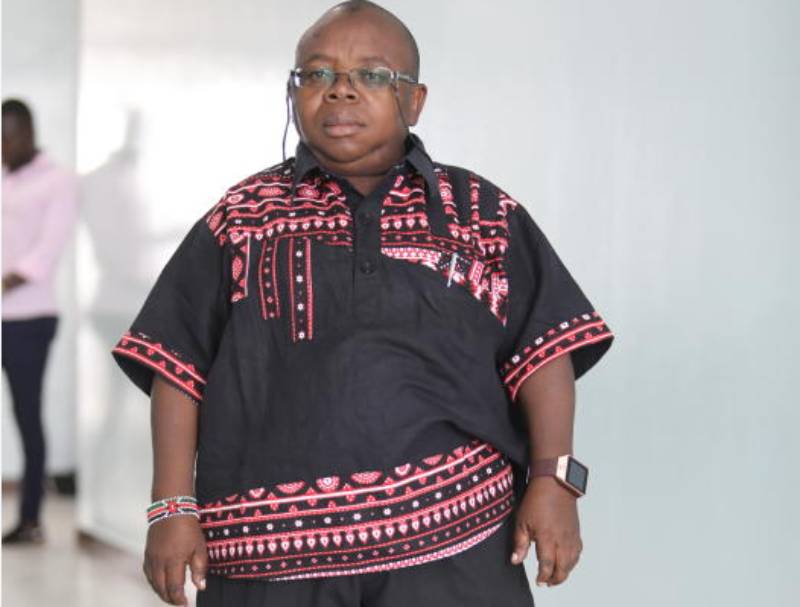 NairobiPeople with short stature suffer ridicule and many cannot access hormonal therapy which is key in aiding their development
Hussein Kenga (pictured) remembers the days he spent locked in his room, trying to deepen his voice. He was 16-years-old, desperately praying for his boyhood shrill voice to get the crack that his agemates had gotten.
His classmates were going through puberty; the growth spurts, wisps of hair on the chin, and the many hushed talks about the changes that were happening in their private parts indicated the approach of manhood. He had none of it.
"I was still a boy, even though my age was advancing. I hit 20 years old and nothing about my body had changed to show that I was growing. I knew that I was not okay. I was different," he says.
SEE ALSO: Medical interventions to manage dwarfism, boost victims development
The years after were tumultuous. His friends were starting families, yet he could barely get the desire for women. The pressure inside him was mounting. By the time he was approaching 30 years, his self-esteem had taken a dip.
Derogatory names
"I was tired of people calling me derogatory names. Having short stature means even children will see you and mock you. It is a very bad feeling," he says.
It is after he turned 32 that they discovered what ailed him. He had pituitary dwarfism caused by a deficiency of growth hormone. It cast some hope in the gloomy situation.
"I went through hormonal therapy. I still do not have children, but I started developing into a man," says the 48-year-old.
He embodies the struggles of other Kenyans of short stature that is caused by different medical conditions. Data from the Kenya National Bureau of Statistics indicate that there are more than 3,000 Kenyans with severe dwarfism, with more than 1.2 million children having stunted growth that medics say could lead to dwarfism in adulthood.
Dr CF Otieno, lecturer at the Department of Clinical Medicine and Therapeutics at the University of Nairobi, says there are many cases of dwarfism that could be managed through medical interventions, but most people do not seek help until it is late.
"Parents should be on the keen on their children's development and report when they notice a delayed growth in growth or disproportionate body parts," he says.
Kenga recalls the treatment process he went through during the hormonal therapy and says it was expensive, and only a few doctors could handle his case. He says he knows many other people with dwarfism, especially women who have not had secondary growth, but cannot afford to go for the therapy.
"Most of the treatment requires that you travel to Nairobi. If you are in far-flung counties, this is rarely an option for you," he says.
Dr Angela Migowa, assistant professor and paediatric rheumatologist at Aga Khan University says there are cases of short stature that can be treated if the nurses at public hospitals can be well trained to accurately capture data during early stages of life.
Alter the genes
"Using a graph to plot height at different ages can instantly tell you the child is not developing well. In some cases, early intervention can be used to change the situation," she says.
She also says in cases where dwarfism is caused by a genetic disorder, there are some countries that allow for manoeuvring of the genetics to alter the genes, but there are ethical issues around it.
"Most hospital do not screen for things like thyroid complications, yet the treatment can be so cheap," she says.
She also thinks public awareness can bring a lot of changes and make people start pushing for better health care that will make people with short stature feel more accepted in society.
Irene Muoki who suffers from Diastrophic Dysplasia, a condition caused by a bone disorder says she had to drop out of school when the taunting became too much and bullying she got from her peers was causing her anxiety.
"I remember one day during assembly, the teacher lifted me like a child. I was in Class Seven. The whole school laughed. I was sweating and panicking from the embarrassment. I knew I will never go back to school," she says, explaining how people with dwarfism suffer in an education system that does not support them.
She says even in adulthood, her biggest struggle is getting people to treat her as a grown up. She mentions a recent case where a popular Kenyan comedian went on social media to ridicule a woman of short stature who had gotten pregnant.
"He put up a photo of the pregnant woman laughing and saying that the man who had gotten her pregnant has no shame. It goes to show you that if you have dwarfism, people think you have no emotions. You are nothing to them. It is a shame," she says.
She adds that her worst humiliation came when she met a man who fell in love with her, and when he went to introduce her to his parents, his mother outrightly rejected her.
"She told me on my face that I must have bewitched her son. I knew it was not going to work. He left me soon after. And many more men have left me since then. We are outcasts," she says.
Joakim Mwangi, founder of Short Stature Society of Kenya, a non-governmental organisation that champions for the rights of people with different health conditions that cause short stature says there are many myths surrounding their existence.
Greatest desire
"We champion for education and empowerment because people with short stature go through a lot of social and psychological challenges. We want to have a strong voice," he says.
Kenga says the greatest desire for people living with dwarfism is for people to start paying attention to their needs.
"We are people. We do not appreciate when we are treated with children – as a reason for people to laugh and tease. Not all people with short stature want to do comedy. We are individuals with different personalities," he says.  
Comments
comments