Kenya to roll out Covid-19 testing centre in Eldoret
The government has approved Moi Teaching and Referral Hospital (MTRH) in Eldoret as the first Covid-19 testing centre outside Nairobi.
In a statement sent to newsrooms on Thursday, signed by North Rift Economic Bloc Chairman Jackson Mandago, the hospital in Eldoret will start the testing in 10 days.
The governors had been pushing the national government to establishing a testing centre at the hospital.
Health workers at MTRH will be testing 960 samples within eight hours and the centre is expected to ease the strain at the National Influenza Centre in Nairobi.
Training of health workers who will be working at the testing centre is complete.
MTRH formed a 24-member team amid the new coronavirus crisis.
Governors under North Rift Economic Bloc (Nored) had earlier asked the government to certify MTRH as a national testing centre for Covid-19 to complement the National Influenza Center and Kenya Medical Research Institute (Kemri).
They said the hospital has the capacity to help counties in the western part of the country to carry out tests rather than sending samples to Nairobi.
The region has created isolation wards and health workers and security personnel have been trained on how to handle the deadly virus.
Kenya Medical Practitioners, Pharmacists and Dentists Union (KMPDU) said there need to increase Intensive Care Units (ICU) in all the Level 4 and 5 facilities in all the counties in addition to the isolation facilities being prepared across the county to fight coronavirus..
"Facility with ICU level support is set aside for isolation and treatment of health workers that may be affected by COVID-19. This will minimise re-infection of other patients from health workers assuming duties after recovery," said Dr Ouma Oluga.
Comments
comments
Government reiterates commitment to deliver on affordable housing promise 
Housing and Urban Development Principal Secretary Charles Hinga has reiterated the government's commitment to deliver on the affordable housing promise. 
Speaking during the launch of the Samara Estate project in Kiambu County, a  premier luxurious-low cost housing project, Hinga said the government has introduced a host of incentives that will ensure creation of opportunities for low-income earners to enable them to afford houses.
The Affordable Housing Project was launched in December 2017 as one of the national government's four pillars of growth, in the President's Big Four Plan. 
The Program promises to deliver 500,000 affordable homes over a five-year period, and involves a number of incentives and supports to enable the delivery of affordable housing in Kenya. 
Get breaking news on your Mobile as-it-happens. SMS 'NEWS' to 20153

PS Hinga says the government's plan is well on course with other players joining in the grand initiative noting that the government and stakeholders are ready to deliver the promise of 500,000 homes under the Affordable Housing Programme.
All Kenyans have a right to live in a humble and habitable environment in their lifetime. The Government is partnering with private partners to make house ownership more affordable. pic.twitter.com/6A0l6nYrzS

— Charles Hinga Mwaura; CBS, CA (SA) (@PSCharlesHinga) July 3, 2020
Speaking at the ceremony, Tushia Global Holdings Chairman Bishop Mark Kariuki said the private sector remains committed in the resolve by ensuring community development through strengthening Private Public Partnerships with the national and county governments.
China Building Technology Kenya's Chief Executive Officer Tom Kimani Zeng said his company which is financing the project will complete construction works within three years.
The estate will house close to 2,000 units retailing at 2.95 million and 3.95 million shillings for the two bedroom and three-bedroom apartments respectively.
Tell Us What You Think
Comments
comments
Dozens dead, missing in Japan as heavy rain causes floods, mudslides » Capital News
Tokyo, Japan, Jul 5 – About 34 people are either confirmed or feared dead — including 14 at a nursing home — after torrential rain in Japan triggered massive floods and mudslides, authorities said Sunday.
Rescuers were searching for 14 people missing after floods hit the Kumamoto region on the southwestern island of Kyushu, destroying houses, sweeping away vehicles and causing bridges to collapse.
The regional government confirmed 18 people had died, while another 16 were in a state of "cardio-respiratory arrest" — a term often used in Japan before a doctor officially certifies death.
Fourteen of the victims were at a nursing home that was inundated when local rivers broke their banks. Emergency services rescued 50 people from the facility.
More than 200,000 people have been urged to evacuate as authorities request those in emergency shelters to wash their hands, wear masks and maintain social distance to prevent the spread of the coronavirus.
"We will do our utmost to prevent the spread of the infection and make the lives of those who had to flee their home as comfortable as possible," Disaster Management Minister Ryota Takeda told reporters after visiting a gymnasium in Hitoyoshi city where 600 residents are sheltering.
At a cabinet-level meeting in Tokyo on the disaster, Prime Minister Shinzo Abe pledged to offer financial support, while warning residents in Kumamoto to brace for more rain.
"As we speak, more than 40,000 personnel from police, fire, coast guard and Self-Defence troops are conducting search and rescue operations which will continue through the night," Abe said.
"Saving lives is our priority."
Heavy rain is expected in the region through Monday, Abe added.
"We must remain vigilant," he said, warning residents to monitor news for further risks associated with flooding and landslides.
Communities along the Kuma River, which passes through Hitoyoshi, have been hit hard by the floodwaters.
Although the rain had eased in Kumamoto by Sunday morning, collapsed bridges and blocked roads due to flooding and mudslides have left many isolated in the region.
A large "SOS" sign was created on the grounds of what used to be an elementary school in Yatsushiro city, where about 10 people waved white towels at rescue and media helicopters.
Rescue workers and troops from the Self-Defense Forces used boats and helicopters to reach those stranded.
Japan is currently in its rainy season, which often causes floods and landslides and prompts local authorities to issue evacuation orders.
In 2018, flooding in western Japan killed more than 200 people.
Comments
comments
Cop, four suspects held while trying to steal Sh28.5m from Busia bank: The Standard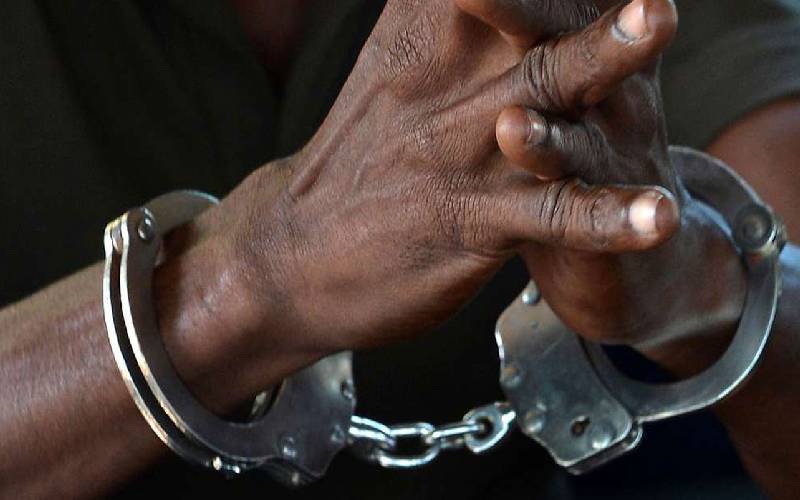 Detectives from the Directorate of Criminal Investigations (DCI) have arrested five suspects including a police officer trying to withdraw cash from a Kenya Commercial Bank (KCB) in Busia town.  
The five were arrested in Busia town and Ahero as they tried to withdraw Sh28.5 million from an account held at KCB Bank-Busia town.
"Five suspects including a police officer were today arrested in Busia town and Ahero (Kisumu County) after an attempt to withdraw Sh28.5 million from an account held at KCB Bank-Busia town branch backfired," DCI said on Twitter.
SEE ALSO: New team to probe minors' mysterious killings
Three suspects were arrested after the withdrawal forms they presented to KCB Busia branch manager did not tally with that of the account holder.
Bhavin Ramesh, Vijay Jamnaday and Desmond Lusweti were arrested after the bank tipped DCI officers after noting their trick.
"Arrest of three suspects followed a discrepancy noted in the transaction form presented to the branch manager that bore a different ID number," said DCI.
Two other suspects Constable Kipkirui Tanui attached to Wilson Airport and an alleged city businessman Alex Kimeli were arrested while waiting for their colleagues to withdraw the cash.
After sensing danger, the two sped off towards Kisumu as they tried to escape but police caught up with them.
SEE ALSO: All-out assault on crime commendable
"Police Constable Kipkirui Tanui Kimeli an alleged businessman in Nairobi who had been waiting in a getaway car outside the banking hall were pursued and caught up with at Ahero."
Comments
comments