Kenya to commence HIV vaccine human trial in July ▷ Kenya News
A vaccine with the potential to stop HIV infecting cells is set to be launched in Kenya with the clinical human trials starting in July 2019.
According to an announcement made by a group of scientists on Friday, June 14, the recruitment for the promising trial would begin in the next three weeks.
READ ALSO: Magufuli decries unbearable Chinese loan conditions, terms them suitable for "mad people"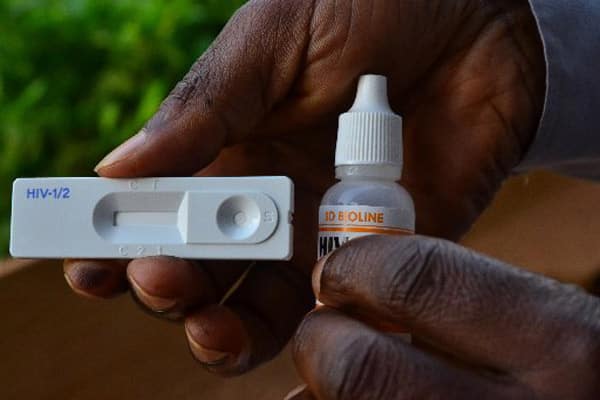 READ ALSO: Governor Mike Sonko declares he is HIV negative in court papers
The new vaccine will apply a 'block approach' in stopping HIV from attaching itself onto cells, specifically the CD4 cells, often called T-cells which forms part of the immune system.
The clinical trial has been codenamed IAVI W001 trial.664gp140. W001 and will test a vaccine candidate dubbed BG505 SOSIP — a molecule cloned to look exactly as the HIV one.
The director of Kenya AIDS Vaccine Initiative (KAVI), Omu Anzala, said the trials will be tested on HIV-negative Kenyan volunteers to check for safety and efficacy, Daily Nation reported.
READ ALSO: Kimilili MP Didmus Barasa under fire from netizens after donning torn shorts, walking barefoot
"This is phase one of the first human trial for this vaccine and over the next one-and-a-half years, the trial will seek to answer questions on how safe the vaccine is and how well it can induce the human body to produce antibodies that can neutralise HIV," said Anzala.
"The candidates (HIV-negative), will get three shots every month for the first three months … and then we will start to keenly follow them up … to see did it work or not," he explained.
This was after the trial vaccine showed promising results by causing production of antibodies that neutralised a HIV-like virus during animal testing.
READ ALSO: Pastor Wilfred Lai blasts protestants for believing Sunday is God's sabbath day
Senior research scientist at the International Aids Vaccine Initiative (IAVI) who developed the molecule BG505 SOSIP. 664gp140, said it belongs to a new generation of immunogens molecules.
Elise Landais said that the molecules are capable of causing an immune response in the body called nativelike trimers.
They induce broadly neutralising antibodies with capacity to attack the HIV virus in the body upon detection.
READ ALSO: Mbunge wa Jubilee avaa kinyasa kilichopasuka makalioni na kwenda bila viatu kuwahamasisha wanafunzi
"So BG505 SOSIP. 664gp140 is the molecule that will be put in the test candidates by vaccination," said Dr Landais.
"This is the first time we're trying anything like this. Before the molecule, we were working with HIV products that we discovered recently weren't very good at achieving the desired results," she added.
But the scientist claimed they now know the right shape of the molecule that sits on the HIV virus and hence this trial.
READ ALSO: Eldoret: Divorced couple reunites after separating for 15 years
Before, the scientist were looking at a certain shape of immune cells that were killing the infected ones.
This time round they are focusing on activating cells that are going to produce antibodies that will actually block the virus even before it infects the cells.
"So instead of coming after the infection has already happened, we are trying to block its pre-infection. All the products we had before couldn't activate this kind of response because it did not have the right shape," she said.
READ ALSO: Baby born on train to get 25 years free rail travel
Anzala also said this is a new product and that previously, they used products that elicit T-cells, but this particular product is eliciting humoural immunity or B-cells that will give broad and potent neutralising antibodies.
The researchers spoke during a scientific talk at the University of Nairobi College of Health Sciences' KAVI-Institute of Clinical Research.
Relevant infrastructure and technology transfer for the trial had been concluded at the site.
Do you have a hot story or scandal you would like us to publish, please reach us through [email protected] or WhatsApp: 0732482690 and Telegram: Tuko news.
The Love Potion Giver
Source: Tuko.co.ke
World Bank pushes G-20 to extend debt relief to 2021
World Bank Group President David Malpass has urged the Group of 20 rich countries to extend the time frame of the Debt Service Suspension Initiative(DSSI) through the end of 2021, calling it one of the key factors in strengthening global recovery.
"I urge you to extend the time frame of the DSSI through the end of 2021 and commit to giving the initiative as broad a scope as possible," said Malpass.
He made these remarks at last week's virtual G20 Finance Ministers and Central Bank Governors Meeting.
The World Bank Chief said the COVID-19 pandemic has triggered the deepest global recession in decades and what may turn out to be one of the most unequal in terms of impact.
People in developing countries are particularly hard hit by capital outflows, declines in remittances, the collapse of informal labor markets, and social safety nets that are much less robust than in the advanced economies.
For the poorest countries, poverty is rising rapidly, median incomes are falling and growth is deeply negative.
Debt burdens, already unsustainable for many countries, are rising to crisis levels.
"The situation in developing countries is increasingly desperate. Time is short. We need to take action quickly on debt suspension, debt reduction, debt resolution mechanisms and debt transparency," said Malpass.
ALSO READ:Global Economy Plunges into Worst Recession – World Bank
Kenya's Central Bank Drafts New Laws to Regulate Non-Bank Digital Loans
The Central Bank of Kenya (CBK) will regulate interest rates charged on mobile loans by digital lending platforms if amendments on the Central bank of Kenya Act pass to law. The amendments will require digital lenders to seek approval from CBK before launching new products or changing interest rates on loans among other charges, just like commercial banks.
"The principal objective of this bill is to amend the Central bank of Kenya Act to regulate the conduct of providers of digital financial products and services," reads a notice on the bill. "CBK will have an obligation of ensuring that there is fair and non-discriminatory marketplace access to credit."
According to Business Daily, the legislation will also enable the Central Bank to monitor non-performing loans, capping the limit at not twice the amount of the defaulted loan while protecting consumers from predatory lending by digital loan platforms.
Tighter Reins on Platforms for Mobile Loans
The legislation will boost efforts to protect customers, building upon a previous gazette notice that blocked lenders from blacklisting non-performing loans below Ksh 1000. The CBK also withdrew submissions of unregulated mobile loan platforms into Credit Reference Bureau. The withdrawal came after complaints of misuse over data in the Credit Information Sharing (CIS) System available for lenders.
Last year, Kenya had over 49 platforms providing mobile loans, taking advantage of regulation gaps to charge obscene rates as high as 150% a year. While most platforms allow borrowers to prepay within a month, creditors still pay the full amount plus interest.
Amendments in the CBK Act will help shield consumers from high-interest rates as well as offer transparency on terms of digital loans.
SEE ALSO: Central Bank Unveils Measures to Tame Unregulated Digital Lenders
Scope Markets Kenya customers to have instant access to global financial markets
NAIROBI, Kenya, Jul 20 – Clients trading through the Scope Markets Kenya trading platform will get instant access to global financial markets and wider investment options. 
This follows the launch of a new Scope Markets app, available on both the Google PlayStore and IOS Apple Store.
The Scope Markets app offers clients over 500 investment opportunities across global financial markets.
The Scope Markets app has a brand new user interface that is very user friendly, following feedback from customers.
The application offers real-time quotes; newsfeeds; research facilities, and a chat feature which enables a customer to make direct contact with the Customer Service Team during trading days (Monday to Friday).
The platform also offers an enhanced client interface including catering for those who trade at night.
The client will get instant access to several asset classes in the global financial markets including; Single Stocks CFDs (US, UK, EU) such as Facebook, Amazon, Apple, Netflix and Google, BP, Carrefour;  Indices (Nasdaq, FTSE UK), Metals (Gold, Silver); Currencies (60+ Pairs), Commodities (Oil, Natural Gas).
The launch is part of Scope Markets Kenya strategy of enriching the customer experience while offering clients access to global trading opportunities.
Scope Markets Kenya CEO, Kevin Ng'ang'a observed, "the Sope Markets app is very easy to use especially when executing trades. Customers are at the heart of everything we do. We designed the Scope Markets app with the customer experience in mind as we seek to respond to feedback from our customers."
He added that enhancing the client experience builds upon the robust trading platform, Meta Trader 5, unveiled in 2019, enabling Scope Markets Kenya to broaden the asset classes available on the trading platform.