Kenya Rugby League Dreams Big

The Kenya Rugby League (KRL) is already dreaming of taking a team to the 2025 Rugby League World Cup, a month after the first tournament was played in Nairobi.
KRL chairman Richard Nyakwaka said plans were underway for an international test match series against South Africa and Spain in September this year in Nairobi, before the novel coronavirus interrupted the schedule.
Nyakwaka noted that it's not too early to face continental powerhouse South Africa, who last took part at the Rugby League World Cup in 2000, if they really want to achieve their target.
Rugby league is a full-contact sport played by two teams of 13 players on a rectangular field measuring 68m wide and 112-122 m long. However, the rugby union has two teams of 15 each, while the pitch measures 100m long and 69m wide.
Rugby league has no mauls, rucks and lineouts, while scrums are not contested. So basically, it's a faster code of play unlike in rugby union.
Australia has dominated the Rugby League World Cup winning 12 out of the 16 editions of the event with Great Britain winning three, including the inaugural 1954 championship hosted by France.
New Zealand won the other event in 2008, halting Australia, who won six consecutive editions. The Aussies triumphed in the last edition of the World Cup that they co-hosted with New Zealand and Papua New Guinea in 2017.
England are scheduled to host the 2021 Rugby League World Cup. Rugby League in Africa dates back to as early as the 1950s when South Africa organised matches against Great Britain and France.
The sport has seen activity in Burundi, Cameroon, Sierra Leone, South Sudan, Morocco, Congo, Ghana and Ethiopia. Just like Kenya, Uganda, Burundi and Zimbabwe are new to the sport.
Nyakwaka said the inaugural Nairobi 9s held in February this year with nine clubs taking part proved a great success, giving them hope that with proper planning, the game is set to grow in leaps and bounds.
KRL that was to start in April, featuring eight teams will be different so as to make it suitable. The league matches will be played at one venue and one day, featuring four matches.
The fixtures will take place twice a month in view of saving the resources. Nyakwaka said they will have venues spread across the country in Nairobi, Kisumu, Kakamega, Meru, Nakuru, Watamu and Kitengela, among other areas.
Some of the clubs that have embraced rugby league locally are Winam in Kisumu, Rift Valley Ruffians, Nkubu in Nakuru, Meru, Kitengela Wolves, Nairobi Rhinos, Nairobi Touch Rugby and Thika Road Club.
"Spreading the game across will help to develop the interest by creating a "thick" market for everyone. It will also be easier for sponsors and for media coverage with matches being played at a central place," noted Nyakwaka, adding that they will also introduce a ladies league and age grade program for schools.
Nyakwaka said the response has been great so far and the fan base is building up and further noted that its popularity will definitely increase in years to come.
"Of course like any new venture, there are challenges with resources, but we have been overwhelmed by the interest of young rugby players who want to join rugby league," explained Nyakwaka.
"We have progressed talks with potential sponsors, who were coming through, but corona has stalled everything."
One thing that KRL want to do, Nyakwaka said is to lobby for the continuous talent development for age grade with students playing the sport throughout the year.
But how has KRL managed to form clubs with ease in a short time?
Nyakwaka said there are more players but less clubs at the Kenya Rugby Union (KRU) and that others have been struggling to get position in top clubs.
"Most of them are crossing and more so, we are targeting secondary school leavers," said Nyakwaka, adding that they are in talks with KRU officials about cross code playing, and everyone seems to agree with it.
"We want players to be allowed to exploit opportunities and more so maximize benefits during their playing career, which doesn't last forever in both platforms, the rugby league and rugby union," said Nyakwaka.
Nyakwaka disclosed that the discussion to form the Rugby League started in the mid 90's and was inspired by former Kenyan international, Edward Rombo, who played both rugby union and rugby league in the United Kingdom.
"But we were all bogged with playing rugby and development of union all over Kenya," noted Nyakwaka.
Nyakwaka said they then embarked on a rugby intellectual pursuit, to pride Kenya with having both codes, as an emerging super power in rugby globally.
Comments
comments
134 new COVID-19 infections recorded as 51 discharged in Kenya » Capital News
NAIROBI, Kenya, June 5 – COVID-19 infections in Kenya rose to 2,474 Friday, after 134 more cases were confirmed.
Health Chief Administrative Secretary Dr Mercy Mwangangi said the positive cases were confirmed from 1,337 samples tested across the country since Thursday.
3 of the new cases are on foreigners while 131 are Kenyans, she said.
"It is important to note that collective effort in combating this pandemic, requires that each and every member of the society, irrespective of their condition or status, is able to partner with us," she told a news conference.
Mombasa had the highest cases at 67 while Nairobi had 31 with the other cases distributed in other counties.
"The reason why we are aggregating this data for you is to really establish and to inform people that this disease is now in our communities," the CAS said.
The numbers of recoveries in the country also shot up to 643 after 51 more patients were discharged after testing negative.
"For these recoveries, we really want to express our appreciation and gratitude to all health workers, who have really dedicated and been committed in terms of coronavirus," she said.
One more patient succumbed to the disease on Thursday night, increasing the fatalities to 79.
President Uhuru Kenyatta is expected to provide a way forward for the county on Saturday, on expiry of the dusk to dawn curfew that was extended three weeks ago.
He will also the status of the cessation of movement he declared in Nairobi, Mombasa, Kwale, Kilifi and Mandera counties which are hard hit by the virus.
Also expected from the president is whether a ban on public gatherings, churches and schools which were closed in March at the height of the COVID-19 infections.
Comments
comments
Three 'police officers' charged with violent robbery : The Standard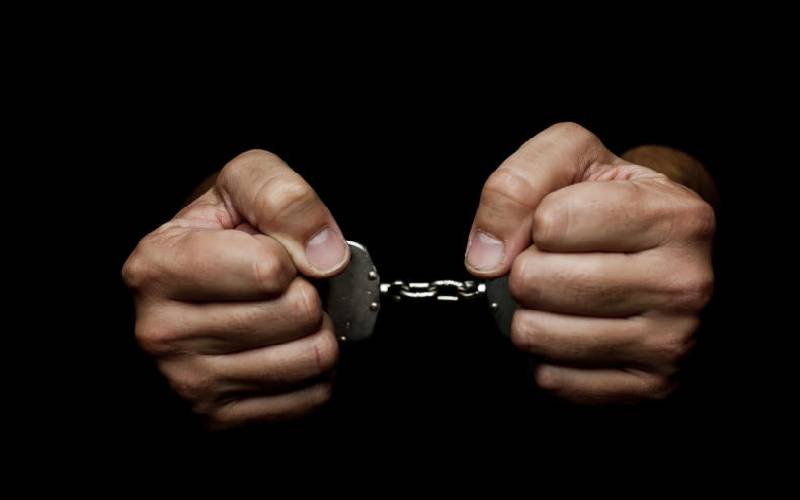 Rift ValleyThey each will alternatively pay Sh300,000 as cash bail.
Three police impostors have been charged with violent robbery before a Nakuru Court.
 
Daniel Muthike, James Njuguna and Henry Kiarie appeared before Senior Resident Magistrate Yvonne Khatambi and denied robbery, preparation to commit a felony, possession of government stores and making documents without authority.
 
The charges stated that the trio robbed James Kamau of Sh393,800 and threatened to use actual violence against him if he didn't cooperate.
 
The robbery occurred on May 28, 2019, at Kabazi trading centre in Subukia Sub County within Nakuru County.
 
The three were arrested on May 29, 2020 at Chavakali trading centre in Vihiga County as they allegedly attempted to commit a felony. 
 
They were transferred to Subukia Police Station in Nakuru county where they were booked.
 
The court documents states that they were found in possession of a pair of handcuffs, fake certificate of appointment, a pocket phone and a metal key, indicating that they wanted to commit felony.
 
"The accused persons had a pair of handcuffs, a fake certificate and a pocket phone,"  reads the charge sheet.
 
Muthike on his part faced two counts. He allegedly had in possession a suspected stolen government store namely a pair of handcuffs of National Police Service at Chavakali.
 
He is also accused of making a letter without authority and with intent to deceive, purporting it a genuine letter issued by the Nursing Council of Kenya.
 
Njuguna faced charges of making a a fake certificate of appointment on May 29, 2020, at Chavakali, purporting it a genuine certificate issued by the National Police Service.
 
He was also charged with making a practice license number without authority, purporting it to be a license issued by the Nursing Council of Kenya.
 
Khatambi released the accused on Sh500,000 bond each, with a surety of similar amount.
 
They each will alternatively pay Sh300,000 as cash bail.
 
The case will be mentioned on June 25.
Comments
comments
134 more test positive for Covid-19, 51 discharged – KBC
134 more have tested positive for Covid-19 disease in the last 24 hours bringing the total number of positive cases in the country to 2474.
Out of 3177 samples tested, Mombasa has the highest number of cases at 57, Nairobi  has 31 with Kibera leading with 19 cases and Westlands with 7, Busia 15
Speaking during a press briefing Chief Administrative Secretary Dr Mercy Mwangangi, noted that 51 patients have been discharged in the last 24 hours bringing total number of recoveries to 643.
Total number of fatalities stand at 79 after one more patient succumbed to the disease.
Get breaking news on your Mobile as-it-happens. SMS 'NEWS' to 20153

The CAS has urged Kenyans to follow the laid out guidelines by the government to help curb the spread of Covid-19 disease.
"We all need to follow guidelines laid out by government to reduce the risk of transmission. Wearing masks reduces risk of transmission by 50%," said CAS Mwangangi.
Tell Us What You Think
Comments
comments